51 Healthy Smoothie Recipes for Kids

If you're trying to get your children to eat healthy but running into some stumbling blocks, fear not! Here at Blender Babes we believe strongly in the power of the blender to transform even the pickiest of taste buds into fans of fruits and vegetables.

Of course, smoothies are a terrific gateway to helping your kids eat healthier. From chocolate flavors to sweet strawberries to refreshing cantaloupe, we've got the perfect round up of simple and yummy smoothie recipes for kids that are full of nutrients and flavor that are hands down amazing!
Who doesn't like chocolate? And chocolate mixed with fruit is something even more special. This luscious and healthy smoothie will is bound to be a hit with your little ones. Try making it with organic chocolate syrup or for an even healthier version, raw cacao and honey is a terrific option. No matter which ingredients you opt to use, your kids will love every sip and even ask for more.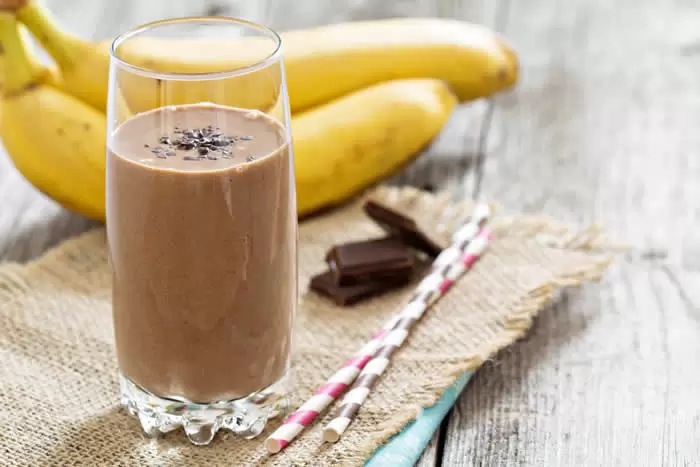 Skip the cup and go with this refreshing smoothie berry bowl for your kids' breakfast or afternoon snack! Not only is this bowl beautiful, but it has a healthy portion of greens blended in. Ramp up the nutritional value even more by adding in some superfoods like chia, hemp or flax seeds.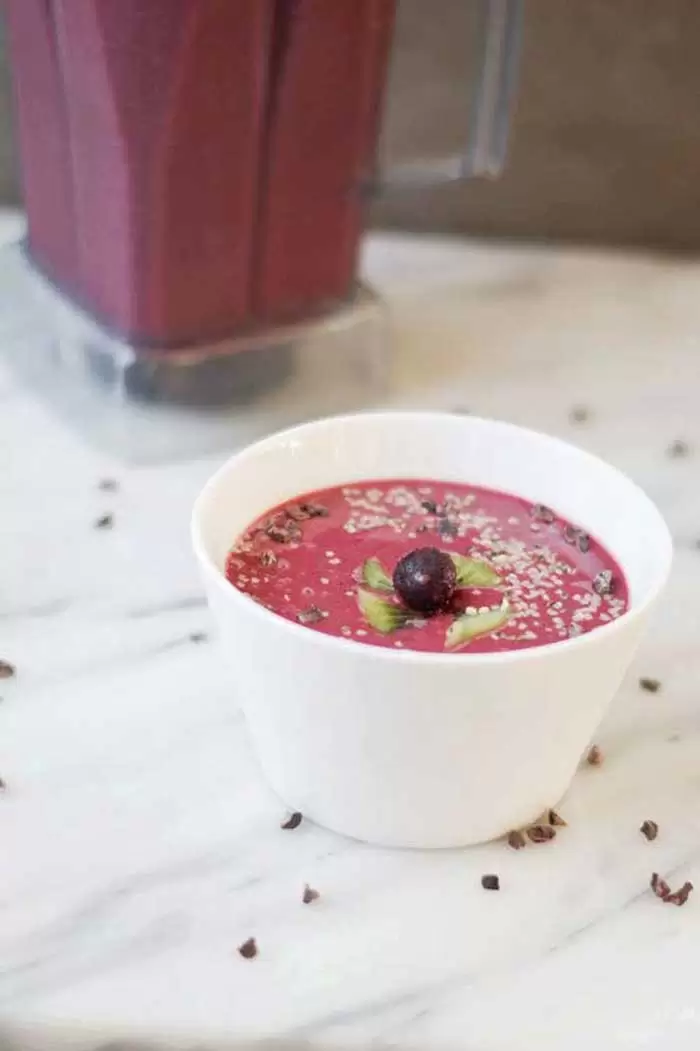 If your kids wrinkle their noses at green smoothies, this cherry pomegranate green smoothie will definitely win them over. The sweet cherries and tart lime are a classic combo that will offer your kids the benefits of a green smoothie but with a taste they'll savor.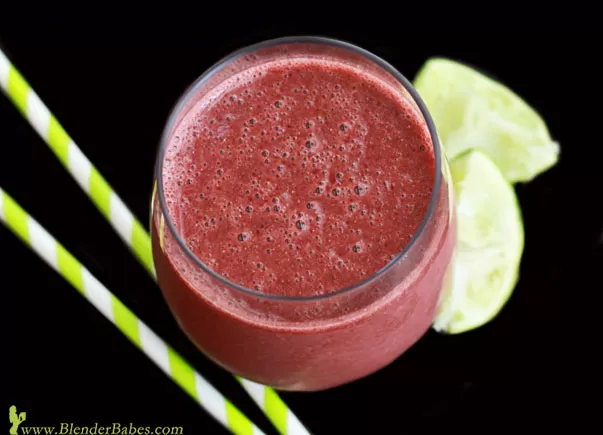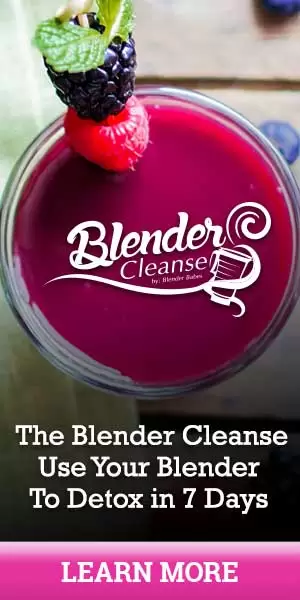 Are your kids constantly asking you to take them to the local coffee shop for their favorite calorie-rich mocha treat? Well, here's a healthy and nutritious option you can make at home that's just as delicious (if not more so) than what the baristas make and serve.

Is your child prone to catching the latest "thing" making its way around their school? The pineapple, ginger and kale in this smoothie are amazing immunity boosters that are sure to offer a delicious dose of protection to your kids' bodies with every sip.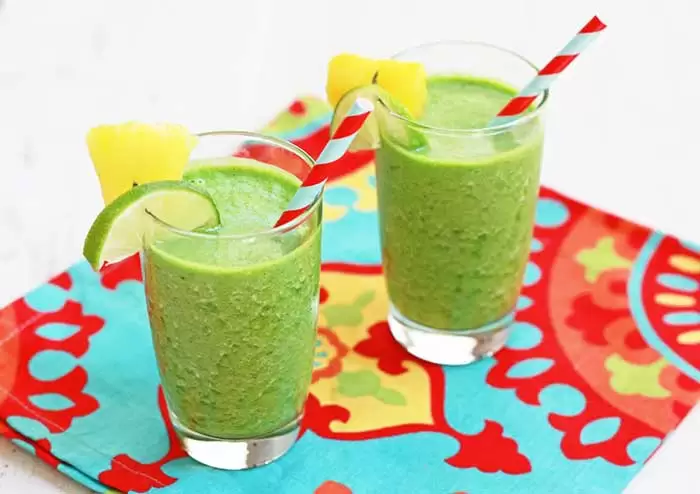 The strawberry and banana smoothie is a favorite of adults and kids alike. To make sure your kids are getting their daily serving of greens, when they're not looking add a bunch of kale to the blender when making this drink. They'll devour it without ever noticing their delicious drink was full of the healthy stuff they'd rather not eat.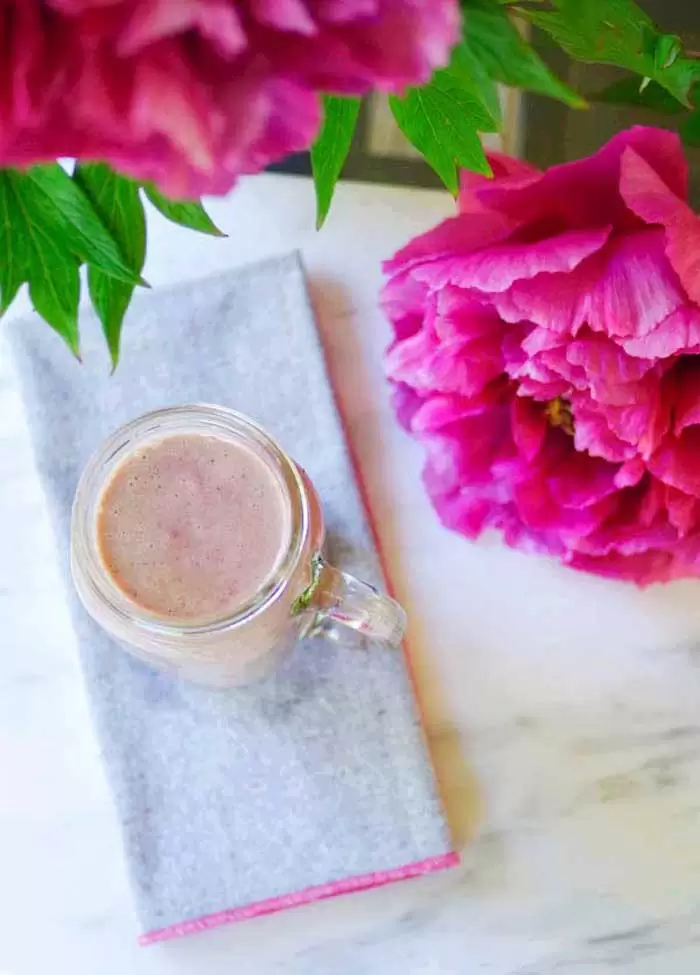 This copycat of Jamba Juice's Razzamatazz smoothie has a nice balance of bright, sweet, and tangy. Made healthier than the original version (and vegan!), this recipe is perfect for parents looking for a dairy-free smoothie option for the kids or themselves. Added bonus: there's less sugar in this recipe than there is in the Jamba version. Score!

This smoothie is intended to mimic a vibrant red orange and yellow sunset. While the kids are more likely preoccupied with their phones or other digital devices instead of gazing at the evening view, this drink is rich with vitamin C and will help their bodies fend off those springtime cold symptoms that always surface with the change in seasons.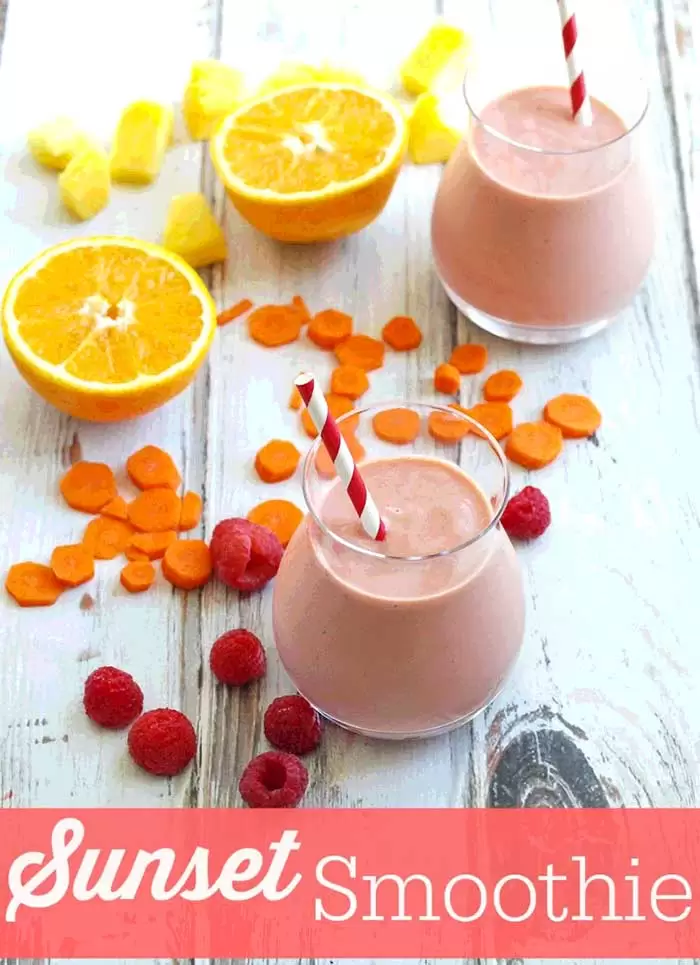 Cantaloupes may not be the first fruit you think of to make a smoothie with for your kids, but it's actually ideal. Got a kid who loves to snack all day? Cantaloupe smoothies aren't just delicious and refreshing, they're also packed with fiber so your kids will feel full longer. If you have a high powered blender, you'll want to leave the SEEDS in the cantaloupe as they're a huge source of the fruit's fiber and the have MORE PROTEIN pound for pound than meat does!

If paradise was a juice, it would be this brightly colored pineapple-filled drink! With both cucumber and ginger, this beet and pineapple juice is the perfect detox from those weekends when the kids have indulged in fun and way too much fast food.

This mango smoothie has some MASSIVE health benefits for both kids and adults. Mangoes aid in digestion, heartburn, and also have potent antioxidant and anticancer properties. And who doesn't just love that big fruity flavor?

Nothing says fresh like the minty twist that this tropical smoothie has hidden inside! It's the perfect pick me up when your kids get home from school and need a snack before diving into their homework.

This is a basic, kid friendly green smoothie recipe that you AND your kids will LOVE! Packed with potassium, bananas are a smoothie staple that easily hides the light green flavor of the nutritional powerhouse ingredient in this green smoothie – spinach.

Very few kids will eat grapefruit on their own. This smoothie, however, hides the slightly undesirable flavor, but keeps the amazing antioxidants. Not to mention the wild blueberries that give this smoothie its purple color and taste adds even more nutritional value! I know it might seem like smoothie recipes for kids should have lots of sweet and safe ingredients, you will be surprised how well the sharper flavors are masked by other ones.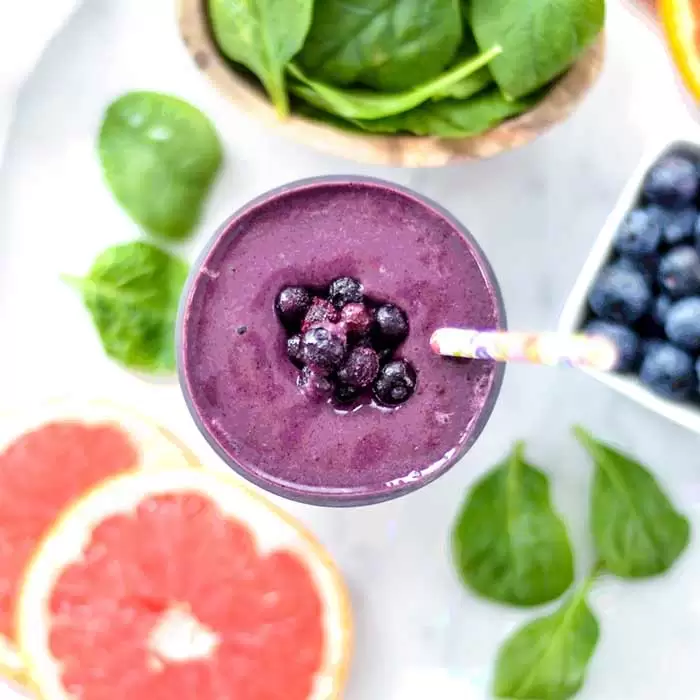 This Red Cabbage Acai Cancer Fighting smoothie is a personal favorite of Blender Babes AND all of our friends. Like the popular cabbage patch kid from the 80s, this smoothie is MADE for kids! It's a perfect (and TASTELESS) way to sneak in a really powerful ingredient that many children AND adults DO NOT eat enough of – cabbage!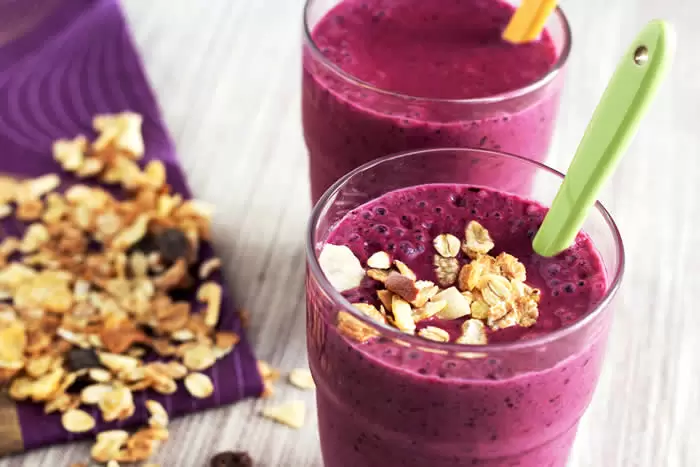 Milkshakes from most fast food places usually don't even have real milk, not to mention tons of processed sugars. But this one is not like the store bought bad ones. Instead, it's a clean take on the traditional milkshake and is made with non-dairy milk and hemp seeds for an extra pump of protein!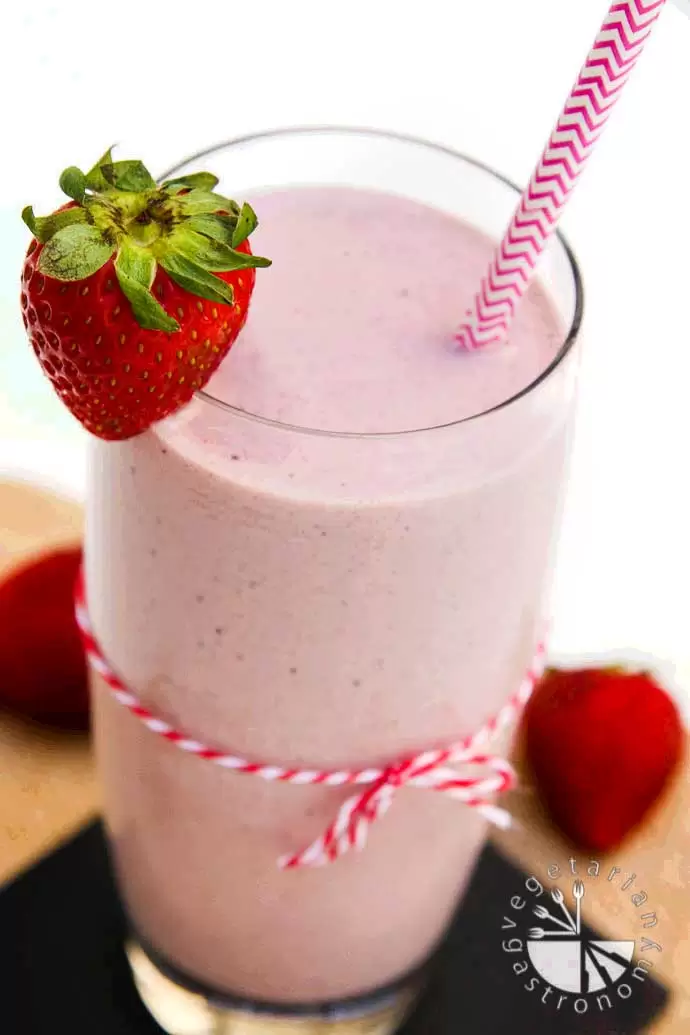 These days it's pretty hard to get the kids to not want some of those fast food shakes they see all too often on television. This super healthy version is dairy-free, almost fat-free, packed with a protein boost, and doesn't have ANY of those hard-to-pronounce chemical ingredients of the ones sold in the fast food restaurants.

Sweet and tart just like a summer lemonade, this lovely lime-filled smoothie is summer in a glass. The cherries and strawberries pack in the nutrition and make this drink appealing both to the kids eyes and their discerning palates.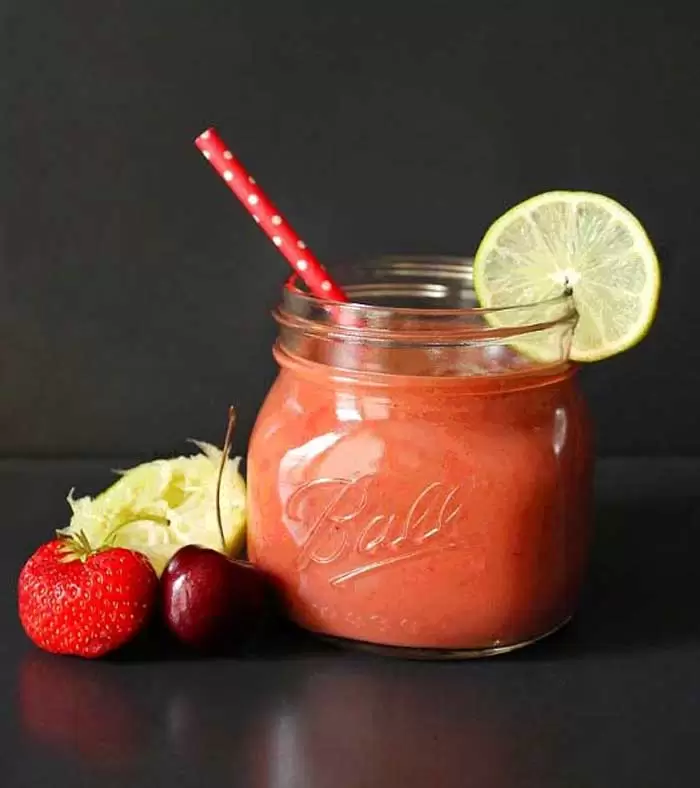 Beets are definitely a neglected vegetable, because of their sharp taste. This smoothie sneaks in this healthy veggie into a smoothie behind the flavors of strawberries and cranberries, in a sweet smoothie that any kid will love!

When you don't have the time or the ingredients for the usual smoothie, try this smoothie which relies on fruit juice! Just because your fridge is less than full, doesn't mean that your healthy lifestyle should suffer!

Although your kids may have a hard time with salads full of all sorts of greens, everyone loves a good fruit salad! The sweetness of grapes and pineapples is balanced out perfectly by the carrots and cucumbers, whose flavor remains hidden.

When your kids want dessert, it's time to serve up this decadent and rich Black Forest Smoothie. Complete with chocolate and cherries, this smoothie not only delivers on flavor, but also in the nutrient section; it is chock full of superfoods like cacao, coconuts, and spinach!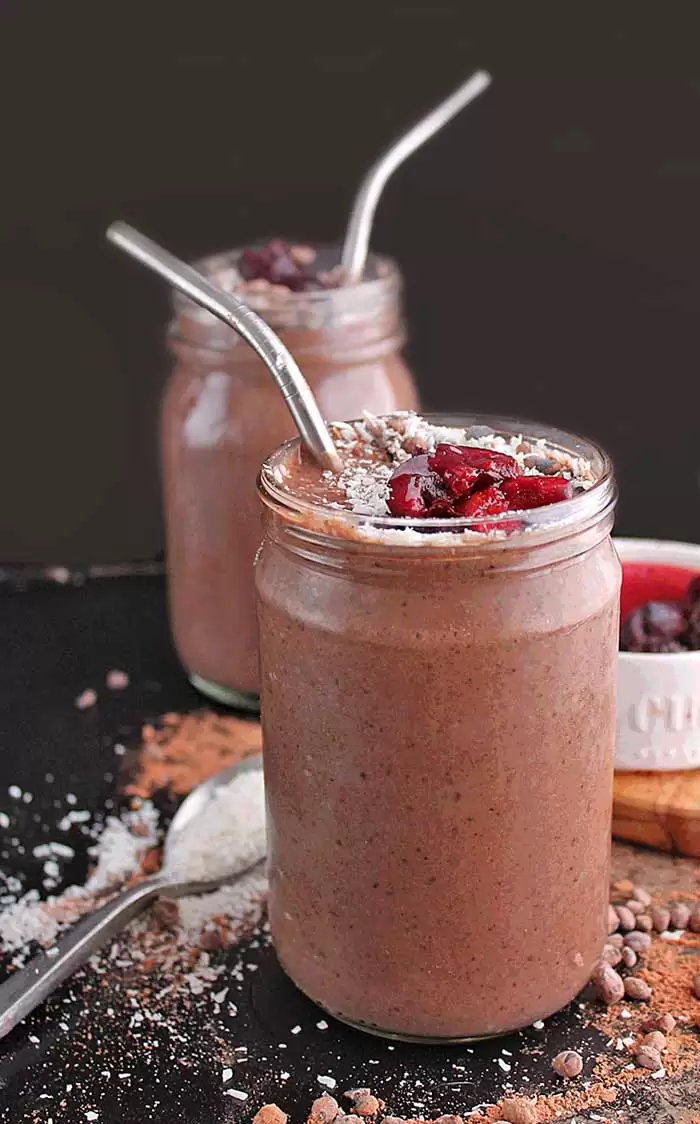 Not all of us can be Olympians, but we ALL can drink this first place smoothie! True to it's name, this smoothie is a great one for keeping you alert and awake through out the day and gets its gold color from cantaloupes, carrots, and of course, oranges!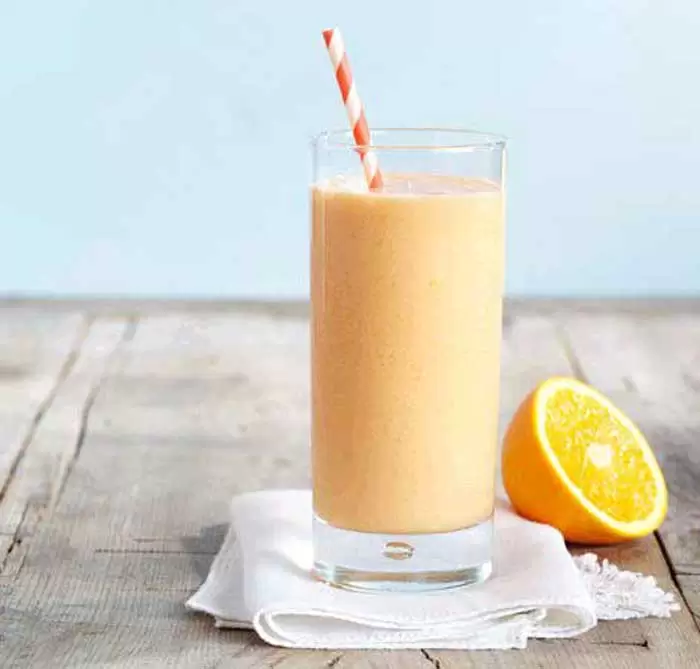 If your kids need some extra vitamin A or potassium, or fiber, fear not: this smoothie is loaded with a secret guest, a sweet potato! We love smoothies that have atypical ingredients that taste delicious, especially when that taste is chocolate! Yum!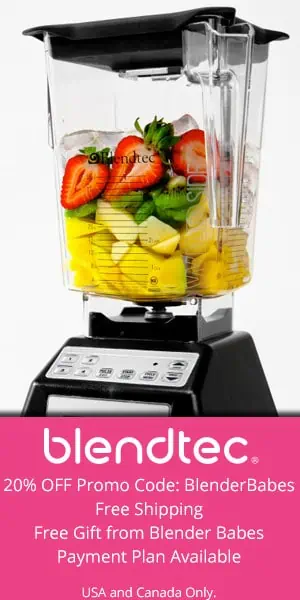 Have a green good morning with this fruity and fresh smoothie, complete with green grapes, kiwis, and cucumbers! These flavors mix perfectly for a harmonious blend that proves refreshing and rejuvenating!

The magic is in that little bit of cinnamon sprinkled in for extra spice! But really, this magenta smoothie is filled with beetroot and raspberries, perfect for a quick mood boost!

Smoothies don't get any simpler than this 3 ingredient smoothie: peaches, blueberries, and grapes. If you're new to the smoothie train, don't worry, we guarantee that this smoothie is so easy, that maybe your kids might even want to make it themselves!

Whether strawberry shortcake makes you think of a little girl's TV show or a great dessert, it makes us think of this amazing smoothie! Extra creamy because of the almond butter, we love the texture and thickness of this smoothie.

Who doesn't love a little bit of par-tay! Take the party to the table with this Mardi Gras smoothie bowl, which is full of fun surprises that kids will love like kiwis and pretty starfruits! But make no mistake, this bowl isn't just for looks, these tropical fruits are also are great for your body!

Peanut butter cups are seriously an amazing dessert, but that kind of sugar makes kids hyper beyond belief, which is why we love this smoothie spin on the candy! With loads of creamy peanut butter and some cocoa powder, poof, you've got a sweet treat!

It's time for a quick breakfast, because you're running out the door and everyone needs to be fed, so you grab the Blueberry Oatmeal Smoothie! Eating oatmeal in the car is kind of difficult, but sipping it through a straw is much easier and has the same health benefits! This smoothie also has a good helping of spinach, cleverly disguised by the blueberry flavor!

Gingerbread men may be a holiday treat, but this smoothie is here for you year-round! We call it a healthy breakfast in a glass, and the secret is a little bit of molasses, for the sweet taste!

Sungold kiwis are as bright and airy as they sound, and it's what makes this summer squash smoothie unique! What adds to this vibrant yellow smoothie is the amazing root turmeric, which is known for it's anti-inflammatory components. Brighten up your kids day with this smoothie!

Wake up and smell this breakfast smoothie in the sunshine! Oatmeal is a little bit of a hastle to make and eat on the go, but when it's ground up, sipping it through a straw is easy! This breakfast smoothie is pretty flexible too: use any mix of berries you like best OR substitute your berries for a banana.

Quinoa is an amazing grain that is so often swept under the rug, because people don't know how to use it, and we love that this smoothie has quinoa flakes AND chia seeds! Talk about a superfood takeover! Although this recipe does include dairy, it is definitely some healthy calcium in the form of Greek Yogurt!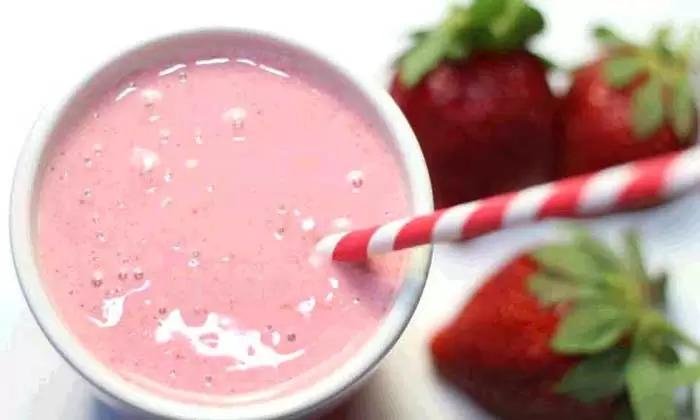 Peaches are the perfect way to capture some summer flavor in a smoothie! We love this one because it has a sprinkling of spinach, but also has a bit of ginger for a spicy kick! If you are worried that adding the ginger to smoothie recipes for kids might be a little too much, try it with and without the ginger.

If there ever was a perfect breakfast smoothie, this is it! With both oatmeal and chia seeds, this smoothie has both fiber and protein!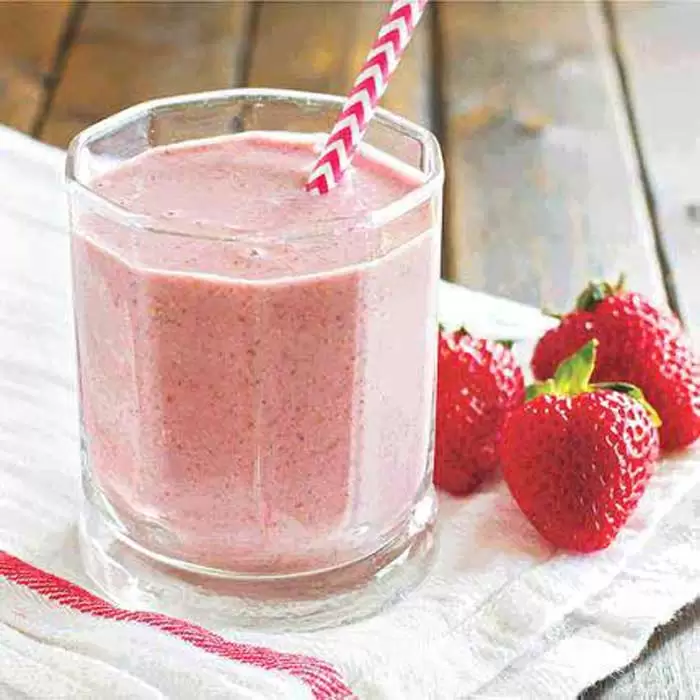 One of the best things about smoothies is being able to pack so many nutrients into such a small space! This smoothie packs a punch with handfuls of spinach, but is still creamy smooth because of the peanut butter and dates.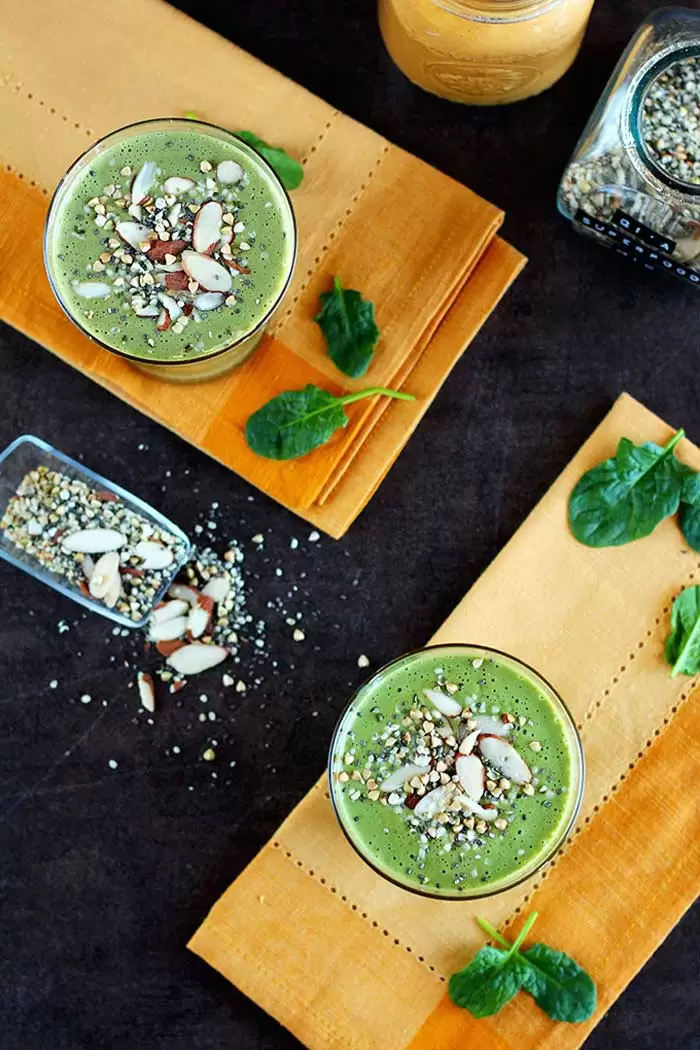 Nothing beats beets, because these tiny vegetables are tiny powerhouses that fight inflammation and even have more iron than spinach! Eaten alone they might not be a kids favorite veggie, but mixed in with raspberries, this smoothie delivers on health AND flavor!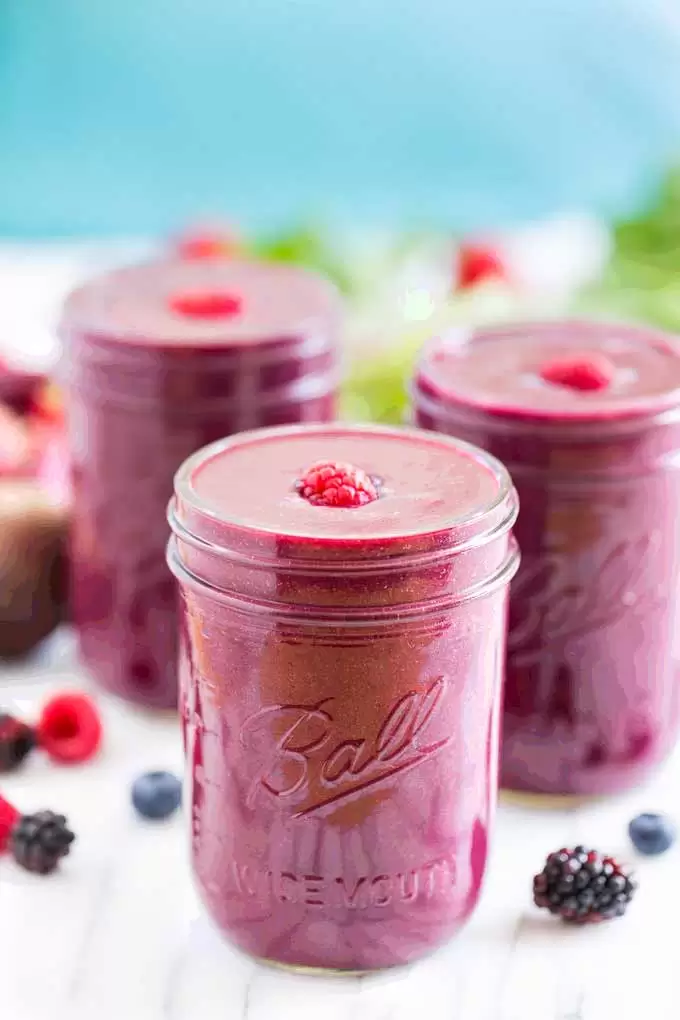 If your kiddos love those tiny oranges that you put in their lunches, they will definitely love them in this tangy-sweet pineapple smoothie! Pineapple are incredible for your digestive system and bring that tropical taste to your kitchen too!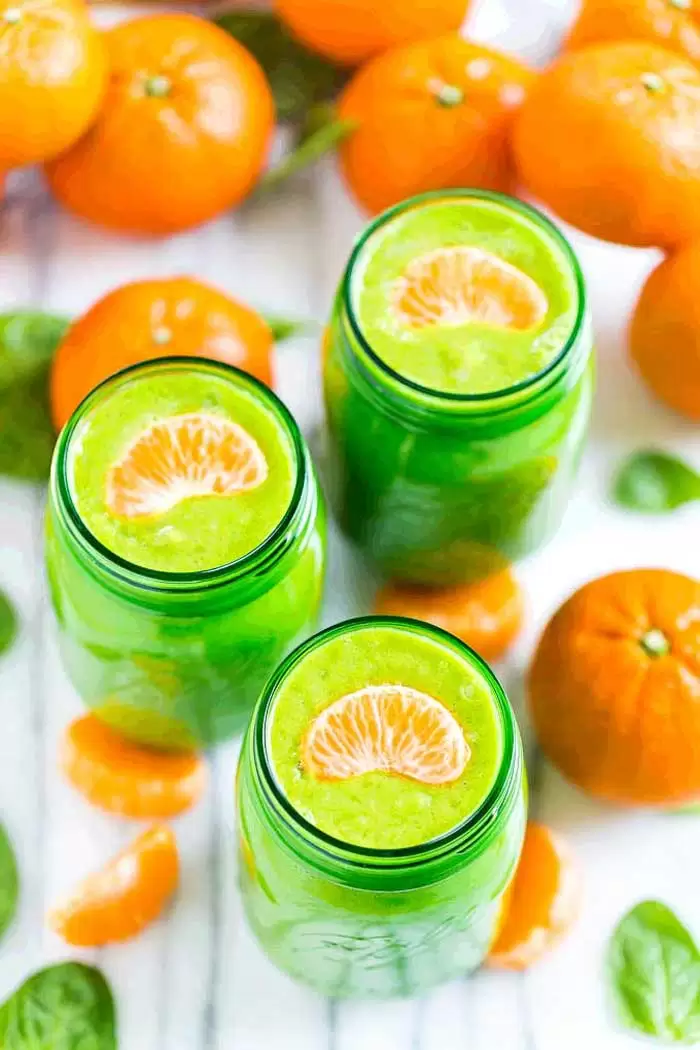 Mango and lime is one of the best combinations, and this smoothie is loaded with a ton of greens, which is the perfect way to sneak them into your kids diet. Also, this smoothie has a healthy dose of good fat from our favorite buttery vegetable: the avocado!

Sometimes kids seems to be bottomless pits and are NEVER full! This papaya smoothie is perfectly filling, but with low calories, and is sure to straighten out their little tummies, especially with the little bit of ginger.

What's the secret to a good smoothie bowl? Less liquid, and more fruit! We love how simple this strawberry banana bowl is, but with the added kick of a kiwi and some crunchy chia seeds.

What kid doesn't like apple pie?! Cut out the extra sugar and instead whip up this raw vegan smoothie complete with nutmeg and cashews, making it the right bit spicy and sweet!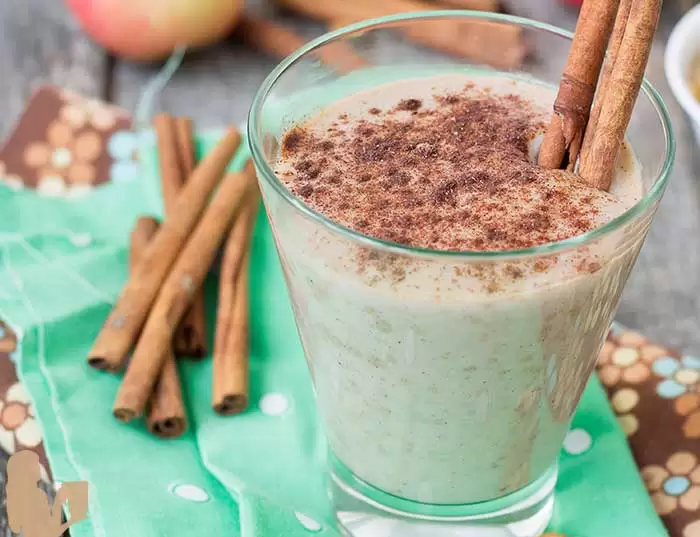 All this mom and registered dietician needed to get her kids to eat this yummy green smoothie was a silly name: The Incredible Hulk Smoothie! Tangy and nutritious with a tinge of pineapple, this smoothie will make sure your kids get enough fruits and veggies.
Sometimes you have to stick with something classic: we present to you the chocolate and peanut butter banana smoothie! With almond milk as a substitute for dairy this smoothie is minimal and mouth-watering.
Both bright and beaming this orange smoothie has only five ingredients, so it's simple enough for your kids to make with you! Whip it up in the morning to start your day with a little extra energy and vigor! Even though they might be tired, whipping up smoothie recipes for kids is a great way to start their day healthy!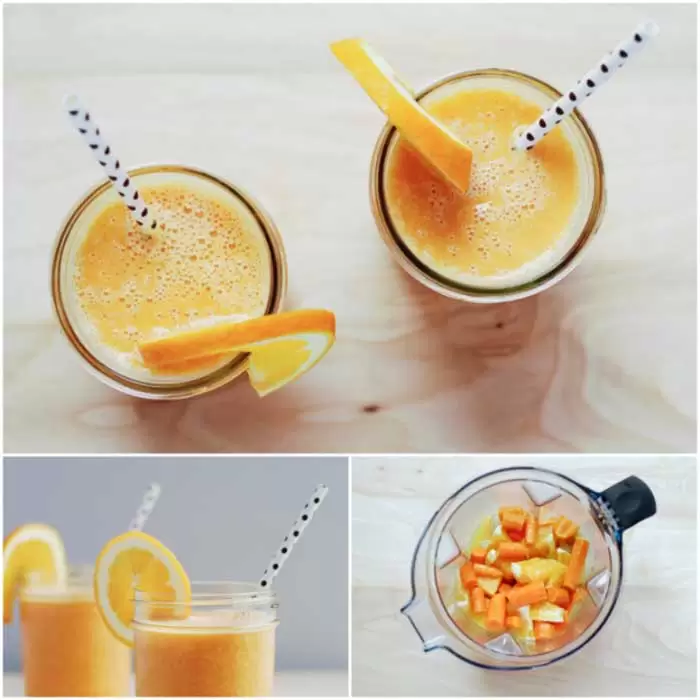 Keep your kids digestive systems happy and healthy with this smoothie, which has Greek yogurt, and is full of probiotics. Throw in some sweet and tropical fruity fun and you get this mango and blueberry treat!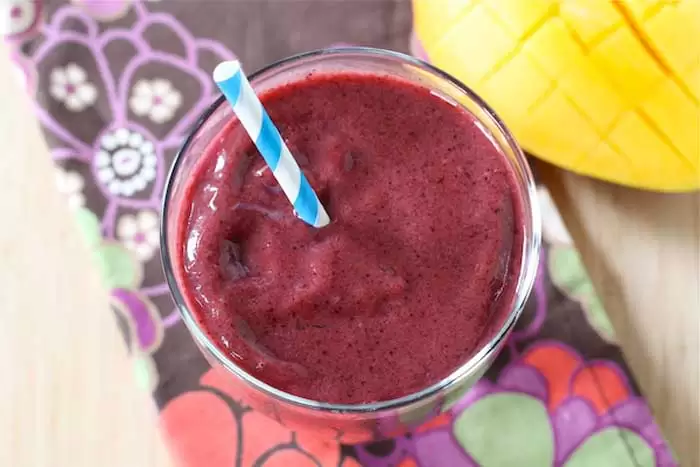 Nothing says summer and sunny days like watermelon and strawberries! Drink up this fruity red smoothie on a hot afternoon, or as a treat after a barbecue dinner: don't forget the chia seeds! Smoothie recipes for kids are often overly sugary, so we love that this one has protein from the chia seeds!

Wake up and work up an appetite for this scrumptious citrus smoothie, complete with lemon and grapefruit! We love this smoothie because it works in one of our favorite superfoods: honey! Not only does it act as a natural sweetener, but it's also an anti-microbial miracle worker!