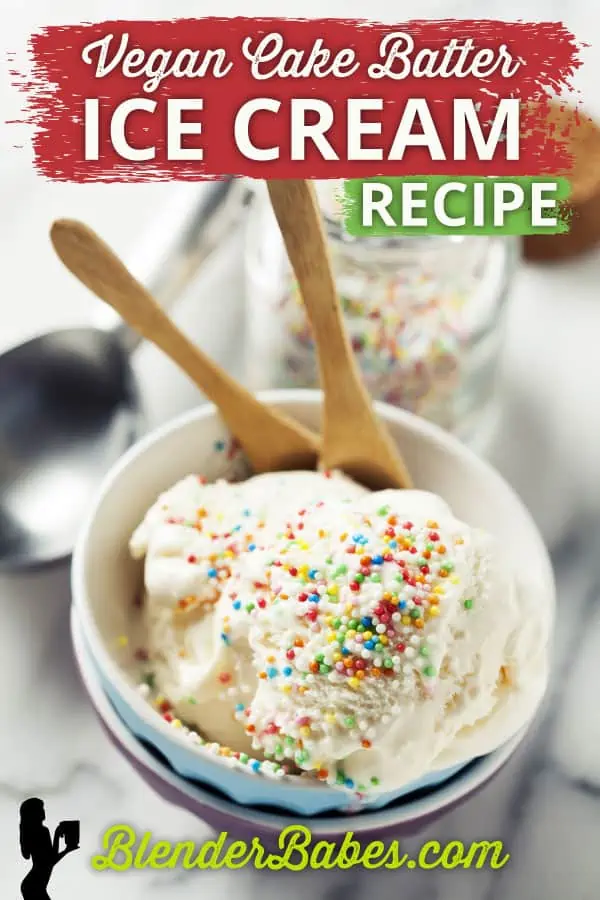 Get Healthy with Free Stuff from Blender Babes!
VEGAN CAKE BATTER ICE CREAM RECIPE
I eat banana ice cream as often as possible, which is to say, almost every day!
You can do a million variations of it (we've done Chocolate Cherry before and have more coming soon!), but this vegan cake batter ice cream recipe is my new favorite.
It's the closest we mortals can get to having our cake and eating it too!
It's super healthy with no cream and is low fat, smells just like cake batter, and really satisfies my sweet tooth.
The tiny amount of butter extract or buttery spread gives it a nice rich mouth feel and play into those childhood memories of eating the batter right out of the mixing bowl!
Ice cream is quick and easy in your Blendtec or Vitamix.
This vegan cake batter ice cream is creamy, sweet and with rainbow sprinkles — you can't go wrong here.
Join our blending community for more quick and easy ice cream recipes! If you try this recipe, share your thoughts with us by rating it below.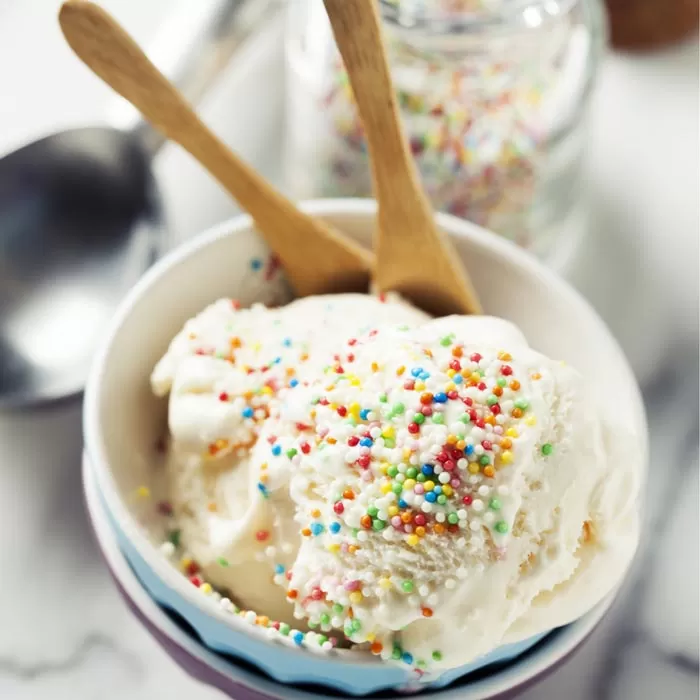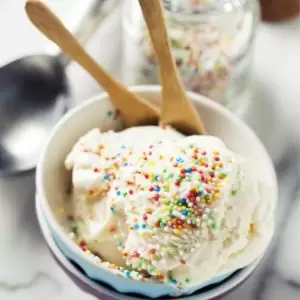 Vegan Cake Batter Ice Cream
Ingredients
2 to 3

medium frozen bananas

sliced

1

teaspoon

vanilla extract

1

teaspoon

butter extract or vegan buttery spread

such as Earth Balance

1/4

teaspoon

almond extract OR 1 tablespoon almond butter

2

tablespoons

maple syrup

1/4

teaspoon

baking soda

1 to 2

tablespoons

sprinkles

optional
Instructions
Place everything except the baking soda and sprinkles into your blender jar.

For

Blendtec

: If using a

Twister jar

, run the ICE CREAM cycle twisting the lid with tines counterclockwise. If using a

Fourside/Wildside Jar

double the recipe. Run the ICE CREAM cycle. If the blade spins freely, stop the machine and use a spatula to push ingredients down into the blades and then run the ICE CREAM cycle again, repeating process as necessary until creamy and combined. Add the baking soda and sprinkles and PULSE twice to incorporate.

For

Vitamix

: Start on Variable Speed 1, slowly increase to Variable Speed 10/HIGH and run for approximately 30-45 seconds, or until the bananas resemble soft-serve. Turn the machine off, and then add the sprinkles and baking soda and turn the machine back on for a second or two to incorporate.

Serve with some extra sprinkles on top immediately or freeze for later in a sturdy, freezer-safe box.

This is also great in between waffles or cookies or... anything else you can think of!

All done! Enjoy!! Now take a photo, rate it, and share your accomplishments! 🙂 Tag @BlenderBabes & #BlenderBabes
Nutrition
Calories:
190
kcal
Carbohydrates:
47.4
g
Protein:
1.6
g
Fat:
0.5
g
Saturated Fat:
0.2
g
Polyunsaturated Fat:
0.1
g
Sodium:
161.3
mg
Fiber:
3.8
g
Sugar:
30.3
g
BANANA HEALTH BENEFITS 
Bananas are one of nature's perfect foods for humans.
Our fingers are perfectly designed to peel a banana, although we choose to do it slightly differently, and they're packed with calories, natural sugars, and fiber that combine to a really close to perfect food.
Fruit does not make you fat, despite the high amounts of natural sugars!
Bananas are packed with potassium, an important mineral for muscular function and digestion that also balances sodium in the body.
Bananas contain vitamins A,B,E,K, and C, as well as folic acid. They don't unbalance your blood sugar since they are accompanied by fiber and vitamins that help to regulate it.
Bananas digest with an alkaline pH thathelps your stomach to achieve a point of balance. 
All of these benefits are in every banana, which have only 100 calories on average, with 0 grams of fat!
Grab yourself a banana already and make sure it's nice and yellow and freckley-ripe!