BLUEBERRY BEGINNING SMOOTHIE RECIPE
This simple blueberry smoothie recipe from 365 Vegan Smoothies may become your go-to smoothie staple!
We know all about green smoothies by now.
Well, I'm starting a new trend: the purple smoothie!
This purple smoothie is filled with tender blueberries, refreshing mint, cleansing chia seeds, and creamy banana—simple and sweet for your new beginning!
Add some non-dairy yogurt for a boost of probiotics.
If you're looking for the best smoothies for kids, this vegan blueberry smoothie is perfect: it's sweet, refreshing and anyone you share it with will love the flavor! 
It's easy to whip up, low in fat, and high in protein, fiber and other nutrients.
Be sure to join our blending-loving tribe for more healthy smoothie recipes from Blender Babes and our friends!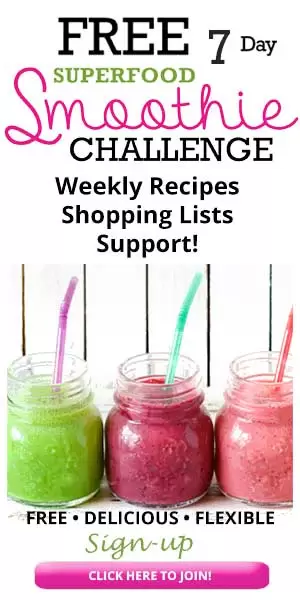 If you try this recipe, make sure to let our community know what you thought of it by rating it in the comments. HAPPY BLENDING! 🙂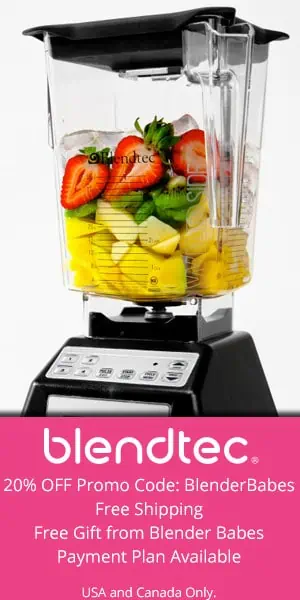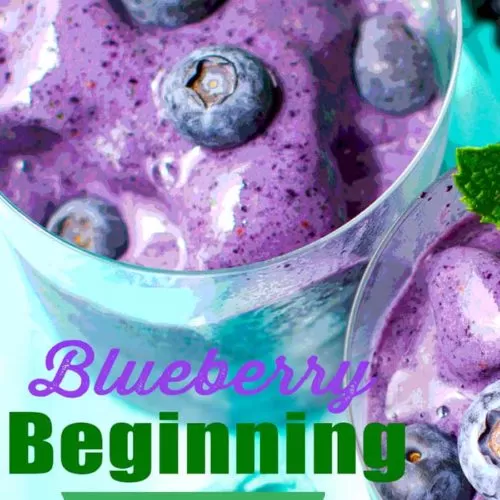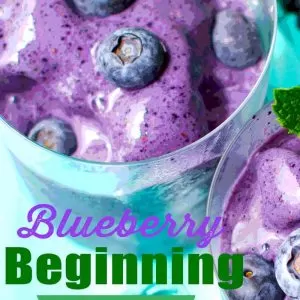 Blueberry Beginning Smoothie
Ingredients
1

cup

vanilla soy milk or your favorite non-dairy milk

1

cup

fresh

or frozen blueberries

1

frozen banana

2

tablespoons

chopped fresh mint leaves

1

teaspoon

chia seeds

optional

½

cup

ice

BOOST IT: 2 to 3 tablespoons non-dairy vanilla yogurt
Nutrition
Serving:
1.5
g
Calories:
147
kcal
Carbohydrates:
31.1
g
Protein:
9.6
g
Fat:
1.8
g
Saturated Fat:
0.1
g
Polyunsaturated Fat:
0.7
g
Trans Fat:
0.3
g
Sodium:
55.4
mg
Fiber:
4.9
g
Sugar:
17.3
g
HEALTH BENEFITS AND FUN FACTS OF BLUEBERRIES
As one of the few fruits native to North America, blueberries have been enjoyed by Native Americans for hundreds of years.
They have also enjoyed great popularity around the world in cuisines from Asia to the Mediterranean.
Blueberries are not only popular, but also repeatedly ranked in the U.S. diet as having one of the highest antioxidant capacities among all fruits, vegetables, spices and seasonings.
Antioxidants are essential to optimizing health by helping to combat the free radicals that can damage cellular structures as well as DNA.
We recommend enjoying raw blueberries — rather than relying upon blueberries incorporated into baked desserts — because, like other fruits, raw blueberries provide you with the best flavor and the greatest nutritional benefits.
Image & recipe excerpted with permission from 365 Vegan Smoothies by Kathy Patalsky.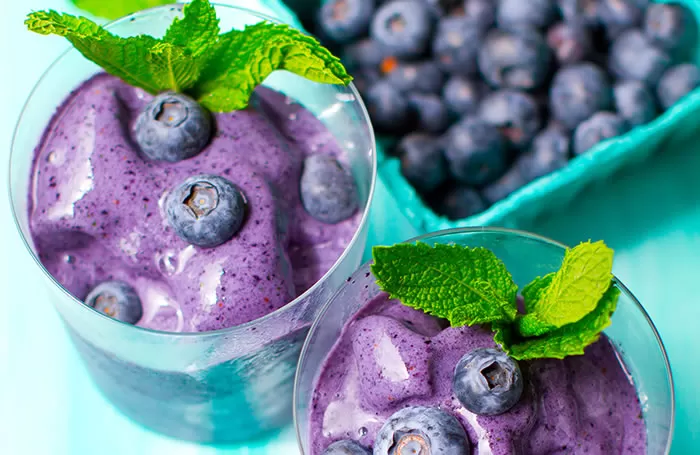 Published by Avery.