SIMPLE FROZEN STRAWBERRY DAIQUIRI RECIPE FROM BIT BY A FOX

This simple frozen strawberry daiquiri is a beautiful cocktail with a few little surprises, thanks to the lovely Prairie Rose of the award winning cocktail blog Bit By A Fox.
Skip all the store bought processed sugar heavy mixers and stick with fresh basics for this summer loving daiquiri!
We love the fresh strawberries, lime juice and mint in this classic frozen strawberry daiquiri recipe, with a fun blueberry addition.
You can also make this red, white and blue with a dollop of whipped cream on top!
A good power blender will give you that restaurant quality slushy or frozen texture if you so desire.
Be sure to join our blending-loving tribe for more healthy cocktail recipes from Blender Babes and our friends! If you try this recipe, be sure to let us know how it turns out by rating it in the comments! HAPPY BLENDING! 🙂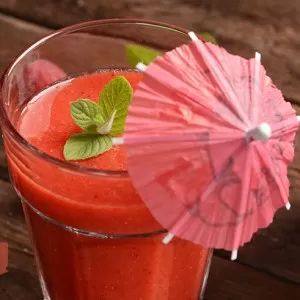 Frozen Strawberry Daiquiri Recipe
Ingredients
1

cup

white Rum

2

ounces

fresh lime juice

3

cups

fresh strawberries*

3-4

fresh mint leaves

2

ounces

Cointreau or Triple Sec

ice**

amount depends on how slushy you like it

fresh blueberries

optional for garnish
Notes
* If using frozen strawberries reduce ice
** For a cold smoothie, use 2 cups of ice. Slushy, use 3 cups. Frozen, use 4 cups ice. (Use half that amount of ice if you are using frozen strawberries).
STRAWBERRY HEALTH BENEFITS

It has been said by many to include berries in your daily meal plan, and tasty juicy strawberries are a favorite, especially in the USA.
Studies have shown a cup of strawberries to actually help maintain blood sugar levels, which is a plus for those with type 2 diabetes.
Strawberries also have anti-inflammatory properties, thanks to an amazing combination of antioxidants and phytonutrients.
Of course having these properties can also help reduce the risk of  certain types of cancer, including colon, breast, cervical, and esophageal cancer.