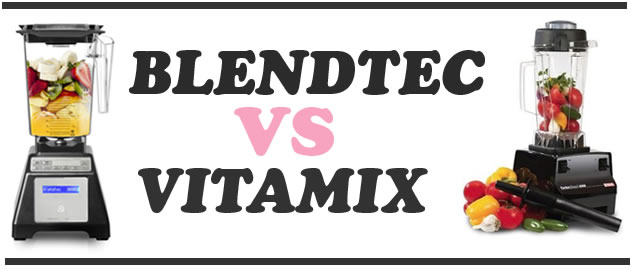 Blendtec vs Vitamix – COST
– Payment Plans
– Free Gifts Offer
Blendtec vs Vita Mix – NOISE
Blendtec vs Vitamix – DESIGN
Blendtec vs Vitamix – BLENDING CONTAINERS/JARS
Blendtec vs Vitamix – PERFORMANCE
– SMOOTHIE MAKING
– JUICING
– SOUP
– CHOPPING
– GRINDING
– MIXING
– ICE CREAM
Blendtec vs Vitamix – CLEAN UP
Blendtec vs Vitamix – WARRANTY and DURABILITY

BLENDTEC VS VITAMIX REVIEW
Hey Friends,
I recently released a blender workshop that shares my 5 steps to choosing which blender (make AND model) is best for YOU.
It answers EVERYTHING you have ever wondered about Vitamix and Blendtec … all for free.
Click Here to get access to it. Let me know what you think.
~Tarashaun
Founder Blender Babes
BLENDTEC VS VITAMIX REVIEW UPDATED May 2017
Whether you're researching the best blender for smoothies or to improve your nutrition due to certain health issues – my goal is to help you determine which blender is BEST FOR YOU!
There are plenty of blender models on the market these days, however after research the majority of people seriously interested in blending realize it is a face off between Blendtec vs Vitamix.
In this Blendtec vs Vitamix review, I will explain ALL the similarities and differences between the two of these superior high-speed performance blenders in terms of design, features, performance abilities, warranty and price of the two best blender brands currently available to help you determine: Which blender is most beneficial for you personally, your family, and/or your lifestyle.
If at the end of this Blendtec vs Vitamix review you're still having a hard time deciding, maybe you're not sure exactly which model is right for you, I invite you to check out my super comprehensive Blender Workshop HERE.
Blendtec vs Vitamix – COST
I'm going to start with the biggest (and pretty much ONLY) con regarding these two blenders – their initial cost. Yes, each blender will take a chunk out of your wallet, there is no doubt about that – thankfully both have less expensive refurbished options which are LIKE NEW. The base housing, jars, cookbooks, tamper (vitamix only) – everything is replaced. They also both offer long term payment plans.
Plus, you get free shipping + exclusive free gifts from Blender Babes! CLICK HERE to learn more about our current free gifts offer for purchasing Blendtec or Vitamix blenders through Blender Babes. 🙂
BLENDTEC BLENDERS COST
Blendtec Deals: Save up to $300 on these certified reconditioned Blendtec models. Save up to $180 on these NEW Blendtec models/colors (starting at $299). Includes Free Shipping + Free Gifts from Blender Babes! Hurry! Ends June 18th!
Blendtec sells both new and certified refurbished blenders (which offer a substantial savings) direct from their website. Blendtec has 3 different classes of blenders – the Professional Series, the Designer Series and the Classic Series.
All Blendtec blenders are 100% automatic and digital – meaning you select a setting or speed and it will stop after a certain amount of time.
BLENDTEC PROFESSIONAL SERIES – $799-$1099
Their uber quiet Blendtec Professional 800 is a touchscreen model with 6 pre-programmed settings + 11 speed capacitive touch slider. It's their most expensive blender option at $1,099. Luckily there's a refurbished Blendtec Pro 800 for $799. Both are expensive, but worth it for those that need the massive noise reduction thanks to the sound enclosure.
The Blendtec Professional 750 is unique in that it has the ability to be built into your countertop, saving space in your custom kitchen or outside patio. This push button model has 6 pre-programmed settings + 10 speeds and costs $599
BLENDTEC DESIGNER SERIES – $399-$679
All Designer Series blenders have a beautiful touchscreen interface.
The top of the line Blendtec Designer 725 blender costs $679 brand new, however I purchased their less expensive refurbished Designer 725 for $549! This super advanced touchscreen blender has 6 pre-programmed settings + 100 (yes I said one hundred!) speed capacitive touch slider + Add 10 (can add time to blends!) + bonus rewards. Oh, and it also has an uber powerful 3.8 peak HP motor.
Note: The Designer 725 is my FAVORITE Blendtec model, due to all the advanced features and bells and whistles. If you're a tech nerd (like me!) you will not be disappointed. It's the most advanced blender I've ever tested and you can see my review of it here.
The Blendtec Designer 675 is $579 and features 5 pre-programmed settings + 8 speed capacitive touch slider + Add 10.
The Blendtec blender with the most color options, the Blendtec Designer 625 is $499 new and has a less expensive but-not-as-many-colors refurbished Designer 625 for $399. This blender has the 4 most popular pre-programmed settings + 6 speed capacitive touch slider.
BLENDTEC CLASSIC SERIES – $279-$419
Classic Series blenders all feature push button settings and speeds.
A new Blendtec Classic 575 blender is $419 (on sale for $299 in blue only) and has 4 pre-programmed settings + 5 speeds and has several color options, although not as many colors are available for their refurbished Blendtec Classic 575 for $319.
The most cost effective Blendtec model (and one I highly recommend) is the refurbished Blendtec Total Blender Classic for only $279 – this model has been discontinued but has the exact same interface and features as the Professional 750 (which is $599) that include 6 pre-programmed settings + 10 speeds – this is more than the newer classic 575 and some designer models!
To get to the nitty gritty of what each model has to offer, see my comprehensive Blendtec Designer Comparison Review and Blendtec Classic Comparison Review or my Blendtec Pro 800 review.

From Blender Babes: Free Shipping + Free Gifts from Blender Babes: By using the links from our website and our Blendtec Promo Code BBGIFT – you will receive free shipping and exclusive free gifts! Forward your purchase confirmation email from Blendtec to freegift@blenderbabes.com to redeem your free gifts.

VITAMIX BLENDERS COST
Vitamix Deals: Save an additional $80 on these certified reconditioned Vitamix. All offers also includes Free Shipping + Free Gifts from Blender Babes! Hurry, ends May 31st
Vitamix sells both new and certified reconditioned Vitamix (which offer substantial savings) on their website.
VITAMIX ASCENT SERIES – $469-$619
Vitamix recently (January 2017) released their highly anticipated and more technologically advanced Ascent Series, which range in price from $469 for the Vitamix A2300 and up to $619 for the Vitamix A3500.
All Ascent series blenders have the same 2.2 peak HP motor and low profile compact jar as their (previously newest)Next Generation blenders. They also feature wi-fi capability and for the first time ever, a digital timer.
If you like switch and dial controls they look more modern on the Vitamix A2300 – with 10 speed variable control and the Vitamix A2500 – with 3 automatic settings + 10 speed variable control.
Or you can choose between 2 more advanced touchscreen options with the Vitamix A3300 – with programmable timer + 10 speed variable control or you can get it all with the Vitamix A3500 – including 5 automatic settings + programmable timer + 10 speed variable control.
NOTE: Vitamix Ascent blenders are only available new and also come with an industry leading 10 year warranty. Other new models come with a 7 year warranty and refurbished Vitamix come with 5 years.
VITAMIX LEGACY SERIES: Next Generation G-Series – $429-$719 
People were really excited with the release of the G-Series Next Generation models which have a more powerful, yet quieter motor, as well as shorter compact 64 oz jars (which can fit under most kitchen counters). These include the Vitamix 7500 and Pro Series 300 for $529 (their is a refurbished Vitamix Next Generation option for $429.
The Next Generation Professional Vitamix 750 has the same G-Series features but also has 5 automatic settings (smoothie, soup, frozen treats, purees, and cleaning) for $629 (its refurbished Vitamix Next Generation with Programs option is $519, and it's the one Blender Babes purchased!)
In September 2015 Vitamix released their very first 100%  DIGITAL Vitamix 780 – a Next Generation model that features a touchscreen control panel (similar to Blendtec Designer models) with the same 5 automatic settings as the Vitamix 750 and Ascent A3500 (smoothie, soup, frozen treats, purees, and cleaning) and is their most expensive home blender option at $719.
VITAMIX LEGACY SERIES: Classic C-Series – $199-$399 
The most widely used Vitamix models are the C-Series standard models with full manual control such as the Vitamix 5200 for $449 – and has a less expensive refurbished Vitamix Standard option for $329 (on sale for $299).
Vitamix C-Series models which include 3 automatic settings (smoothie, soup, and frozen treats) such as the Vitamix 6300 and Vitamix 500 have also been retired and are only available as less expensive refurbished Vitamix Standard with Programs option for $379 (on sale for $299 – AMAZING DEAL).
The Vitamix 5300 has a C-Series body style with Next Generation 2.2 HP motor and 64oz low profile jar, but is only available as a less expensive refurbished Vitamix 5300 option for $360 (on sale for $289 – AMAZING DEAL).
VITAMIX PERSONAL SERIES – $249-$469 
The introduction of Vitamix's S-Series "Personal" Blenders started with the Vitamix S30 for $399 (its refurbished option is $259) and they now have S-Series models with automatic settings (the S50 has 2 and the S55 has 4).
Keep in mind that with the Vitamix dry jar "needed" for grinding for all models other than the Vitamix S30 (read about GRINDING later in this review!!) the price is about $100 additional.
If you think you want a Vitamix but aren't sure which model, see my Which Vitamix to Buy review here. 
All in all, most of the Vitamix models are a little more expensive than the Blendtec models, unless you get them certified refurbished.
From Blender Babes: Free Shipping + Free Gifts from Blender Babes by using the links from our website or Vitamix Promo Code 06-007974 – you will receive free shipping and exclusive free gifts. Forward your purchase confirmation email from Vitamix to freegift@blenderbabes.com to redeem your free gifts.
---
BENEFITS OF PURCHASING THROUGH BLENDER BABES

Blender Babes is proud to be an affiliate of many of the healthy lifestyle products we discuss. At no additional cost to you, we earn a small commission for sales made using the links from our website (and many times offer special deals just for our community!). It's how we keep creating content you love and we are so very grateful for your support! ♥

1)FREE SHIPPING: You will receive FREE SHIPPING for purchasing from Blender Babes using the links from our website (that goes for new and refurbished Vitamix and Blendtec blender models!) Shipping is free to both the USA and Canada and is valued up to $25!

2)EXCLUSIVE FREE GIFTS: By using the links from our website just before making your purchase, and Blendtec Promo Code BBGIFT or Vitamix Promo Code 06-007974 you will receive $50 in free gifts* exclusively from Blender Babes! Learn More about our current free gifts offer.

*Make sure to forward your confirmation purchase order from Blendtec or Vitamix to FreeGift@Blenderbabes.com to redeem (it is not automatic)!

3) PAYMENT PLANS: Both Blendtec and Vitamix offer payment plans if you're in the USA or Canada. Blendtec offers 3, 6, and 12 month payment plans with Financing through AFFIRM at checkout. Vitamix offers Easy Pay no interest financing up to 24 months through Paypal.

BLENDTEC INSTRUCTIONS: To purchase any Blendtec blender or accessories with free shipping: add your desired item to your shopping cart and upon checkout use our special Blendtec Promo Code: BBGIFT. This will apply FREE GROUND SHIPPING to the USA & CANADA! To purchase a Blendtec with their 3, 6 or 12 month payment plan option, choose AFFIRM financing at checkout.

VITAMIX INSTRUCTIONS: To purchase any Vitamix blender or accessories with free shipping: add your desired item to your shopping cart and use our special Vitamix Promotion Code: 06-007974 which will automatically apply FREE SHIPPING to the USA and CANADA! To purchase a Vitamix with their payment plans, choose Paypal financing at checkout.

4) SAVE BIG: Access largest selection of Refurbished Blendtec and Refurbished Vitamix: The best deals on Vitamix and Blendtec blenders are LIKE NEW Refurbished blenders and come complete manufacturer's 5 (Vitamix) and 3 (Blendtec) year warranty (read more about warranty later in this review). See Blender Babes Review: How to SAVE BIG on Refurbished Blendtec vs Vitamix Blenders. 🙂
On occasion we have found deals for Blendtec blenders on Amazon and Vitamix blenders on Amazon. Purchases at all other locations other than direct from the manufacturer DO NOT have the payment plan options OR most refurbished options and WILL NOT receive our EXCLUSIVE FREE GIFTS from Blender Babes. Only purchases made using Blender Babes' free shipping links and promo codes, and confirmation email to us, will receive our FREE GIFTS! (Learn More). THANK YOU AGAIN, WE APPRECIATE YOUR SUPPORT!! ♥
Here at Blender Babes we encourage you to find a way to obtain one of these blenders in the best way you can, you will NEVER regret it! 🙂 Now that cost is out of the way, it's time to get down to the real business at hand…
Blendtec vs Vitamix – NOISE
The other only con regarding both blenders is the noise they make.  Both blenders are loud compared to a common kitchen blender, however they are almost 5 times more powerful than most.  After evaluation, usually Blendtec is slightly louder at its highest speed and when making ice cream. But sometimes Vitamix is louder. Other than that they are both equally noisy machines with only 1-2 decibel difference. It's important to remember that most items are blended in approx 1-2 min. so they are not causing a racket for too long! 🙂 Note that the Designer Series Blendtec models and the Vitamix Next Generation Models are quieter than their predecessors.
We have recently had a chance to test out the latest home offering from Blendtec, an actual commercial blender which is known to be the QUIETEST blender in the world – The Blendtec Professional 800. We have to say it's everything the other Blendtec blenders are except that it's definitely quiet – for more than a pretty penny – however if quiet is REQUIRED, the Blendtec Pro 800 is the way to go.
Blendtec vs Vitamix – DESIGN

Power: Vitamix's standard home models draw less power at 11.5 amps/1380 watts and 2 peak horsepower motor vs Blendtec's standard 13 amps/1560 watts and 3 peak horsepower motor (they have a couple models which have a 3.8 peak horsepower motor!). Vitamix's Next Generation and Ascent Series models are more powerful than their predecessors, with a 2.2 peak horsepower motor. However in our testing, whether they had 2 HP or 3.8 HP they had enough power and torque to easily blend any food product. The only difference we really found might be how fast a recipe was pulverized or made hot (such as soup). The truth is, you will not find virtually any foods the Blendtec can blend which the Vitamix can't. Nevertheless the popular Will It Blend? youtube videos that demonstrate a Blendtec Total Blender pulverizing an iphone, ipad, golf balls, marbles, etc. proves the Blendtec IS a more powerful machine.
Speed capacity: Blendtec has 10 speeds with a minimum of 4,080 revolultions per minute (RPM) and a maximum of 28,000 RPM's, however the blade can spin up to 310 miles per hour (MPH).  Vitamix's variable 10 speeds with high power has a greater RPM range from 500 to 37,000 enabling more control at slower speeds, which is most helpful for chopping (see chopping). The various speeds on both the Blendtec blender & Vitamix blender will enable you to achieve different textures with a variety of ingredients.
Size: The Blendtec Classic Series are 6 pounds while the Designer Series is 8-10 pounds. All of them are a low 15 inches tall.  The standard Vitamix models are approximately 13 pounds and 21.5 inches tall.  Blendtec's compact size will fit underneath most kitchen cabinets, and its lighter weight makes it easier to move around and travel with (i.e. road trips, vacations, to gatherings, etc.) Vitamix has a more desirable 64 oz compact jar (making them 17 inches tall) to compete with this particularly desirable attribute of their biggest competitor.  For a heavy job, such as making ice cream, sometimes the Blendtec will move around or shift on your countertop, usually if it's tiled and not a smooth surface.  This can be somewhat alarming to new users, but it's nothing to be too concerned about. With its heavier weight, Vitamix will not move on your counter.
Controls and User friendliness:
Both Vitamix and Blendtec have simple to operate controls however their functionality is different. Vitamix is mostly knobs and dials – only very recently introducing a touchscreen model while Blendtec is the pioneer for flat, easy to clean automatic buttons and touchscreens.
VITAMIX BLENDERS – Controls
Most of the popular Vitamix models, better known as the C-Series Standard who's models include the Vitamix 5200, offer full manual control of your blending with a variable 10 speed dial with a Hi/Lo switch and no separate pulse button (however you can still "pulse" by turning the machine on and off to equal 1 pulse). The C-Series Standard Programs, which include the Professional Series 500 and 6300, have 3 pre-programmed settings (smoothie, frozen yogurt, soup) which we LOVE and a pulse setting. The G-Series Next Generation blenders again have either full manual control plus a pulse setting (not pictured) or the G-Series with Programs (which have the MOST features) with FIVE (5) pre-programmed automatic settings (smoothie, frozen dessert, soup, puree recipes, and self cleaning) as well as a Pulse switch. These Vitamix models include The Vitamix Professional Series 750  and the NEWEST Vitamix 780 (their first ever touch screen model).
Vitamix also offers full manual, 3 pre-programmed and 5 pre-programmed settings as part of their three S-Series personal blenders (not pictured below).
Our most recommended models for the price are the C-Series Vitamix Standard and C-Series Vitamix Standard with programs (6300/500), which you can get via their less expensive refurbished models.
BLENDTEC BLENDERS – Controls
Blendtec is known for their patented Smart-Touch Tec-nology™ enabling you to press a button and walk away.  The automatic program cycle with fluctuating various speeds will stop when the program time is completed.  The microprocessor technology features a digital display that shows you blending times and cycles. (The older model by Blendtec – the HP3A series – allows you to assign your own program buttons, however the pre-programmed models we feel are easier for most people to use. Don't let the dealers out there fool you who are trying to move old product! Get the Classic Series, Designer Series or Professional Series). There is also a pulse button which is great for chopping and mixing in additional ingredients without pulverizing. We find it keeps certain recipes "chunkier" than with our Vitamix, such as in our skinny guacamole recipe. In addition to the program cycles, there are also manual speeds, which also automatically shut off after 50 seconds of continuous blending.
Which model you get will determine how many automatic settings and manual speeds you have. Aside from the refurbished Blendtec Total Blender Classic (now discontinued – which has 6 pre-programmed settings and 10 speeds), the Blendtec Designer 725 has the most features of all the models in terms of number of pre-programmed settings (6) and manual speeds (100). Each model below the Blendtec 725 becomes less expensive but have fewer features.

The automatic programmed cycles are our favorite thing about Blendtec blenders! The program cycles are perfect for most applications, however on occasion we need to continue blending after the program completes to finish the job. For all models except the Blendtec Designer 725 which has an "Add 10" time feature (see our full Designer 725 review), we just use our manual SPEEDS or hold down the PULSE setting as needed, or we'll use a programed cycle a second time. No big deal.
One thing we especially appreciate (and has come in handy for extra tough recipes) is Blendtec's built in computer detects Overheat, Overload, and Jammed blade situations, preventing damage that the Vitamix cannot sense to protect itself. The Vitamix does have overheat protection but not the other protections the Blendtec has.  A Vitamix will continue to run until you manually power off or until the thermal protection kicks in to prevent overheating.
Blendtec vs Vitamix – BLENDING CONTAINERS/JARS
BLENDTEC AND VITAMIX CONTAINERS: All current Blendtec and Vitamix containers are BPA-Free copolyester plastic. These containers are lightweight and are EXTREMELY TOUGH to break in case you drop it (our favorite Will It Blend? videos come to mind here!).  For the most part both do not absorb the odors of the ingredients that are put in, however it is important to clean the jars right away to eliminate any unwanted smells (see easy clean up).  That said, spices and their strong odors have been known to leave a scent and/or discolor jars. Both blenders' standard package comes with a "64oz" container, however other options and combos are available.
BLENDTEC JARS:


Blendtec came out with a "Twister" jar for thick and smaller blends, and WE LOVE IT! It's a game changer. We prefer the standard size over the mini twister jar. It makes certain types of dishes, such as peanut butter, baby food & other purees, dips, etc. in seconds – much faster and easier than the other Blendtec jars. Blendtec also has an extra large 90 oz "Wildside" container that is widely believed to be "the best" with its larger capacity and superior blending performance. The Wildside Jar is what comes standard with most Blendtec blenders. Recently the mini Wildside jar was released. At first I thought it was silly but then I saw it and of course had to have one! 😉
Blendtec container options include:
•"2 qt" 64 oz. FourSide Jar – container
•"3 qt" 90 oz. Wildside Jar – largest capacity with bigger 4 inch blade.
•46 oz. Mini Wildside Jar – Performs as well as the regular Wildside Jar but good for single servings. We like the new latching lid to prevent any accidents.
•Twister Jar (Standard) –  small container made specifically for thick dishes/purees such as nut butters, baby food and for small amounts.
•Mini Twister Jar – half the size of the standard Twister Jar. Same as above but cannot make as much. We recommend the standard Twister over the Mini.

Vitamix has a much smaller 32 oz wet jar, a recently introduced a 48oz wet container AND (our favorite) a 64 oz low profile wet container with a more desirable larger capacity, but is short enough for their blender to fit under the average kitchen counter – which was one of the largest complaints that our Vitamix owners have (the 64 oz standard being too tall so people put away and therefore don't use it as much). The 64 oz wet container is currently only available with certain NEXT GENERATION blender models, which include the Professional Series 300, and Pro 750. A Vitamix wet jar can perform hot, cold, and wet, however for blending dry goods, they have a special 32 oz dry grains container (see dry blending).  Note: We have found Vitamix jars for less on Amazon.
Vitamix container options include: 
•64 oz Container – standard container used by most – totals 20.5″ tall
•64 oz Low Profile Container  – NEWLY DESIGNED compact 64oz container that fits under most kitchen cabinets (should only be used on models with 2.2 HP)
•48 oz Compact Container – smaller capacity compact container -totals 17.5" tall
•32 oz Container – smallest wet jar
•32 oz Dry Grains Container – made especially for grinding
CAPACITY/VOLUME: Both blenders offer a variety of containers to match your needs. While both blenders' standard large containers are "2 qt" the Vitamix container is UL rated to blend at a 64 oz capacity. The Blendtec jar is recommended not to operate when at capacity; For our Blendtec to operate best we usually fill it no more than 2/3rds full, while our Vita-Mix we can fill to the 64oz top since the lid on the vitamix offers a little extra room. Blendtec's larger "3 qt/90 oz" wildside jar has a longer 4 inch blade, and we find this jar not only emulsifies ingredients faster and is ideal for larger capacities, but it is easier when using these high powered blenders as "mixers" for dough and other baked goods.  Of course each jar is marked with easy measuring volume units in oz & cups.  All of the Blendtec jars have their capacity measurements marked in black and in addition to oz & cups, the newest jars have ml, and cl.  Some of the Vitamix jars have clear markings that are harder to see and only in oz & cups.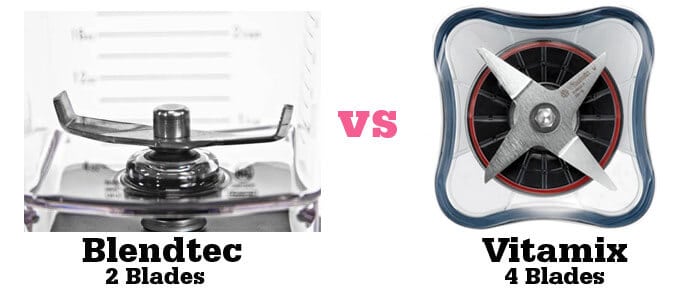 BLADE: In all Vitamix containers you can replace or exchange their sharp 4 blades if they become dull over time. In a Blendtec the patented  blade design is already dull, and you cannot remove the blade as the blade & container is essentially one piece.  In a single Blendtec jar, its patented dull one blade will do it all: hot, cold, wet, and dry blending.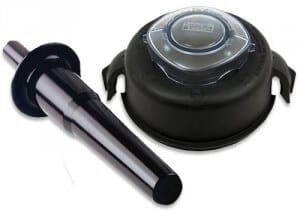 THE LID: Both the Blendtec and Vitamix have "gripper lids" and they each have a removable chute where you can add ingredients while processing is going on.  This way, there is no need to stop the blender to add more ingredients.  We find that the Vitamix lid is more secure than Blendtec's, as the lid snaps onto the jar due to special "lips". Their lid also adds extra room, while Blendtec's lid suctions on flat.  For this reason, Blendtec recommends not filling their jar to the very top and we must say, this is accurate.  On more than one occasion, we have filled the jar to its brim and "pressed a button and walked away".  As the highly fibrous contents were pulverized on high speeds, and the level of fluid increased, the lid was pushed off sending the contents of our green juice (happened twice) and almond milk (once we attempted a double batch!) ALL OVER.  After we cleaned up (and laughed!) we realized our error, and therefore make it a point to make sure to tell our readers. 🙂 We chalk it up to Blender Babes Bloopers, and now for larger batches of product, we stick with Blendtec's larger wildside jar.
Every Vitamix blender comes with a perfectly sized patented tamper, to assist in blending solid and whole (uncut) foods without stopping the blender by pushing it through the removable chute in the lid. The tamper is not always necessary but is extremely helpful with super green smoothies, and making frozen treats and thicker dishes such as nut butters. With the Blendtec blender, large items sometimes need to be halved or quartered, or additional liquid is needed to blend completely without stopping the blender and pushing ingredients into the blades (this need is almost completely reduced when using the larger 90 oz. WildSide Jar due to its larger blade/volume).  The introduction of the Blendtec Twister Jar (Here at Blender Babes we LOVE the new Twister Jar! Watch a BLEND OFF with our Blender Babes between Blendtec and Vitamix making nut butter!) gives Blendtec owners the ability to make thick purees and dishes without stopping the blender and scraping towards the blade. With its unique "twister lid and tines" food can be directed into the blades while blending.  For example, using a Blendtec regular jar to make peanut butter takes approximately 3-5 minutes when stopping the blender and scraping towards center, however with the new Blendtec Twister Jar it takes about 40 seconds.
Blendtec vs Vitamix – PERFORMANCE
In this Blendtec vs Vitamix comparison, we can't say one is the best smoothie maker. The BOTH are PHENOMENAL smoothie makers!! Additionally they both easily crush ice, make hot soups, nut butters, grind seeds, puree fruit and a whole lot more.
SMOOTHIE MAKING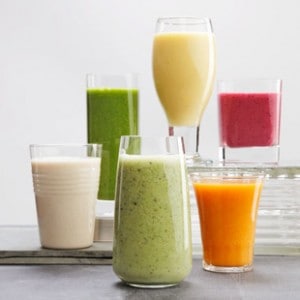 "Which blender is the best smoothie maker?" is our most popular question. In the Blendtec vs Vitamix debate, there is no need to be concerned whether or not either blender can achieve the best smoothies you have ever tasted.  There is a reason that 90% of smoothie shops use one or the other of these two commercial grade machines!  There is no question that both blenders do an excellent job at turning out delicious fruit and vegetable smoothies.With our extensive recipe testing, Blender Babes has used our Blendtec blender literally thousands of times – (we can actually know for sure by its digital counte and many of our customers have experienced long life cycles of their Blendtec through thousands of uses, so we're not alone!) We have found that on occasion when making super packed green smoothies, the WHOLE JUIC E program cycle will not ALWAYS complete the blending to its smoothest point upon the timed 50 second cycle. That said since every Blendtec offers manual buttons for added control over your blending desires, usually only a few more seconds at a high speed finishes the job. For example, sometimes with carrots and certain green smoothies packed with tons of fibrous vegetables, it may be necessary to do additional blending after running the Whole Juice cycle.  For common blends and fruit smoothies we find automatic program cycles to be a serious blessing and time saver by not having to stand next to and/or assist the blender.
The Vitamix makes super smooth fruit, vegetable, and green smoothies even when we pack the container to the brim.  There is a reason the Vitamix comes with its patented tamper and with certain to-capacity or highly fibrous green smoothies we need to push those ingredients down and into the blade.  Since you are controlling the machine you must shut off the power (except with the automated controls in the new Vitamix 6300 or 750 models!!) when you see a consistency that's to your liking.

JUICING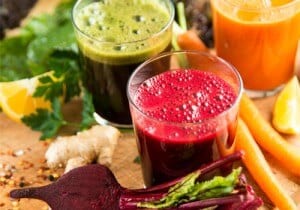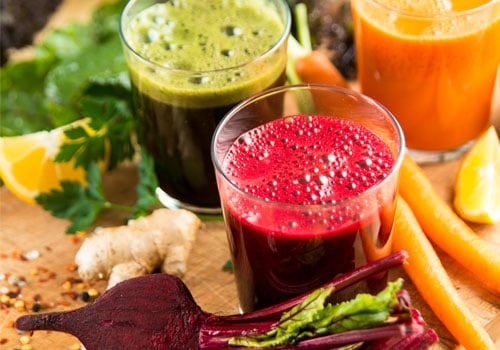 One of the most common question by those looking for a traditional juicer is "can it make juice?".  Both the Blendtec and Vitamix blenders are not traditional juice EXTRACTORS, it is important to note that they ARE "juicers". What they make is "wholefood juice". The important difference is that traditional juicers extract the liquid from whole foods, separating out the pulp (fiber), seeds, and skin.  Both Vitamix and Blendtec blenders do not remove anything from the whole food, so you get ALL the nutrition that is found in the skin and seeds, as well as the natural fiber (pulp) which is liquefied – thus a wholefood juice. Another important difference between a traditional juice extractor and a Blendtec or Vitamix juicer, is that a traditional juicer requires 4-10 times more produce to extract a small amount of juice.  The resulting juice has a higher concentration of vitamins and minerals than what a Blendtec or Vitamix juicer will yield, however it can also have a much higher concentration of sugar, especially in fruit juices or vegetables juices such as carrots.  A Blendtec or Vitamix juice will use 100% of the produce (making your juicing costs much lower) as well as give you more whole food nutrition. Some illnesses and digestive diseases require the high concentration of vitamins and minerals without the fiber or anything else that the body has to digest.  Also if you want fresh squeezed fruit juices such as apple or orange juice, many people prefer the juice from a quality extract juicer.

SOUP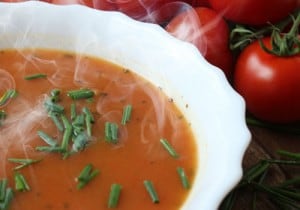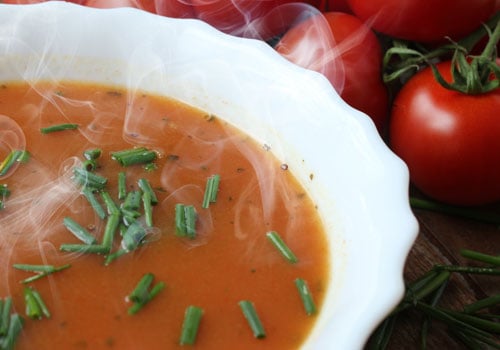 Both blenders can whip up a raw soup in less than a minute or a super hot soup in mere minutes! Yes that's right, these commercial blenders are powerful enough to HEAT SOUP due to the friction the blades cause when spinning.  Literally, steam will be coming out the top when you take the lid off! Due to the Blendtec being a more powerful machine, when starting with cold water or broth, it takes slightly less time by pressing the (90 second) SOUP button 3 times (4.5 minutes) to get super hot and the Vitamix 6 minutes on manual control speed 10/high or using their automated 6 min. soup setting on the new Vitamix 6300 or 750 models.  It is of course much healthier to make a fresh soup at home than to use a canned soup – which has a shelf life of 3 years thanks to hefty preservatives and are often extremely high in sodium.  We have many soup recipes and are constantly adding new ones, although one of our favorites and most requested recipe is our easy CHUNKY TORTILLA SOUP!

CHOPPING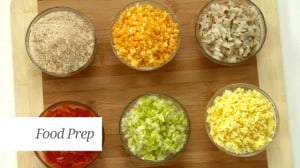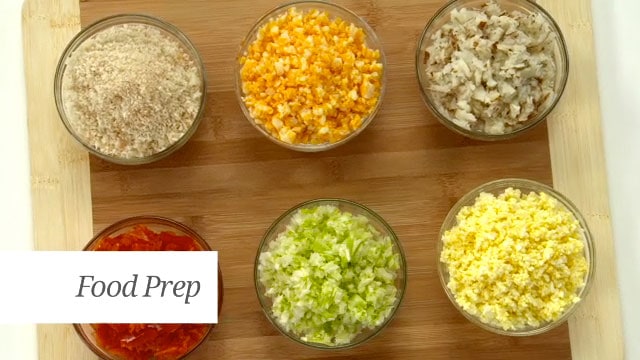 Both blenders claim to be food processors or choppers.  While neither blender is designed to be as good a chopper as a separate specific food processor, both have the ability to chop smaller quantities of food.  The low variable speed control of the Vitamix does allow for cleaner more precise chopping results than the Pulse feature of the Blendtec.  The Blendtec has a dull blade, so although it doesn't allow for aesthetic chopping, it does get the job done.  Blender Babes uses the Blendtec Pulse feature and Vitamix chopping instructions quite a bit for certain recipes such as skinny guacamole, or to add chunks to our soup.  Both work very well, however if you need to chop large quantities of food, we recommend a true food processor.

GRINDING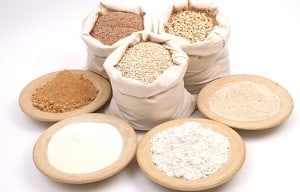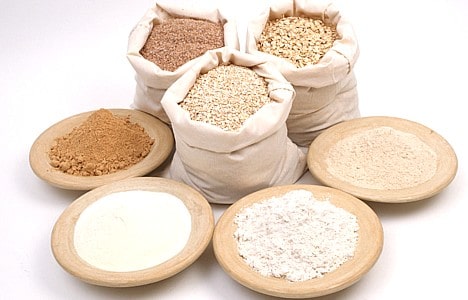 After the better smoothie make question, by far the question we get this most is "Does this blender really make flour?" and "Is it necessary to get a Vitamix Dry Grains Container?" Both blenders definitely make flour and are considered to be "grain mills".  The advatage Blendtec has over Vitamix is both their Fourside and Wildside jar also dry blend (meaning you do not have to buy any additional jars specifically for this purpose).  The Vitamix on the other hand has a special dry goods jar that they sell separately (or sometimes in a combo package) which adds to the price of an already expensive blender.  Many of our members tell us they use their standard wet jar to blend dry goods (such as flax seeds and wheat berries).  WE HAVE TESTED THIS.  Yes, the wet jar can grind grains.  That said, if used repeatedly for dry grinding, the sharp blade will dull and eventually wet blending performance will be compromised.  The dry goods jar is especially designed for grinding flour, because the BLADE is shaped differently and specific for creating an opposite vortex which pushes the dry goods against the jar, circulates differently, AND provides a slightly finer grind than the wet jar.  Bottom line: If you plan to do a lot of grinding (i.e you do a lot of baking and/or have a gluten free lifestyle – and would like to make your own inexpensive flours consistently) then you should probably purchase the dry goods jar if you have a Vitamix.  If you occassionally want to grind some flax seeds and make your own flax meal, then you may not want to spend the extra money NOW to get the dry jar, you can use your wet jar with the understanding that the whole jar or just the blade may need replacing sooner than normal. Also it is important to note: When grinding hard grains for both blenders, it will pit the BPA free jar interior, resulting in a "fogged" appearance.  With our Blendtec, Blender Babes uses one Fourside jar specifically for dry goods, and one for all else – since cosmetic alternations are not covered under warranty.

MIXING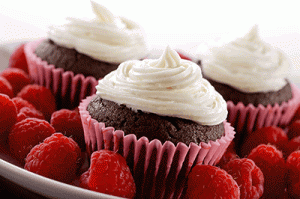 Another unique application of these blenders is using them as a mixer.  You can quickly create batters, quick breads, and yeast breads with either blender.  The Blendtec has a specific BATTERS button, and both easily blend up pancake and waffle batters.  With the Vitamix most cakes, cookies, and bread instructions call for you to blend the wet ingredients and then pour them into a bowl containing the dry ingredients and mixing it by hand from there.  What we like about the Blendtec is, you can blend the wet ingredients in the Fourside or Twister jar, then add them to the dry ingredients that you have sifted in the larger Wildside jar (if you have it).  If you have a simple cake, cornbread, or brownie mix, such as our Healthy Brownies recipe, you can just blend it all together in the Wildside Jar then easily pour it directly into your baking dish!  Blendtec definitely has an advantage with this purpose.  When it comes to yeast breads in the Blendtec and Vitamix, both require a little finesse and know-how of baking bread – as there are a lot of other factors to making good fresh bread than just mixing it.

ICE CREAM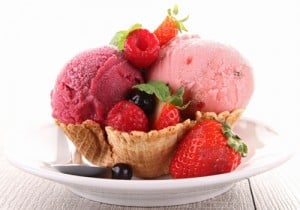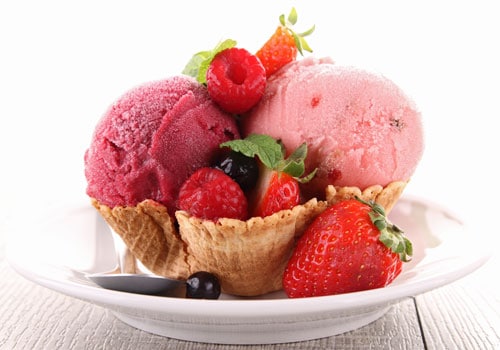 Who would have EVER thought they would see ice cream made in 45 seconds?!?!  Well, it takes that short of time if you use the Blendtec ICE CREAM button!  The Vitamix usually takes a few seconds longer, but they both equally make fabulous fresh and healthier ice cream!  We find that with ice cream, the Blendtec needs to have fairly exact measurements of liquids to ice (which our recipes provide) or the ice causes cavitation around the blade, so you must stop the machine, shake it out, and use your manual keys to reblend.  With the Vitamix, you don't have this problem because the handy tamper will push the ice into the blade, so even if you have a little more ice than needed you just keep blending until the four mounds and star shape forms at the top.  The ice cream from both of these blenders is more of a soft serve – not like traditional hard ice cream.  You CAN however add it to an ice cream maker to get that traditional texture. Aside from yeast breads, ice cream is probably the trickiest thing to make but once you have made it a few times, it's a piece of cake! Er, ICE CREAM!  CLICK HERE for Blendtec and Vitamix ICE CREAM TIPS.

Vitamix vs Blendtec – CLEAN UP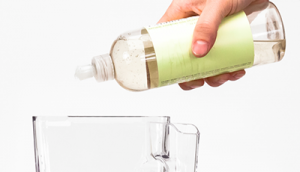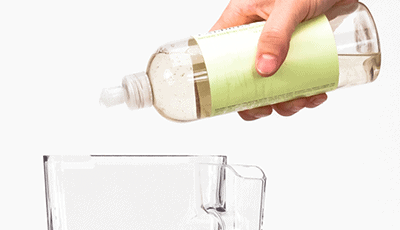 We have to say that HANDS DOWN one of the best features about both of these blenders is the SUPER EASY CLEAN UP!! Most regular kitchen blenders have a separate blade, gasket, and jar – and therefore must be taken apart to clean and sanitize after each blend.  With all of the current models of the Vitamix and Blendtec, you CANNOT remove the blade from the jar, which results in faster and easier cleanup AND prevents leaky or broken seals. When it comes to cleaning, both the Blendtec and Vitamix are considered SELF CLEANING (yup, that's what we said!) For most blended concoctions, all you have to do is add some hot water with a little bit of dish soap and blend for several seconds then rinse.  This will remove any gunk around the blade.  That said, stickier jobs such as nut butters and bread doughs usually require additional scrubbing after first self cleaning.  In these cases we do find the Blendtec slightly easier to clean. We do not worry about cutting ourselves on its dull 2 prong blade and its square design is easier for both small and larger hands to reach in and clean with a sponge.  Most of the Vitamix jars (except their newest 64oz compact jar) are more narrow and ALL have a super sharp 4 prong blade, so you must be more careful if additional cleaning is required.  For both, not having to disassemble and reassemble the jar & blade is an easy time saver.  Also, make sure to clean right after blending – believe us you'll THANK US LATER. 😉
Dishwasher machine use: Blendtec states that it's safe to put their jar in the dishwasher (we do it and we LOVE THIS!) while Vitamix states that their jars are NOT dishwasher safe. We recommend that you DO NOT put older Blendtec containers that are not BPA-Free in the dishwasher, however the most important factor for easy clean up is to wash your container immediately after use.

Vitamix vs Blendtec – WARRANTY and DURABILITY
One of the greatest advantages of owning either one of these commercial blenders is their superior product warranty over typical 1 or 2 year "regular" blender warranties (you know, the kind that almost ALWAYS burn out) The quality construction for both of these blenders means you will use these blenders for YEARS (life expentancy is 15 to 20 years) without problem.
For added peace of mind, Vita-mix comes with a complete 7-Year Full Use warranty (5 years for certified reconditioned Vitamix blenders). They also offer an additional 3 year warranty for purchase.
Blendtec's warranty is an industry leading 8-year warranty (3 years for certified reconditioned Blendtec blenders)
They both offer a 30 day money back guarantee for a full refund, no questions asked. However only Vitamix will also pay for return shipping.
Both Vitamix and Blendtec blenders are Made in the USA, however both are required by law to say it is 'designed and assembled in USA' due to a California law prohibiting companies from making the 'Made in the USA' claim if any part of their blender comes from a foreign country and both Vitamix and Blendtec's products do contain some foreign-made components.
In our experience and we have heard from many of our members, both blender companies have exceptional customer service and make it easy to fix or replace under warranty without headache. You can feel safe in your purchase with either blender.
Blendtec vs Vitamix – SO… Which of these two blenders is better for YOU?
You may be a BLENDTEC Blender Babe if:

You want a slightly more economical All-In-One Blender
You prefer 100% automation plus pre-programmed cycles
You want your blender on the counter, under the kitchen cabinet (Note: Vitamix now offers a shorter low profile compact jar for some of its models)
You travel and would like to bring your blender
You prefer computer controlled – digital display blenders
You need a large "3qt", 90 oz. WildSide Jar
You want to be able to put your jar in the dishwasher
You want less expensive jars when they need replacing or additional.
To get to the nitty gritty of what each Blendtec model has to offer, see my comprehensive Blendtec Designer Comparison Review and Blendtec Classic Comparison Review. Also see my Blendtec Pro 800 review here.

You may be a VITAMIX Blender Babe if: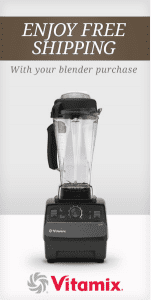 You prefer to have more manual control over all aspects of blending
(Note: The Vitamix Professional 750 series has most used automated controls, the Vitamix Professional 780 is 100% digital)
You need the greater RPM range for very specific recipes (especially low RPM)
You prefer a heavier blender
You blend A LOT of small volumes and thick purees (Note: you will need a 48 oz jar or 32 oz jar if you get a Vitamix model with Low Profile 64oz compact jar since it has a wider 4 inch base and can't blend small amounts)
(Note: Blendtec offers TWISTER jar with built in scrapers)
You believe manual vs automatic controls is more reliable.
If you know you want a Vitamix but aren't sure which one, see my Which Vitamix to Buy review here. 
I want you to look at your purchase as a positive investment toward your own health! These blenders PAY FOR THEMSELVES typically in less than a year, and over time you will actually SAVE thousands of dollars. Of course you must USE the blender to do that, and my goal with our video recipes is to show you exactly how to do that AND more easily eat a much healthier lifestyle.  However, the price is in the (chia) pudding!  I am sure you will see for yourself!
STILL NOT SURE WHICH ONE TO GET? This should help ⇓