EASY HOMEMADE ROASTED TOMATO SOUP RECIPE
One great part about owning a high-power blender is your ability to make all kinds of things completely from scratch: nut butters, hummus, and even nut milks. It's also a great reason to start making other unprocessed foods, too, like this delicious and super easy homemade roasted tomato soup recipe! When I first got my Vitamix, I began cutting way back on pre-processed foods; including using massive amounts of canned tomatoes (because unless the container is glass, it's likely coated with a BPA material!) and canned soup (oh, the sodium). I "missed" tomato soup…but no longer! This rich, robust soup is thick, fresh, and chock full of nutrients. It's also very forgiving of tomatoes that are a little on the edge or out-of-season. Just roast the tomatoes, veggies and garlic, and let your Blendtec or Vitamix pulverize the seeds and skins, creating a rich, creamy tomato soup with tons of flavor.
Make sure to  join our community for more great soup recipes. Come out of the cold and give this hot soup a try! If you try this recipe, share your rating with us. 😉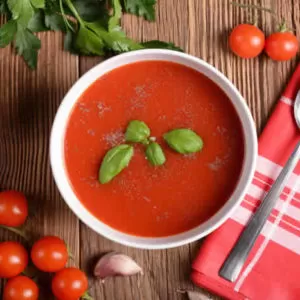 Easy Homemade Roasted Tomato Soup
Ingredients
2

pounds

of fresh Roma

plum tomatoes

3

tablespoons

of extra-virgin olive oil

1

small sweet potato

whole

1/2

of a small head of cauliflower

broken up into 4 to 6 chunks

2

medium yellow onions

peeled and quartered

1/2

head of garlic

just break it in half, no need to break the cloves apart. If you LOVE roasted garlic, use the entire head.

1

tablespoon

of fresh rosemary

1 to 1-1/2 teaspoons if dried

1

tablespoon

of dried thyme

3

cups

of vegetable broth

Sea salt and white pepper to taste
Instructions
Pre-heat oven to 350°F (176°C).

Line a roasting pan or large, lipped baking pan with aluminum foil.

Place the whole tomatoes, cauliflower, sweet potato, and onions into a bowl and coat with 2 tablespoons of the olive oil.

Place these in the prepped baking pan.

Take the head of garlic and place it in the center of an 8"x 8" square of aluminum foil. Drizzle with the remaining tablespoon of olive oil, then seal the aluminum foil around the garlic, forming a small package. Place in the pan with the vegetables.

Roast the pan of veggies in the oven for one hour, stirring twice, until the veggies are soft. If the tomatoes get significantly softer than the cauliflower and sweet potato, you can remove these to cool and let the rest bake on.

When the vegetables* are done roasting, carefully place these in your blender container, reserving one tomato to coarse chop, and set aside for garnish.

Place the rosemary, thyme, and vegetable broth into your blender jar.

Open the packet of roasted garlic, and squeeze each clove into the container, removing the outer husk.

For

Blendtec

: Press the SOUPS button 2 or 3 times, until the soup steams.

For

Vitamix

: Start on Variable Speed 1, slowly increase to Speed 10/High and blend for 5-6 minutes until steaming

OR

use the SOUP Pre-set.

Taste the mixture, add sea salt and white pepper to taste. Pulse to incorporate the seasoning if needed.

Serve, garnishing each bowl with a bit of reserved roasted tomato.

All done! Enjoy!! Now take a photo, rate it, and share your accomplishments! 🙂 Tag @BlenderBabes & #BlenderBabes
Notes
*NOTE: Some people like to remove the tomato skins, but I like to leave them on for the lycopene. As for the seeds, your high power blender will obliterate them as well as the skin.
Nutrition
Serving:
7
g
Calories:
857.9
kcal
Carbohydrates:
87.8
g
Protein:
21.6
g
Fat:
42
g
Saturated Fat:
6
g
Polyunsaturated Fat:
36
g
Sodium:
1.822
mg
Fiber:
24.6
g
Sugar:
45.3
g
HEALTH BENEFITS OF TOMATOES
Tomatoes have lycopene, which is great for the skin, tightening it and preventing aging and sunburn. They're also heart healthy – studies show that they reduce the risk of stroke by 50%. Eating tomatoes also boosts bone health and fight cardiovascular disease, as well as fighting at least nine different forms of cancer! Tomato also encourages healthy, deep sleep – so eat up!