ALMOND MILK RECIPE
Fresh, homemade almond milk is a delicious milk substitute and is super easy to make from scratch. This homemade almond milk recipe is a complete treat and probably the milk substitute we make the most often.
Almond milk is a wonderful substitute to animal milk, and it's benefits are excellent for both health and beauty.
Homemade almond milk has many nutritious benefits such as vitamins, minerals, and antioxidants.  It's light and crisp flavor make it ideal for cereals, coffee creamer, smoothies, and ice creams.  Plus there are so many ways to tweak the recipe, and try something new!
Blender Babes recommends that if you really want to enjoy almond milk, to definitely want to invest in a Nut Milk Bag
to remove the nut pulp after blending in your Blendtec or Vitamix or other high powered blender or food processor.
It's actually kind of fun to milk the bag!  Just pretend it's a cow's teet and you grew up on a farm.  Only you can do it on your own schedule, not at sunrise :p  Some people reserve the nut pulp to use for later recipes, otherwise throw it away and clean your nut milk bag immediately after use.
Also, using raw almonds is much healthier than dry roasted almonds, so stick with those but make sure to soak them overnight. Subscribe to know when we add other delicious milk substitute recipes too!
Be sure to join our community for more healthy blender recipes. Share your rating with us if you try this recipe at home.
(The Blender Babes now wear Activewear!)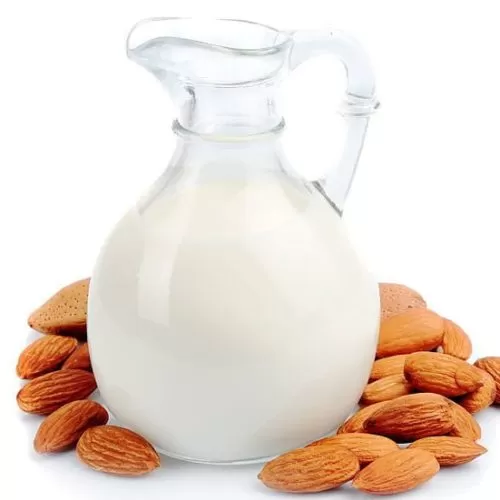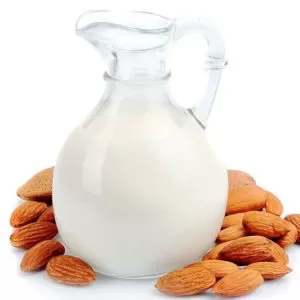 ALMOND MILK RECIPE
Ingredients
1

cup

of almonds

dry roasted or raw - if raw soak for 12 hours overnight

3

cups

purified water

1

cup

ice

OPTIONAL SWEETENER

3

tablespoons

honey OR molasses OR a 2 to 3 soaked/pitted dates

2 to 5

drops or 1 teaspoon Stevia or other sugar substitute of choice

OPTIONAL FLAVOR

2

tablespoons

cocoa powder

1

teaspoon

vanilla

1

teaspoon

ground cinnamon

1

teaspoon

vanilla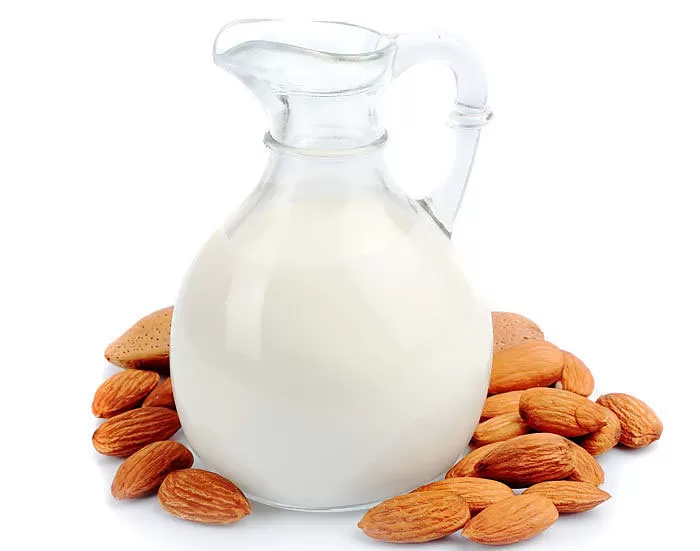 HEALTH BENEFITS ALMONDS
The tear-shaped almond has been a culinary favorite since ancient times.  The Romans believed they were also fertility charms and so threw them at newlyweds (ouch! way bigger than rice!)
Almonds are a rich source of several nutrients that can play a significant role in the prevention and treatment of various health concerns.
For example, when it comes to heart disease, five large studies (Nurses Health Study, Iowa Healthy Study, and others) found that nut consumption is associated with a lower risk for heart disease – the #1 killer in America. Almonds appear to reduce post-meal increases in blood sugar levels, which is helpful for diabetics.
Results of a study published in the International Journal of Obesity and Related Matabolic Disorders found that including almonds in a low calorie diet (high in monounsaturated fats) can help overweight individuals lose weight more effectively than a low-calorie diet high in complex carbohydrates.