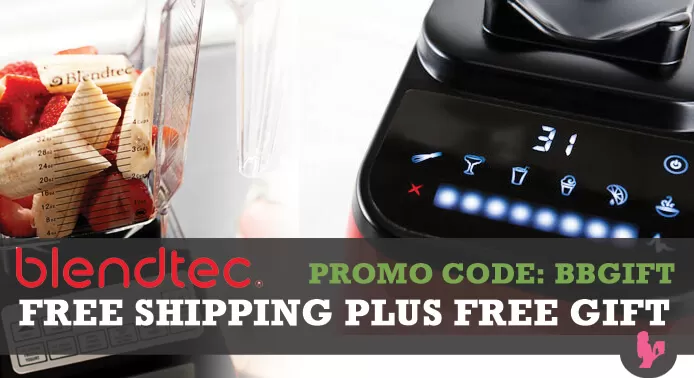 Exclusive Blendtec Promo Code Free Shipping PLUS Exclusive Free gifts from Blender Babes
Blendtec Promo Code "BBGIFT" for 20% OFF ALL Blendtec blenders (except the Blendtec Pro 800) and accessories.
Blendtec Promo Code "BBTwister" for 50% off a Twister Jar is active. 
 Valid September 2023
How to Order a Blendtec Instructions
To purchase any Blendtec blender or accessories, use any of our links to Blendtec.com (and MAKE SURE we are the last link you use before ordering from Blendtec.com!). You will receive free shipping for blenders AND accessories, however only blender purchases will receive our free gifts offer.
1) Add your desired item to your shopping cart
2) Upon checkout use Blender Babes' Exclusive 20% OFF Blendtec Promo Code: BBGIFT and hit apply. 
3) Choose Financing with Affirm at checkout if desired.
4) Forward your purchase confirmation email from Blendtec to freegift@blenderbabes.com Please Note: It takes 3 to 5 days to process your order for your free gifts and it is only for blenders not accessories only.
PLEASE NOTE: Purchases at any other locations other than direct from Blendtec.com WILL NOT receive the Blender Babes' FREE GIFTS OFFER.

Benefits of Purchasing Through Blender Babes
Blender Babes is proud to be an affiliate of many of the healthy lifestyle products we discuss. At no additional cost to you, we earn a small commission for sales made using the links from our website (and many times offer special deals just for our community!). It's how we keep creating content you love and we are grateful for your support! ♥
Clicking any of the links on BlenderBabes.com and use our Blendtec promo code BBGIFT for free shipping and the best deals from Blendtec.com to the US and Canada in December 2019.
Here are the 4 MAIN BENEFITS from purchasing Blendtec blenders, containers and accessories directly through the manufacturer (with Blender Babes' free shipping links and Blendtec Promo Code BBGIFT, of course!)
1) EXCLUSIVE 

FREE GIFTS FROM BLENDER BABES!
Step 1. By using our Blendtec Promotion Code "BBGIFT", Blender Babes offers EXCLUSIVE FREE GIFTS for every blender (except the Pro 800) you purchase direct from Blendtec.com, including less expensive Blendtec refurbished blenders. To learn more about our current Free Gifts with Purchase click here.
Step 2: You must use any link from our website and our Blendtec Promo Code BLENDERBABES or BBGIFT to purchase your blender direct from Blendtec.com to be eligible for our free gifts offer! When you receive your purchase order confirmation email from Blentec, forward it to: Freegift@blenderbabes.com to redeem our free gifts offer.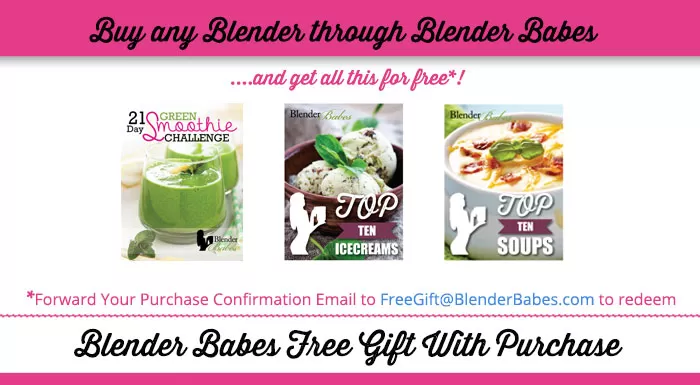 2) 20% DISCOUNT
Use our Blendtec Promotion Code "BBGIFT" to receive 20% off all blendtec blenders (except the Pro 800) and accessories on your order.
You will see it at checkout (see below) just be sure it's our promo code that is applied.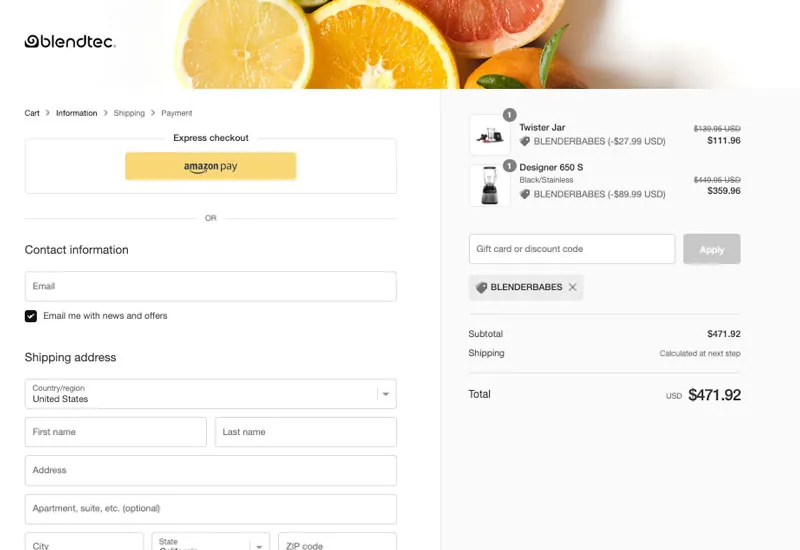 3) Payment Plan Options!
You can order your Blendtec blender with a 3, 6 or 12 month payment plan with financing through AFFIRM.
This gives you even more flexibility and lower payments that can fit in any budget! YAY BLENDTEC! These options make it MUCH EASIER for many people rather than paying one big chunk at once.
Place your order, giving them Blender Babes' Blendtech promo code BLENDERBABES or BBGIFT to receive 20% off. At checkout during the payment details, you can apply for financing through AFFIRM. You will still receive a confirmation email to forward to freegift@blenderbabes.com.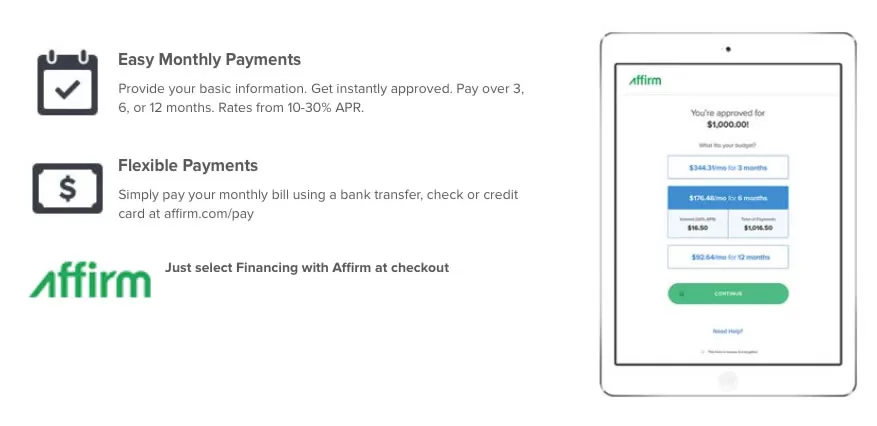 Only by purchasing directly from Blendtec and its affiliates (such as Blender Babes!) can you purchase a much less expensive, LIKE NEW (we use them!), blendtec refurbished blenders.
You can be 100% assured to receive a genuine Blendtec unit carrying with it a complete manufacturer's 3 year warranty.
If anything should go wrong or you have questions, Blendtec's customer service team are available by phone or email to answer any warranty, technical or operational questions.
FREQUENTLY ASKED QUESTIONS ABOUT BLENDTEC:
Can I receive free shipping on accessories even if I don't buy a Blendtec blender?
Yes. This promo code gives FREE SHIPPING for all Blendtec products including jars, mixers and accessories.
Do I get free shipping if I order over the phone?
Call 1-800-BLENDTEC (1-800-253-6383) and mention Blender Babes' promo code BLENDERBABES to your sales representative to get 20% off plus FREE GROUND SHIPPING (to the USA & CANADA).
Is this the maximum discount code for Blendtec blenders?
Blendtec offers 20% off all Blendtec blenders (except the Pro 800) and all accessories using our Blendtec promo code (BLENDERBABES) throughout the year. Occasionally (such as Black Friday/Cyber Monday) Blendtec posts promotions offering discounts on blenders and accessories. Blender Babes will be the first to know, so be sure to subscribe to our community to get the news!
What is Blendtec's Return & Exchange policy?
Blendtec offers a 30 day guarantee that allows you to return your purchase for a full refund, minus the shipping charges, if you change your mind.