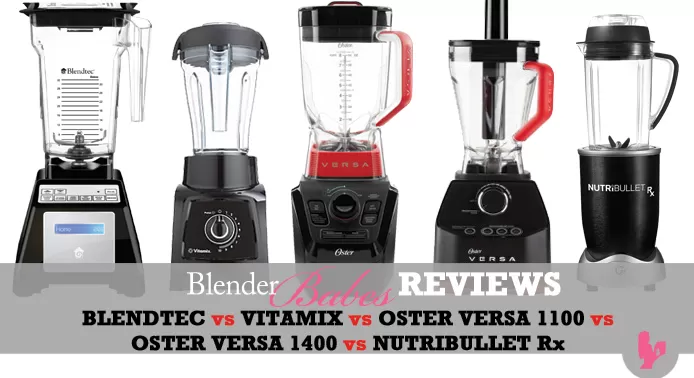 Behind-the-Scenes Blender Tests
Hey everybody, Blender Babe Tarashaun here, and today I'm giving you the Behind-the-Scenes blender test results you've been asking for (beyond blendtec vs vitamix!) with the Dr. Oz Green Juice challenge, one of our most popular recipes. Made with water, parsley, apples, spinach, cucumber, lime juice, ginger, celery and ice, this nutrient-rich juice is Super GREEN and Incredibly Detoxifying…
But as we all know, NOT ALL BLENDERS ARE CREATED EQUAL, ssssoo what I set out to find with this test was the juice's Overall Quality blending in only ONE (1) MINUTE of TOTAL BLENDING TIME at the highest speed, which includes Taste and Texture, as well as just how much of the dreaded Green Smoothie Foam (To reduce and get rid of the foam in your green smoothies check out Blender Babes' tips!) from all the insoluble fruit and veggie fiber each one ended up with…

As well as a visual Smear Test comparison and inspection—wherein I literally smeared the juice made by today's blenders side-by-side in a dish to get one last good look at 'em all! 😉

PLEASE NOTE: This is NOT a true "BLEND OFF". This was a behind the scenes testing of these blenders to see their capabilities. We will film and share Blend Off's between comparable blenders – COMING SOON!
So let's dive right into how today's high-powered blender lineup handled this deliciously refreshing whole food green juice!

With its 3-Peak Horsepower 1,560 Watt Motor, Blendtec's signature model ended up being my control blender—I've been using this blender for years and know quite well how it handles this particular juice… which is Absolutely Perfectly!!!!
Out of all the blenders I tested today, the Blendtec Total Blender Classic made The Smoothest Dr. Oz Green Juice drink by far, with a Great Overall Taste and an Evenly Balanced Texture all the way through to the very last energizing drop!
The Blendtec Total Classic was hands-down the winner, which was also clearly seen in the Smear Test and complete lack of Green Smoothie Foam­—making its silky smooth juice today's benchmark!
The Vitamix S30 is 790 Watts of Pure Super Cuteness and is Vitamix's first personal blender. It's great for 1 to 2 people, small kitchens and blending on-the-go, and though naturally not as versatile as larger Vitamix models, the Vitamix S30 is still Awesome and (usually) gets any job done!
Due to the Vitamix S30's smaller 40-Ounce Jar size, I only used HALF THE INGREDIENTS for Dr Oz's Green Juice Recipe as I did with today's other test blenders—but I did however use the same size cut up ingredients to minimize my whole prep time for the challenge…
And the Vitamix S30's results this go 'round were mixed (or rather, not so mixed)… There were BIG PIECES of celery and apple that didn't get blended, due to my own user error (WHOOPS! Blender Babes Blooper??!) Though this didn't happen in my previous Vitamix S30 testing, at least we now know this handy tip and want to make sure to share it with you – owners can avoid this particular issue by making sure to chop ingredients into smaller chunks for all green juice and other blending…
Since this was totally my fault… The Vitamix S30's manual clearly states that ingredients should be cut up into 1-inch pieces, which I neglected to do to save time – I will have to RE DO this Blend Off, next time with other similarly powered blenders (i.e. regular Nutribullet anyone?). The Vitamix S30 has always blended up green juices just fine with perfect texture every other time I've used it, so I'd still totally recommend it if you decide that it's the right blender for you!
Read the Blender Babes' comprehensive Vitamix S30 review for a more detailed assessment of Vitamix's very first personal blender.
IMPORTANT S30 NOTE: The Vitamix S30 is a Personal Blender with HALF THE POWER of larger models—NOT really a Family-Sized Blender… For those planning on regularly whippin' up recipes LARGER than 4 cups/32 ounces (which is perfect for two people), purchasing a different model with a larger container is gonna be your best bet!
With its under $150 price tag on Amazon, the Oster Versa 1100 is Oster's most economically priced high-powered blender. Featuring an 8-Cup Jar, 5-Cup Food Processor (which, as I learned the hard way, or rather, the Sharp Way­, has Super Sharp Blades, so be careful!!) and Two 20-ounce Mix and Go Cups, all these neat accessories give everyone in your family the ability to take healthy meals with 'em wherever they go—which I of course totally love! It has pre-programmed settings as well as manual speeds and a pulse button.
Also for about $50 more you can pick-up the additional 4-Cup Mini Grinding Jar & Tamper accessories, which is super worth it in my opinion for nut butters, frozen treats and grinding grains … bbuuutttt what I didn't really like about the Oster Versa 1100 is that its jar has to be taken apart to clean, which is ssuuucchh a bummer!
So, the green juice produced by the Oster Versa 1100 today was nowhere near fully homogenized—definitely having more overall texture and tiny ingredient pieces than any of the other blenders. This was both clearly tasted when sampled and noticeably apparent while looking at, then running my finger through it during the Smear Test… and as for Green Smoothie Foam, well, there was ample amounts of it.
No bueno Oster Versa 1100!
The Oster Versa 1400 is a powerful blender (1400 as in, "1400" Watt motor) that was created to take Vitamix and Blendtec head-on. It can be purchased with either a Standard Jar, or a Low Profile Jar that features an eye-catching stylish red handle—both of which have the same 8-Cup Capacity, a Tamper, and when attached to its base, even look like a Vitamix!). It's got preprogrammed settings and a blade that's permanently attached to its Jar, making for easy cleaning…
But as far as today's test results, that's where the similarities ended! The Oster Versa 1400 produced an overall juice taste and texture that although was much better than the 1100, still paled in comparison to Blendtec's—which was easily tasted when drank, seen and felt during the Smear Test, and as far as the amount of Green Smoothie Foam produced, the Oster Versa 1400 just yielded far too much of it…
So based on what I've seen outta the Oster Versa 1400 thus far performance-wise, even with its new under $200 Amazon price tag, and the fact that it's a wwaaaaayyy better blender than the 1100, it still doesn't measure up to a $279 starting price for a refurbished Blendtec, or a $329 certified reconditioned Vitamix… both of which have a 3 payment plan option.
Blender Babes recommends checking out our How to Save Big on Blendtec and Vitamix blenders Review
Featuring a 2.3 Horsepower 1700 Watt Motor (which the math of doesn't sound right, so I'm gonna need to research it more 😉 the new under $200 on Amazon NutriBullet Rx is unique and seems pretty awesome so far. You actually load the ingredients backwards with this blender (i.e., ice, frozen, hard, soft then liquid) 'cause you turn the Jar upside down to secure it to the base— which, when doing you also need to MAKE SURE IS UNPLUGGED, 'cause this blender Starts Up Automatically as soon as the jar is secured to its base!
The NutriBullet Rx also features a Smoothie Timer that can only be set for one minute, and has what's called its 7-minute heating SouperBlast Mode for making piping hot soups. Accessories include a special SouperBlast Pitcher & Lid, 30-ounce Short Cup, 45-ounce Oversized Cup and a Stay Fresh Lid and Comfort Lip Ring for on-the-go convenience…
Though it did do a much better job with Dr. Oz Green Juice than both Oster models, there was definitely plenty of Green Smoothie Foam. It was just wwaayyyy too thick for my taste, which the Smear Test also clearly showed. However my Blender Dad seemed to think it was pretty good!
Since I'm still Gettin' Acquainted with this blender and have plenty more tests to put it through, I've still got some hope for this funny looking blender before I render my final verdict!
Comments & Questions
And that wraps up the results for today's Dr. Oz Green Juice Challenge! Please let me know if you have any Comments or Questions in the Comments Section below about this blender test…
Good Luck on your own Healthy Journey!
And as always, Happy Blending!