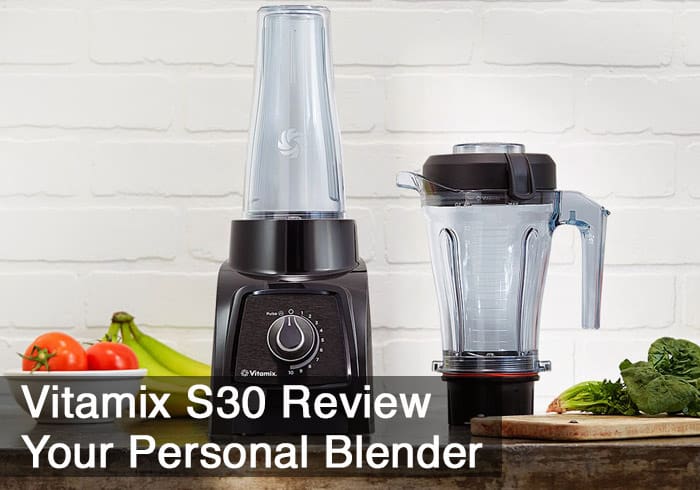 VITAMIX S30 REVIEW
Vitamix is largely considered "The Best Smoothie Blender", which is just one reason why countless smoothie shops and an ever increasing number of restaurants use this cutting-edge brand exclusively. With the Vitamix S30, you too can easily blend an incredible array of healthy recipes in a matter of minutes. It's an excellent tool for a variety of food preparations and grinding needs – but without the commitment of a lot of space in your kitchen or your suitcase.
CONGRATS to our Vitamix S30 Giveaway Winner! ~ Blender Babe Debbie K!
Vitamix S30 – YOUR PERSONAL BLENDER'S COST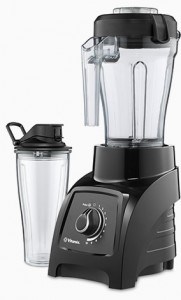 The S30 was Vitamix's first PERSONAL BLENDER in their NEW S-SERIES MODELS (the S50 and S55 are the same but also come with pre-programmed settings). Taking the whole "personal blending" experience to an entirely new level, its shape and size are designed to fit the needs of one or two people (at most!), as this small blender is much in their entire line.
Like all other Vitamix blenders the Vitamix S30 works primarily as a Whole Food Juicer and Smoothie Maker, blending up even the toughest of ingredients in a matter of moments; however it can also perform most of the same tasks as it's larger big brothers.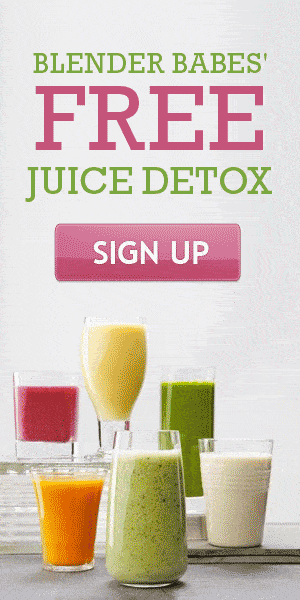 The Vitamix S30 was designed specifically for single serving preparations for people who are constantly on-the-go and want to eat healthy. Its smaller size definitely makes it travel friendly, and though the S30 is yet another of Vitamixes dependable products, its $379 price tag is too much for the vast majority of people…
Vitamix released the reconditioned Vitamix S30 to their offering of certified refurbished Vitamix blenders, for a much more reasonable price of $259! (Which was the price we thought it should sell for! YAY!) If you want the Best In Class for On the Go blenders, look no further than the refurbished Vitamix S30)

Power: One peak horsepower motor, drawing seven amps/790 watts – which although quieter than larger Vitamix models, it is LESS POWERFUL. That said, it's MORE POWERFUL than other mix and go blenders such as the Magic Bullet and Nutribullet.
Speed Capacity: 10 Variable High-Powered Speeds with an RPM range of 500 to 37,000.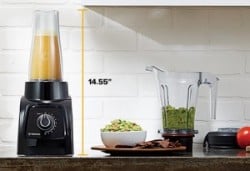 Size: With its 20-ounce Container the S30 stands 14.55 inches tall; while hitting 15.6 inches with its 40-ounce Container. It's a little over eight inches deep, just under six inches wide, weighs 12 pounds six ounces and has a four-foot power cord—making it a small blender that will easily fit under most kitchen counters.
Controls & User-Friendliness: High-Powered 10-Variable Speed Dial

with a Pulse Feature for increased blending control (which works by turning the Speed Dial to the left and quickly releasing).

The Vitamix S30 also features an Interlocking Safety System—if jostled the machine automatically shuts off during the blend; the Speed Dial must be reset to Stop (O) in order for it to restart. This is a great feature that protects both the motor and YOU, or your loved ones.
Vitamix S30 – BLENDING CONTAINERS/JARS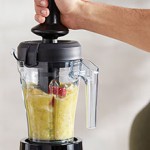 Containers: The S30 features two BPA-Free Containers. Its 40-ounce Container has a Spill-Proof Vented Gripper Lid and accompanying Tamper, making it ideal for preparing small family meals and single smoothie and sauce servings.
The 20-ounce Double-Walled Travel Container keeps cold smoothies

colder longer, with its double walls providing insulation while preventing condensation (which also keeps warmer blends from burning your hands). And it fits in most standard car cup holders, making it perfect for people constantly on-the-go. This mix and go 20-ounce container does NOT have a tamper, meaning thicker nut butter and ice cream blends must be made in the 40-ounce Container.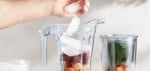 Capacity/ Volume: With the lid offering a little extra room at the top, it can be filled to capacity. For the 20-ounce container you want to leave a little bit of room from the top before screwing on the blade, turning it upside down and blending to allow a little more room to flow (remember there's no tamper).
Blade: The S30's three-inch laser-cut stainless-steel Hammermill Blade Assembly is high quality like other Vitamix machines. The S-Series blade base can be used interchangeably between the 40- and 20-ounce containers,

which is designed to be unscrewed and is constructed with leak-proof rubber seals. The seal is not only safer, it's easier to take off and put back on the blade assembly for cleaning that other mix and go small blenders, since it's on the outside and your fingers aren't going near the blade.
IMPORTANT NOTE: Vitamix replaces blades for FREE under it's 5 year warranty if they become dull from regular use. (Other Mix and Go blenders aren't going to do that – and will wear and break within a year or two.)

The Lid: The 40-ounce Container features a Soft-Grip, Ergonomically-Designed Spill-Proof Vented Gripper Lid that holds firmly in place and a removable chute so ingredients can be added while blending. It also comes equipped with a patented tamper (with a preventative collar that keeps it from touching the blades) so you can assist with tougher blends like rich thick batters, hearty nut butters and delicious frozen dessert recipes while blending.

The 20 Oz Container doubles as a High-Quality Smoothie Cup that you can drink right out of—simply remove the Blade Assembly Base and secure the Flip-Top Lid on once the blend is completed. This handy healthy travel accessory is virtually SPILL PROOF (you'd seriously have to want to make a mess to spill anything out of its secure sturdy design) and can even be attached to any backpack, satchel or briefcase like a keychain.
SMOOTHIE MAKING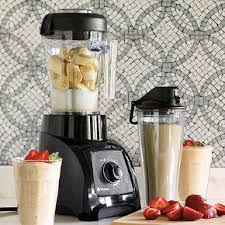 Vitamixes are renowned for their ability to create any type of smoothie you can imagine. No matter how delicate, exotic or tough the ingredients are to blend, they get the job done. And though the S30 doesn't possess the total power of larger models, it handles virtually any recipe as long as you follow the operating procedures listed in Vitamix's Quickstart Guide.
IMPORTANT NOTE: Cutting up ingredients into one-inch pieces helps them flow freely through the S30's blades, ensuring a perfect blend every time. We have tested this! Although several times we did NOT prep ingredients into 1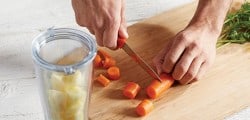 inch pieces (as the Vitamix manual tells you to!) and it worked perfectly fine, one time we didn't during testing and a large apple piece blocked the blade. A quick pick up of the jar, shake/dislodge, and then everything worked fine. Vitamix is providing the S30 best practice guideline for consumers, but not to worry – your Vitamix S30 can absolutely handle tough jobs MUCH better than other Blend and Go types of blenders.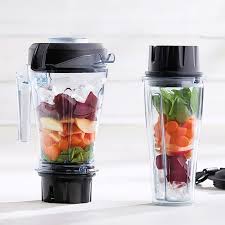 40 Oz Container – All liquids must be placed at the bottom, followed by dry goods, then leafy greens, fruits and veggies, and lastly ice and any frozen ingredients. This "layering" allows the blades to grab hold of the softest ingredients on lower settings, then work their way into tougher ingredients with escalating ease as blending speed increases.
20 Oz Container – Due to the travel container's standing upside down when opened (until of course it's actually on top of the blender base 😉 the opposite ingredient layering effect must be employed prior to securing the blade assembly.
JUICING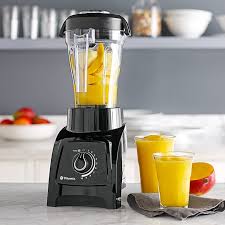 Vitamix is a WHOLE FOOD JUICER. Though not a traditional "juice extractor", the S30 blends ALL the LIFE-ENHANCING PULPY JUICINESS from ALL the NUTRIENTS—especially the fiber. It's strong enough to break apart the cell walls of any fruit or vegetable, transforming whole fibers; liquefying them into fibrous juice that's easy to drink and even easier to digest.
Known as the premiere "Whole Food Blender," Vitamix ensures you get the benefit of every last nutritional molecule you paid for, providing whole food nutrition at significantly lower costs than standard blenders—all of which waste incredible amounts of produce!
IMPORTANT NOTE: Certain illnesses and digestive diseases require that if you are suffering from such ailment(s), you should only drink highly-concentrated, vitamin- and mineral-rich juice WITHOUT the fiber or anything else your body may have trouble digesting.
SOUP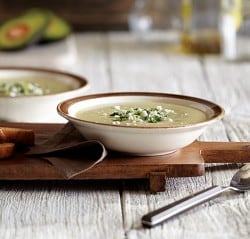 Though Vitamixes are widely known for their ability to make hot soups, the S30 doesn't have a strong enough motor to get ingredients near the requisite 180 degrees Fahrenheit to do so on its own; however, it can reach about 140 degrees Fahrenheit…
So if you want to create hotter soups than that, the S30 should only be used to BLEND INGREDIENTS, which would then have to be heated up in a saucepan prior to serving. Plus there are many great chilled soup recipes like Vitamix's own Blueberry Grape Chilled Summer Soup or their Carrot Ginger Tofu Soup, both of which are delicious, health-conscious recipes that can be made in minutes!
IMPORTANT NOTE: Soup can only be made in the 40-ounce container; the 20-ounce travel container lacks the ventilation system to handle the pressure build-up from higher temperatures.
ANOTHER IMPORTANT NOTE: It's way healthier to prepare fresh soup at home rather than buying the canned variety. Due to their high sodium and toxic preservative content, commercially processed soups usually have three-year shelf lives. Blender Babes features a delicious array of healthy soup recipes, our most popular of which is our hearty CHUNKY TORTILLA SOUP!
WET & DRY CHOPPING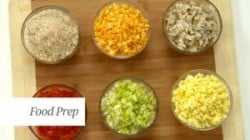 The S30's low Variable Speed Control allows for clean, precise dry chopping. Perfect for preparing meals for smaller families, couples or just for one, its innovative blades are sharp enough to prepare recipes like skinny guacamole, chunky toppings for delicious soups, and even chopping bell peppers.
To dry chop remove the lid's chute, add ingredients like carrots, nuts and even cheese, then set the Speed Dial to (1) and use short quick abrupt Pulses (increasing to Speed (2); for a total of 10 seconds of processing time)—resulting in vibrant, perfectly cut up tasty toppings for any healthy meal in no time at all and with virtually no preparation!
Wet chopping produces a more consistent chop and is recommended for raw fruits and vegetables. Using water to better circulate the ingredients through the blades, wet chopping also requires you to use short quick abrupt Pulses while blending at high speeds.
IMPORTANT NOTE: Vitamixes aren't designed to chop large amounts of food. Though they definitely possess the ability to chop smaller quantities, and do so perfectly, they have trouble with larger quantities where they fail to process evenly. Using a food processor will be your best bet if you need to prepare large amounts of food; however, Blender Babes doesn't recommend buying a separate food processor—unless of course you have specific food production needs that would make such a purchase absolutely necessary.
GRINDING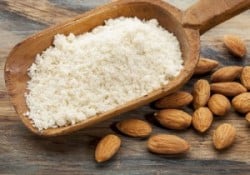 The Vitamix S30 makes flour, nut butters, flax meal, powdered sugar and can even grind your morning coffee; however, all grains must be blended in the S30's 40-ounce container. We've tested flours, nut butters and flax meal. So far the S30 was able to grind as well as any Standard Model using the dry jar. However note that the Dry Grains Container is NOT COMPATIBLE with the Vitamix S30.
Vitamix recommends S30 owners who prefer to grind their own coffee beans, or those planning on consistently grinding harder grains, purchase a separate 40-ounce Container, and use one specifically for grinding – because it will eventually develop a "fogged" appearance, having become pitted from use as well as will stain. As you see from our video, head Vitamix chef Brian uses his 20 ounce container to blend spices on occasion, which can especially stain the jar – it might be better (and less expensive) than purchasing a second 40 ounce container for this job if you don't plan to grind too much.
IMPORTANT NOTE: Many Blender Babes members say they use their Wet Jar to blend dry goods. And though the Wet Jar can indeed grind grains (we've of course tested this countless times 😉 such continual use can also wear the blades out, eventually leading to compromised wet blending performance, so again if you plan to grind a lot, get an additional jar when you can.
BOTTOM LINE: If you occasionally want to grind flax seeds or wheat berries, the S30's 40-ounce Wet Jar will suffice— however continual use can also wear the blades out. If you plan to grind A LOT, get an additional jar OR go for the bigger Vitamix models with additional dry jar.
If you want to use your blender as a mixer, have celiac disease or lead a gluten-free lifestyle and plan on doing a lot of grinding and/or make your own flours on a regular basis, buying a Standard Model Vitamix or better with a Dry Grains Container is recommended!
MIXING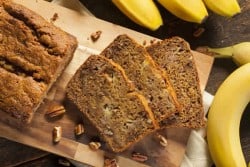 The S30 can be used as a mixer to whip up batters such as pancakes & quick breads like banana or cornbread (however unlike it's sister blenders with larger/wider jars, it's NOT meant to knead yeast breads such as pizza dough). When creating cookies and cakes, like most Vitamix baking recipes, you will blend the wet ingredients then pour them into a bowl containing the dry ingredients, which you would then mix by hand to combine and gently fold in any additional ingredients you want to remain in pieces, such as nuts or chocolate chips.
ICE CREAM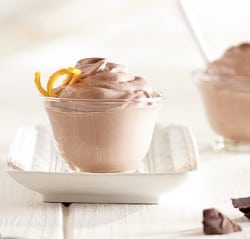 The Vitamix S30 can also make fabulously fresh ice creams and sorbets. Imagine adding organic frozen bananas, strawberries and raspberries with mounds of raw cacao and rich thick almond butter to your favorite flavors, all while choosing only the healthiest of ingredients!
And though making ice cream is more of an advanced recipe, with all the practice you're likely to get it should be easy to master.
CLEAN UP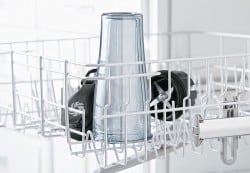 Unlike all other Vitamix Jars both S30 Containers are DISHWASHER SAFE, making it the perfect blender for your morning rush out-the-door. Featuring an interchangeable blade base that can be taken off and placed on your dishwasher's rack (along with both Container Lids) the 40- and 20-ounce Containers can be thoroughly washed with virtually no work from you.
IMPORTANT NOTE: The heat on a dishwasher's bottom rack can WARP the CONTAINER… Make sure to place all items on the top, as well as to take every piece of it apart before placing in the dishwasher; paying careful attention to remove the blade base and seals so that everything gets a thorough cleaning.
Vitamix S30 – WARRANTY & DURABILITY

Two of the best advantages of owning a Vitamix are their dependable product warranty and superior USA produced construction. Though past owners have reported at least 15 years of use with no issues, new Vitamix owners can expect up to 20 years of dependable health-giving and life-changing performance!
The S30 comes with a 5-Year Full-Use Warranty, which is two years shorter than their seven-year warranty on most brand new models, but the same as their certified reconditioned models (a 3-Year Extended Warranty is also available direct from the company for an additional cost). Vitamix's warranty stipulates that if the S30 fails within five years from the date of purchase due to material or workmanship defect resulting from normal wear and tear, VITAMIX WILL REPAIR the BLENDER for FREE! And if the blender is unable to be repaired, Vitamix will REPLACE IT for FREE or REFUND YOUR MONEY!
VITAMIX RISK-FREE 30 DAY IN-HOME TRIAL
Vitamix is so confident you'll enjoy your new blender that they even offer a RISK-FREE 30 DAY IN-HOME TRIAL. If you're not completely satisfied with your new Vitamix you can simply return it within 30 days for a full refund—and they'll even pay for the shipping!
How can you say no to that? Try it out, see what you think. Vitamix backs their product so well because they KNOW the quality of it AND how much you will LOVE IT!!

Additional Questions
We're Here to Help. If you still have questions or concerns, please let us know in the Comments Section Below or Contact Us! 🙂
And as always, Happy Blending!


PLEASE NOTE: Blender Babes is an affiliate of both Vitamix and Blendtec blenders. It's how we keep our content FREE and we are grateful for your support! ♥ Your blender purchase made using the links from our website and Vitamix Promo Code 06-007974 or Blendtec Promo Code BBGIFT gives you FREE SHIPPING and you will also receive EXCLUSIVE FREE GIFTS! (Learn More) from Blender Babes! Please email your purchase confirmation to freegift@blenderbabes.com to receive your FREE GIFTS! Click here to learn more.