This Ninja vs Nutribullet review was a must because I get a lot of questions from community members who are trying to decide between a NutriBullet and Nutri Ninja with Auto IQ.
Both brands have many popular models on the market. They won't take up too much counter space, and are also known for being more economical than some of the larger commercial grade blenders.
This in depth comparison blender review with several performance tests, we focus on two of the most popular and powerful blenders from these brands, namely:
NutriBullet Rx 1700-Watt Blender
Nutri Ninja Blender Duo with Auto-iQ
In addition to their high power, both models feature extractor blades designed to pulverize fruit and veggies via a process they call 'nutrient extraction.'
What does this mean?
Well, when a blender properly breaks down dense and fibrous foods, you end up with a smoothie that is more bioavailable and easier to digest, because the maximum amount of nutrients have been "unleashed" in the blending process.
I am often asked about how the NutriBullet Rx and Nutri Ninja with Auto-iQ compare when tested side-by-side.
Do they actually make perfect smoothies?
Can they truly extract more nutrients?
How do they do with things like juicing, flour grinding, or even nut butters or ice cream?
So, Blender Babes did a THOROUGH test of each and every feature and function imaginable.
Below you'll find a detailed NutriBullet vs Nutri Ninja review along with my findings related to performance. I hope this saves you some time and helps make your research easier!!
COST COMPARISON
These two power blenders are more cost effective than top blender brands such as Vitamix and Blendtec, however it's important to note that they each only come with a 1 year warranty which is not only reflected in the price – but also in how strongly the manufacturers back their product.
Remember: All Ninja and Nutribullet blenders purchased using Blender Babes' links also receive our exclusive free gifts with purchase, to help you make the most of your new blender! You must forward your purchase confirmation email to free gift@blenderbabes.com to redeem. 🙂
SPECIAL OFFER ON NUTRIBULLET PRODUCTS

Kick start healthy habits with Nutribullet by saving 20% off your first purchase!

Use promo code: WELCOME20!
NutriBullet Rx Cost
The NutriBullet Rx 1700-Watt Blender is $179.
Nutri Ninja Duo with Auto IQ Cost
There are several options for the Nutri Ninja Blender Duo with Auto IQ and the prices range from $129-$159, increasing as you add more accessories and/or power.
We chose Nutri Ninja model BL642 since it has a more comparable 1500-watt motor (the maximum power Ninja models have).
Note: The 1000-watt Ninja blenders I've tested didn't perform very well. More power is definitely better and they have improved on their designs with the newer models.
DESIGN COMPARISON
When I study a blender's design I look at both form and function.
Both blenders are marketed as high-powered blenders that can easily handle daily use, churning perfect smoothies every time.
Obviously it's important to compare the specs for power and speed; however if a blender is powerful, yet is tricky to operate, clunky, or simply looks bad in the kitchen, any of those could be a deal breaker for some! So, I did my best to cover each area in detail for you.
A. POWER
If blenders are going to truly be part of your lifestyle, you need power! Less powerful blenders will struggle to process certain ingredients (like fibrous fruits and veggies, nuts or seeds).
Both of these machines have plenty of power. However the NutriBullet Rx is definitely more powerful with their 1700 watt/2.3 horsepower motor.
The Nutri Ninja has a 1500-watt, 2 horsepower motor.
B. SPEED
NutriBullet Rx blades can hit an impressive 30,000 RPM which will generate enough friction to heat soup! More on the soup feature is below.
The Nutri Ninja Blender can reach speeds of up to 21,000 RPM but cannot heat ingredients.
C. SIZE 
A major selling point in upgrading your blender is that it can ideally function as many appliances in one (this is part of what justifies the cost).  A good blender can often double as a grinder, food processor, or even ice cream maker. That saves you a lot of money but also a lot of space in your kitchen.
The question is, if a blender is going to replace other appliances, how much space will it take up in order to do so?
The Nutribullet Rx stands 17.5 inches tall with its largest cup. It's 6.5 inches wide and deep. It weighs 15.8 lbs.
The Nutri Ninja measures 17.5 inches tall with its largest 72 oz pitcher and is 7 inches wide and 8.5 inches deep. It weighs 14.5 pounds.
The Nutribullet Rx is smaller next to the Nutri Ninja and not as bulky. It also weights a little more. Both blenders have suction cups on the bottom so they will  stay put while in use.
The verdict:  These are stand-alone blenders so they do not take up much space on your counter top, and this makes it ideal because that means the rest of your kitchen operations won't be disrupted.
D. CONTROLS AND USER FRIENDLINESS
NUTRIBULLET RX CONTROLS
The NutriBullet Rx is very simple to use. You only work with 1 extractor blade and three cups.
One MAJOR improvement with this model is the inclusion of an On/Off switch. I was extremely happy that they listened to customer feedback and added this switch (which you can also use for pulsing ingredients).
To operate this blender just put your ingredients in whichever cup you're using and twist on the extractor blade. You will then place the cup onto the power base, and NutriBullet's hands-free "SMART Technology" does the rest…it's a super straightforward process, virtually no thinking required.  🙂
Once it's done blending (1 minute), you just have to twist off the blade and you're done. For soups or hot drinks, there's a 7-minute heating cycle (SouperBlast) that you activate by pressing the Magic Bullet button until it turns red (about 2 seconds).
This was super easy-peasy for me, I didn't really need the manual. It also comes with a quick start guide which consists of a one sheet for both NutriBlast (pre-programmed mode 1) and SouperBlast (pre-programmed mode 2).
NUTRI NINJA CONTROLS
With the Nutri Ninja Duo with Auto IQ there are 5 pre-programmed settings (Frozen Drinks/Smoothies, Puree, Blend, Ultra Blend and Pulse) and 3 manual speeds.
The Nutri Ninja has a digital timer, wherein at any point in time, you see how much time is left when you choose an automatic setting and how much time it has blended when choosing a manual speed.
With the Nutri Ninja I admit I was super confused at first. It took me a bit to figure out that certain pre-programmed settings are only available when the pitcher and lid are securely locked into place and when the blend and go cups are.
I definitely had to look through all of their guides which explained things pretty well, however no matter what I was making I kept having to review the guide and look for similar recipes in their recipe book to see what cup and what setting was used. Takes some getting used to but nothing a little time and practice won't remedy.
BLENDING CONTAINERS/JARS
Both blenders use BPA free copolyester containers.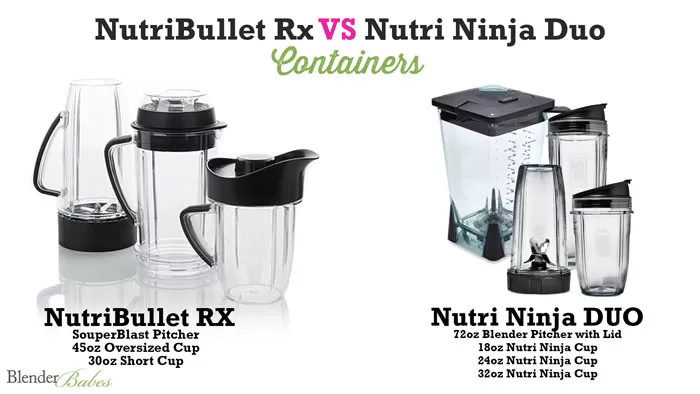 NUTRIBULLET RX CONTAINERS
The NutriBullet Rx comes with 3 different containers and 1 Extractor Blade that works with all 3.
30 oz Short Cup. If you're blending a smoothie for yourself, you can work with the single serve cup that can blend as much as 30 oz. A usual glass is 8 or 12 oz and this single-serve container is almost a liter – so you can either make a blend with something a little extra, or use this container to make something for two.
45 oz Oversized Cup. There's also a large container for multiple servings, which can blend as much as 45 oz in one go. That's more than 1 liter, so this means that every time you blend, you can make enough for the whole family to enjoy or for a snack to take to work.
SouperBlast Pitcher. The 1-liter Souperblast Pitcher with the 2-piece lid is made especially for the Soup-Making mode. This lid is vented, and this gives the heat and pressure room to be released while the soup is being made. This special pitcher also has a spout, so when you're done blending the soup or the sauce, you can directly pour the contents into your bowl.
I think all the sizes are great. Whether for one person or a family you're covered. If you want to make separate smoothies or have a big family, you can purchase additional cups as needed. I really like using the SouperBlast pitcher for my regular smoothies! Since it has a more traditional lid, I just add all my ingredients to the cup, place the lid and pop it on the blender.
All cups also come with a ring, which makes sipping nice and easy, as well as a lid to take smoothies with you to the gym or the office.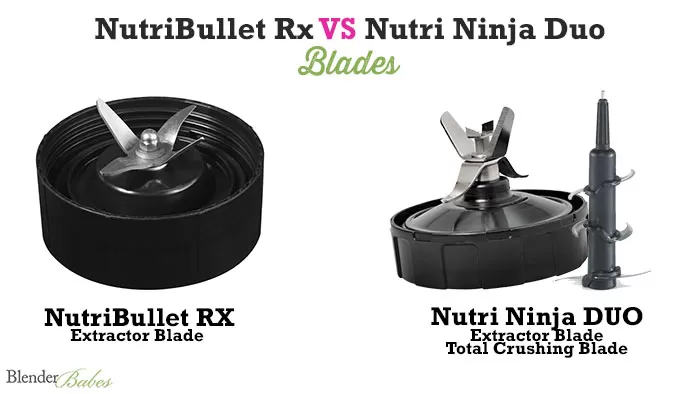 NUTRI NINJA DUO WITH AUTO IQ CONTAINERS
The Nutri Ninja Duo gives you 1 "Pro Extractor Blade" that work with the blend and go cups and 1 super sharp center 'Total Crushing Blades" for the 72 oz blender pitcher.
The 72 oz blending pitcher can be used with your set of Total Crushing Blades.
If you will be using the Nutri Ninja's Extractor Blade, they go with the included cups. There are 3 sizes, each come with a Sip & Seal Lid:

20 oz Nutri Ninja Cup
24 oz Nutri Ninja Cup
32 oz Nutri Ninja Cup
Note: I do NOT recommend using the Nutri Ninja 72 oz. ice crushing pitcher for smoothies or blends that call for fibrous vegetables.
Although the recipe book/guide says the pitcher is great for smoothies, frozen desserts, and soups, in my extensive testing I found that the Nutri Ninja blend and go cups with extractor blades works much better for green smoothies, soups, etc. – again, anything with fibrous ingredients.
The 72 oz pitcher with Total Crushing Blade did work well with ice crushing, peanut butter and chopping – more on that in performance results below.
PERFORMANCE COMPARISON
I use 8 performance tests that truly showcase the capabilities of any power blender, and are the types of things that the consumer might like to do with their blender. If you just want a standard blender for smoothies and margaritas that's one thing, however if you are looking to make an investment you want a blender that can do more.
WHOLE FOOD JUICING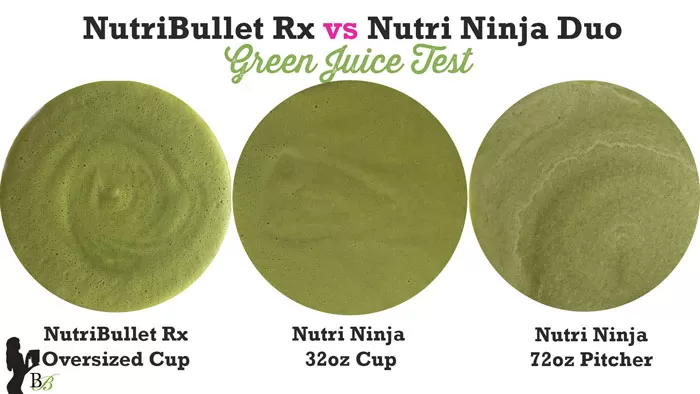 Juicing is a feature that tends to separate high power blenders from – well – "all other" blenders.  Like a Vitamix or Blendtec, both of these blenders can make whole food juice, or so they say.
FYI whole food juice means everything is incorporated vs just the juice being extracted from the fruit or veggie. The result? More nutrients, more fiber, and less sugar – but a slightly thicker consistency.
I LOVE green juice and use this feature a ton, as do many Blender Babes community members, so I performed extensive testing of the NutriBullet Rx vs Nutri Ninja to see how they do with Dr. Oz's Green Juice recipe – you can read the full green juice review here if you wish!
In that test, I found the NutriBullet Rx was able to pulverize a very smooth, texture-free juice just like you'd see with a Vitamix, and it accomplished this in as little as 60 seconds.
The Nutri Ninja took 90 seconds and was not able to make the whole recipe (the blend and go cup was too small). The end product was not as smooth as the NutriBullet Rx, there was still a bit of texture present which could be felt in the mouth and in the smear test – not completely homogenous.
Note: I also tested with the Ninja 72 oz pitcher which can handle the whole recipe but when I tried using it with the green juice test the results were much worse. LOTS of texture, not homogenous which you can easily see by the color in the image above.
The verdict: The NutriBullet Rx outperformed both types of Nutri Ninja Duo blades/containers when making a whole food juice.
SMOOTHIE MAKING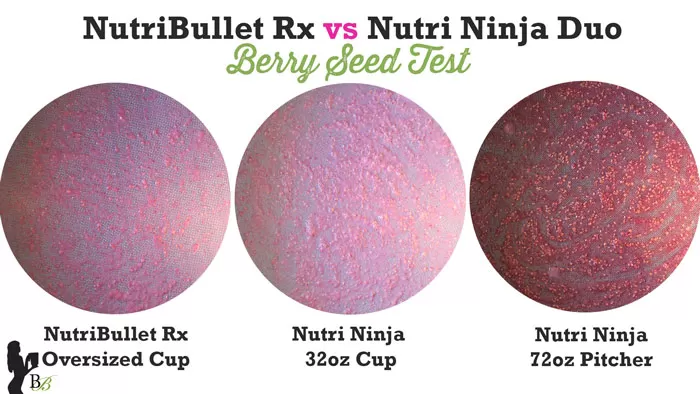 There are plenty of blenders on the market, and most of them will do a good job of mixing ingredients.
However, there are huge differences in how thoroughly blenders break down ingredients. Those designed to break through even the smallest and hardest ingredients will turn out the smoothest smoothies.
Both blenders are marketed as machines that do a phenomenal job with smoothie making. I was excited to check out these newer models to see if I noticed anything different or superior than past models.
Both blenders have a lot of power and can quickly blend up quality smoothies.
However, my favorite benchmark when testing smoothies is how well a machine handles berry seeds and also sticky items like dates, as these are hard to pulverize for some models (and no one likes a rock-hard seed getting caught in their teeth)!
So, I tried out Dr. Oz's Berry Smoothie recipe that I have used in the past for other tests; since it contains 2 cups of berries and dates.
In my 90 second berry seed test, the Nutribullet Rx blended all the dates and left the least amount of seeds.
I was not so thrilled with the Nutri Ninja unfortunately.
The design does not lend itself to effectively blending berry seeds in spite of the newer, more powerful motor. The 72 oz Total Crushing pitcher cannot blend berry seeds at all, they are left whole (same as it did in the 1,000 watt version you can see here).
Note: The Nutri Ninja cups with extractor blade did a much better job than the pitcher, however there were still more seeds plus bits of dates than the same recipe in the NutriBullet Rx.
The verdict:

The NutriBullet Rx left the fewest seeds behind and zero bits of dates.
This was one of the more surprising results! If your primary goal is smoothie making and you hate berry seeds, the NutriBullet Rx was a clear winner.
GRINDING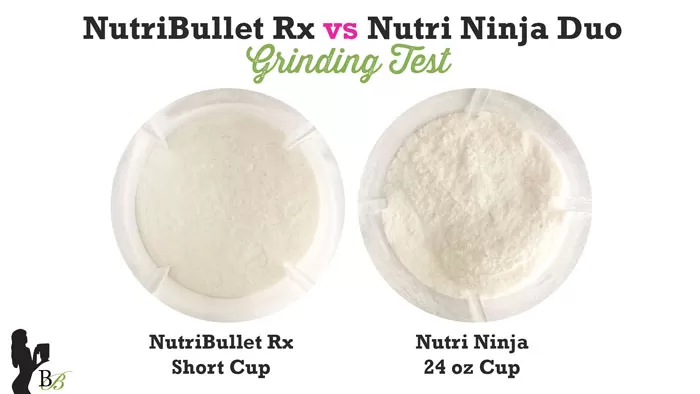 If you do any baking with items like organic rice flour, oat flour, gluten free flour, etc. (or if you enjoy flax meal), you will save a ton of money and have fresher ingredients if you grind your own flour!
I was really curious how these smaller blenders handled grinding because this is a tough task. I tried grinding 1 ½ cups of rice flour in each.
Note: When I read the Nutri Ninja manual it stated they do NOT recommend using it to grind flour. So you know I had to try it anyway. 🙂
Using the small blend and go cups for each, they were actually able to grind the rice flour to the same fineness in about the same time, which was a nice surprise. My only concern is that the blade is not designed for grinding, hence the written warning against doing it. Meaning it will probably get dull and need to be replaced; I checked and the Nutri Ninja blades cost about $30.  (The reason you need to replace dull blades is they will not do a good job with smoothies and fibrous veggies).
Both the Nutribullet Rx and Nutri Ninja left a few grains of rice, probably what was around the blade when it started. No big deal – to solve this I just gave the cup a quick shake mid blend.
Note: Grinding will pit the jars and make them look cloudy, so you may want to purchase separate blend and go cups and designate one for grinding.
The verdict: Both blenders were able to grind rice into rice flour with the same fine texture.
CHOPPING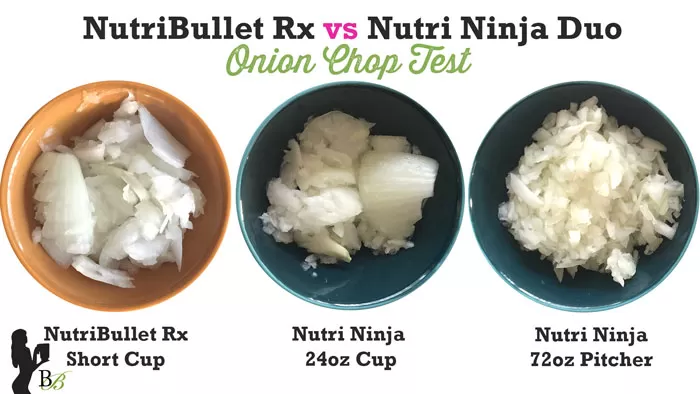 The Nutribullet Rx is not meant to be used as a food processor. One workaround was pulsing with the on/off switch; this gave the 1/4 onion I tested a light chop but it was not uniform.
Nutri Ninja's 72oz pitcher acts as a food processor when using the PULSE setting. The pitcher does much better than the blend and go cups for chopping, however the blend and go cup was able to pulse small amounts although not uniform.
The verdict: The Nutri Ninja is best for chopping as long as you have the Total Crushing Pitcher.
ICE CREAM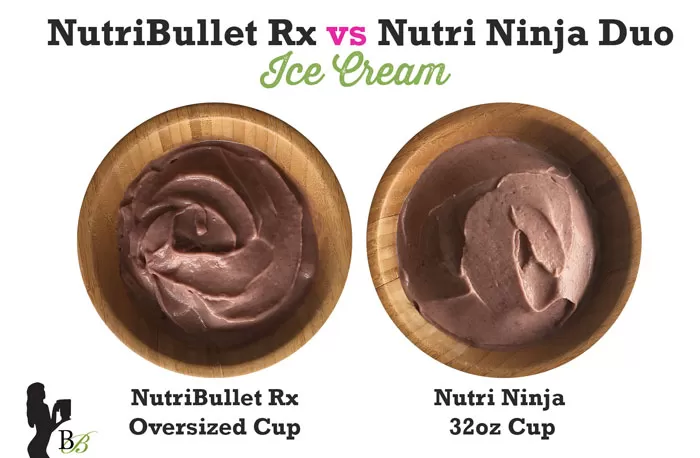 Both blenders were able to make ice cream!
I performed this test with 3 cups total of frozen fruit (2.5 cups of chopped frozen banana + ½ packet of frozen acai chopped into 3-4 pieces). Both blenders needed a minimum of ½ cup of liquid to blend the frozen ingredients (Note: Neither would blend properly with zero liquid or only ¼ cup.)
The wider NutriBullet cup was a little easier for me to use, only because it worked better when blending the ingredients (just due to the shape) and it was also easier to get a spatula inside and move things around (vs. the more narrow Ninja cup).
The Ultra Blend Auto IQ cycle on the Nutri Ninja would blend and stop several times which helped moved ingredients around the blade, which I performed manually with the Nutribullet Rx.
The verdict: The Nutribullet Rx and Nutri Ninja required the same amount of liquid and both also required a little participation – stirring, etc. – but in the end I had a nice thick, true ice cream with both machines. The cup design of the NutriBullet Rx may create a slight advantage.
NUT BUTTERS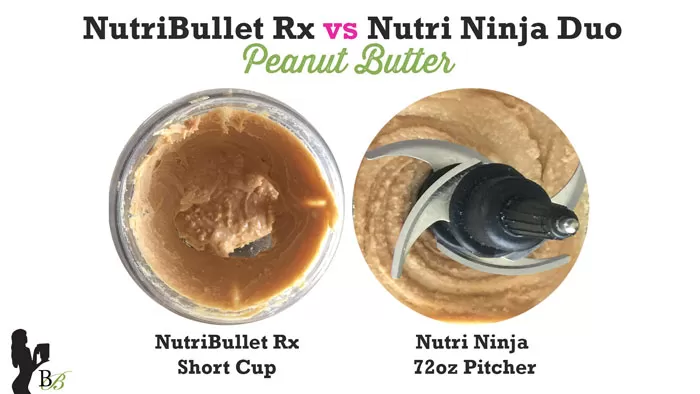 Huge selling point: both of these blenders are able to make nut butter! I love educating people about this feature which is often overlooked, yet very cool and something you'll probably use a lot.
Nut butters are definitely NOT something a regular blender can handle so I don't recommend trying it.
For both machines I tried making a batch of peanut butter. I know from experience that adding some oil to most nut butter recipes can make it an easier process (faster blend, less stirring/coaxing required to make it work), however I decided to go a step further and test them without the added oil.
The NutriBullet Rx did a great job making my peanut butter though it took a little time and finesse. Following the directions for several nut butter variations in their recipe book, I stopped the machine to "remove the blade and stir the ingredients to make sure the nuts reach the blade evenly." I did this about every 30 seconds. In total it took me 6 minutes to make smooth and creamy peanut butter without any added oil.
I had to do a little digging to get the scoop on the Nutri Ninja, as the included recipe book made no mention whatsoever of nut butter so I was unsure if it was even possible!  I finally found a recipe online making it in the 72 oz pitcher using a low speed.
The Nutri Ninja did a great job with peanut butter and was done in less time; about 4 minutes and I only needed to stop the machine 1 time to scrape the sides down with a spatula.
The verdict: The Nutri Ninja 72 oz pitcher got the job done faster and with less help.
Both are able to make perfect nut butter, and I can only assume that adding a few drops of oil would have made the process even quicker just like I see with a Vitamix or Blendtec.
HOT SOUP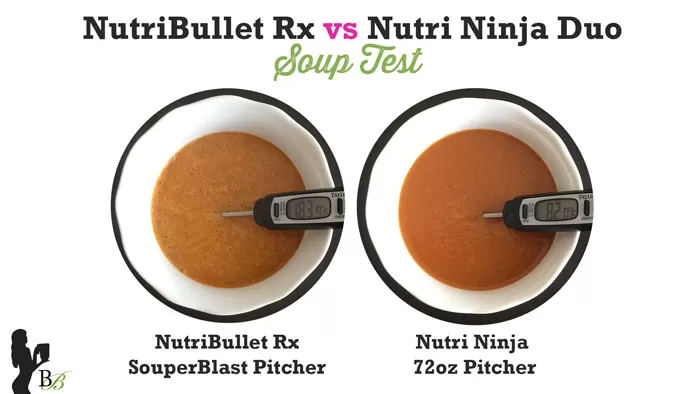 I love making hot soup with a blender, so much so that I did a thorough test of how both of these blenders handle making homemade hot soup (you can read the whole review here).
Just like a Vitamix or Blendtec, the NutriBullet Rx is able to heat up soup due to heat and friction generated by the 30,000 RPM blades. The Nutri Ninja does NOT have that ability.
For the NutriBullet Rx you just add the ingredients and hit the 7-minute SouperBlast preset and you will have piping hot soup.
The Nutri Ninja can puree your ingredients, but then you have to transfer everything to the stove and manually heat up.
In my hot soup test, the Ninja yielded a slightly gritty texture. Even after blending on HIGH over and above the recommended amount of time (7 minutes), the soup was still not as smooth as desired (and much less so than the NutriBullet Rx consistency).
The verdict: The NutriBullet Rx is a solid choice if you like making hot soup and want to be able to press a button and walk away.
Special Note: For both blenders their manuals and recipes clearly say to start with room temperature ingredients. So if your soup calls for cooked veggies, you have to cook them AND cool them before blending (just toss them in the fridge for a bit to expedite the process).
ICE CRUSHING
The NutriBullet Rx is not meant to crush ice. I attempted to crush 2 cups of ice using the oversized 45 oz. blend and go cup; I ended up with large chunks of ice left and crushed ice cavitating around the blade.
The Nutri Ninja 72 oz. "Total Crushing" pitcher with its center blade, however, is designed to easily crush ice. 10 seconds on HIGH turned my ice into a snow-like texture. I also tested the Nutri Ninja blend and go cup but it left big chunks and cavitated around the blade similar to the NutriBullet Rx blend and go cup.
The verdict:

The Nutri Ninja Duo's Pitcher is best for crushing ice. Blend and go cups are not meant for solo ice crushing.
CLEAN UP COMPARISON
I often sing the praises of the 'self-cleaning' feature you find in Vitamix and Blendtec machines.  While neither the NutriBullet Rx nor the Nutri Ninja Duo with Auto IQ technically have this cleaning preset, you CAN still emulate this process by simply adding a few drops of dish soap and some water to the container, then blending for a minute or so.
But, when making nut butters or other thick blends you will want to hand wash the blender in most cases.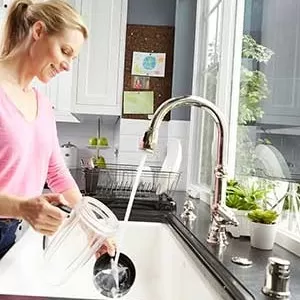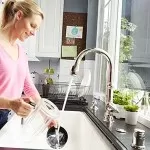 Cleaning the NutriBullet Rx by hand is simple, and you're only working with an option of 3 cups and 1 blade.  All of the components are BPA-free, safe to use, and very easy to clean with warm and soapy water, or just place all of them (except the blade) in the top shelf of your dishwasher.
In the same way, with Nutri Ninja all of these parts are BPA-free and dishwasher-safe. Even the blade can be placed in the dishwasher which is a selling point.
That being said, there are still times when you'll want to hand wash the blender (again, when there is something stubborn, sticky, etc.) – and not all of us have dishwashers (myself included, so I wash everything by hand).
For the Nutri Ninja I find this process a bit dangerous, because the extractor blade protrudes 3 inches and total crushing blade is sharp. I have cut myself more than once on the Ninja center blade for their 72 oz Total Crushing pitcher. Those blades are super sharp and they did have a recall recently due to so many reported lacerations – BE CAREFUL.
The verdict: The NutriBullet Rx is safer and easier to wash by hand. Both have cups and lids that are dishwasher safe, however only the Nutri Ninja has a dishwasher safe blade.
WARRANTY COMPARISON
As with ANY investment the warranty matters!! High-powered blenders rarely die young but if something goes wrong it's super important to know what the process will be to get it fixed, and how the manufacturer will make it right.
The NutriBullet Rx comes with a limited warranty that lasts for 1 year. The way the NutriBullet Rx warranty works is they will either repair your unit or replace it for free (minus S&H).
The Nutri Ninja comes with a 1 year limited warranty. This warranty does not cover normal wear and tear, but if something goes wrong (a part fails to work as promised, or there's a defect), they will repair or sometimes replace the unit and they cover shipping both ways.
CONCLUSION
Both of these blenders are a great value and offer a lot of power and convenience for the price.  However, they are not equal based on hours of testing in almost every possible function you would ever use these for.
I used the exact same ingredients, recipes and criteria for comparing these two models and here is what I found:
 NutriBullet Rx Review

Has 2 automatic settings
Has an On/Off switch you can use for pulsing
Has more power and faster blades
Can make hot soup
Is easier to clean / less danger of cutting yourself
Comes with blend and go cups big enough for several servings
Does better with smoothies (pulverizes seeds and fibrous veggies faster and more thoroughly)
Does a better job handling whole food juice (totally homogenous with no texture or chunks)
No warning against grinding flour (this presumably means the blades are designed to handle it with no issues over time)
The blades are not dishwasher safe but everything else is
There is no ice crushing pitcher
Took slightly longer to make nut butter
Can handle ice cream with no issues
Is very user-friendly and uncomplicated
Competitive pricing with extended warranty available
Payment plans available
Comes with a recipe book – 100 recipes highlighting which ones work best for detoxing and other health goals
 Nutri Ninja with Auto-iQ Review

All parts are dishwasher safe
Has a good mix of manual and automatic controls
Has less power than the NutriBullet Rx (but more power than several other less expensive Ninja blender models)
Comes with a large ice crushing pitcher
Is more difficult to use at first (more complicated controls)
Pitcher does NOT do well with common tasks like smoothies
Blend and go cups are smaller
Blade protrudes and is a little dangerous to clean
Is not able to actually heat soup – requires stovetop heating
Didn't fully pulverize 100% of smoothie ingredients
Smear test did not yield homogenous green juice
Is able to grind flour but this may require blade replacement over time
Does a great job with nut butter and ice cream
Competitive pricing with 1 year or longer warranty options depending on where you buy
Payment plans available
Very nice recipe book/nutrition guide with 75 recipes
Thanks for taking the time to read this Nutribullet vs Nutri Ninja Review. If you have any questions please feel free to ask in the comments or contact us!
TELL US! WHICH BLENDER ARE YOU?! NutriBullet or Nutri Ninja?

We're happy to assist you on your health journey, and as always, Happy Blending!
Congratulations to our Super Giveaway winners Lay B, Jennifer K and Tyneisha F!
Disclaimer: Sponsored post. The NutriBullet Rx was provided for this review and giveaway. All findings and opinions are my own. Click here to learn more about Blender Babes' Editorial Standards.