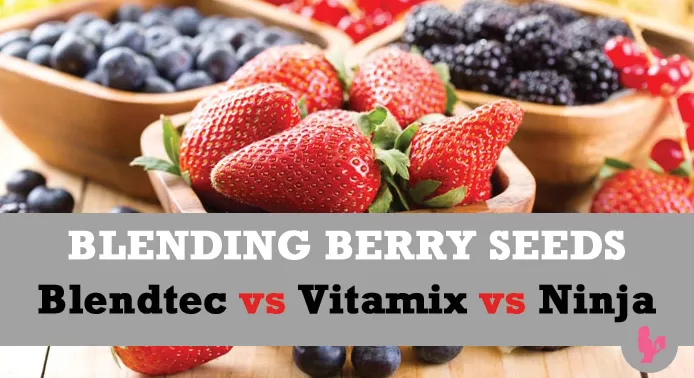 Berries are essential in our daily green smoothie recipes, they not only add fabulous color but the antioxidants, anti-inflammatory and vasoprotective (alleviate certain conditions of the blood vessels) properties are a huuuge plus! They're also GREAT for healthy low sugar smoothies. Since we are asked how Blendtec and Vitamix handle berry seeds A LOT from our community, we decided a thorough testing of these popular blenders to find out which one can handle blending berry seeds best! At first we did our usual Blendtec vs Vitamix comparison review, but this time we added the Ninja to the mix. This was an interesting BLEND OFF!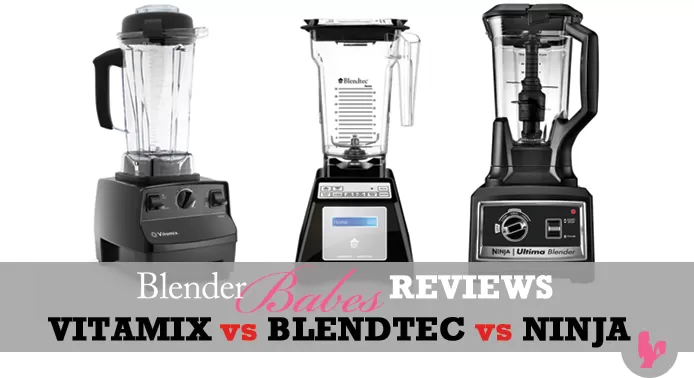 These three high-powered commercial blenders have potent motors, Blendtec spins at a maximum of 28,000 revolutions per minute (RPM) while Vitamix spins at 25,000 RPMs, and Ninja comes in third with 24,000 RPMs. Blendtec has the most powerful motor, models range from 1560 watts and 3 peak horsepower in the Total Blendtec Classic while the newest Designer 725 model has 1725 watts and 3.4 peak horsepower. Vitamix has a less powerful motor of 11.5 amps, 1380 watts and 2 peak horsepower; their newest Next generation models have an increased 2.2 peak horsepower motor. The Ninja blenders motor varies between 1000 watts, 1200 watts and 1500 watts.
Any Blendtec or Vitamix will make the process of blending berry seeds a breeze; unfortunately we cannot say the same for the Ninja Professional blender (explanation below). Dr. Oz Berry Protein Smoothie is the perfect smoothie to test in this demonstration, this recipe calls for 2.5 cups of berries (1 cup blueberries, 1/2 cup blackberries, 1 cup raspberries).
How to Blend Berry Seeds in a BLENDTEC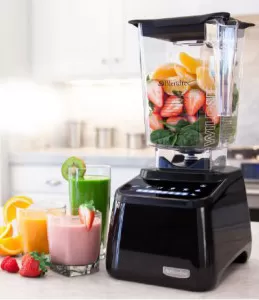 All Blendtec home models can blend seeds, however the length of time and power are important. During our testing Blender Babes tested a few settings of the Dr. Oz Berry Protein Smoothie recipe. We used the SMOOTHIE button (blends for 45 seconds at various speeds) the WHOLE JUICE button (blends for 50 seconds at a more powerful speed) and the SOUP button (blends for 90 seconds at the highest speed). We then poured it through a sieve. In other words, sufficient testing was done to confirm our findings and provide you with the most accurate review. The SMOOTHIE button in the Blendtec Total Blender Classic or Designer models doesn't sufficiently blend the berry seeds. By simply using the WHOLE JUICE button twice OR just using the powerful SOUP button (be sure to include ice or frozen fruit!), we were able to obtain a smoothie with hardly any seeds.
How to Blend Berry Seeds in a VITAMIX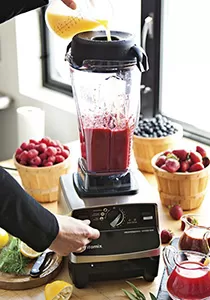 All Vitamix models blend berry seeds very well using either the traditional manual Variable Speed 10/HIGH setting OR the SMOOTHIE setting included in the Standard with Programs models and Next Generation with programs. The Vitamix 750 model passed every single of our tests with flying colors; the SMOOTHIE setting left hardly any seeds in our tests! The HIGH setting was also tested with success. After 50 seconds of the HIGH setting (stopped manually), there were hardly any seeds left in the mix.
How to Blend Berry Seeds in a NINJA
Um… you can't. At least not if you're using the Ninja Professional models or using the "Total Crushing Blender" in the Nutri Ninja Duo. Although the Ninja total crushing pitcher has 6 VERY sharp blades, this blender jar and blade assembly does not blend berry seeds AT ALL. We tested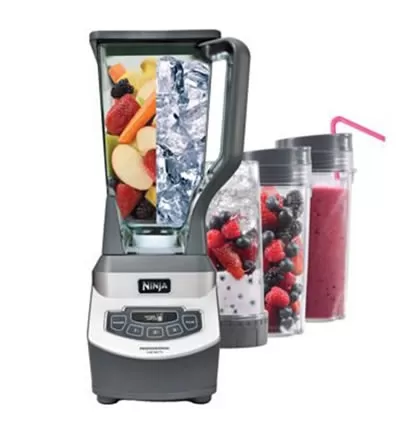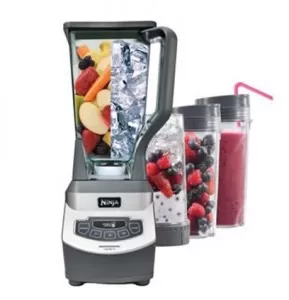 the BLEND setting in the 1100 watt Ninja Professional for 45 seconds (the length of a Blendtec or Vitamix Smoothie setting) and the seeds were not cut at all. We tried it again for 90 seconds on Speed 3 (the highest speed) and again the seeds were 100% in tact. We then tested this jar in the 1500 watt Nutri Ninja duo (see results here) and no matter how long or at what speed we ran the blender, the berry seeds remained completely whole and in tact. The Ninja Ultima is the top of the line model made by Ninja Kitchen – it's watts compare to the Blendtec and Vitamix and although it still has the sharp blades down the center, it also has blades at the bottom that offer "dual stage blending". After running the same test , we found that The Ninja Ultima does a better job at blending berry seeds than the Ninja Professional, however it still didn't compare to the Vitamix or Blendtec. With a $200-$300 price tag for the Ninja Ultima (made in China with only a 1 year warranty), for the same price you're much better off getting a certified reconditioned Blendtec or Vitamix for $279+ with a 5-7 year warranty – made in the USA.
As we mentioned earlier, the Ninja Professional blender was not able to blend the seeds in the Dr. Oz Berry Protein Smoothie. During all tests, the Blendtec Classic and Designer and its blunt blade left a few tiny seed pieces (about twice as much as in the Vitamix); the consistency however was not thick enough to bother us. Thanks to the sharp blades and powerful motor as well as design, with the any Vitamix model we achieved a perfectly blended berry smoothie, very small traces of the berry seeds were left.
WINNER OF THIS BLEND OFF?? VITAMIX!
FINAL THOUGHTS
When it comes to Blendtec vs Vitamix, both blenders are capable of proficiently blend berries, whether using fresh or frozen berries. We do not recommend the Ninja blender for smoothies with berries it them. With Blendtec to obtain a perfectly textured smoothie that includes berries you will want to blend longer than a typical soft fruit smoothie – use the SOUP/HOT button or the WHOLE JUICE button twice. Minimize the texture or chance of seeds not being blended fully by adding more liquid. With Vitamix you get a smoother consistency in your berry smoothies in less time.
Additional Questions
We're Here to Help. If you still have questions, please let us know in the Comments Section Below or Contact Us! 🙂
And as always, Happy Blending!
Why Purchase Through Blender Babes

Blender Babes is proud to be an affiliate of Vitamix and Blendtec blenders. Your blender purchase made using the links from our website and Vitamix Promo Code 06-007974 or Blendtec Promo Code BBGIFT gives you free shipping AND Exclusive FREE GIFTS* from Blender Babes! It's how we keep our content free and we are so grateful for your support! ♥

*You must forward your purchase confirmation email from the manufacturer to freegift@blenderbabes.com to redeem our free gifts offer.