Thinking about incorporating more healthy fruit and vegetables into your diet? Smoothies are an easy way to get some much-needed nutrition without having to eat plates and plates of salad.
The key to making a good smoothie is having the right blender. Your old blender may be good for many things, but you'll need a powerful one for crushing ice, frozen fruit, and fibrous vegetables.
Ninja blenders are extremely popular and having the right one of these will give you exactly the push you need to lead a healthy lifestyle.
There are so many models to choose from, however, that it can be overwhelming. So I've put together a detailed guide on the best Ninja blenders out there - and you can be rest assured these are the BEST, since unlike other reviewers, we have actually tested and used these Ninja blenders.
Take a look at our Ninja blender reviews and tips, Ninja blenders comparison chart and comprehensive buyer's guide so you can be sure you're making an educated decision.
Best 3 Ninja blenders comparison
These are the 3 very best ninja blenders with a high level comparison chart so you can quickly see the features that are most important.
Preview
Top Choice
Our Rating



Top Choice
Preview
Our Rating

Preview
Our Rating

Preview
Our Rating

Top 6 Ninja blenders Reviews
Now let's take a more details look at the 6 best Ninja blenders of all time.
Overview:
(Please Note: This blender has been discontinued and is only available refurbished)The Ninja Chef Duo High-Speed Blender has a powerful 1500 watt motor, and the 72 oz container includes a sharp 4-prong blade design and a tamper to process tough ingredients in a very similar way and the most comparable Ninja to
a Vitamix blender
.

Remove any guesswork with 10 preset Auto-IQ programs that include: Flour/Mill, Frozen Drink, Extract, Smoothie, Soup, Ice Cream, Puree, Dips/Salsa, Dressing, and Nut Butter.
10 variable manual speeds give you more control and precise blending.
Easy to clean with a specific clean button and all parts are BPA free, removable and dishwasher safe.
What We Like About It:
The Ninja Chef blender design which includes a powerful 1500 watt motor, a sharp 4-prong blade, and a tamper to process tough ingredients is the most comparable Ninja to a Vitamix blender.
This is the only Ninja blender than can make hot soup and turn seeds or grain into flour.
With 10 Auto IQ preset programs, 10 variable manual speeds, a digital timer, ability to add time plus a personal blending cup the Ninja Chef is very similar to the top of the line Vitamix Ascent A3500 (if purchased with an additional Personal Blending Cup!) but for less than 1/4th the price - making this the best value Ninja blender.
Overview:
The Ninja Smart System Blender with FreshVac technology has a 1400-Peak-watt motor base that also comes with a touchscreen display. The Smart container recognition automatically knows which attachment is placed on the base and reveals the menu of pre-set programs on the touchscreen accordingly.
The touchscreen has nine Auto-IQ programs and manual options on it to choose from. It's our top recommended as it has spot-on calibration which allows you to pulse and blend things in seconds.
Pizza dough, shakes, margaritas and even ice creams! It's all possible with the touch of a button. The patented stacked blades are designed to crush ice and other frozen ingredients in the blink of an eye. It breaks down the toughest of ingredients and extracts vitamins and nutrients from fruits and vegetables.
Rough chopping, shredding, and dicing are now super easy to do thanks to the quad-blade and the reversible shredding/slicing disc.
What We Like About It:
We love a lot of things about this Ninja blender.
To start with, the Fresh Vacuum Seal technology gives you the ability to reduce foam typical from blending green smoothies and preserve more nutrients.
The easy to use touchscreen is not only intuitive but long-lasting and easy to clean as well.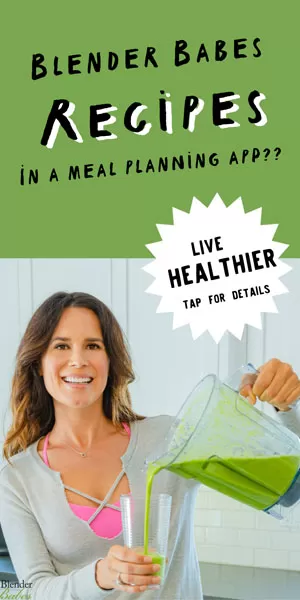 The 9 pre-set automatic (aka Auto-iQ) programs give you specific settings for each container.
The touchscreen displays a digital timer that counts down on the Auto-IQ presets and counts up on the Low or High settings, great for precise blending.
The food processor attachment not only chops well (like the best Ninja blenders are known for) but also comes with a slicer/shredder blade making meal prep quick and easy.
What We Don't Like About It:
When it works, the FreshVac seal is great, however during my testing making baby food (with 1/4 cup pumpkin puree, 1/2 banana and a little bit of water nowhere near the max fill line) some of the ingredients leaked out of the 20 oz cup in the process of creating a vacuum environment inside.
Overview:
The Ninja Mega Kitchen System has a 1500-watt base and comes with one extra large 72oz pitcher, one 8-cup food processor bowl and two Nutri Ninja Cups perfect to take to-go! It's a great machine for blending frozen ingredients, chopping foods, mixing dough and, of course, making nutrient rich smoothies.
The Total Crushing Technology delivers professional power with blades that can cut through ice, whole vegetables and fruits in seconds. Make dips, sauces, smoothies and can even mix two pounds of dough in less than 30 seconds!
The food processor bowl is equipped with a chopping blade and a dough blade which handles all your dough and chopping needs.
What We Like About It:
The 72 oz Total crushing pitcher makes up to 64 ounces of smoothie in a matter of seconds.
Thanks to the eight-cup capacity and 2 blades, the food processor bowl is impressive. You can chop evenly, puree thick ingredients such as hummus or ice cream, or mix over two pounds of dough in just 30 seconds.
The best part are the 16oz Nutri Ninja cups with to-go lids that lets you take them with you wherever you go.
If you're looking to experiment with recipes, the blender comes with a 30 recipe inspiration guide.
Overview:
The Ninja Smart Screen Duo with FreshVac Technology has a Smart container recognition software that can identify which attachment you've put on the base. The touchscreen automatically reveals a menu that shows the preset programs for that container.
The touch screen makes it easy to select between the 7 different pre-set Auto-IQ programs or speeds on the blender. It's easy to clean, durable and can withstand the pressure of everyday use.
The Auto-iQ programs are designed to give you the best results. Sit back and relax with the precisely calibrated patterns of pausing, pulsing and speed, creating everything from margaritas to shakes and salsas at the touch of a button!
Lock in vitamins with the FreshVac pump that removes oxygen from the pitcher and a single serve cup. You'll get fresh, smooth and tasty drinks that have less foam, are creamier and full of fiber and vitamins.
What We Like About It:
We love the 1400-Peak-Watt Motor Base with touchscreen display and the FreshVac Technology that's super easy to use.
Making green smoothies with less foam and separation compared to other traditional blenders.
The seven Pre-set Auto-iQ programs can recognize the different containers being used and also guide you to the settings intended for them.
Absolutely everything, including the FreshVac pump is dishwasher safe!
What We Don't Like About It:
Again, when it works the FreshVac seal is awesome, however during my testing making baby food some of the ingredients leaked out of the 20 oz cup in the process of creating a vacuum environment inside.
Overview:
The Nutri Ninja Personal countertop blender comes with some amazing features for those who want to make the most out of their blending experience. The extra large 72oz pitcher has Total Crushing Technology that can shred through ice and any other frozen ingredients speedily.
Create super smooth and creamy frozen drinks and take them with you using the to-go lids that come with the Nutri Ninja Cups. The assembly of the blades make it possible to retain more nutrients and vitamins than other blenders.
The Auto-iQ Technology feature has smartly timed, intelligent blending programs that do all the work for you.
What We Like About It:
This Ninja blender this was a huge upgrade with more power, automatic settings and to-go cups compared to the first Ninja I ever tested.
I love that this 1200-watt powered Nutri Ninja blender comes with small, regular and jumbo Nutri Ninja cups that are not only multi-serve but also portable.
The Auto-iQ and manual settings with digital timer was the first model to have these amazing additions to the best Ninja blenders.
Overview:
The 1200-watt Nutri Ninja Nutri Bowl DUO with Auto-iQ Boost has power and versatility to make your time in the kitchen less stressful and more fun.
Thanks to the Pro Extractor assembly and the Nutrient and Vitamin Extraction feature, you can retain most of the nutrients while crushing and breaking down whole foods like ice, nuts, seeds, fruits and vegetables.
The Auto-iQ tech features an intelligent program that lets the blender take charge of everything from its pausing patterns, to its pulsing and blending patterns. It's certainly the best Ninja blender for whipping up delicious recipes to impress the whole family.
The Nutri Bowl makes it possible to bring fresh and wholesome ingredients together. You can make prep for meals, snacks and any kind of dessert from vegetables, fruits, nuts and whole grains. This blender does it all!
What We Like About It:
We love the Nutrient and Vitamin Extraction and that the Pro Extractor Blades fully breaks down whole foods, ice and seeds.
The Auto-iQ Technology gives you a break and lets the blender do all the work for you.
The price point if you get the refurbished Ninja Ninja Nutri Bowl Duo.
Why Should You Blend?
Those who regularly make their own smoothies, shakes and drinks will know how vital a blender is for everyday life.
A blender makes it easy to create healthy smoothies filled with the vitamins you need, but it's also handy to have around the house when you entertain. Blenders make whipping up sauces, condiments, and cocktails super easy!
Save Time When Meal Prepping
Whether you're pureeing or just chopping up nuts, veggies or fruit, a blender will save you a ton of time. Gone are the days when you had to waste time cutting these up by hand.
The best part is that you can use your Ninja blender to prepare breakfast, lunch, and dinner. And let's not forget dessert!
These smart and powerfully designed machines relieve you from spending too much time in the kitchen, and they actually make it more appealing to try new things. You'll be surprised by how much you can do with a blender these days.
Tips for Using Your Ninja Blender
It can be tricky using a Ninja blender for the first time. Here are a few tips to help you:
1. Get the Most Out of Fruit and Vegetables
Ninja Blenders can chop and dice very well, they are top-notch when used as a food processor, but for smoothies, you'll need to give them a bit of help. Cut ingredients up into manageable pieces (i.e. you can't toss a whole apple in there), otherwise they may not be able to get around the blades.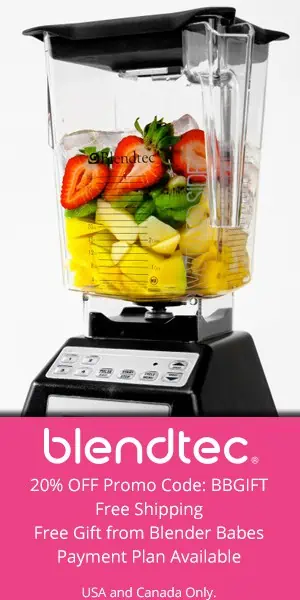 Don't throw away leftovers like stalks, carrot or beet greens, or pineapple cores. These carry the most nutrition in them, you can cut them into smaller pieces and use them in your smoothie.
2. Liquid and Tough Ingredients Go in First
When you blend, you'll need a small amount of liquid such as water, juice or milk (ideally organic or plant milk) to get things moving. Without liquid, your ingredients will have a hard time moving around.
Start with the bigger ingredients with a bit of water and blend that first. Then add any powders, fruit and then the ice. To make sure you don't end up with a lumpy smoothie, you can grind up any grains or nuts before you add them to the other ingredients.
The most important thing to remember is to put the ice in last. Add ice at the top of the large blending container and at the bottom of the to-go cups since you turn them upside down to blend.
3. Use The Right Setting
The key to perfect blending is using the right setting, knowing when to pulse and when to stop.
Luckily all the best Ninja blenders have Auto-IQ presets which takes out much of the guesswork. If you are using the manual speeds follow this procedure when blending: start your blender on low speed, then pulse, then turn it up to high speed for a short while before finally bringing it back to a low speed towards the end.
Ninja blenders are great food processors compared to other multi-use blenders, even surpassing top Vitamix and Blendtec blenders in this category. Ingredients are even chopped and can be more or less fine depending on the number of pulses you use.
4. Keep Experimenting!
Never shy away from experimenting. But remember that not every recipe will taste good to you. Start with small batches of new recipes first so that you don't end up with a refrigerator full of smoothies you don't want to drink.
Of course, you can also use any of the tried and tested recipes on BlenderBabes.com!
How to Care of Your Ninja Blender
A Ninja blender is an investment so it's important to take good care of it.
Always make sure that you've set the parts together correctly whenever you use it and only use the exact equipment (don't leave any teaspoons inside your blender!). Otherwise, your blender could malfunction, parts could fly off and cause injury or it could damage the blender altogether.
Here are a few ways you can take care of your blender:
Use It Only for What It's Designed For
Blenders all have a specific purpose. You can easily damage the blender if you force it to grind or crush something it's not supposed to.
Never fill your blender above the maximum fill line displayed on the containers. This could cause spillage or even worse, it could damage or break the motor and the blades.
Always wait for the blender and motor to stop completely before you remove it from the base.
Keep It Clean
Never let the food linger or cling to your blender, the jar or any container. Clean it up as soon as possible.
Leaving food remains inside the blender can cause it to rot and it can be a serious health hazard to whoever uses the blender next. Even popping it in the dishwasher can cause the jars to get cloudy over time.
The easiest way to make sure your blender is clean is by doing it by hand. It doesn't have to be every day (a simple rinse should be fine if you're using it regularly), but you should do a deep clean at least once a week.
To deep clean, Start by mixing three to five drops of white vinegar and/or two to three drops of liquid dish soap along with water inside the blender. Place the lid on and let it run for ten seconds and then pulse.
Empty out the contents and fill the container halfway with lukewarm water. Repeat the same cycle until all of the debris and soap are gone.
Let It Dry, Properly!
One of the most important things for taking care of your blender is to let it dry properly after you've washed it. Place the blender containers upside down to let all the excess water out.
You can also use a soft, clean cloth to dry it and remove any moisture that remains. Blenders, in general, are very delicate machines. They need to be used carefully and properly cared for if you want to get the best out of them for years to come.
A Buying Guide for Ninja Blenders
Before you head out to buy a Ninja blender, there are certain things you should consider when choosing the best model for your needs.
Here are a few questions you need to ask:
1. How Powerful Is It?
The more power your Ninja blender has, the more easily it should be able to crush ice, frozen fruit, and other hard ingredients.
I always recommend blenders with a minimum of 1000 watts, however, I prefer blenders with between 1200-1500 watts because of these more powerful motors mean the motor does all the hard work, so there's less stress on the blades which can increase the lifespan of the blender.
2. Is It A Good Value?
When it comes to blenders, the value matters more than the price.
You should look not only at the quality of smoothies the blender makes but also what else it can make and how. Can it make ice cream, nut butters, baby food, salsas, and dough?
If a blender can replace more than one appliance in your kitchen and make other types of items really well, wouldn't it be worth more than a standard $60 kitchen blender?
3. How Much Space Do You Have?
You will need to consider how much kitchen space you have available if the blender will easily fit below kitchen cabinets.
Do you need more of a personal blender size or can you have a larger blending container? Do you have cabinet space for additional jars, attachments, and blades?
4. What Containers Does It Come With?
The best Ninja blenders are designed to make different types of items and usually come with a large blending container, to-go cups with lids and some come with food processor bowls with various blades and attachments.
These containers are BPA free plastic, lightweight and durable.
However, the downside to plastic is that they can absorb stains and odors. So, you'll have to deep clean them more often, usually after each use.
5. Is It Easy to Use?
A Ninja blender can do more than just basic blending. Nowadays, the best ones have top-notch controls and settings on them with an easy to read (and clean!) display.
The question you need to ask yourself is whether the blender can cater to a large family or not. Blending in batches means a lot more effort.
You should be looking for an easy to use a blender with easy instructions you can follow.
6. Is There a Warranty?
The warranty is a very important factor.
Most Ninja blenders come with a 1-year limited warranty - meaning they will cover the original unit and any non-wearable components that seem defective.
Normal wear and tear of wearable parts such as blending containers, blades and lids are not covered by this warranty.
A warranty that covers less than 1 year. This means the manufacturers themselves aren't sure about the durability of the blender.
I always go for a product with a longer warranty, otherwise, you'll have to pay for the services and the parts that need to be replaced if something goes wrong.
Note: Other top high powered blender manufacturers (such as Vitamix and Blendtec) offer warranties from 7 to 10 years for most new models and 3-5 years for refurbished models - which is built into the higher price point and worth it.
Bottom Line: If you can get an extended warranty on any of these Ninja blenders, get it.
7. What Is the Base Like?
A blender base that is heavy or has suctioned means you won't have to stand and hold the blender firmly while you're blending, because it will secure the blender to the countertop and prevent any accidents.
Ninja blenders have suctioned at the bottom of the base .
FAQs about Ninja Blenders
If you've got a few questions for buying a Ninja blender, then take a look at these frequently asked questions…
Which Ninja Blender Is Best for Smoothies?
The best Ninja blender for smoothies would be the 1500 watt Ninja Chef which is very similar in smoothie quality to a Vitamix. If you don't mind a tiny bit of a grainy texture when making kale/carrot/apple green smoothies or smoothies with berry seeds in it, then any of the other blenders in this best ninja blenders review will work for you.
Can Ninja blenders make juice?
A Ninja blender is not a traditional juice extractor however it can make a whole food green juice by pulverizing the skin and seeds of fruits and vegetables. It does not make quite as smooth of a whole food juice as other top high powered blenders do (as you can see in my Blendtec vs Vitamix vs Ninja Green Juice test from 2015 with the very first Ninja blender), however you can place the ingredients through a nut milk bag or cheese cloth to remove any fibrous pulp.
Are Ninja Blenders BPA-Free?
Yes, all Ninja blenders are absolutely BPA-free. The BPA free containers and lids are also very light and durable.
Are Ninja blenders dishwasher safe?
Many Ninja blenders say the containers, blades and lids are dishwasher safe. After personal experience and many complaints from other buyers I have talked to, it should be noted they are safe on the TOP RACK only (which the 72 oz pitcher doesn't usually fit). So be sure to place containers and attachments in the top rack of the dishwasher only - or the plastic may warp. Otherwise we recommend safely hand washing.
Can Ninja blenders blend hot liquids?
Even the best Ninja blenders (except the Ninja Chef and the Ninja Foodie Cold and Hot blender) cannot add hot liquids to the containers so you are not to heat items on the stove first then use the blender to liquefy (such as soup) - unless you let it cool first, blend, then reheat. Therefore the only way to make soup is to blend ingredients first and then heat on the stove
Can Ninja blenders grind ingredients?
Other than the Ninja Chef, you cannot blend (grind) dry goods into meal or flour the way Vitamix or Blendtec can, however you can add whole flax seeds or chia seeds with your smoothie ingredients and blend.
Whats the Cord length?
It's important to note that all of these Ninja blenders have a fairly short cord length compared to other top high powered blenders. It is usually only 2.5 feet - so you need to place the blender very close to an outlet or use an extension cord.
How to Work a Ninja Blender?
Just make sure the lid is on and the container is locked into place (Note: this took me a few tries to get used to!). Your blender won't turn on if any of the parts are not secured.
Operating a Ninja blender isn't hard, you just need to be careful and take care of it properly. With patience and practise, you'll be an expert in no time!
Conclusion
In conclusion, we'd like to say that the type of Ninja blender that's best for you will depend upon your specific needs. The kind of power, blending speeds,and versatility depends on your needs and your budget.
Don't be afraid to ask questions in the comments before you buy your blender! We are here for you.
We do hope this guide helps you to find the best for YOU. Happy blending!