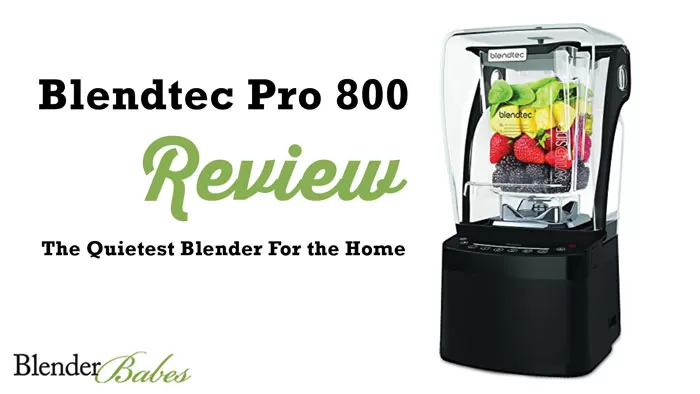 BLENDTEC PRO 800 REVIEW
I'll be breaking down everything you need to know in this Blendtec Pro 800 review, so grab a drink, settle in and ask any questions unanswered in the comments.
You may be familiar with an ultra-high-end commercial Blendtec blender called "The Stealth" – which is marketed as (cue movie voiceover) THE QUIETEST BLENDER IN THE WORLD… and is therefore sought after in environments where low noise is necessary.
You've probably seen this blender in Jamba Juice and other popular smoothie shops, it's THE blender of choice for them! In a place of business, it's important to keep distractions to a minimum.
When the Stealth is used commercially and one or more machines are blending simultaneously, the sounds are NOT competing with peoples conversations.
That being said, with all of the questions we get from our community, it is clear that noise can often be a deciding factor for everyone – not just business owners!
Quiet is often just as necessary in a house or apartment as in a commercial location. For example, early morning blending can irritate the neighbors, wake the baby, etc. And in general, noise is just – well – noisy!
Until recently, the Blendtec Stealth has indeed been the quietest blender available (and they have achieved this without sacrificing ANY power; in fact the Stealth has the strongest and most high-performance motors in existence).
Fortunately there is a now a home-use model, the Blendtec Professional 800, that has the SAME "stealth" features (aka the same noise reduction and the same power level) for a lower cost and a much longer warranty!!
Blendtec Pro 800 Review ~ Cost
I always like to start with the Blender COST – because it's really the only downside about a commercial grade blender – the initial expense!
Anyone that has considered buying the Blendtec Stealth will be thrilled to know there is a now a more affordable alternative. The Stealth is currently Blendtecs most expensive product offering at $1,499 (don't choke!) – however for a commercial location it is well worth the price as this machine does not disappoint in terms of versatility, longevity, power, performance, and reduced noise!
However, the new Blendtec Pro 800 is designed specifically for non-commercial users (that still want intense power, low noise, and other premium features you'd expect from a top of the line Blendtec blender).
The Blendtec Pro 800 price is quite a bit less, retailing at $1099.95 (on sale for $799!) and with their payment plans, payments could be as low as $97 per month!
The Blendtec Stealth and the Pro 800 are almost identical. The only real difference is that the Stealth has 2 features in place specifically for commercial users – a USB port and 42 pre-programmed cycles to choose from or create your own (Note: only 6 can be programmed into the interface at one time ).
The Pro 800 instead has the 6 most popular pre-programmed settings that regular home users want.
Why You Should Buy Through Blender Babes! 🙂

Blender Babes is proud to be an affiliate of many of the healthy lifestyle products we discuss. At no additional cost to you, we earn a small commission for sales made using the links from our website (and many times offer special deals just for our community!). It's how we keep creating content you love and we are grateful for your support! ♥

1) You will receive FREE SHIPPING for purchasing from Blender Babes using the links from our website (that goes for new and refurbished Blendtec blender models!) Shipping is free to both the USA and Canada!

2) EXCLUSIVE FREE GIFTS! By using our the links from our website and Blendtec Promo Code BBGIFT you will receive exclusive free gifts from Blender Babes and our partners! Learn More about our current free gifts offer. Make sure to forward your confirmation purchase order from Blendtec to FreeGift@Blenderbabes.com to redeem your free gifts!

3) PAYMENT PLANS! In addition to FREE SHIPPING + FREE GIFTS you also have ACCESS TO PAYMENT PLANS! Blendtec offers 3, 6, and 12 month payment plans with Financing through AFFIRM at checkout. This is NOT available at other retail outlets! Learn More.

4) ACCESS TO REFURBISHED BLENDERS! The largest selection and best deals on refurbished Blendtec blenders can only be accessed direct from the manufacturer and their affiliates. Refurbished blenders are a huge savings and are literally LIKE NEW! Learn More about the refurbished Blendtec blenders offered.
Blendtec Pro 800 Review ~ Design & Specifications
Power:
The Blendtec Pro 800 features one of the most powerful and high performance blenders on the market, with a 15 amp/1800 watt, 3.8 peak horsepower direct drive motor, which is more powerful than the other popular Blendtec home models (Blendtec Classic Series) which all have the same 11.5 amp/1560 watt, 3 peak horsepower motor. Despite its more powerful motor, the Pro 800 is much quieter than all other Blendtec options.
Speed Capacity:
The Blendtec Pro 800 has 11 incremental speeds similar to the Designer Series with a capacitive touch slider. Testing with an empty jar on it, the Revolutions Per Minute (RPM) range is 4,080 at lowest Speed and 29,512 at the highest Speed.
Size:
The Blendtec Pro 800 is their largest blender, yet is still designed to fit comfortably in your kitchen and underneath most kitchen cabinets. It is 8.5″ wide x 17.25″ tall x 9.13″ deep. Originally designed for commercial locations such as smoothie shops, this is a heavier blender that is not meant for travel. It weighs 16.2 pounds compared to the other Blendtec Classic and Blendtec Designer blenders which are between 7 and 10 pounds (I travel with my Total Blender Classic!).
The Sound Enclosure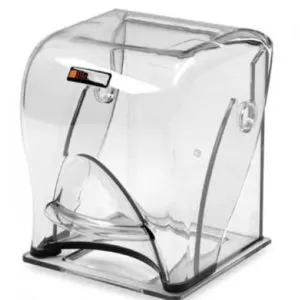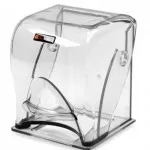 Like the Stealth, the Blendtec Pro 800 features a unique, state-of-the-art technology that allows Blendtec to market this machine as the quietest blender available. A common concern for any high power blender is that with more power comes more noise. If this is a big issue for you, Blendtec does seem to have come up with an excellent workaround. Totally silent? No. MUCH quieter than other models? Yes!
So, how does this "stealth" technology work? The 360-degree sealed sound enclosure and special sound dampening air-flow technology reduce the sound of the air intakes (air intakes are what cool the machine while it is in use). The Blendtec Pro 800 is very easy to open and close, and when testing we treated it like our normal blender, meaning if you needed to add a few more ingredients through the jar lid plug during or after blending, you just lift the enclosure and add ingredients as usual.
Controls and User Friendliness
The Blendtec Pro 800 comes with 6 pre-programmed options, an incremental manual speed slider with the same capacitive slide touch as the Designer Series. From left to right you see the Power Key, Toggle (from programs to manual speeds), Program settings (Batters, Mixed Drinks/Cocktails, Smoothies, Ice Cream/Frozen Treats, Whole Juice, Soup) the Pulse Key, and Stop Key.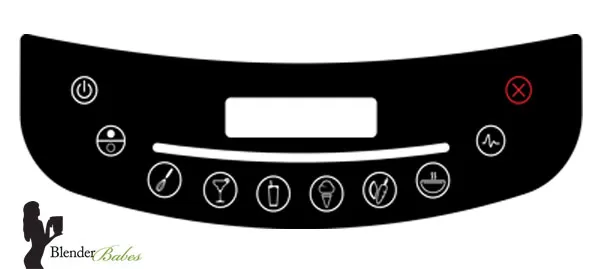 PROGRAM-SPEED TOGGLE: On the top left underneath the On/Off button there is a key to press when you wish to toggle between your 6 programmed speed and the manual speeds.
ON/OFF KEY & SWITCH: There is an illuminated digital power switch on the top left. It will always stay illuminated even when powered off so you can see it in the dark. Touching it will power on the blender and the rest of the illuminated keys will light up. It looks very elegant! When you turn it off all the keys turn off.
PULSE: You will see a Pulse Key that looks like a hospital pulse line illuminated to the right of programs/speeds.
STOP BUTTON: You can stop a cycle mid-blend by pushing the illuminated RED X on the top right.
TOUCHSCREEN: Blendtec is known for their patented Smart-Touch Tec-nology™ enabling you to press a button and walk away. These 6 automatic programs are the most popular and desired by users, and each one cycles at different times with fluctuating various speeds, and will stop when the program time is completed. In addition to it's high-end, contemporary look, the digital display a highly functional feature that shows you blending times and cycles so you can always see what's going on.
The Blendtec Pro 800 has an illuminated capacitive touch control surface with manual speed slider. In the early morning or in dark spaces, you will easily be able to see the illuminated controls, which light up all of your settings.
For the ultimate precision speed control, the Blendtec Professional 800 features an 11-speed capacitive touch slider. You can blend with full manual control just by sliding a finger up and down the control panel. In the event that you need it (chopping, moving ingredients around), the Pulse button adds a burst of high-speed blending power.
Blendtec Pro 800 Review – Noise
I frequently hear from those of you who want a high powered blender AND a quiet blender. Until now you've had to decide which is more important (with many choosing POWER and being willing to deal with the noise level).
However, the Blendtec Pro 800 is a super exciting development as it is currently one of the only home blenders in existence giving you both.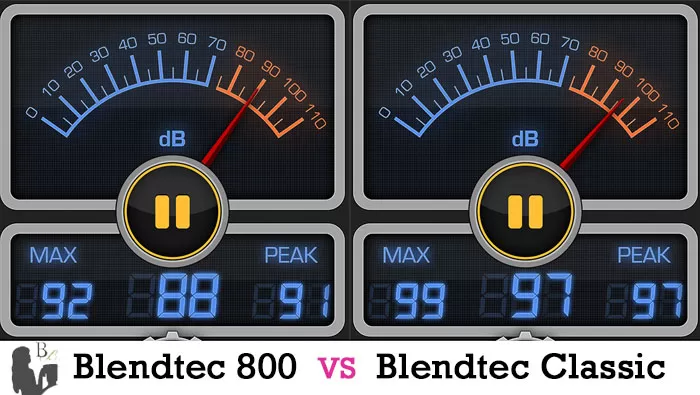 I tested the noise decibel next to the popular Blendtec Total Blender Classic and it was significantly quieter! If you want to have a high quality commercial blender that can literally do anything you want it to AND be able to blend your morning smoothie at 5am, then the Pro 800 is a no-brainer. I have definitely been testing recipes sometimes late at night and have to shut all the windows (and apologize to my neighbors!)!!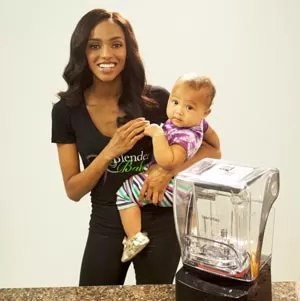 Now that the Pro 800 has been been released I'm sure that anyone looking for that elusive combination of power and reduced noise will be thrilled with this blender!!
I know Blender Babe Val and her beautiful Blender BABY Valentina were thankful for the noise reduction when we did a video shoot! See it in action making these two copycat Jamba Juice smoothie recipes! 🙂
Blendtec Pro 800 ~ Containers/Jars
Every Blendtec jar available can fit on the Pro 800 (and any of the Blendtec models), allowing you to be able to switch jars at anytime, or if you pass your Blendtec down to your kid who's going to college and upgrade to a different model. The jars are patented by Blendtec, and you'll notice the distinct square jar design at many popular juice and smoothie shops.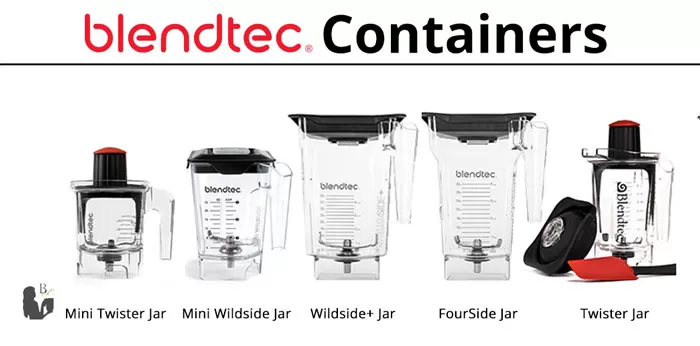 The design of the square jar has been tested and proven to pull ingredients into the blade. This makes it very easy to blend juices and smoothies because you can add the ingredients in the blender, press a button, and walk away without having to use a tamper. The jars are easy to store and can fit inside each other to save space.
All jars are made from a BPA Free, dishwasher safe coployester material from Eastman Tritan company.
Must Have Jar #1: Wildside Jar
The Wildside jar is Blendtec's largest and most popular jar holding 96 fluid ounces with a 4 inch blade vs the Fourside Jar's 3 inch blade. When this jar first came on to the market it was a total game changer. This jar has proven time and again to be the BEST BLENDER JAR FOR SMOOTHIES and WHOLE FOOD JUICES. In fact, many other companies have tried to copy this patented design (and lost)! This is why the Wildside Jar comes standard on almost all Blendtec blenders.
Must Have Jar #2: Twister Jar
The Twister jar can also be used with the Pro 800 and is the first additional jar I recommend to be able to accomplish every one of your blending needs quickly and easily. Its circular shape combined with its twisting lid allow it to blend thick blends in seconds and is perfect for nut butters, dips, etc.
The Other Jars:
The Fourside Jar is nice to have but not necessary. If you need to make small portions I'd recommend the Twister Jar over the Fourside Jar. The Mini-Twister Jar is cute and is also for thick blends and nut butters – just half the amount. (I'd rather have the standard sized Twister Jar and not have to blend twice!). The newest addition is the Mini-Wildside Jar. Now when I first heard about this jar I thought – WHY???? – and then I saw it in person and couldn't WAIT to get my hands on one!! Not only is it the cutest little jar I've ever seen, I especially love the latching lid – it's perfect for a single sized smoothie – but a single sized smoothie can easily be made in the regular sized Wildside Jar.
Note: Part of our exclusive free gifts offer w/ your blender purchase through Blender Babes is $20 off a Twister Jar! 🙂
The Blendtec Pro 800 Review ~ Performance
As with any high power, multi-functional blender, there is a lot of ground to cover in terms of performance.
The main difference between the Blendtec Pro 800 and the other Blendtec blenders in a nutshell – is that when using the Twister Jar you have to have the sound enclosure open in order to twist the lid. If you want to add ingredients through the lid plug during blending you will have to lift the sound enclosure to add, then close again.
Obviously this home version of the Stealth, which is sold to hundreds of shops because it's hands down the best blender for smoothies, but how does it perform with other tasks such as ice cream, dips, batters, baby food, nut butters, milk substitutes, cocktails, crushing ice, grinding meat and more?
Well, if you haven't already read it, head on over to our Blendtec Designer 725 review for this information, as the Blendtec Pro 800 and Designer 725 have identical 3.8 horsepower motors and 6 pre-programmed settings, therefore all of our detailed tests yielded the same (very positive) results.
The performance section there will give you tons of the info on how the Blendtec Pro 800 will make almost everything here – quietly. 🙂
The Blendtec Pro 800 Review ~ Clean up
I have to say that HANDS DOWN one of the best features about Blendtec blenders is the SUPER EASY CLEAN UP!! Most regular kitchen blenders have a separate blade, gasket, and jar – and therefore must be taken apart to clean and sanitize after each blend. With all of the current models Blendtec offers, you CANNOT remove the blade from the jar, which results in faster and easier cleanup AND prevents leaky or broken seals.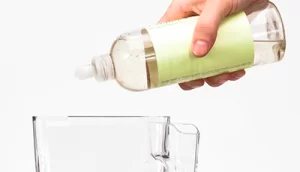 When it comes to cleaning, the Blendtec Pro 800 is easy and safe and considered SELF CLEANING (yup, that's what I said)! You just add some hot water with a little bit of dish soap and blend for several seconds then rinse. This will remove any gunk around the blade. Stickier jobs such as nut butters and bread doughs usually require additional scrubbing after first self cleaning.
In these cases I find the Blendtec blunt blade design is the safest and easiest to clean over sharp blade designs. I do not worry about cutting myself on the 2 prong blade and its square design is easier for both small and larger hands to reach in and clean with a sponge.
Not having to disassemble and reassemble the jar & blade is an easy time saver. Also, make sure to clean right after blending – believe me, you will THANK ME LATER!! 🙂
Warranty and Durability
If you've decided this is the blender for you but are hesitant about the investment, their warranty should ease your mind as they offer a best-in-class 10 YEAR warranty for the Blendtec Professional 800. So, for a DECADE you can know you are covered in the rare event of any issues. Also, if you simply want to "try out" this machine Blendtec DOES offer a 30 day money back guarantee if purchased through their website (using our FREE SHIPPING links from our website!) so that gives you some peace of mind to try out this blender and see if you like it! 🙂
Go to www.blenderbabes.com/blendtec to order yours today with FREE SHIPPING and exclusive FREE GIFTS from Blender Babes!
As always, thanks for reading and watching our videos and let us know what you think or if you have any questions in the comments! 🙂
HAPPY BLENDING!
Congrats to our Super Giveaway winner… Gina B!