One questions I get a lot is "Can Ninja blenders make hot soup?"
Since both Nutri Ninja Duo with Auto-iQ and the NutriBullet Rx blenders are their highest powered blenders (at the time of this review) and are popular choices for smoothie making, I wanted to see how they answered this question.
I decided to see how these 2 more affordable power blenders handled one of our all-time favorite recipes: Blender Babes' Vegetarian Tortilla Soup!
I love this recipe because it's a quick and easy soup recipe that's full of nutrients, extremely flavorful, and a much healthier (and tastier) choice than canned soup – which is usually packed with sodium and/or preservatives.
Remember: All Ninja and Nutribullet blenders purchased using Blender Babes' links also receive our exclusive free gifts with purchase, to help you make the most of your new blender! You must forward your purchase confirmation email to free gift@blenderbabes.com to redeem. 🙂
The Lineup: NutriBullet Rx vs Nutri Ninja Duo with Auto IQ
 NutriBullet Rx
New NutriBullet Rx Retails for $149.99
2.3 horsepower / 1700 watt base
Hands-free "SMART" technology with auto Start/Stop functionality
Stainless steel extractor blade
Single servings and family-sized servings
SouperBlast Pitcher with 2-Piece Lid
30-oz Short Cup
45-oz Oversized Cup
SPECIAL OFFER ON NUTRIBULLET PRODUCTS

Kick start healthy habits with Nutribullet by saving 20% off your first purchase!

Use promo code: WELCOME20!
Nutri Ninja Blender Duo with Auto-iQ
There are several options for the Nutri Ninja with Auto IQ and the price increases as you add more accessories, features and/or power. We chose Nutri Ninja model BL642 since it has a more comparable 1500-watt motor (the maximum power Ninja models have) however this model is only available refurbished (aka renewed).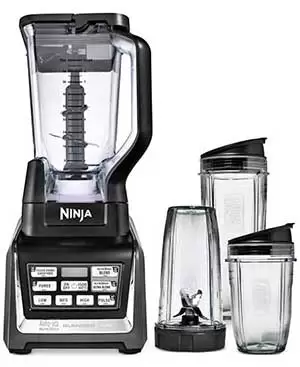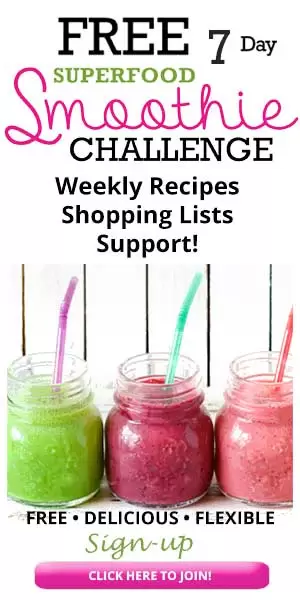 Price ranges from from $129-$159 for Nutri Ninja Duo with Auto IQ
2 HP / 1500-watt base (note some less expensive 1200 watt models also available)
Auto-IQ technology (1-touch, timed blending)
Interchangeable extractor blades for cups
Ice crushing blades for pitcher
3 Cups with Sip & Seal®Lids: 20 oz., 24 oz., and 32 oz.
72 oz. Blending Pitcher
Vegetarian Tortilla Soup Recipe by Blender Babes (instructions below as I describe each blender)
Ingredients: (please note I reduced the recipe for my testing and forgot cilantro in the photo!)

3 cups water
3 Roma or other small tomatoes
1 large carrot
3 -4 sweet peppers OR 1/2 white or yellow onion
1 celery stalk
4 sprigs cilantro
1 tablespoon taco seasoning
1 tablespoon tomato bouillon
1/2 teaspoon garlic salt

Bonus tip:  Try adding a little hot sauce or Jalapeno to this healthy soup if you like it HOT and SPICY!
NutriBullet Rx Soup Test Results
For our Tortilla soup recipe, no pre-cooking is necessary! I just added all the ingredients into the included SouperBlast Pitcher and placed the special vented lid on the cup.
Then, I used the NutriBullet Rx's 7-minute soup cycle, which is designed to both blend and heat the soup. All you have to do is hold down the Magic Bullet button until it turns red to activate the automatic 7-minute hot cycle.
At the end of the cycle, the temperature was a piping hot 180 degrees and the ingredients were perfectly blended and super smooth. It was so hot, I had to wait until it cooled down before I could eat it!
To make this soup chunky: You will remove the lid and add any additional ingredients (beans, corn, rice, tortilla chips, etc.) and simply press the power button quickly ON and OFF to equal one pulse and do this until desired consistency is reached, usually only 2-3 times.
The verdict: This powerful motor created enough friction and heat to produce delicious Tortilla Soup in 7 minutes.  I'm a fan!
Note: You are not to place hot liquids or items in the Nutribullet Rx. When making this or any hot soup in a Nutribullet Rx, if you need to first cook any veggies or make a homemade broth, you first need to cool to room temperature prior to blending (you can put them in the refrigerator to speed this up).
Nutri Ninja Duo with Auto IQ Soup Test Results
Next I tried the same recipe with the Nutri Ninja.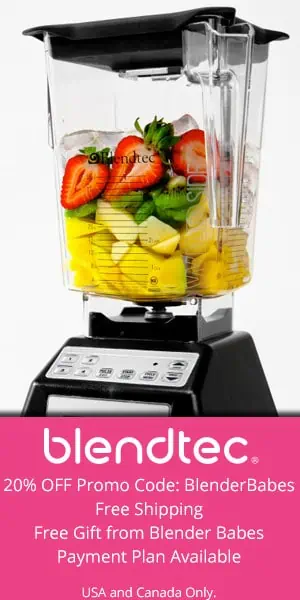 For this blend-off I used the 72oz Pitcher, which is recommended by Nutri Ninja in each of their included soup recipes.
These soup recipes also say to use the Puree Auto IQ setting (which stops after 1 minute); so that is what I used first to make my Tortilla Soup.
After adding the ingredients to the pitcher, I used the 1 minute Puree Auto IQ setting as directed. Afterward, all of the ingredients were not smooth at all – actually they were very gritty.
In an attempt to remedy the situation and also see if it would heat the product at all, I then blended on HIGH and the counter went up, stopping automatically after 4 minutes. The temperature at this point was 80 degrees. Despite all that power, the Nutri Ninja cannot make hot soup through friction of the blades.
Plus even after 5 minutes of blending in the 72 oz pitcher, the soup ingredients were still slightly gritty – not super smooth.
FYI:  Based on what I learned in my whole food green juice test with this blender testing both the Total Crushing 72 oz pitcher and Nutri Ninja cups, I believe using the Nutri Ninja cups will provide a smoother blend of your soup ingredients (which will still need to be heated on the stove after blending).
The verdict:  The soup was a little gritty and cold. Making soup requires an extra step and time to heat up on the stove.
Note: Similar to the Nutribullet Rx, the Nutri Ninja manual instructs users NOT to blend hot liquids. While this blender does technically have soup-making capabilities, the process is more manual and entails some extra steps (basically you cook the ingredients if necessary, let them cool, puree them, then return to the stove to heat the soup).
Who makes the best hot soup?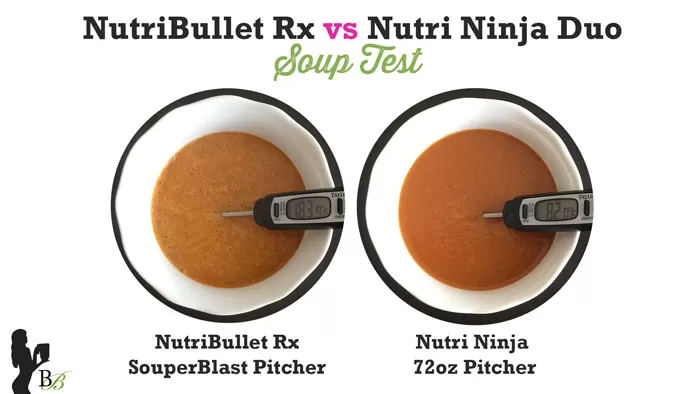 Based on this blend-off NutriBullet Rx has a clear advantage. It yielded soup with a superior, smoother texture with less work required.
While both machines would require me to cool down any cooked ingredients prior to blending, making soup with the Nutibullet Rx is overall a faster and more efficient process.
If making hot soup is a selling point for you, and a feature you plan to take advantage of, the automation factor is critical to evaluating any blender. A machine that can generate enough friction to do the job will save you time (and no extra dishes to wash).
The NutriBullet Rx has the power and functionality to create heat, which let me add in all the ingredients and make hot soup just by pressing a button.
The Nutri Ninja struggled to puree the ingredients to the proper smooth texture – even after extra blending time above and beyond their directions.  And again, I still needed to return the soup to the stove to finish it off.
FINAL VERDICT:

The NutriBullet Rx made hot soup faster with a smoother texture.

To see 5 other tests between these two blenders, see my full comprehensive Nutri Ninja vs NutriBullet Rx Review.

Thanks for taking the time to read this Nutri Ninja vs Nutribullet Rx Soup Review. If you have any questions please feel free to ask in the comments or contact us!
TELL US! WHICH BLENDER ARE YOU?! NutriBullet or Nutri Ninja?

We're happy to assist you on your health journey, and as always, Happy Blending!
Disclaimer: Sponsored post. The NutriBullet Rx was provided for review. All findings and opinions are my own. Click here to learn more about Blender Babes' Editorial Standards