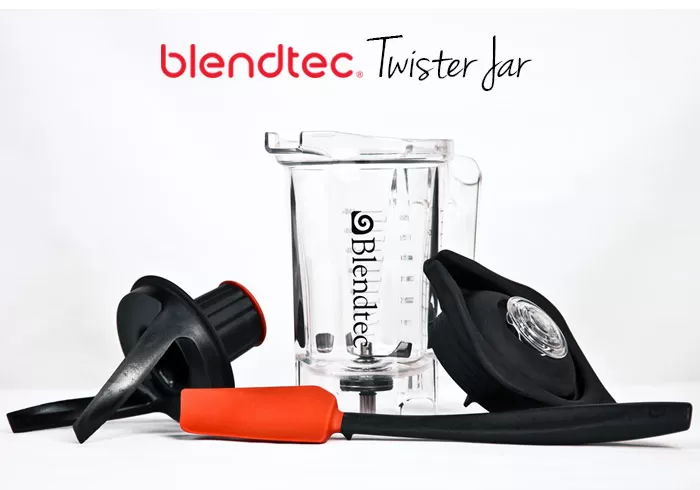 BLENDTEC TWISTER JAR REVIEW
Psst! Blendtec has a brand new innovation, which has improved on an already awesome home appliance. It's called the TWISTER jar, designed to more quickly blend your very thickest jobs and cut down your prep time. This gadget is one tough cookie, and we are happy to review and compare it to the Blendtec standard jars as well as the Vitamix blender! ♥
Now you don't have to leave out fresh homemade nut butters from your favorite recipes, or buy expensive options from your favorite health food store. Almonds? Peanut? Cashew? It's all good and twisted into butter in seconds, not minutes. Frozen banana ice cream? Drop it right in!
The Twister jar can handle dense or frozen materials, no problem. Blender Babes thinks it's the coolest gadget EVER!!! NOTE: Blender Babes recommends the Blendtec Standard Twister Jar over the Mini Twister Jar. It just makes more. The mini is tiny and if you're spending the money to get the twister jar, we promise you'll be happier with the bigger one!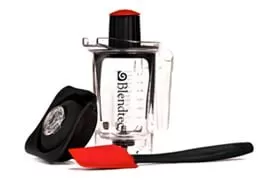 BLENDTEC TWISTER JAR REVIEW – SMALL PORTIONS
You can whip up smaller portions of your thickest smoothies and ice creams, and you won't have any cavitation, or need to stop your Blendtec blender and scrape ingredients towards to middle and repeat until blended. To use the jar, you just add ingredients and twist the lid counter-clockwise. Do it while the blend cycle is running. It works with the twisting motion, the tines of the lid forces the ingredients from the sides of the jar back into the blade (It's sort of like a washing machine) cutting blending time down so much your "tougher" jobs are complete in seconds. And we say "toughter" because it's really not hard to make a nut butter in 3 or 4 minutes, but when you can make it in 30 seconds or less… well, why wouldn't we? 🙂
Blender Babes and our test kitchen LOVES this new addition for
Blendtec Home Blenders
.
The Twister Jar is compatible with all home blenders
, including the
Total Blender Classic
,
Designer Series
, and Professional Series. It even comes with a special spatula designed for easy clean-up and making sure you get every last drop.