Refurbished Blendtec Review
Blendtec is one of the most renowned blender companies. Founded by Tom Dickson back in 1975, Blendtec sells both commercial and residential blenders all over the globe. Blendtec also sells refurbished blenders that are certified and at a significant discount to new Blendtec blenders.
Refurbished Blendtec blenders perform and look like new, and come with a brand new jar. Blender Babes is one of the most dedicated and renowned authorities to help you choose the best Blendtec model for your needs.
Use Promo Code "BBGIFT" for 20% OFF ALL Blendtec blenders, jars and accessories EXCEPT the Professional 800 blender.
Commercial grade blenders can be expensive, and most of us are not prepared to break our banks for it. Blender Babes offer cost-efficient refurbished blenders for customers who would like the performance of a commercial blender but at a low cost.
We have a large community where you can experience the world of blenders and participate in yearly challenges that help you use your blender more to improve your health.
Comparison Refurbished Blendtec
There are currently three refurbished Blendtec models available. The Blendtec Total Blender Classic, the Classic 575 and the Pro 800.
The Blendtec Total Blender Classic is their flagship model. I was selling this blender brand new in 2010 doing roadshows all across California. Previously, it was only available refurbished, however it has been so popular that they brought it back and you can now buy it new.
The Blendtec Classic 575 has the same motor with the updated and more modern Classic design. However it only has fewer features than the Total Blender but costs more.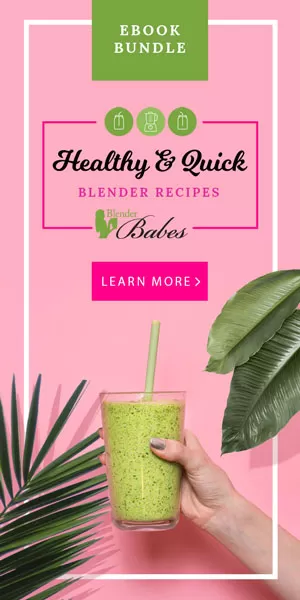 The Blendtec Pro 800 is their top of the line blender with sound enclosure - just like the ones they use in commercial locations like smoothie shops! It's the one that sits on my counter. This touchscreen model has 6 pre-programmed settings and 100 manual speeds.
Why Should You Consider Buying Refurbished Blender?
Here are some good reasons to choose refurbished blenders over others.-
1. Cost-efficient
Refurbished blenders are high-quality blenders with a less expensive price tag. So, it saves you a lot of money and makes for a perfect gift for you, your friends and family.
Note: Use Promo Code "BBGIFT" for 20% OFF ALL Blendtec blenders , their jars and accessories . This code works for everything EXCEPT the Professional 800 blender.
2. Looks like Brand New
Refurbished blenders from high-end brands like Blendtec look identical to the brand new ones. Just like the brand new ones, refurbished Blendtec blenders will not have any scratches, dings, dents, or other imperfections..
3. Works like New
Refurbished blenders are not just re-polished to make it just look new. Brands like Blendtec examine its motor and inspect all other components for smooth functionality in its refurbishing process. If any component functions less than it should, they will replace the components during reassembly. So, you get the most functional blender at an affordable price.
4. Comes with a brand new jar
Refurbished blenders like Blendtec blenders offer brand new jars with purchase. Not just the jars either, they will also include brand new blades and lids in every package.
5. Same Customer Service
Reputable blender companies like Blendtec will not skimp out on customer service for their refurbished blender customers. Companies like Blendtec provide the same support and literature with refurbished blenders as they do with the new units.
6. Warranty
This is where a refurbished Blendtec is lacking. They come with a 1-year warranty. However you can purchase an extended 2 year warranty for an additional $50 USD.
Refurbished Blendtec Blenders vs New Blendtec Blenders
| | | |
| --- | --- | --- |
| | The motor is the most expensive and important part of your blender. A thorough reconditioning process makes sure it's like new. | All new blenders are quiet and smooth. It passes all specific testing and the motor is expected to serve for the long run. |
| | Housing is inspected and replaced if necessary. A brand new jar is included. | It's all new and fresh. No chances of scratches or dents. |
| | All refurbished blenders come with a 30-day risk free trial. You can return if not satisfied but must pay return shipping. | All new blenders come with a 30-day risk free trial. You can return if not satisfied but must pay return shipping. |
| | Up to 30% less than brand new ones. | |
| | Blendtec offers a 1-year warranty but can purchase additional 2 years for $50 USD. | New Blendtec comes with 5, 8 or 10 year warranty depending on the model. |
Blendtec Refurbished Blender Process
What goes on in the making of a refurbished Blendtec blender? Let's dive deep to explore the Blendtec reconditioning process.
Inspection
First and foremost, they inspect all components, including the motor. All parts must be in a condition to be tested and run like a new blender. Other than that, they examine any cosmetic flaws; importantly, the housing rubber is thoroughly inspected.
Replacement
After a thorough inspection, items are sorted for replacement. All electronics must comply with industry safety standards. Companies like Blendtec replace the control panel with a new touchpad. All control panel buttons are tested. Important buttons like speed buttons and preprogrammed cycle buttons are re-tested.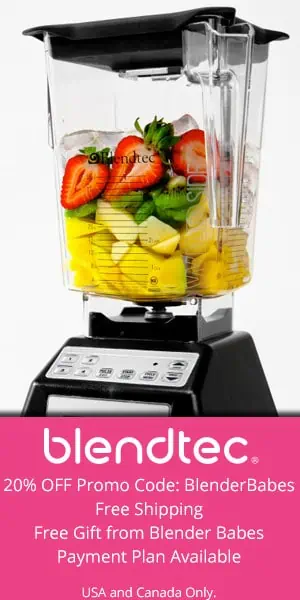 In the case of blender housing, they inspect the rubber feet, and if required, they replace them. For power cord - if it is worn out, then they replace it for safety. Once all safety and quality standards are satisfied, they reassemble the unit in the factory.
Final Packaging
After all the hard work of reassembly, they pack it for the final shipment. Each package contains support literature, a new jar, new blades, new lids, and refurbished blender bases.
What to Look for When Buying a Refurbished Blendtec Blender
Before you buy a refurbished Blendtec blender, you must look for a few criteria to choose the best model for you.
Motor Power
Both the Total Blender Classic and Classic 575 have the same 1560 watt motor and power. The motor is the quality determining criteria of a blender. How long the blender will last depends on the quality of its motor.
Pre-programmed Cycles
Pre-programmed cycles makes meal prep a breeze and is a highly desirable feature. The programmed cycle will automate the speed increase and decrease, run for a set time and shut off when the cycle is complete.
The Blendtec Total Blender Classic has 6 pre-programmed cycles: Smoothie, Batters, Hot Soup, Whole Juice, Ice Cream, and Ice Crush.
The Blendtec Classic 575 has 4 pre-programmed cycles: Smoothie, Clean, 60-seconds, 90-seconds. Note: the 60 second cycle is similar to Whole Juice and the 90 second cycle is similar to the Soup program on other Blendtec models.
The most used cycle is obviously smoothie! So keep this in mind when choosing what cycles are important to you.
Manual Speed Control and Pulse
Incremental speed cycles allow you to completely customize the consistency of your blend. You can switch between a blend mid-cycle for the ultimate in customization, or press the Pulse setting for a surge of blending power.
The Total Blender Classic has 10 incremental speeds and pulse setting and the Classic 575 has 5 incremental speeds and pulse setting.
Having more speeds is nice, however it's important to note that most blends (smoothies, soups, etc) are done on the HIGHEST speed.
LED Touchscreen
Both models in the refurbished Blendtec line-up have LED touch screens. These illuminated LCD screen will display the remaining time on blends and when not in use it shows how many total blends you have done.
Warranty and Colors
All Blendtec refurbished blenders have a 1-year warranty, however you can purchase a 2-year extended warranty for $50 USD.
Both models come in 3 color options: black, white and red.
Benefits of Purchasing Through Blender Babes
Why would you buy a refurbished Blendtec blender at Blender Babes? Well, Blender Babes is a certified brand dealer that offers a good number of benefits in a purchase. The benefits include-
1. 20% DISCOUNT
If you buy through Blender Babes, then you will 20% off blenders and accessories (except the Pro 800). You have to use the Blendtec promo code "BBGIFT" for this discount.
2. Exclusive Gift
Blender Babes provide exclusive gifts on both refurbished and new Blendtec blender models. All you need is to send a confirmation email to freegift@blenderbabes.com to claim your gift. The gift is worth about 75 dollars!
3. Compare and Save Money
Blender Babes have a good collection of refurbished blenders. That, too, with in-depth detailed product descriptions. So, you can compare the blender and choose the best one for you while saving you a lot of money.
4. Amazing Payment Plan
Unlike many retail outlets, Blender Babes offer a great convenient payment plan to buy a refurbished blender. You can choose three months, six months, or even twelve-month payment plans.
5. Premium Support
You may have questions about blenders and recipes, even after purchasing. If you buy your blender from Blender Babes, then experts like Tarashaun Hausner will give your premium support. Blender babes answer all specific questions and solve any issues for you.
How to Purchase Through Blender Babes
It is easy to purchase blenders here at Blender Babes. All you need is to check the reviews and make a decision about which one to buy. Click the buy option. It will redirect you to its Affiliate e-commerce site.
Then use the credit card and buy it online. Once you are done with the purchase, send an email to freegift@blenderbabes.com to claim all benefits from Blender Babes.
Blendtec Warranty
Though all refurbished blenders offer three years of warranty, you have to know how to claim it when needed. Also, it is important to know about Blendtec terms and conditions to get your Warranty.
How to claim my Warranty
If your gadget is not working as it should within 3 years of purchasing, then you can get a replacement for it. Go to the Blendtec website's warranty page and click on the red button written: "start your claim." This will get you to the form. Fill the form and wait for a few days for the company response.
Key Features of Warranty Terms and Conditions
-Check the date of purchase.
-Warranty applies only to products sold by Blendtec or its authorized dealers.
- Accidental damage, product abuse, product tampering, use of other brand accessories, modified units, used for commercial tasks are excluded from the Blendtec warranty assurance.
-You must show proof of the original purchase.
-Return Authorization number (RAN) to a Blendtec service representative.
-You have to ship to the address provided by the Blendtec service representative.
Frequently Asked Questions
Q: How long does a refurbished Blendtec blender last?
A: Though refurbished Blendtec has three years of warranty, regular use with proper care can make your blender last for more than 5 years without issue.
Q: Can you blend hot liquids in Blendtec?
A: As there is no ventilation it would be better not to try hot liquids for long. You can try mildly warm liquids. Make sure you don't blend more than 90 seconds. This can generate extra heat in ingredients.
Q: Do you need any additional jars?
A: No, it is not necessary. However, additional jars can help you in your recipes.
Q: Can Blendtec replace the Food Processor?
A: Yes, Blendtec blenders are high-quality gadgets and can be used for any typical blender task.
Q: Can you chop Vegetables in Blendtec?
A: Blendtec blenders can chop any vegetables. These blenders have sharp stainless steel blades to chop almost everything. So, yes, you can chop onions with ease.
Final Verdict
Blendtec Blenders are famous for their quality. You will find all renowned restaurants like Starbucks, McDonald's, and others using these blenders. Besides, refurbished blenders are not substandard by any means. You will get the high-end quality at an affordable price. Indeed, refurbished blenders might not last as long as brand new, but three years of warranty is comprehensive when it comes to quality.
Instead of buying cheaper lower quality blenders, a better option is to go for the refurbished quality brands. Quality counts big when it comes to comfort and service. Try the best-refurbished Blendtec blenders. Surely, you won't regret this investment.
To Your Health!
xoxo
Blender Babes