Updated September 1st 2023
Whether you're making smoothies for your breakfast or delicious soup for dinner, having a good blender can make meal prep a breeze. It's an essential kitchen tool that helps you do a lot of things with a touch of a button.
However, good blenders are expensive and purchasing from a reputed brand can cost you a small fortune. Luckily, there is a less expensive option - buying a reconditioned one instead of a brand new blender.
If you want to purchase a reconditioned blender, Vitamix should be your first choice. The company has made some of the best performing blenders recommended by professional chefs. Even their reconditioned blenders work (and look!) just like a new one.
Blender Babes is a proud user of certified reconditioned Vitamix blenders.
We are happy to offer free gifts with your purchase as well as free shipping when you use the links from our website and promo code 06-007974 to invest in a Vitamix.
5 Best Refurbished Vitamix Quick Buying Guide
There are many options of certified reconditioned Vitamix blenders available both in the retail stores and online.
After thoroughly testing each, we recommend these top five refurbished Vitamix blenders based on features and budget.
See a more detailed review of each of these blenders just before the FAQs
5 Best Refurbished Vitamix Blenders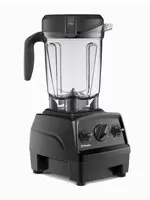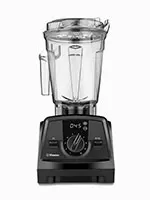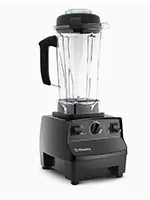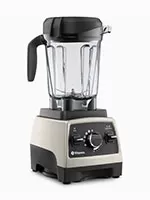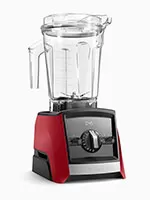 Model
Vitamix Explorian E320 with programs
Price
$249 (USA) $349 (CAN) with our exclusive $100/$120 OFF using links below
Why You Should Go for a Refurbished Vitamix
Whether your current blender broke or you just want to upgrade, it is not always necessary to buy a brand new one when you have the option for reconditioned units.
This is especially true if you are on a tight budget or want a great deal on your purchase. Here are some reasons why you should consider buying a refurbished Vitamix blender.
Low Price, Great Quality
As we mentioned earlier, there's no difference between the performance of a reconditioned and a brand new blender. They will perform as good as new - except it will come at a much cheaper price.
The best part of buying a reconditioned or refurbished Vitamix blender is that you can get a high end unit even when you are working with a small budget. This is a great value for money, which you shouldn't miss.
Warranty
Each certified Vitamix refurbished blender you purchase offers you a 5-year warranty (except the refurbished Explorian which has a 3-year warranty) which is a long time in case anything should go wrong.
This reconditioned warranty will cover each and every part of your Vitamix, the same as a brand new Vitamix warranty would provide.
No Risk 30 Day Guarantee
Vitamix understands that despite the exceptional and powerful performance of their certified reconditioned blenders, the blender may still not meet your needs.
That's why the company will send you a PRE-PAID shipping label so that you can send it back for a replacement or a full refund within 30 days of purchase if you are not completely satisfied by its performance. That is how confident they are in the performance of their blenders.
They are Popular
Everyone wants to enjoy great quality service without breaking their bank. This is particularly true when it comes to purchasing blenders.
Smart customers tend to go for reconditioned blenders from a popular manufacturer instead of buying a cheaper new one from a not as well known company.
As Vitamix is one of the most reputable brands, its reconditioned products get sold out as soon as they are on sale. That's why you should grab one as soon as you find the one you need.
Difference Between Reconditioned, Refurbished and New
Identifying the difference between a certified reconditioned (also known as refurbished or renewed) and a new blender is pretty tough by simply judging their performance. Vitamix makes sure reconditioned blenders go through a lengthy reconditioning process and that performance is optimal with no noticeable difference compared to a new blender.
However, some refurbished blenders might have some minor cosmetic differences, which don't impact their performance.
Things to Know About Vitamix Certified Reconditioning Process
The reconditioning process of Vitamix is quite thorough and properly documented. Starting from the outlook and functionality, everything will be checked through a 17-point inspection.
The quality control team will run the motor for at least 3 times and will test the blade quality by placing it into a high-temperature dishwasher.
Each and every part will be replaced immediately if it fails to meet the high standards of the testing.
No matter how good the condition is, all refurbished Vitamix blenders will come with a brand new jar, lid, lid plug and tamper. It will also include a completely new recipe book.
So, the resulting product will give you the same support a brand new Vitamix blender would give. You can still make the best quality smoothies, juices, soups and more without worrying about the quality of performance.
Why Vitamix Blenders Need to be Reconditioned?
While there are definitely blenders that have issues and need to be returned to Vitamix, over 60% of "refurbished" Vitamix blenders have no defect at all. These machines were manufactured with high-standards and went through strict quality control. Then why do they need to be reconditioned?
Let's see why.
Purchasing The Wrong Blenders
No matter how good a blender is, buying the wrong one for you will not give you the right service.
There's no doubt that Vitamix blenders offer excellent service. But, sometimes, customers purchase the wrong one for them and return it once they realize they want a different one.
While it's still a new one, the returned product needs to be reconditioned before it's ready for a new home.
Zero-Use Return
Just like purchasing a wrong blender, some customers order in a rush or get caught up on the latest trend. Once they receive it, they realize that this is the wrong product or they have buyers remorse. They return it without using the product.
Once it's back to the Vitamix headquarter, the entire blender will be inspected by the reconditioning team to find out if the machine has ever been used or turned on.
The team will still run the blender through the quality and performance testing, change the jar, lid, tamper with a new one and sell it as a certified reconditioned blender.
Hassle-Free Return Policy
Some retailers that sell Vitamix blenders have a hassle-free return policy. It means you can return anything bought from there and get a full refund - no questions asked.
Some customers will take advantage of the hassle-free return policy and return a blender after having used it.
These products ultimately come back to Vitamix headquarters where they go through the reconditioning process.
Demonstrated Product
In some retailers, wholesalers, trade fairs, you will find some Vitamix representatives demonstrating the blenders to promote the brand and to demo the new models.
In these demonstration stations, there are two categories of products: one for demonstration and others on display.
All blenders removed from their box are sent back to the headquarters, get reconditioned and sold at a lower price.
What to Look for When Buying a Refurbished Vitamix
Even if you're buying it at a "cheap" rate, you want your reconditioned blender to work just as well as a brand new one. That's why you must go through a proper check before you make the purchase.
Here are the things you need to look for when buying a reconditioned Vitamix.
They Should be Certified by Vitamix
Always look for the certified-by-Vitamix sign when picking up a unit from the store.
Reconditioned Vitamix blenders are supposed to work as new and have no faults at all. Besides, these products should be certified by Vitamix itself.
Make sure you're purchasing a certified reconditioned blender, nothing else. Otherwise, you may not be covered under the warranty.
The Jar & Lids Should be Brand New
No matter how many times they were used before or whatever the reason for the reconditioning is, every Vitamix reconditioned blender should come with a brand new container, lid, tamper, and a recipe book.
Always look if there's any scratch or defect in the jar or lid. Do not buy them if there's any flaw.
Difference between Classic and Smart System
The blenders from Vitamix fall into two major categories- the classic blenders and the smart system blenders.
The smart system Vitamix blenders possess the latest technology, such as a digital timer, sleek easy-clean design, wi-fi capability, self-detect jars, and the best warranty in the market.
On the other hand, classic blenders don't have these high tech smart features. However they still all have Vitamix's best blending abilities to be able to perfectly blend, grind, chop, puree, and smooth out soups.
If you are not comfortable with smart technology in your appliances, you can always go for a classic Vitamix.
Benefits of Purchasing Through Blender Babes
Blender Babes has been a proud affiliate of Vitamix for years. At no additional cost to you we receive a small commission for purchasing using the links from this website and we are so grateful for your support!
Also, purchasing through the Blender Babes website will provide you with some extra benefits.
You Will Get Free Shipping
By using the links from this website you will receive free shipping on Vitamix blenders to the USA, Canada, or the UK.
Exclusive Free Gifts with Purchase
We want to help make sure you use your new blender! By purchasing through us you will receive $50 in free gifts to help you get the most out of your blender.
Once you place an order, Vitamix will send you a purchase order confirmation email. After you receive the mail, you must forward it to Freegifts@blenderbabes.com to redeem your free gifts (it's not automatic)
Blender Babes will send you an email with access to your free gifts.
Amazing Payment Plans
Buying with payment plans through some websites can be a hassle if they have high interest rates. Vitamix offers no-interest financing for up to 24 months through Paypal.
It Lets You Save Money
Blender Babes receive exclusive deals on Vitamix blenders. We also announce special sales before they are live! You can find all the latest and exclusive Vitamix sales here.
Get Premium Support
If you have trouble or questions Blender Babes is always there for you.
When you buy a Vitamix through Blender Babes, you become a part of our blending-loving tribe, where you can ask anything you want. Our blender and recipe experts are available to answer your specific questions.
Best Buying Guide
There are so many options for blenders out there that choosing the right blender can be daunting, even after hours of researching. Blender Babes can be your assistant to solve that problem.
No matter how high or low your budget is, you can always choose from the wide range of blenders at different prices offered by Blender Babes.
This is the best place for people with a budget. You can easily find some of the best blenders within your price range.
Lots of Delicious Recipes
From healthy smoothies to ice creams and soups, there are hundreds of recipes available on Blender Babes' website.
Once you buy your desired blender through this website, you will get access to its wide range of recipes, which can be made using the blender you have just purchased.
How to Purchase Through Blender Babes
Buying your Vitamix through Blender Babes' website is quite easy. Just follow the instructions below, and you are good to go.
Go to Blender Babes' website.
Click any link from our website OR use our shop section.
Click on the "Buy Now" or "Add to Cart" button.
For Vitamix blenders use promo code 06-007974 if it's not applied automatically.
A purchase order confirmation email from Vitamix will be sent to your email, which you need to forward to freegift@blenderbabes.com to get access to your free gifts. 🙂
5 Best Refurbished Vitamix Blenders Overview
Here is a more detailed review of each of our 5 most recommended certified reconditioned Vitamix blenders, including what we love about it along with pros and cons.
These recommendations are based on thorough testing and helping thousands of people choose a Vitamix blender based on their specific needs.
1. $100 OFF!! VITAMIX EXPLORIAN E320 with PROGRAMS - Best Budget Vitamix For Families
Reconditioned:
USA Vitamix Explorian E320 with Programs ($100 OFF with our Exclusive Link. Note: Discount reflected at checkout!)
Canada Vitamix Explorian E320 with Programs ($100 OFF with our Exclusive Link. Note: Discount reflected at checkout!)
New:
Only available in select locations such as Costco

Overview:
The certified refurbished Vitamix E320 with programs from Vitamix's Classic Explorian Series, is a great power blender for new owners and families on a budget. At $349 this is definitely a more affordable Vitamix option - and even better with our $100 OFF exclusive promo! (Use our link to purchase and the $100 off will be reflected at checkout).
Plus it includes the 3 most popular automatic settings! Making smoothies, soups and frozen desserts is easier to use for all ages with these programs.
The Explorian E320 with programs has a 2.2 horsepower motor, variable speed dial, pulse and on/off switch with an updated body design.
You will be able to make all-the-things a Vitamix can do however since the Vitamix E320 with programs comes with a low profile 64 oz container, it's best for medium to large sized batches.
You will need to buy an additional container if you want to make small portions (I recommend the 32 oz container).
It's important to note that refurbished Explorian E320 with programs comes with a 3-year warranty compared to other refurbished models which come with 5 years.
Recommended: An additional 32 oz container for small blends.
What We Love About It:
We love the bargain price and that it's got the same power and features as the more expensive refurbished Vitamix 5300 and Vitamix Next Generation models.
2. Vitamix Venturist V1200 - Best Smart Vitamix Comes with Additional 20 oz Jar
Reconditioned:
New:

Overview:
The refurbished Vitamix Venturist V1200 comes with a blend-and-go travel cup which can also be used for small portions, so you may not need to purchase any additional jars.
The Venturist V1200 is a Smart System Vitamix with a 2.2 HP motor, 10 speed variable dial, pulse and on off switch.
It also has a digital timer so you can set your desired time on and walk away from your blender and it will stop when the timer runs out.
Like all Smart System Vitamix blenders, it will pair with any self-detect containers as well as the Vitamix Smart Blend app.
What We Love About It:
We love the Vitamix Venturist V1200 Smart System features an additional 20 oz personal blending container and blade assembly for small portions and to-go blending for great price. (USA only)
3. VITAMIX 5200 STANDARD - Best Classic Vitamix If You Don't Want to Buy Additional Jars
Reconditioned:
USA Refurbished Vitamix Standard
CANADA Refurbished Vitamix Standard
New:
CANADA: NA


Overview:
The Vitamix 5200 Standard is pretty well-known. Even if you didn't know what it was, this was the style you probably saw in friends' or your parents kitchen.
This Vitamix 5200 Standard features a powerful 2 HP motor, variable 10-speed dial, a high/low and on/off switch.
Although it does not have a separate pulse switch, you can achieve a pulse by flipping the on/off switch to equal a pulse.
It comes with the tall 64 oz container which can blend small, medium and large batches thanks to its narrow 3 inch base, therefore you probably will not need to purchase an additional container for smaller portions.
This blender stands 20.5 inches tall with the jar affixed tot he base, so it won't fit under most kitchen cabinets (which are 18 inches from cabinet to counter). It's also a little harder to clean by hand in the sink due to the height and more narrow base. Additionally, it requires the tamper more often to move ingredients around more than the low profile 64 oz container.
If price is an issue when determining which refurbished Vitamix to buy, this saves you money since it's not necessary to buy an additional smaller container for small blends.
What We Love About It:
The Vitamix 5200 Standard is a one stop shop for a great price.
4. Vitamix 750 (Next Generation Programs) - Best Classic Vitamix
Reconditioned:
USA Refurbished 750 (Use this link for our exclusive $150 OFF promo! Reflected at checkout)
CANADA: NA
New:
USA Link - Vitamix Professional 750
Overview:
The Vitamix 750 Professional is the most feature-rich Classic model available - and it's super reliable.
The Vitamix 750 (aka Vitamix Next Generation with Programs) has a 2.2 HP motor, low profile 64 oz container, 5 program presets, 10 speed variable dial, pulse and on/off switch.
The Vitamix 750 has well-loved 5 preset programs (smoothie, frozen dessert, hot soup, purée, and self-clean) for walk-away convenience.
Due to the low profile 64 oz container you may need to purchase an additional jar for small portions.
Recommended: An additional 32 oz container for small blends.
What We Love About It:
The Professional Vitamix 750 (certified reconditioned) is considered to be the top-of-the-line Classic Vitamix model in terms of features offered, design, performance and reliability.
5. Vitamix Ascent A2500 - Best Smart System Vitamix Without a Touchscreen
Reconditioned:
New:
Overview:
The Vitamix Ascent A2500 is a Smart System blender with and updated design, 10 speed variable dial, 3 pre-set programs, digital timer, pulse and on/off switch will never disappoint.
The digital timer counts up when you're blending with the variable speed dial and counts down when using a pre-set.
The best part is you can pair your Vitamix with the Vitamix Perfect Blend App available both on IOS and Android stores. You can get over 500 recipes and 17 different programs for your blender!
What We Love About It:
We love that the A2500 is a more updated design but keeps the feel of the old variable speed dial. The presets are the best ones to have and I always like having the digital timer. Pairing the machine with the app is pretty neat too.
FAQs
Q: How long does a Vitamix blender last?
A: The Vitamix blenders last more than 3x longer than most of its leading competitors. Often they last far longer than their warranty.
Q: Can you blend hot liquids in Vitamix?
A: Some of the Vitamix blenders can heat soups to a steamy temperature of 170°F. So, it's highly recommended that you don't add anything to your container that exceeds that temperature.
Q: Can you use a Vitamix blender as a grinder?
A: Yes you can. The dry containers of most Vitamix blenders are designed to handle any ingredients like coffee beans, grains, seeds, cinnamon sticks, etc. however, if you need to make a dough, you can even do it in your wet container.
Q: Can you chop vegetables in Vitamix?
A: It's incredibly easy to chop vegetables in Vitamix blenders. Most of its blenders come with a pulse function that lets you chop any vegetables for soups and other dishes.
Final Thoughts
A good power blender is not a luxury item anymore. It's essential for everyday life so that you can get your daily healthy whole food nutrition.
While there are a lot of companies offering different types of blenders, going for a renowned brand like Vitamix will give you the best value for money.