HOT CAFFEINE-FREE MACA MOCHA RECIPE
Looking for a way to add some superfoods into your morning routine? Look no further – this maca hot chocolate mocha has natural sugars, slow-burning fats, and energy-boosting maca to keep you energized and balanced throughout the day. Just throw it in to your Blendtec or Vitamix and run it long enough to heat it up – no boiling water, coffee maker, or microwave needed. If you're on the go and need a protein boost, add a scoop of chocolate protein powder, we love Vega One or Vega Sport depending on how active you're going to be that day. One tablespoon of sweetener may be enough, but if you've got a sweet tooth, run for one cycle and see how it tastes and put in more if you like. If you don't have vanilla flavored milk, just add a teaspoon of vanilla extract to unflavored for the same result. You can also try using peppermint extract to make it a Thin Mint Maca Mocha, if that's your thing. 😉 Top it with our whipped cream if you feel so indulgent! Note this recipe is for two servings, for 1 person make sure to reduce by half.
Join our community for more ways to add superfoods to your meals! If you try it, please share your rating for everyone in the comments! 🙂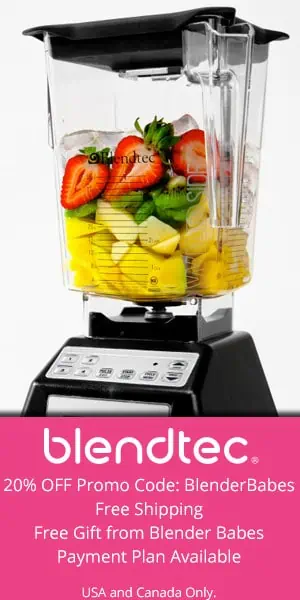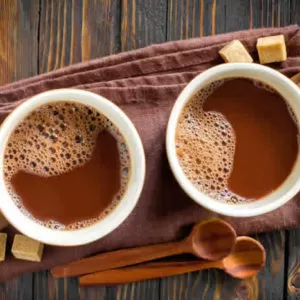 Hot Caffeine-Free Maca Mocha
Ingredients
2

cups

vanilla milk substitute

or unsweetened milk sub and add 1 teaspoon vanilla extract plus more sweetener to taste

2

tablespoons

raw cacao or cocao powder

1

tablespoon

maca powder

2

tablespoons

coconut oil

1

tablespoon

maple syrup

coconut nectar OR raw honey

1

teaspoon

cinnamon

Pinch

of sea salt

optional - 1 scoop Vega One Chocolate or other plant based chocolate protein - if adding protein, add 1/2 cup more milk.
Instructions
Place all ingredients into your blender jar in the order listed.

For

BLENDTEC

: Run the SOUPS cycle twice to warm the drink! If not warm enough, simply run the cycle again.

For

VITAMIX

: Start on Variable Speed 1 and slowly increase to Speed 10/HIGH for 4-5 minutes.

Pour into your morning coffee cup and enjoy the caffeine-free, totally satisfying boost to your day!

All done! Enjoy!! Now take a photo, rate it, and share your accomplishments! 🙂 Tag @BlenderBabes & #BlenderBabes
Notes
* Recipe is for 16oz, reduce by half for 1 serving
3.2.2265
HEALTH BENEFITS OF MACA
Maca contains four powerful alkaloids that support the endocrine system. Before anyone knew that, though, Andean societies used maca to increase stamina, boost libido, and combat fatigue. It is also packed with essential minerals, fatty and amino acids, and can alleviate inhibited libido for those using SSRIs. This is definitely something to stock up on if you struggle in the love department, but also if you just want sustained energy levels for other reasons. 🙂