DR. OZ 3 DAY DETOX LUNCH SMOOTHIE DRINK
This green smoothie drink by Dr. Oz. is the lunch drink used in his 3 day detox cleanse.
With this lunch drink Dr. Oz says that as your bloating begins to subside, this drink will begin to replenish your body by packing in 5 essential greens.
We love the flavor of this detox smoothie (it's refreshing and tastes a bit like sweet grass) and that it gives us essential omega's AND keeps us from getting hungry by including good-for-you healthy fats from the coconut oil.
Make sure to keep the skin on the cucumber if it's organic, it's the healthiest part which we learned from Dr. Oz years ago!
Just be sure to clean it with a special wash to remove pesticides and such if you don't buy an organic cucumber.
We recommend making fresh almond milk for this 3 day detox, as it will give you much needed healthy fats, calories, and nutrition over store bought brands.
You do not need a high powered blender to participate in Dr. Oz 3 Day Detox Cleanse, review these tips on making green smoothies in a regular blender.
Be sure to join our community for more Dr. Oz recipes. If you try this one, share your rating with us in comments section below.


Each Day of the Dr Oz 3 Day Smoothie Detox:

Morning Detox Tea (1 Green Tea bag, 1 Slice lemon, 1 tsp Stevia)
Dr Oz. Detox Breakfast Smoothie Drink
1/2 Multivitamin and 1 Probiotic supplement
Dr Oz Detox Lunch Smothie Drink
1/2 Multivitamin and 1 Omega 3 supplement
Snack – Repeat Favorite Drink
Dr Oz Detox Dinner Smoothie Drink
Detox Bath (2 1/2 cups Epsom Salt & 10 drops Lavender Essential Oil)

Note: These are all recommendations I would also make, for everyday supplements good for the body but especially during a cleanse, and I linked to well tested and my favorite products for these types of supplements, including a vegetarian Omega 3.
Note: The Blender Babes now wear Activewear!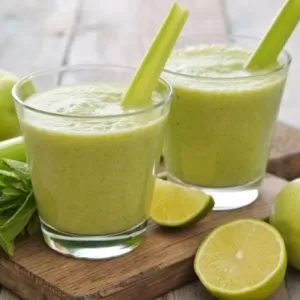 Dr. Oz 3 Day Detox Lunch Smoothie/Drink
Ingredients
1/2

cup

almond milk

4

celery stalks

1

cucumber

1

cup

kale

1/2

green apple

1/2

lime

1

cup

pineapple

1

tablespoon

coconut oil

2

cups

ice
Instructions
Place all ingredients in the jar in order listed

Vitamix:

Select VARIABLE, speed #1. Turn on machine and quickly increase speed to #10; then to HIGH. Run for 1 1/2 minutes or until smooth.

All done! Enjoy!! Now take a photo, rate it, and share your accomplishments! 🙂 Tag @BlenderBabes & #BlenderBabes
Nutrition
Serving:
2
g
Calories:
357.6
kcal
Carbohydrates:
54.2
g
Protein:
6
g
Fat:
16.9
g
Saturated Fat:
11.9
g
Polyunsaturated Fat:
1.6
g
Sodium:
238.5
mg
Fiber:
12.8
g
Sugar:
32.4
g
HEALTH BENEFITS OF COCONUT OIL AND CUCUMBERS
Coconut oil (fats) have particular fats called medium chain triglycerides (MCTs). It's been shown that breaking down these particular healthy fats in your liver results in efficient burning of energy.
Further, it increases the body's metabolism by removing stress on the pancreas; thereby burning up more energy and helping obese and overweight people reduce their body weight.
Cucumbers are good for the skin. The silica in the peel helps reduce wrinkles and boost collagen. Buy them unwaxed if possible. (Source: Dr. Oz)