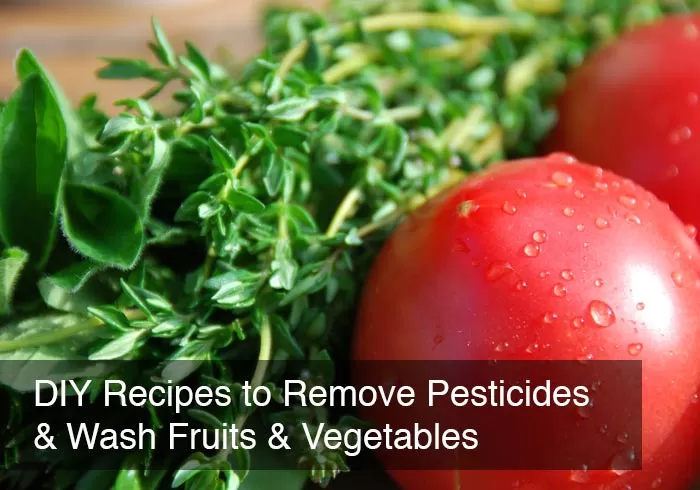 DIY Recipes to Remove Pesticides
Looking for DIY recipes to remove pesticides and wash your fruits and vegetables, or even a store bought version? Looks no further!
As the standard consciousness shifts into the "Green Era", our focus turns towards removing pesticides, Genetically Modified Organisms (GMO's), and other unwanted chemicals from our diets by choosing organic and GMO-free options whenever possible.
However, whether your produce is organic or not (but ESPECIALLY if it's part of the current DIRTY DOZEN!), it still needs a good wash before it is ready to be consumed.
PLEASE NOTE: Not all pesticides can be removed from washing, they are grown into the fruit/vegetable. If at all possible, get the dirty dozen ORGANIC)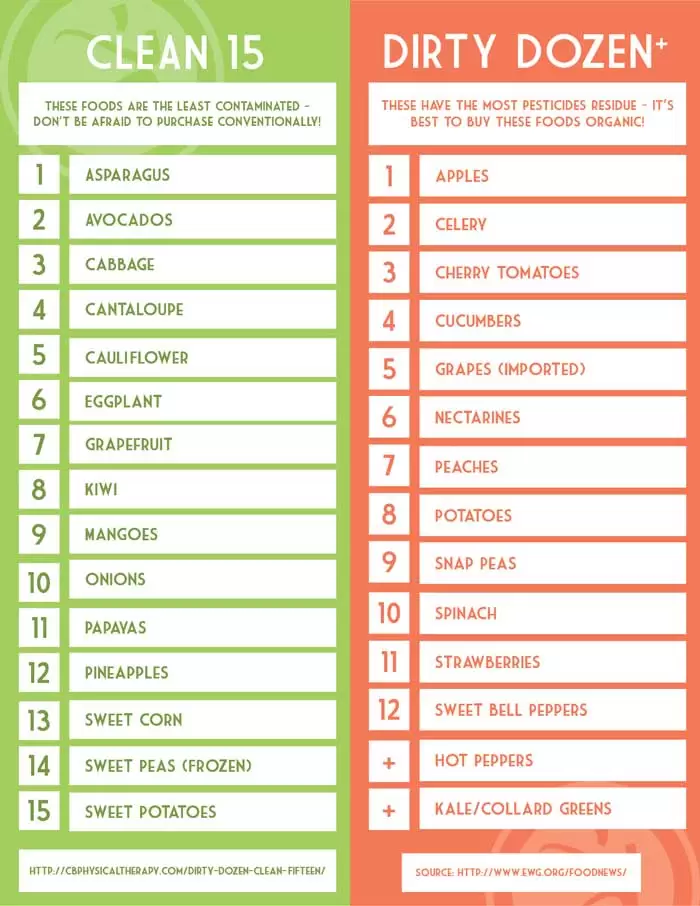 So the question is: "HOW DO YOU WASH YOUR FRUITS & VEGETABLES TO GET RID OF HARMFUL PESTICIDES, WAXES, AND OTHER CHEMICALS?" and "WHAT IS THE BEST WAY TO WASH?"
You may be aware of commercialized or store bought washes, but is there a homemade or DIY fruit and vegetable wash to remove pesticides?
The short answer: of course! Here we will be give you a couple simple recipes you can make at home, as well as offer suggestions for some of the store bought washes in hopes that you will find your produce-washing match!
Error, group does not exist! Check your syntax! (ID: 17)
By now, we have shared with our facebook fans the "sink wash" technique for bulk washing fruits and vegetables: Fill your sink with water and white vinegar (a 3 to 1, water to vinegar ratio) as a cleaning solution for your fresh produce, especially when washing in bulk.
Experts from the Environmental Working Group found that acetic acid in white vinegar and water wash kills 98% of bacteria and helps to dissolve the wax and remove pesticides residues (some not all!) found on the skins of many fruits and vegetables.
Though it is simple, there is a bit more to it than that.

DIY PESTICIDE WASH AND VEGETABLE CLEANER
In a your sink, a washing basin or large bowl, make a solution of 1 part white vinegar & 3 parts room temperature water, purified or charcoal filtered*. Research has shown that a 3 part water to 1 part vinegar solution is most effective, removing 98% of contaminants.
Place your room temperature fruits and vegetables into the wash. By keeping the solution and vegetables near the same temperature, you reduce the risk of shock to certain soft-skinned fruits and vegetables. Temperature shock can cause pores in the skins to intake more of the dirty water, and thus more of the chemicals you are trying to remove.
Allow fruits and vegetables to soak for ten minutes.
Air dry on a towel or washed couter space. if you would like to give them an extra rinse before eating, be sure to use filtered or purified water.
DIY HOMEMADE SPRAY PESTICIDE WASH
Now if you want to make your own homemade SPRAY to quickly wash fruits or vegetables, follow the same principle above using filtered water and use a BPA free spray bottle.
Add 1 Tbsp of Lemon Juice, 2 Tbsp of White Vinegar and 1 Cup of Filtered/Purified* Water to a spray bottle (may need a funnel).
Screw on the top and shake vigorously.
Generously spray the wash on your produce. Rub for 20-30 seconds by hand or use a good vegetable brush (on hard produce such as tomatoes, potatoes or apples). Rinse thoroughly with filtered/purified* water.
Now lets take a look at store bought brands we have used to wash & clean fruits & vegetables (rinsing with purified water!). These washes cost anywhere from $2.99 to $10. We have found they are cheaper/half price when bought locally in a store than on Amazon.
ENVIRONNE & TRADER JOE'S FRUIT & VEGETABLE WASH
Environne's & Trader Joe's product are relatively inexpensive (around $3.99 in store and $5-$10 on Amazon) and both use plant oil surfactants and anti-fungal grapefruit seed extract to clean and purify the skins of fruits and vegetables. The directions for both these products are quite simple: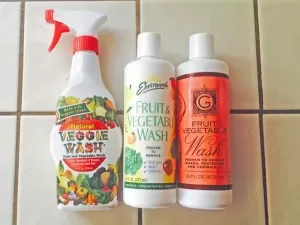 FOR BULK WASHING
Mix 1 tablespoon per 32 oz. water.
Add produce, swish for up to 30 seconds, using a vegetable brush if needed
Rinse with clean filtered/purified* water
Allow to dry or wipe with clean towel
OR FOR DIRECT WASHING
Apply a few drops directly to produce
Massage for approximately 30 seconds with hands or using a vegetable brush
Rinse with clean filtered/purified* water.
Allow to dry or wipe with clean towel
1 Tablespoon with 32oz of water can wash approximately 10 pounds of produce. One 16-oz bottle of this cleanser will yield 32 Tablespoons of cleanser, and with a cost of under five dollars, this product (or others like it) are quite cost effective, while also being proven to remove 97% of all contaminants.

Citrus Magic Fruit and Vegetable Wash is another store bought version we have used and liked – and have even re-used the spray bottle it comes in for our homemade spray pesticide wash recipe. 🙂 TWO IN ONE!

WHY USE FILTERED OR PURIFIED WATER
*I CANNOT STRESS ENOUGH THE IMPORTANCE OF USING FILTERED WATER OR PURIFIED WATER TO SOAK AND CLEAN YOUR FRUITS & VEGGIES.
Tap water will not do in most places where people live!
I know this may seem unreasonable, and I used to wash with tap water until I learned more about it…
IMPORTANT TO KNOW: The EPA's Safe Drinking Water Act (1974) only regulates 91 of the over 60,000 chemicals used in the United States. The tap water of at least 41 million Americans has been found to contain a wide range of pharmaceuticals and over the counter medications, caused by the combination of every medication user's excretory system and a flush of the toilet.
Tap water, although filtered, is not treated in a way that can get out these pharmaceuticals, but reverse osmosis (R/O) filtering or activated charcoal filters do remove most chemical compounds.
Not only this, but as the average tap water is piped in metal tubes from who knows where, it picks up trace amounts of these metals.
In addition to causing adverse reactions in the liver and kidneys, these trace metals actually slightly alkalize the water (not in the good way), and since our main component in this cleaning solution is called acetic acid, using tap water actually reduces the efficacy of the solution.
Even a quick rinse of your organic produce in tap water completely negates the extra effort and expense you've gone through by choosing organic. Do yourself a favor and choose to use filtered or purified water to wash and/or rinse.
Be sure to join our community for more informative How To's, tip, and articles for your health!
DO YOU HAVE A HOMEMADE RECIPE? PREFER A CERTAIN STORE BOUGHT BRAND? LET US KNOW IN THE COMMENTS! 🙂