PURPLE LOVE ~ ACAI RED CABBAGE CANCER FIGHTING SMOOTHIE
This Red Cabbage Acai Cancer Fighting smoothie is a personal favorite of Blender Babes AND all of our friends.
Like the popular cabbage patch kid from the 80s, this smoothie is MADE for kids!
It's a perfect (and TASTELESS) way to sneak in a really powerful ingredient that many children AND adults DO NOT eat enough of – cabbage!
Cabbage is the 3rd BEST FOOD for helping to prevent cancer.  Dr. Weil thinks there's no limit to how much we can eat cabbage.
This cancer fighting, super nutritious smoothie is perfect for breakfast, an afternoon snack, or as a pre and post workout smoothie, and made easily in a high powered blender.
The slightly bitter flavor of purple/red cabbage is masked perfectly by antioxidant rich acai juice (we LOVE the Sambazon brand) & banana.
We used strawberries (stems on!) in our recipe, but feel free to replace with any berry in the fridge or freezer.
Same goes for yogurt.  We love blueberry yogurt with it, but strawberry and mixed berry are just as good.
For a dairy free smoothie, try soy or coconut yogurt or for a high protein boost, use a milk substitute such as new coat pant almond milk or coconut milk with a scoop of plant based protein powder.
Be sure to join our community for more amazing Blender Babes recipes! If you try this recipe, share your rating with us. We love to hear your thoughts.
Note: The Blender Babes Wear Activewear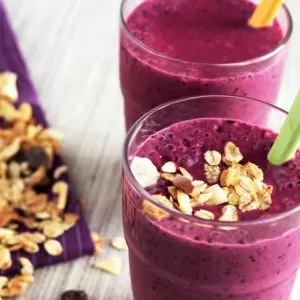 Purple Love RED Cabbage ACAI Cancer Fighting Smoothie
Ingredients
6

ounces

acai juice

One 6-ounce container of unsweetened berry yogurt

non fat or vegan*

1/2

cup

red cabbage

1

banana

4

strawberries

1

cup

ice
Instructions
Add ingredients in order listed and blend

For

Vitamix:

Select VARIABLE, speed #1. Turn on machine and quickly increase speed to #10; then to HIGH. Run until smooth.

All done! Enjoy!! Now take a photo, rate it, and share your accomplishments! 🙂 Tag @BlenderBabes & #BlenderBabes
Notes
*Use coconut or soy yogurt for a dairy free/vegan smoothie 🙂
Nutrition analysis based on using non-fat blueberry yogurt.
Nutrition
Serving:
16
g
Calories:
167.5
kcal
Carbohydrates:
37.3
g
Protein:
3.8
g
Fat:
1.3
g
Sodium:
63
mg
Fiber:
3
g
Sugar:
24.7
g
HEALTH BENEFITS OF CABBAGE & ACAI
Cabbage is a member of the cruciferous family, which is also populated by broccoli, cauliflower, radishes, and other vegetables whose leaves grow at right angles to each other, forming a cross (crucifer).
It is one of the oldest cultivated vegetables, enjoyed by the ancient Romans both as food and as a medicine to treat wounds, colic, and to prevent plague.
There are more than 400 varieties, which although differ somewhat in nutritional value, they all provide healthy levels of vitamin C and various phytonutrients, including flavonoids, indoles, and sulforaphone.
The indoles in cabbage may help prevent breast cancer, and sulforaphane and incolde-3-carbinol have been shown to help the liver rid itself of toxins and to prevent cancer.
Acai has more antioxidants than any other fruit and it is one of the only berries that has naturally occuring Omega fatty acids in high doses. Acai direct from the Amazon has numerous health benefits, especially when it is included in your normal routine.
Acai berries can be used to make health drinks and energy drinks which are the most enjoyable way to consume the berries.
You can also mix pure acai juice puree or concentrate with any of your favorite berry juice for a treat that is equally enjoyable.
Not only does it improve your mental clarity, but similar to the energy you receive from caffeine; mixing guarana with acai fruit gives you energy.
Many conditions are being treated and helped by using acai berries. This super food contains high levels of antioxidants, which help fight free radicals and prevent premature aging and also acai berries provide high levels of nutritional benefits.
In addition to lowering cholesterol levels Acai berry juice also helps fight heart and vascular diseases because of the antioxidants found in it.
Acai fruit helps improve sexual function, digestion and can cleanse and detoxify your body in addition to fighting diseases.
Sold yet?  Try this smoothie today!