SUMMER ROLLS WITH  MANGO LIME & MINT DIPPING SAUCE RECIPE

This recipe for summer rolls with mango lime and mint dipping sauce  is simple, light, refreshing and packed with minerals. This take on spring rolls is a new favorite!
The mint dipping sauce has a great taste and ideal as a dip but can also be used as a burger topping to give a kick of freshness. This summer roll recipe is a different take on vegetarian sushi.
This is the perfect party pleaser however make sure to practice beforehand. Most of the work is in the preparation of the ingredients – putting together is the fun part!
These look impressive: bright in color, light in taste, with a crisp yet delicate taste. An intimate summertime brunch is the perfect setting for this made-to-impress selection.
Make ahead tip: You can quickly blend up the mango lime and mint dipping sauce recipe with your Blendtec or Vitamix blender, however this dip can also be made in a "regular" blender. 🙂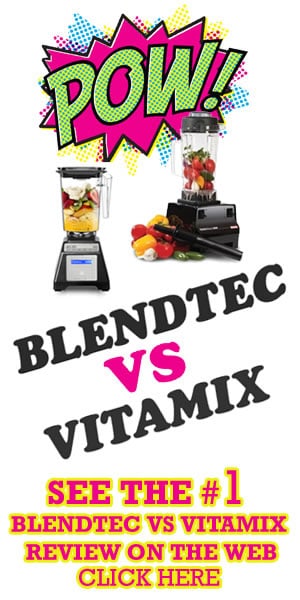 Don't forget to join the Blender Babes community for more nutritious meal ideas and other healthy recipes! Tell us what you think in the comments by sharing your rating with us if you try this recipe!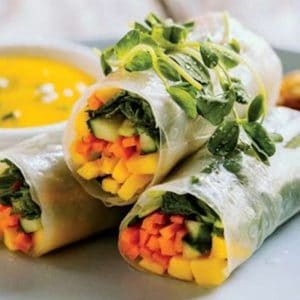 Ingredients
Mango Lime & Mint Dipping Sauce
1

cup

peeled and coarsely chopped mango

3

or 4 mint leaves

zest of 1/2 lime

1

tablespoon

freshly squeezed lime juice

1

teaspoon

unrefined sugar
Summer Rolls
6 to 8

rice paper wrappers *

8 inches/20 cm or larger

2

cups

peeled and julienned mango

2

cups

peeled

seeded, and julienned English cucumber

2

cups

peeled and julienned carrots

2

cups

peeled and julienned green papaya

2

cups

kelp noodles **

2

large handfuls of fresh cilantro with tender stems

cut off tougher bottom half of stems

2

large handfuls of fresh Thai basil leaves

2

large handfuls of fresh mint leaves

Mango Lime & Mint Dipping Sauce

1

cup

peeled and coarsely chopped mango

3

or 4 mint leaves

torn

zest of 1/2 lime

1

tablespoon

freshly squeezed lime juice

1

teaspoon

unrefined sugar

such as coconut sugar or raw sugar

1/2

cup

125 mL of mango, lime & mint dipping sauce (see recipe below)
Instructions
Mango Lime & Mint Dipping Sauce
Keeps in a sealed container, refrigerated, for up to 1 week.
Fill a large bowl with warm water and spread a kitchen towel on your work surface.

Working with 1 rice paper wrapper at a time, soak wrapper in warm water just until pliable, about 30 seconds.

Place it on the kitchen towel.

Divide the julienned fruits and vegetables and the kelp noodles evenly along the center of each wrapper, layering your ingredients as you go.

Repeat with most of the cilantro, basil, and mint, reserving some for garnish.

Holding the end closest to you with both hands, fold it over the filling.

Tuck it under the filling using your fingertips and gently pulling the wrapper taut.

Fold in the sides, then tightly roll up the summer roll, squeezing the ingredients to get a tight roll.

Place each roll as finished on a damp paper towel and cover with another damp paper towel, to keep them from drying out.

Cut each roll in half diagonally and garnish with the remaining herbs.

Serve immediately with mango, lime & mint dipping sauce.

All done! Enjoy!! Now take a photo, rate it, and share your accomplishments to enter our weekly photo contest! 🙂 Tag @BlenderBabes & #BlenderBabes
Notes
* If the rice paper tears while you're wrapping,
just soak another wrapper and wrap it around the
torn one.
** If kelp noodles are hard soak in hot water to soften first
Nutrition
Serving:
1
g
|
Calories:
122
kcal
|
Carbohydrates:
31.6
g
|
Protein:
32.8
g
|
Fat:
0.9
g
|
Polyunsaturated Fat:
0.1
g
|
Sodium:
51.3
mg
|
Fiber:
4.4
g
|
Sugar:
4.9
g
BLENDER BABE RECIPE NOTES 
Unless one has an excellent grocery or access to an Asian market, the rice paper wrappers and the Kelp Noodles can be tough to get. Alternate wraps are now becoming more available in stores. As for the noodles, one can substitute rice noodles, No-Noodles (made from yam), or soak bean thread noodles in hot water until pliable.
HEALTH BENEFITS AND FUN FACTS

Carrots contain 17 vitamins and minerals and are an excellent source for vitamin A. Given their antioxidant richness, it's not surprising to find numerous research studies documenting the cardiovascular benefits of carrots. Carrots are high in carotenoids which promote eye health. Lab studies have shown the ability of carrot extracts to inhibit the growth of colon cancer cells.
Mangoes may very well be the king of all fruits. They fight cancer, alkalize the body, aid in weight loss, regulate diabetes, help digestion and clean your skin. Mangoes are high in vitamin C, vitamin A, vitamin B6, probiotic fiber, copper, potassium and magnesium.
Papayas are high in vitamin c, folate, fiber, vitamin A, magnesium, potassium, copper and pantothenic acid. Papayas protect against heart disease, promote digestive health, have anit-inflammatory effects, provide immune support, protect against macular degeneration and protect against rheumatoid arthritis.
Excerpt and image with permission from Thrive Energy Cookbook by Brendan Brazier. Publisher: Penguin Canada
Pin It!