MISO GLAZED EGGPLANT DIP RECIPE
This miso glazed eggplant dip is a classic Japanese recipe with a twist.
You can follow the steps and serve the glazed eggplant as a side dish or appetizer, or put it in the blender to make a great vegan dip!
Blend this delicious gluten-free and dairy-free dip up today in your power blender.
Be sure to join our blending loving tribe to be updated with new side dishes, appetizers and healthy dips from Blender Babes and our friends!
If you try this, let our blending loving community know by rating it in the comments! 🙂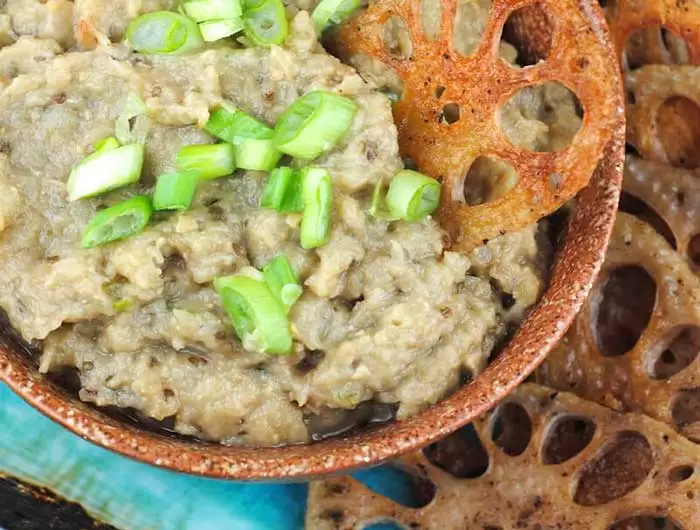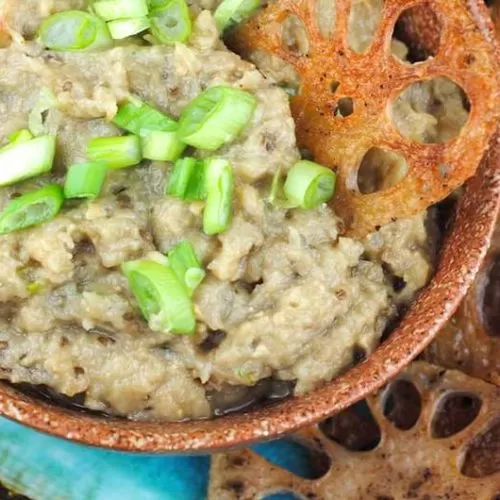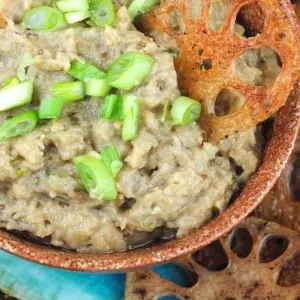 Miso Glazed Eggplant Dip
Ingredients
2

medium Japanese eggplants

2

tablespoons

sesame oil

4

tablespoons

white miso

4

tablespoons

mirin

1

tablespoons

sake

2

tablespoons

unrefined sugar of choice

we like turbinado or coconut sugar
Instructions
TO PREPARE EGGPLANT

Set your oven rack to the middle and set the oven to Broil.

Slice the eggplants in half and then score the flesh.

Rub sesame oil all over the eggplants (especially the flesh) and put them on a broiler sheet with the skin facing up.

Broil eggplants until skin starts to turn brown. (2-3 minutes depending on the heat of your broiler. If you have Hi and Lo Broil options, choose Low. It is much easier to prevent burning this way.)

Remove from oven and turn over the eggplant.

Put the eggplant back under the broiler, face up for 5-10 minutes.

When it's ready, the flesh will be tender and you should be able to put a knife through it easily.

Set aside the eggplant while you prepare the glaze.

Mix the miso, mirin, sake and sugar in a small sauce pan.

Warm this mixture over medium heat until the sugar is dissolved.

Be careful not to let it boil.

Once the sugar has dissolved, remove the glaze from the heat and add another tbsp of mirin to thin it out.

Brush the glaze (generously) and evenly over the eggplant flesh.

Put the glazed eggplant back under the broiler until it starts to bubble and caramelize. (1-4 minutes)

During this step, you will want to watch it closely or else it could burn.

Remove from the oven and let rest for 3-5 minutes before serving.



TO MAKE A DIP

Let it cool enough to handle. Scoop the cooled flesh, put into blender and secure lid and blend on medium speed until until it reaches the texture of baba ganoush or a chunky hummus.

For

Blendtec

: Use the Batters/Dips button OR

For

Vitamix

: Select VARIABLE Speed 1, increase to speed 4 and run about 15 sec.
Notes
If you can't find Japanese eggplants, substitute (3) Japanese eggplants with (1) Globe eggplant.
Nutrition
Serving:
1
g
Calories:
109
kcal
Carbohydrates:
18.5
g
Protein:
0.1
g
Fat:
2.3
g
Saturated Fat:
0.3
g
Polyunsaturated Fat:
1.8
g
Sodium:
615
mg
Sugar:
12.3
g
BLENDER BABES RECIPE TESTER NOTES
"I used lentil chips with the eggplant dip, also was good with bean and rice chips. I used the left over glaze on some shishuto peppers where I basically followed the directions of the eggplant (broiler, etc) I left them in longer as well, the glaze sets and caramelizes much better that way. They were so good!!!"
"Sweet asian tasting miso glaze. The longer it cooks (before burning) the better it tastes. The flavors just pop that way. I think as a dip it's a fun alternative to baba ganoush and is nice to add an asian flair to dip. Next time I will try adding salt or soy sauce or something like that to it."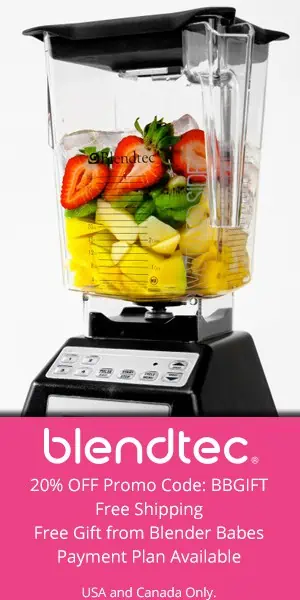 "It was difficult trying to blend the eggplant in the larger bottom (64 oz low profile) Vitamix jar, using a slimmer (smaller) one would be ideal."
"The aroma of the miso cooking was delicious! The glaze was a perfect addition for the eggplant.
Hubster liked it a lot. The tangy miso really worked well with how bland an eggplant can be."
HEALTH BENEFITS OF JAPANESE EGGPLANTS
Like other nightshade plants bell peppers and potatoes, Japanese eggplants contain antioxidants like nasunin, which is thought to protect cell membranes in the brain.
The advantage of the Japanese variety: its thin skin doesn't need to be peeled!
Leaving the skin on is best anyway because it will add fiber to your diet, causing you to remain full for longer periods of time while regulating your digestive system.
Raw eggplant is very low in calories, saturated fat and sodium, with only 20 calories per cup.
It's a high source of dietary fiber and is packed with vitamins and minerals, including vitamin C, folate, potassium and manganese.