TOASTED COCONUT AND MACADAMIA SUPERFOOD SMOOTHIE RECIPE
Although there are a few minor extra steps involved in making this toasted coconut and macadamia smoothie recipe from my Superfood Smoothies Cookbook, the results are otherworldly delicious—this is one of my favorite smoothies!
Toasting the coconut enhances the flavor, and the coconut ice gives the smoothie a gentle sweetness without adding any refined sugars.
In addition to its transcendent flavor, this smoothie also happens to be very beneficial for post-workout due to the electrolyte-rich coconut water and the restorative and energizing maca root.
Taste and believe.
A power blender, such as a Blendtec or Vitamix, will quickly pulverize the nuts and then whip the ice into a frosty texture!
Be sure to join our community for more smoothie recipes and tips from Blender Babes and our friends! If you try this smoothie let us know by rating it in the comments. HAPPY BLENDING! 🙂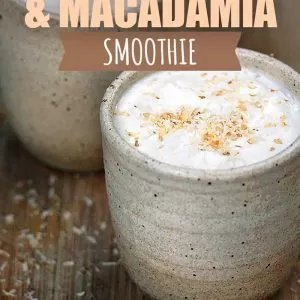 Toasted Coconut & Macadamia Smoothie by Julie Morris
Ingredients
2-3

cups

coconut water

frozen into ice cubes*

1 1/2

cups

coconut water

1/4

cup

dried

unsweetened, shredded coconut

1/4

cup

unsalted macadamia nuts

2

tsps

maca powder

2

drops Stevia

optional

Superfood BOOST

Add 1 teaspoon maqui berry powder for anti-aging

antioxidants

and a stunningly colored smoothie, to boot
Instructions
The night before, pour two cups of coconut water into an ice cube tray and freeze. (This is your coconut ice).

In a small skillet, toast the coconut over medium-high heat, stirring constantly to prevent burning, until golden (about 2 minutes). Transfer immediately to a bowl and let cool.

Blend the toasted coconut, macadamia nuts, maca, and coconut water together into a creamy milk base.

Once smooth, add the coconut ice and blend until frosty - first low then high (about 15-30 seconds).
Notes
1. Depending on how frosty you like it, add more coconut ice!
2. Add 1/4 teaspoon vanilla or almond extract for varied flavor.
Nutrition
Serving:
1
g
Calories:
284
kcal
Carbohydrates:
28.1
g
Protein:
4.3
g
Fat:
17.7
g
Saturated Fat:
6.5
g
Polyunsaturated Fat:
0.3
g
Sodium:
90.6
mg
Fiber:
10.2
g
Sugar:
22.6
g
BLENDER BABES RECIPE TESTER NOTES
"This smells and tastes wonderfully of toasted coconut, making it one of my instant favorites.
I often crave the treat of a milkshake, but after a few sips, I find it too cloying and rich; this was just right!
My boyfriend liked it as well, describing it as thick and sweet – not realizing that there was no added sugar or sweetener!"
"We enjoyed this as a beverage.
It was creamy and refreshing."
"Lighter than a milkshake, but just as satisfying with easy-to-absorb nutrition, this is a creamy treat that you must try."
HEALTH BENEFITS OF COCONUT
Referred to as "kalpa vriksha" in ancient India (meaning "the tree that supplies all that is needed to live"), the coconut palm has been recognized as a top immune booster, antifungal, antibiotic, antiviral and antibacterial remedy for thousands of years all over the world.
Yet it has only been fairly recent that modern researchers have begun to fully discover the massive health benefits this amazing fruit seed offers.
Coconut is very important in the stabilization of blood sugar, lowering cholesterol, healing dehydration, and even replacing blood plasma in an emergency.
Because of its strong antioxidant properties, coconuts are also great at improving digestion, increasing metabolism so that weight loss can occur, staving off memory loss, and fighting off viruses.
Image & recipe excerpted with permission from Superfood Smoothies by Julie Morris. Published by Sterling.