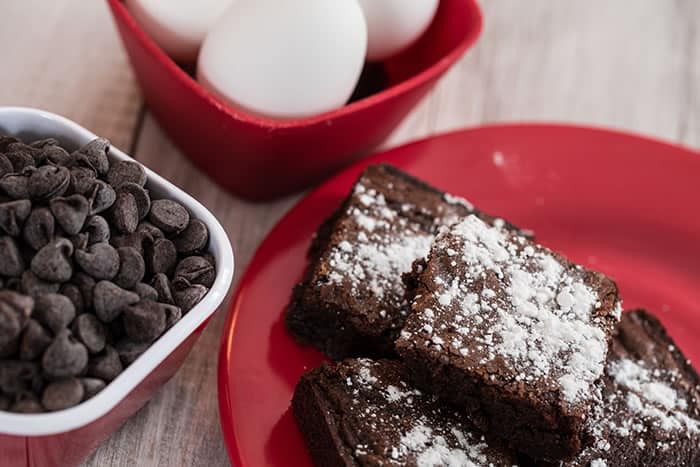 AMAZING GLUTEN-FREE DAIRY-FREE FLOURLESS BROWNIES RECIPE
Each person who goes gluten-free quickly learns that there's one thing in particular they really miss; my biggest loss was chocolate brownies. There's something about having a freshly-baked treat, especially when it's accompanied by a cold glass of homemade almond milk. With this recipe, I no longer feel like a kid with my nose pressed against the outside of the bakery window. These flourless black bean  brownies can be made with the ease of a Vitamix or Blendtec blender and enjoyed without the guilt! They're rich in chocolate, dairy free and flourless, yet versatile enough to fit into any lifestyle. One thing is for certain, once you try them, you'll want to make them again and again, perhaps using mint chocolate chips one time, or a dusting of cinnamon the next.
Be sure to join the community for more delicious brownie recipes! And let us know what you thought of this Black Bean Brownie Recipe by rating it and leaving a comment below! 

Amazing Gluten-free Flourless Brownies
Ingredients
One 14-ounce can low-sodium black beans, rinsed and drained
2 large eggs
1/2 cup raw cacao OR cocoa powder
3/4 cup coconut palm sugar or turbinado sugar*
1/2 teaspoon coconut oil
1 tablespoon your favorite unsweetened milk substitute
1 teaspoon balsamic vinegar
1/2 teaspoon baking powder
1/2 teaspoon baking soda
1/2 teaspoon of freshly ground coffee OR instant coffee
1 cup dark chocolate chips, divided
Instructions
Preheat oven to 350°F (176°C). Grease a non-stick 9 by 9-inch square baking pan with non-stick spray and line with parchment paper, leaving a 2-inch overhang on all sides.
Place black beans, eggs, cocoa powder, sugar, oil, milk, balsamic vinegar, baking soda, baking powder and coffee in your blender's container.
For Vitamix: Blend at SPEED 5 until smooth, about one minute.
For Blendtec Use the BATTERS cycle.
Add half the chocolate chips and PULSE** four or five times to incorporate into the mixture.
Pour the brownie batter into the prepared pan. Sprinkle the remaining chocolate chips evenly over the top of the brownies.
Bake the brownies until a toothpick comes out clean, about 30 to 32 minutes.*** Allow the brownies to cool completely before slicing into squares.
All done! Enjoy!! Now take a photo, rate it, and share your accomplishments! 🙂 Tag @BlenderBabes & #BlenderBabes
Notes
* Tested with both sugars - both good! Coconut palm sugar was a touch less sweet.
** If your Vitamix model does not have a pulse feature, with the power on HIGH - quickly turn the machine on and off to equal one PULSE.
*** You can also use an 8 x 8 pan as our recipe tester did, and she baked it for 45 minutes.
Nutrition Information
Serving size:
1
Calories:
182.5
Fat:
6.6 g
Saturated fat:
3.8 g
Unsaturated fat:
0.3 g
Carbohydrates:
29.8 g
Sugar:
8.5 g
Sodium:
129.1 mg
Fiber:
5.1 g
Protein:
4 g
Cholesterol:
23.1 mg
HEALTH BENEFITS OF BLACK BEANS
This flourless recipe is made with a base of
black beans
, which have been shown to be the perfect mix of substances for
allowing bacteria in the colon
to produce
butyric acid
, a
necessary food
for the
benefitial flora in our intestines
. Recent research links
bean
intake to
lower risk of type 2 diabetes
,
cardiovascular disease
, and
several types of cancers
.
Black beans
are
rich in folate, fiber, protein, and even a good source of iron
!
Cocoa powder
provides a good supply of
 iron, manganese, magnesium and zinc
.