Get FREE eBooks/Downloads for Your Health! Click Here 🙂
ACAI PRE-WORKOUT ENERGIZER JUICE RECIPE
This acai pre-workout energizer juice recipe is designed to be consumed about 40 minutes before long or especially intense exercise.
It provides the perfect fuel to provide your muscles with clean-burning carbs to carry you through the toughest of workouts.
Since it's in liquid form it is easy to digest and therefore reduces the risk of a dreaded side stitch.
Also, pineapple is high in a digestive enzyme called bromelain that further assists with digestibility and is also an anti-inflammatory.
In addition, the Vega Sport Pre-Workout Energizer will give your fat metabolism a boost with its green tea and yerba mate, enabling your body to burn more body fat while sparing muscle glycogen, thereby directly boosting endurance.
Blend this acai pre-workout energizer juice before your next gym sesh!
Remember to join our blending-loving tribe for new recipes and healthy living giveaways! If you try this, let us know in the comments by sharing your rating with us!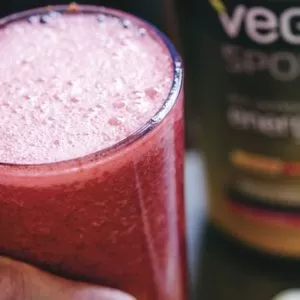 Acai Pre-Workout Energizer
Ingredients
1/2

cup

coconut water

1/2

cup

acai berry juice

OR pomegranate juice

1

scoop

Vega Sport Pre-Workout Energizer

in acai flavor

4

fresh or frozen strawberries

1/3

cup

chopped pineapple

1/4

cup

fresh or frozen blueberries

1

tbsp

maple syrup

optional

About 2 cups ice cubes*
Instructions
In a blender, combine all the ingredients except the ice. Add ice to about 1 inch (2.5 cm) above the liquid line. Blend on high speed until smooth.

For Blendtec: Press the Whole Juice Button or blend on a Medium to Medium-High speed for 50-60 seconds.

For Vitamix and other variable speed blenders: Select VARIABLE Speed #1. Turn machine on and slowly increase speed to VARIABLE Speed #10/HIGH. Blend for 1 minute or until desired consistency is reached.

Serve immediately. Enjoy!

All done! Enjoy!! Now take a photo, rate it, and share your accomplishments to enter our weekly photo contest! 🙂 Tag @BlenderBabes & #BlenderBabes
Notes
Blend longer than 1 minute for an even more juice-like consistency.
*If using frozen fruit, use less ice
Nutrition
Serving:
1
g
Calories:
224
kcal
Carbohydrates:
49
g
Protein:
2
g
Fat:
1
g
Saturated Fat:
1
g
Sodium:
254
mg
Potassium:
558
mg
Fiber:
4
g
Sugar:
39
g
Vitamin A:
158
IU
Vitamin C:
63
mg
Calcium:
82
mg
Iron:
1
mg

HEALTH BENEFITS OF ACAI
Acai is an indigenous berry commonly found in the rain forests of the Amazon. This antioxidant-rich fruit has been heralded for centuries as a healing, immune-stimulating, energy-boosting fruit.
An exotic relative of the blueberry and cranberry, research has shown that this antioxidant-rich berry may be able to support in the prevention of diseases associated with oxidative damage, not to mention many other health benefits.
1. Heart Health  Similar to red wine, research shows that acai berries are extremely high in anthocyanins, a form of plant antioxidant associated with the ability to lower cholesterol levels in the blood stream. They are also rich in plant sterols that provide cardio-protective benefits to our cells. It does this by preventing blood clots, improving overall blood circulation, and relaxing the blood vessels.
2. Aids in Weight Loss  Known by nutritionists as a super-food, acai may help us not only lose weight, but maintain a healthy weight. One interesting study from the National Institutes of Aging found that pulp from the acai berry had the ability to reduce the negative effects of a high-fat diet in laboratory studies on flies.
3. Promotes Skin Health  Currently, many modern beauty products are carrying acai oil, again due to the oil's high antioxidant content. What is more, acai oil is a great natural alternative to chemical based skin-care products that harm the skin in the long-run. Taken internally, the berries can also give your skin a healthier glow. In fact, Brazilians have been eating acai berries for centuries to treat skin conditions.
Excerpt and image with permission from Thrive Energy Cookbook by Brendan Brazier. Publisher: Penguin Canada