Get FREE eBooks and Downloads for Your Health! Click Here 

GLUTEN-FREE VEGAN GRAVY RECIPE
After testing out a creamy mushroom gravy, I wanted a more traditional alternative that was even easier to make.
This gluten-free vegan gravy recipe is so easy to make and truly delivers a hearty flavor perfect to complement your meal.
I've always been a fan of gravy, but hadn't found a good replacement since going vegan.
This recipe is just what I've been looking for!
It contains a complex flavor that is reminiscent of traditional gravy but much healthier with nutritional yeast, apple cider vinegar, and no added sodium or refined sugars!
The molasses adds B vitamins and helps give it a rich gravy flavor.
It thickens up quite nicely when cooked.
If you don't have arrowroot powder, you can thicken the gravy with another flour or thickening agent.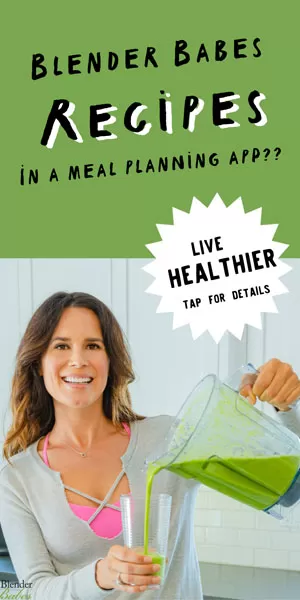 A high speed blender isn't necessary for this recipe, any old blender will do!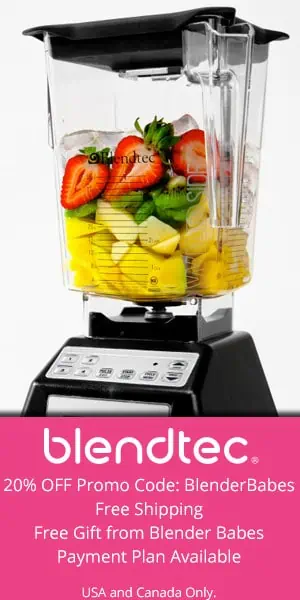 I recommend pouring this generously over sweet potatoes or roasts of any kind or even this roasted root vegetable mash.
Be sure to join our community for more tried-and-true vegan recipes! If you try this recipe, share your comments with us by rating it in the comments section below.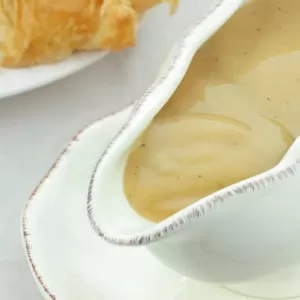 Vegan Gravy
Ingredients
1

cup

veggie broth

1/4

cup

nutritional yeast

1

tablespoon.

tamari

1

teaspoon

mustard

1

clove

garlic

chopped

1

tablespoon

arrowroot powder

2

tablespoons

tahini

1 1/2

tablespoons

apple cider vinegar

1 1/2

tablespoons

molasses

1/2

teaspoon

maple syrup

2

tablespoon

olive oil

1/2

teaspoon

dried sage

1/3

cup

chopped onion
Instructions
Place ingredients into blender jar in the order listed.

For

Vitamix

: Start at Variable 1, increase to Variable 6 and blend until mixture is smooth, about 10-15 seconds.

For

Blendtec

: Run SAUCES/BATTERS cycle for 10-15 seconds.

Pour contents of jar into a saucepan and bring to a boil over medium-high heat. Then reduce the heat to low and stir until gravy reduces and thickens to your desired consistency.

Serve and enjoy immediately!

All done! Enjoy!! Now take a photo, rate it, and share your accomplishments! 🙂 Tag @BlenderBabes & #BlenderBabes
Nutrition
Serving:
1
g
Calories:
427.3
kcal
Carbohydrates:
50.9
g
Protein:
11.6
g
Fat:
22.5
g
Saturated Fat:
3
g
Polyunsaturated Fat:
17.8
g
Sodium:
1029.4
mg
Fiber:
7
g
Sugar:
11.9
g
NUTRITIONAL YEAST HEALTH BENEFITS
Nutritional yeast is a staple for vegans and vegetarians as it is a plant-based source of vitamin B12 and lends a nutty, earthy flavor to this delicious vegan gravy.
Just one tablespoon of nutritional yeast is a full recommended daily serving of B12, so there is no reason to feel guilty about pouring a generous portion of this gravy on your dinner!
Nutritional yeast is also rich in folic acid and amino acids.
It is not traditional yeast, so there is no concern for those worried about candida. It is also rich in 15 minerals including iron, magnesium, phorphorus, zinc, chromium, and selenium.

It is also packed with protein — a whopping 4.5 grams per tablespoon.
That's more protein than an egg, a cup of milk, or an ounce of beef! We recommend adding it not just to soups, sauces, and gravies but also sprinkled on top of popcorn, toast, or over some roasted cauliflower.
Known as hippie dust, nutritional yeast was created to give us essential vitamins and nutrients that we tend to lack with modern diets, so check it out!