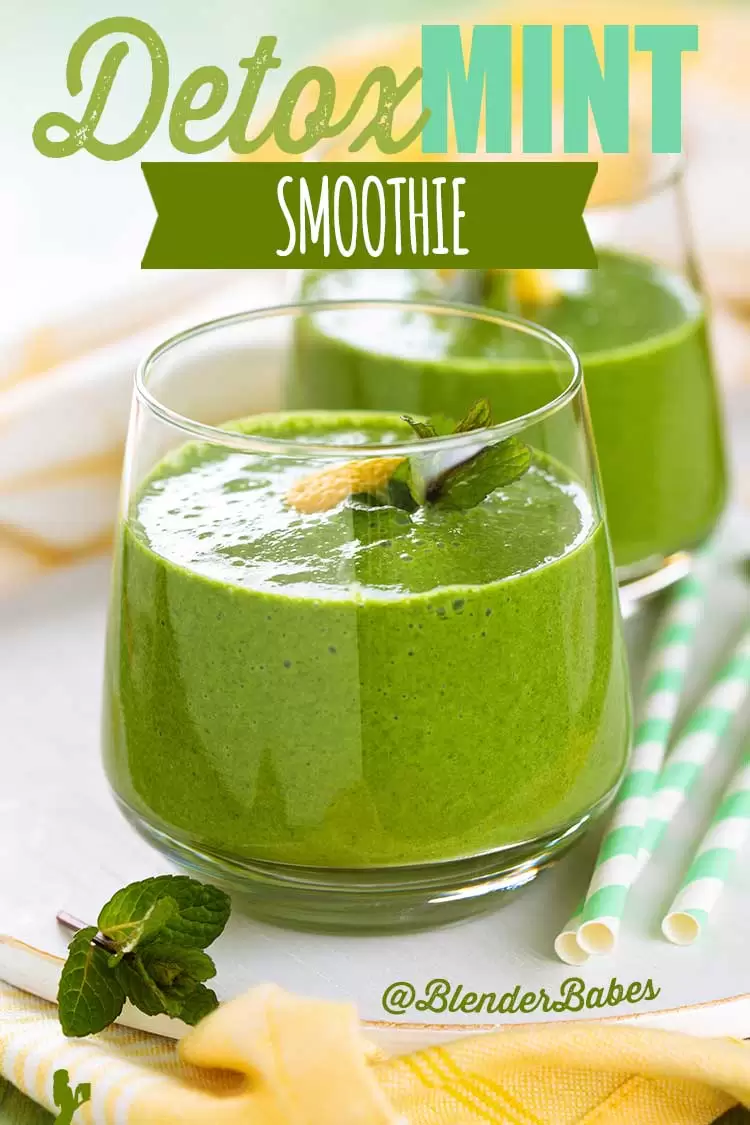 DETOX MINT SMOOTHIE RECIPE
This detox mint smoothie recipe is very easy to make and delicious!
Mint is an herb that has been used for hundreds of years for its remarkable medicinal properties.
This mint detox smoothie contains many cleansing ingredients, this would be a great recipe to use during a detox program.
Refreshing and energizing before or after a workout, you could also use this mint smoothie recipe as a snack.
Lemon juice is a natural cleansing agent. It clears toxins, supports the immune system, improves digestion, and protects the liver and kidneys.
Kale's phytonutrients can help neutralize inflammation plus it has a ton of Vitamins C, K and A which help with vision and bone health.
Parsley is known as one of the best ways to cleanse the kidneys.
Note: Parsley has a strong flavor so I don't like to use too much in my green smoothies!
Dates add plenty of fiber which keeps things moving through the digestive tract, plus it's a great natural sweetener.
Celery improves liver health, which can increase your body's own detox capacities long term.
High in vitamin A and potassium, unlike "denser" green smoothie recipes, this beverage carries a no-guilt stamp of approval….vitamin C from the orange juice, and the benefits of three different types of greens!
Use these tips if making this detox mint smoothie in a "regular" blender. Otherwise quickly whip this up in a high power blender!
Be sure to join our blending-loving tribe for more green smoothie recipes and tips from Blender Babes!
If you try this let us know and rate it in the comments. HAPPY BLENDING! 🙂
WATCH A QUICK VIDEO OF THIS DETOX MINT SMOOTHIE RECIPE:
And subscribe to my YouTube Channel for more blender videos!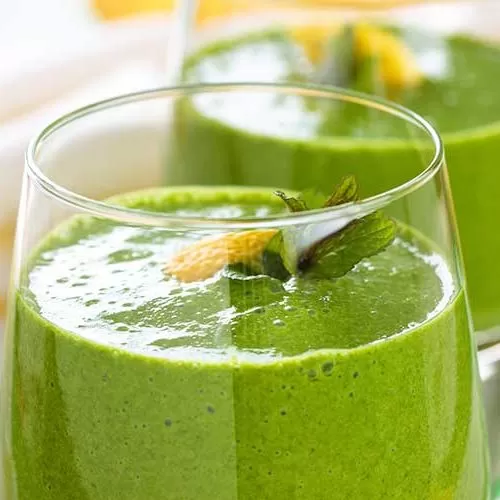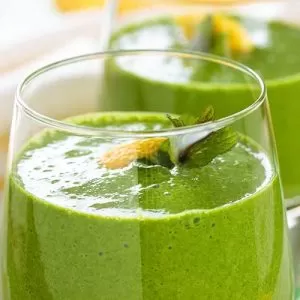 Mint Detox Green Smoothie
Ingredients
½

cup

orange juice

½

cup

water or coconut water

juice from ½ a lemon

1

cup

lightly packed kale

¼

cup

parsley

1

celery stalk

¼

cup

fresh mint or 2 drop of peppermint essential oil

2

dates

soaked

1

cup

ice
Instructions
Place all ingredients into the blender in the order listed, secure lid and blend until smooth.

Blend on High until smoothie

All done! Enjoy!! Now take a photo, rate it, and share your accomplishments to enter our weekly photo contest! 🙂 Tag @BlenderBabes & #BlenderBabes
Nutrition
Serving:
1.5
cups
Calories:
86
kcal
Carbohydrates:
20
g
Protein:
2.2
g
Fat:
0.5
g
Saturated Fat:
0.1
g
Polyunsaturated Fat:
0.2
g
Trans Fat:
0.1
g
Sodium:
47.2
mg
Fiber:
2.4
g
Sugar:
14.3
g
HEALTH BENEFITS OF FRESH MINT
Mint, the well known mouth and breath freshener that is scientifically known as Mentha, has more than two dozen species and hundreds of varieties like tooth paste, chewing gum, breath fresheners, candy and inhalers.
Mint also has so many amazing health benefits!  The following are just a few.
Digestion: Mint soothes stomachs in cases of indigestion or inflammation. When feeling sick to your stomach, drinking a cup of mint tea will give you relief. When traveling long distances via plane or boat, menthol oil derived from mint is noted to be very soothing for nausea and related motion sickness.
Breast Feeding:  Though a wonderful bonding experience between mother and child, breastfeeding can seriously damage your breasts and nipples.  Mint oil has been shown in studies to reduce the nipple cracks and pain so often accompanied by breastfeeding.
Depression and Fatigue:  With mint being a natural stimulant, the smell alone can be enough to charge your batteries and get your brain functioning on a high level again. Ingested, applied topically in the form of a salve, or inhaled as a vapor, if you are feeling sluggish, anxious, depressed, or simply exhausted, mint and its derivative essential oils can help.