SPINACH CARROT JUICE RECIPE
This healthy spinach carrot juice recipe will not only give you a TON of natural energy, but has a hefty dose of fiber!  The pineapple is a nice sweetener and flavor, make sure to keep the nutritious core in it, as your
Blendtec or Vitamix
high powered blender will easily pulverize it and make it digestible for you.  You can substitute apple for the pineapple if necessary, but make sure to core it first, since apple seeds aren't nutritious like the core of the pineapple! You can use regular water or we like coconut water for added hydration, electrolytes, and potassium. Because carrots juice is so fibrous compared to other
juices
we make and to make it more of a thin juice consistency, you will notice in the recipe instructions for Blendtec we use the SOUP button, which runs a full 40 seconds longer than the WHOLE JUICE button, and for Vitamix, we run it a full 1.5 minutes on High before manually stopping. However be sure to add lots of ice so it doesn't get hot and kill the live enzymes.
Be sure to join our community for more healthy blender recipes. If you try this one, share your rating with us below.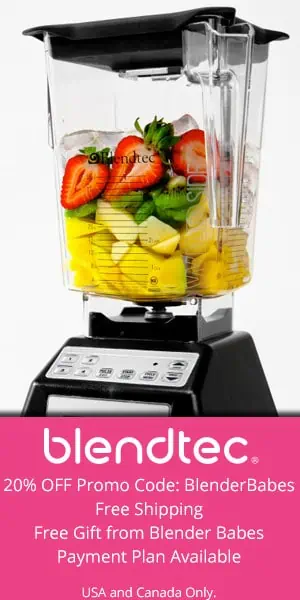 Swimsuit by: Victoria's Secret Swimwear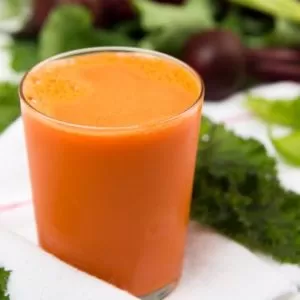 Spinach Carrot Juice
Ingredients
1 1/2

cups

filtered water OR coconut water

1

cup

pineapple

1

cup

spinach

1

cup

carrots

usually 4 small carrots OR 2 large carrots

1

cup

ice
Instructions
Place all ingredients into the blender in the order listed and secure lid.

For

Vitamix

: Select VARIABLE, speed #1. Turn machine on and slowly increase speed to VARIABLE, speed #10, then to HIGH. Blend for 1 to 1.5 minutes or until smooth. Serve immediately.

All done! Enjoy!! Now take a photo, rate it, and share your accomplishments! 🙂 Tag @BlenderBabes & #BlenderBabes
Notes
* The SOUP button is more powerful and better creates a true juice consistency without getting hot due to the ice.
HEALTH BENEFITS & FUN FACTS ABOUT CARROTS
Carrots have strong cleansing properties that are effective in detoxifying the liver, thus very effective for acne that is caused by toxins from the blood. Carrots are also useful for treating uneven skin tones due to pigmentation. The vitamin A and other nutrients contained in carrots efficiently nourish the skin, prevent dry skin and other skin blemishes. Chewing carrots can help clean your teeth, and is the best way to keep your mouth clean after meals. They act as natural abrasives that help in eliminating the dirt and plague from the teeth and gums. They also trigger a lot of saliva, which helps to scrub away stains on your teeth. Minerals in carrots helps to kill germs in the mouth and prevent tooth damage.