Get FREE eBooks/Downloads for Your Health! Click Here 🙂

WHITE BEAN AND PUMPKIN SOUP BISQUE WITH SAGE PESTO RECIPE
This is two recipes in one: a creamy, rich pumpkin bisque and an earthy sage pesto, the perfect makings of a speedy first course for a holiday meal or a light lunch or dinner.
The soup can be made a few days ahead and then topped with fresh pesto to keep the flavor and color vibrant when serving.
If you have a real pumpkin laying around, make your own pumpkin puree for even more homemade goodness.
Blendtec or Vitamix and a few other high power blenders can heat soup through friction, but you can make this recipe in a regular blender as well – just return it to the stove at the end to cook.
Easily make this a delicious vegan soup by swapping butter for a quality oil, chicken stock for vegetable stock and using a milk substitute and vegan parmesan cheese (I love the Follow Your Heart Brand).
Aside from smoothies, I LOVE making soups in my blender. If you're like me click here for more Vitamix soup recipes.
Be sure to join our community for more easy soup recipes! Share your rating with us if you make this one at home.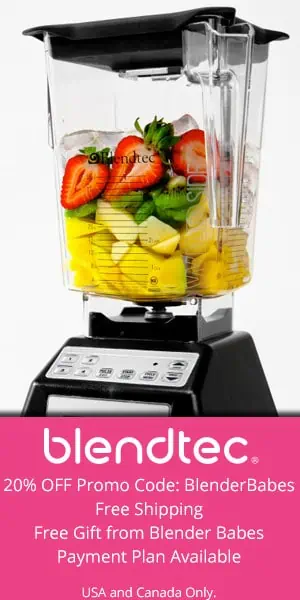 WATCH A QUICK VIDEO OF THIS WHITE BEAN AND PUMPKIN SOUP BISQUE WITH SAGE PESTO RECIPE:
And subscribe to my YouTube Channel for more blender videos!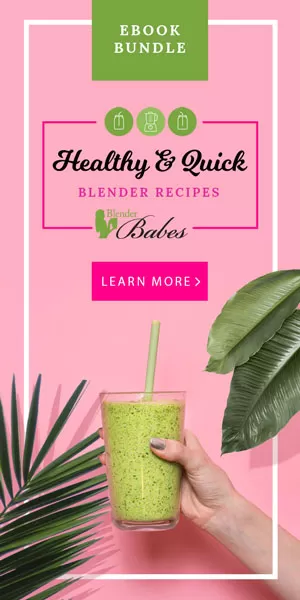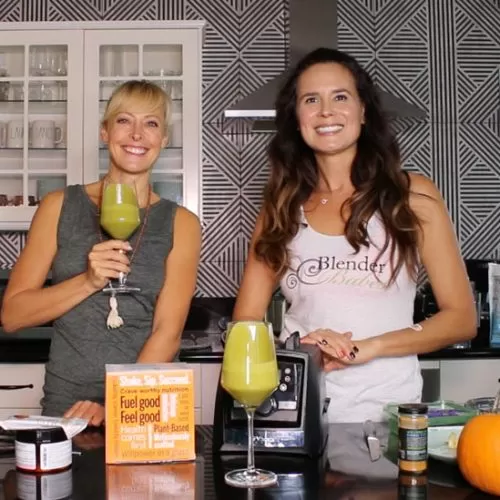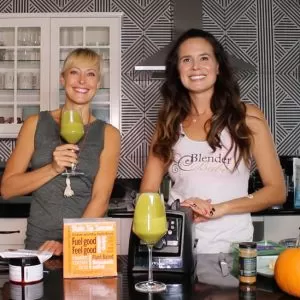 Apple Pie Smoothie for Weight Loss
Ingredients
6

ounce

almond milk

,or other milk substitute of choice

1

apple

1

banana

frozen

1

cup

spinach

, or more to taste

1

date

(optional)

1/8

cup

walnuts

1/2

teaspoon

ground cinnamon

1

tablespoon

chia seeds

1

tablespoon

collagen

(optional)

1

teaspoon

pumpkin pie spice

(omit if using shakeology pumpkin spice)

1

scoop

protein powder

(shakeology pumpkin spice) OR plant-based vanilla or plain flavor
Instructions
All all ingredients to blender in order listed

Did you make this recipe? Please tag me @BlenderBabes and #blenderbabes if you share on social!
Notes
*This is definitely a meal replacement smoothie once you add the protein powder. For a lighter version, omit the protein powder.
Nutrition
Serving:
2.5
cups
Calories:
555
kcal
Carbohydrates:
71
g
Protein:
38
g
Fat:
18
g
Saturated Fat:
2
g
Cholesterol:
50
mg
Sodium:
314
mg
Potassium:
1034
mg
Fiber:
15
g
Sugar:
41
g
Vitamin A:
3067
IU
Vitamin C:
27
mg
Calcium:
446
mg
Iron:
5
mg
SAGE HEALTH BENEFITS
Herbs don't just make everything taste good, they also have health benefits that often go unnoticed.
Sage can reduce symptoms of Alzheimer's, depression, and even digestive problems.
Historically, sage has been used for medicinal benefits in dire times.
It was one of four herbs that went into a tonic believed to ward off the plague!
Research shows that sage is great at improving memory, and high levels of Vitamin K and various antioxidants make sage a nutritious addition to any meal!