DIY STRESS RELIEVING, FAT BURNING, AND DETOXIFYING WATER RECIPES
Whether you're participating in The Blender Cleanse or just looking to boost your water drinking to the next level, these detox water combinations include superfood ingredients that will encourage weight loss, help clear your skin, give you a refreshing boost of energy, and improve your stress levels!
My amazing Dad also got me this awesome water bottle with time markers (haha! he knows me well) to help make sure I drink 8 glasses per day and it's also perfect to use for my recipes below.
Making a big batch of this and keeping it in the fridge will encourage the whole family to drink more water, which will clean out your insides and your skin, all the while giving you more vitamins and minerals than a normal plain glass of water – and MUCH BETTER for you than artificial flavor packets (i.e. Kick that Crystal Light to the Curb!).
In the summer months, a good mint water is irreplaceable, so try these and figure out what you like best! Let us know what YOUR favorite combinations are in the comments!
Be sure to join our community for more great recipes and tips from Blender Babes. If you try this one, share your rating below.
WATCH A QUICK VIDEO OF THESE 4 FAT BURNING, STRESS RELIEVING DETOX WATER RECIPES:
And subscribe to my YouTube Channel for more videos!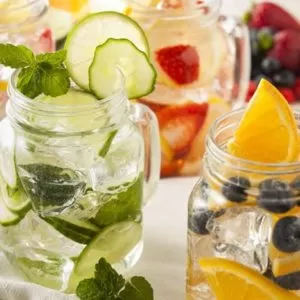 Detox Water Recipes
Ingredients
Use FILTERED or SPRING WATER for ALL Recipes!
Stress Relieving Detox Drink
5

strawberries

1/2

cup

pineapple

1 to 2

teaspoons

apple cider vinegar*

4 to 5

medium basil leaves

1/2

cup

ice
Day Spa Apple Cinnamon Water (with optional Boost)
1

apple

thinly sliced (whatever your favorite is)

1

cinnamon stick
Boost:
1 to 2

tablespoon

apple cider vinegar*

1

tablespoon

fresh lemon juice

1/2

teaspoon

Stevia or honey
Cucumber Mint Refresher
10 to 12

mint leaves

1

lemon

sliced

1

cucumber

sliced
Boost:
1

tablespoon

grated ginger

Juice of 1 lime
Summer Love
1

cup

watermelon

10 to 12

mint leaves

Juice of 1 lemon
Instructions
Drop (ingredients) in the bottom of the pitcher, cover with ice about 1/2 way up then add filtered water and stir. Place the detox water in the fridge for a few hours before drinking (2-4 glasses per day!).

Ingredients listed are for a large 2 quart pitcher, reduce by half to use a 22-32 oz bell/mason jar.

All done! Enjoy!! Now take a photo, rate it, and share your accomplishments! 🙂 Tag @BlenderBabes & #BlenderBabes
Notes
*If you don't like the idea of drinking vinegar, try using a little less and drinking it through a straw. You can always leave it out, but will miss out on some of the detoxifying benefits. Give it a try and see how it goes!
HEALTH & DETOX BENEFITS
Strawberries
Berries are packed with antioxidants that fight cancer, lower the risk of diabetes, boost brain function, and help regulate and lower bad cholesterol and blood pressure. Berries are also rich in pectin, a form of soluble fiber that can lower total cholesterol levels. Strawberries and raspberries are also a good source of folate, a nutrient needed by expectant mothers to stave off birth defects. Fiber in berries relieves constipation and the anthocyanins in berries repair aging skin.
Pineapple
Pineapple contains an enzyme called bromelain that aids in digestion and cleans the blood while also helping in the breakdown of protein. Pineapple is also anti-inflammatory, so this juice is particularly great for those with arthritis or joint pain. Pineapple also contains manganese, which serves to regulate blood glucose and boost your immune system alongside the plentiful amounts of Vitamin C.
Apples
The phytonutrients in apples help to regulate blood sugar by breaking down complex carbohydrates into simple sugars that are easy for your body to digest. Apples help with elimination and weight loss due to a high level of pectin, which is a type of soluble fiber. Pectin lowers blood fat, making apples a heart-healthy addition to any juice.
Watermelon
Watermelon is an ideal food when cleansing. It makes a rejuvenating blood tonic, as it is very alkalizing, antibacterial, antioxidant, anticoagulation, and serves as a diuretic, laxative, and digestive aid. Watermelon is also a good source of beta-carotene, vitamin C, and potassium. It has half the sugar of an apple, but tastes sweeter, as it is over 90% water!  Watermelon has been known to alleviate depression and helps with hangovers, mouth sores, sore throat, and urethral pain, too!
Cucumber
Cucumbers have amazing anti-inflammatory qualities that can reduce swelling, as well assoothe and soften skin tissue. They are also an excellent source of silica, a trace mineral that strengthens the skin's connective tissue. Cucumbers will alkalize, cleanse the skin, and release toxins from the body, all while providing the body with hydration, as cucumbers are mostly water! Silica in cucumbers will keep your hair and nails strong, refresh and heal the gums and mouth, and lower uric acid levels in the body, which will keep your kidneys in shape. Cucumbers are also packed with vitamins A, B, and C, which will make you feel radiant and energetic while protecting your immune system. Magnesium, potassium, and silicone all combine to heal and refresh the skin, your largest organ, as well as your body!
Lemon
Lemon is a bright and refreshing flavor that always leaves us with more mental clarity, but there are many physical benefits as well! Lemon can clear up acne when ingested or applied topically, and also relieve canker sores with proven antibacterial and anti-fungal agents. Any time you're feeling a cold coming on, sip on some immune-boosting lemon water with honey to keep it at bay!
Lime
Limes are high in calcium and folate, and inhibit melanin production, which will leave you with younger, healthier skin! They are also anti-carcinogenic, protecting you from cancer as well as kidney stones! Swap your lemon for a lime every now and again; they're worth it!
Basil
Basil is anti-inflammatory AND antibacterial! It fights against free radicals and protects the heart with a generous dose of magnesium, so don't hesitate to get a whole plant of it and eat it as fresh as possible.
Mint
Mint aids with digestion, nausea, headaches, respiratory disorders, coughs, asthma, depression, fatigue, and acne, as well as giving you some pretty amazing breath! Mint tea or water infused with mint should definitely become a routine!
Ginger
Ginger does wonder for digestion and will detoxify your gastrointestinal tract in a variety of ways. For one, ginger improves nutrient absorption by stimulating gastric and pancreatic enzyme secretion and relieves stomachaches, pain, and inflammation. Ginger is powerful: regular consumption of ginger slows the growth of colorectal cancer cells!
Cinnamon
Cinnamon regulates blood sugar and improves blood glucose control. Just half a teaspoon of cinnamon every day can significantly reduce blood sugar levels, triglycerides, bad cholesterol, and total cholesterol levels in diabetics. Cinnamon also  improves digestion, relieves congestion, and can reduce inflammation, including relieving pain and stiffness in joints due to arthritis.
Apple Cider Vinegar
Apple cider vinegar is rich in acetic acid, which regulates blood sugar levels by slowing the digestion of starch. It is also rich in ash, which regulates the body's pH levels (especially great if you're a caffeine or alcohol drinker!). It also helps to clear up skin!