NOT-TELLA CHOCOLATE HAZELNUT SPREAD

This is an easy, no-nonsense,
vegan
chocolate hazelnut spread. It is nutty, chocolaty, and not (full of crud – pardon the language) like the famed chocolate hazelnut spread that many people buy at the grocery store. It's okay if that's YOU – Blender Babe Tarashaun LOVES Nutella but after looking closely at the ingredients – she asked me to help make a healthy alternative. Just take a look at the ingredients below (ugh!) and the FIRST, and therefore most by weight, is sugar.
NUTELLA INGREDIENTS: Sugar, vegetable oil, hazelnuts (13%), cocoa powder (7.4%), non-fat milk solids, emulsifier (soy lecithin), flavour (vanillin)
This healthy NOT-TELLA chocolate hazelnut spread contains only two all-natural ingredients – hazelnuts and chocolate! It is MUCH better for you! Best of all, you can vary the recipe by adding YOUR favorite dark chocolate, I used Green & Black's organic 62% dark cocoa. When I first made this, I gave some to a friend who loved Nutella. Her reaction was, "It's not Nutella…but it's delicious!" Since then, I have tried the famed spread only to learn that I like my Not-tella better. This heart-healthy recipe, made in a high speed blender such as a Vitamix or Blendtec will have your mouth watering over simple morning toast.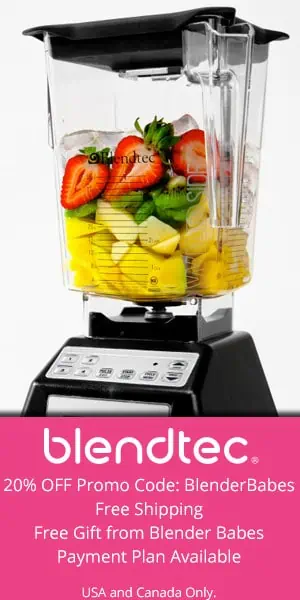 Don't forget to join our community for more delicious healthy blender recipes! Share your rating with us if you try this one at home.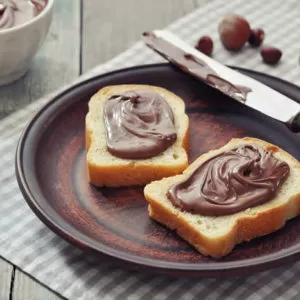 Not-tella Chocolate Hazelnut Spread
Ingredients
4

cups

of hazelnuts

8 to 9

ounces

of dark chocolate

I used 62% dark cacoa
Instructions
Preheat the oven to 350ºF (176ºC).

Place the hazelnuts on a cookie sheet in a single layer. Bake in the oven for 10 minutes, or until they are lightly browned and smell toasty. Don't go for a deeper brown, else your spread will taste burnt.

Remove from the oven and cool. If your hazelnuts came with the skins on them, rub them lightly with your fingertips to shuck off the skins.

For

Vitamix

: Place the cooled hazelnuts in the blender container, secure the top on the container. Using your manual speed, start on speed 1, and quickly increase to speed 10, using your tamper to push the nuts down into the blades as needed until the mixture is creamy and liquid - approximately 1.5 minutes.

Remove the lid plug and add the chocolate in three portions, running the machine for 10 seconds between each addition to combine the material.

For

Blendtec

: Using the

TWISTER Jar

- you will need to blend in two portions. Place half the nuts and chocolate in the jar and use your highest SPEED, turning the lid/tines counterclockwise as it blends to combine - about 1 -2 minutes. Repeat with remaining half.

For

Blendtec

: Using the FOURSIDE or WILDSIDE Jar - first add the hazelnuts to your jar and use SPEED 9. If blade spins freely stop the machine, scrape ingredients towards the blade and repeat process until creamy - about 4-6 minutes. Add the chocolate half at a time and repeat process above until combined.

You will then have an ultra-smooth "Not-tella" spread!

Pour out the spread into a ceramic or glass storage container and cover. Don't worry that it is pourable at this stage of the game; it will thicken up as it cools.

Cool for at least 3 hours and enjoy!

All done! Enjoy!! Now take a photo, rate it, and share your accomplishments! 🙂 Tag @BlenderBabes & #BlenderBabes
Nutrition
Serving:
1
g
Calories:
92.1
kcal
Carbohydrates:
4.5
g
Protein:
1.9
g
Fat:
7.9
g
Saturated Fat:
1.4
g
Polyunsaturated Fat:
4.8
g
Fiber:
1.8
g
Sugar:
2.4
g
HEALTH BENEFITS OF HAZELNUTS
Hazelnuts are heart healthy! Hazelnuts contain thiamin, a B-vitamin which helps regulate your nervous system and overall cardiovascular health. With almost 13 grams of monounsaturated fat per serving (1oz.), hazelnuts work to reduce bad cholesterol and maintain healthy arteries. On the other hand, beware of most store bought brands, such as Nutella, they actually do more harm than good. Though they may contain hazelnuts, dont let that fool you, these spreads are full of Refined sugars and Palm oil, which has a large amount of saturated fat and high number of calories, and has been linked to chronic heart disease. save a trip to the grocery store, and the hospital for that matter, and make your own healthy Not-tella spread!