ENTER OUR SUPER GIVEAWAY!!
We are using Rafflecopter, a reputable resource for online giveaways. In a few easy steps you will be entered in a drawing to win our SUPER GIVEAWAY for (1) New Blendtec 575 Blender in the color of your choice, value $400 (2) Rockin Wellness Protein Variety Pack, value $134 (3) Navitas NaturalsSuperfoods Gift Pack, value $50 (4) Blender Babes T-shirt (womans or mens)! TOTAL VALUE $610!There are two required simple steps to enter, along with several ways to get more entries including a few you can do EVERY DAY! Smartphone users, turn your phone to landscape view to enter!
Contest open worldwide. If you are outside of the USA, you are welcome to enter, however instead of the prizes, you will receive an Amazon E-Mail Gift Card for the retail value. 🙂
5 ROCKIN WELLNESS PROTEIN SHAKES AND SMOOTHIES FOR HEALTHIER LIVING
When you're ready to rock healthy living, then these five Rockin Wellness protein shakes and smoothies are deliciously convenient & affordable superfood drinks!! These shakes are easy to make and soooo tasty, you'll want to share with your crew. Today Blender Babes is sharing with you 5 Superfood Smoothies & Shake Recipes that'll keep you Super Energized all day long! Made with Rockin Wellness' incredible Total Nutrition Shake and 4 on the Floor Superfood Energy Blends, these powerfully robust natural health creations revitalize your whole body with the most nutrient dense foods on Earth! Aside from vegan protein, the Rockin Wellness total nutrition shake contains Raw Cacao, Goji Berries, Chia Seeds, Hemp Seeds, Yerba Mate, Maca Root, Green Tea & Vegan Probiotics. We are incredibly impressed with their 4 on the Floor product! 4 on the Floor unites the power of 27 Phenomenal Superfoods, combining an impressive array of fresh, hard-to-find Greens, Mushrooms, Herbs & Spices, this Total Body Energy Blend is a miraculous fusion that'll keep you firing on all cylinders—with ZERO caffeine!
A high powered blender such as a Blendtec or Vitamix is not necessary for most of these recipes (although it never hurts if there's leafy greens or frozen stuff involved!) so put your blender to use and get Rockin with these recipes! Make sure to join our community for more healthy smoothies and shakes from Blender Babes and our friends! If you try any of these, be sure to let everyone know by rating it in the comments! HAPPY BLENDING! 🙂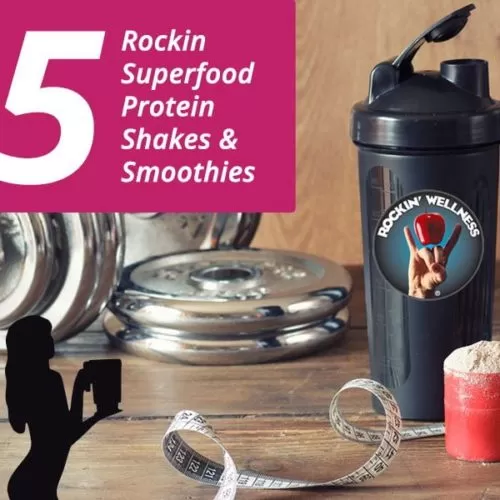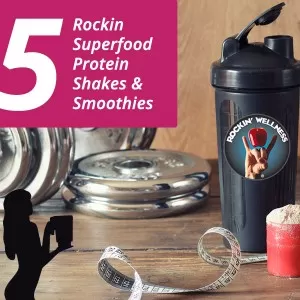 5 Rockin Superfood Protein Shakes & Smoothies for Healthier Living
Ingredients
ROCKIN' ELVIS SMOOTHIE

1.5

cups

non-dairy milk of choice

2

scoops of Rockin' Wellness Total Body Nutrition

2

tablespoons

nut butter of choice

1

frozen banana

1/2

cups

ice

1 cup if using fresh banana

ROCKIN' BREAKFAST GREEN SMOOTHIE

2

cups

non-dairy milk of choice

1

scoop Rockin' Wellness Total Body Nutrition

1

serving 4 On The Floor

2

cups

spinach

2

tablespoons

nut butter of choice

1

tablespoon

coconut oil

1/2

frozen banana

1

cup

ice

ROCKIN' VANILLA DATE SHAKE

1

cup

vanilla non-dairy milk

1

teaspoon

vanilla

2

scoops Rockin' Wellness Total Body Nutrition

5

medjool dates

pitted, soaked

1

frozen banana

1/2

cup

ice

1 cup if using fresh banana

ROCKIN' PINA COLADA

1

cup

coconut water

1

cup

vanilla coconut milk

1

scoop Rockin' Wellness Total Body Nutrition

1.5

cups

frozen pineapple

4

ON THE FLOOR GREEN SMOOTHIE

1

cup

non-dairy milk of choice

1

serving 4 On The Floor

1

cup

spinach

1

tablespoon

nut butter of choice

1

tablespoon

coconut oil

1/2

frozen banana

1

cup

ice

REGULAR ROCKIN WELLNESS FEATURES
Rockin Wellness Ingredients/Benefits Feature:
Lactobacillus' probiotic power
Maca Root's libido-boosting vigor
Raw Cacao's decadently delicious polyphenol-rich flavor
Flax, Hemp & Chia Seeds' life-enhancing essential omega-3 fatty acids, fiber and protein
As Well As…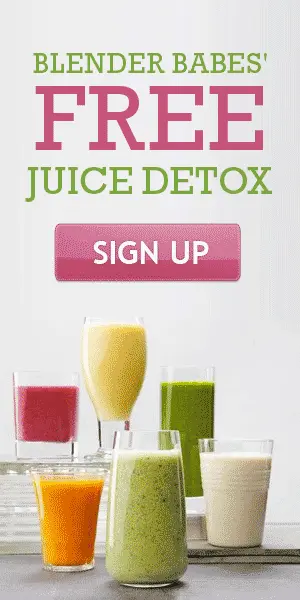 The sweetness of Bananas, Stevia & Cane Juice
The immune system supporting succulence of Goji Berries
The dramatic metabolic-increasing effects of Green Tea Extract & Yerba Mate Leaf
The liver bolstering capabilities of Soy Lecithin
& Even… 
Brown Rice & Guar Gum's high fiber content to slow the rate of glucose absorption, reduce cholesterol, and keep you feeling fuller longer!
ROCKIN WELLNESS – 4 ON THE FLOOR ENERGY BLEND
4 on the Floor's Ingredients/Benefits Feature: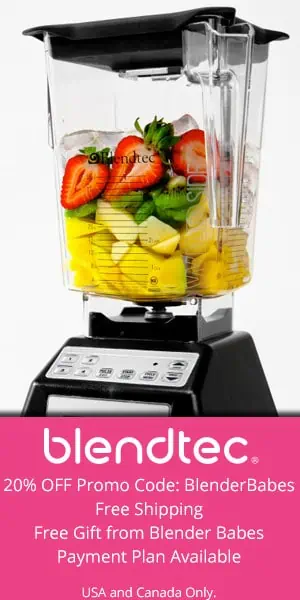 Spirulina's stunning protein content
Chlorella's wondrous capacity to chelate heavy metals out of the body
Turmeric & Curcumin's anti-inflammatory/liver supporting/cancer fighting effectiveness
Wheat Grass' chlorophyll-rich hunger-suppressing/detoxification ability
Panax Ginseng's libido increasing/depression fighting excellence
Milk Thistle's liver strengthening/cell revitalizing action
MSM's skin strengthening, joint health and cell regenerating capabilities
The Medicinal Spectrum of Mushrooms Including…
Shiitake's longevity increasing/immune system strengthening prowess
Reishi's power to slow aging
Maitake's cancer fighting/glucose reducing ability
Chaga's digestion and liver support
The oxygen utilization/endurance enhancement of Cordyceps
and the capacity of Lion's Mane to improve memory and nerve repair
As Well As…
Aloe Vera's detoxifying/digestive system supporting assistance
Cinnamon's heart disease battling/blood sugar lowering potency
Peppermint's ability to reduce nausea
Lemon Peel's high-vitamin/detoxifying vigor
Dulse's high iodine, iron and potassium levels
Japanese Knotweed's life-extending/age-defying resveratrol
Eleuthero's productivity boosting/stress relieving effects
& Even…
The entire gastrointestinal-tract soothing capabilities of Ginger
The circulatory system/digestive tract stimulating power of Cayenne Pepper
The liver-detoxifying/potent prebioticness of Dandelion Greens
The digestion strengthening/energy increasing action of Astragalus & its Extract
The antioxidant loaded skin-protecting polyphenol benefits of Rooibos Leaves
ROCKIN WELLNESS – GREAT SAVINGS & 30 DAY MONEY-BACK GUARANTEE 
Rockin Wellness was created by two music industry professionals whose hectic work routines made it impossible to lead a healthy lifestyle. Utilizing pure Plant–Based Nutrients to maintain Total Health, they strive to help you lose weight and reduce cholesterol—or just give you a jumpstart after a hard night of partying ;)!

Rockin Wellness' life-enhancing superfood blends are made fresh daily—and they're so confident you'll love their supplements that they even offer a 30–Day Money–Back Guarantee, substantial Subscription Savings & FREE Shipping on orders over $40! PLUS… Get 10% OFF using our exclusive Rockin Wellness Promo Code: BLENDERBABES
ROCKIN WELLNESS & YOU
Let us know your honest thoughts and opinions about these revitalizing recipes, as well as the ones you create yourself with Regular Rockin' Wellness and 4 on the Floor Energy Blend.
Good luck on your Health Journey!
And as always, Happy Blending!