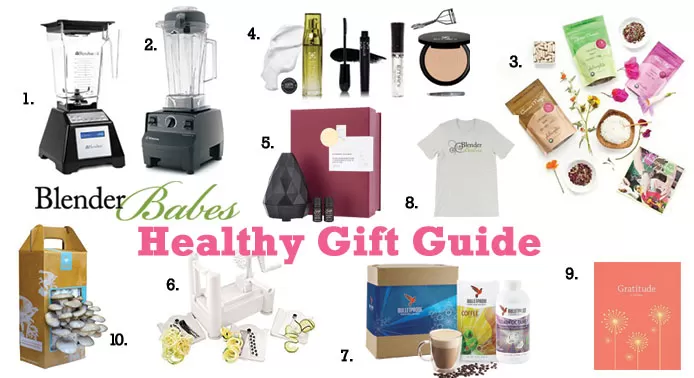 HEALTHY GIFT GUIDE 2020

Whether you're looking for your blending-loving family member or eco-conscious friend, the Blender Babes have you covered with our Healthy Gift Guide. With discount promo codes to also help your wallet. xoxo
1. Blendtec & Vitamix Blenders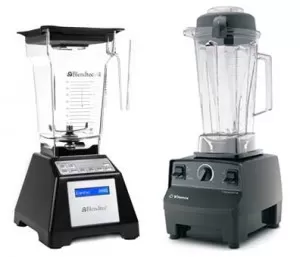 Give the Gift of Health with a Blendtec or Vitamix blender!
These high performance blenders are the perfect gift to give the health conscious individual on your gift list.
Of course, Blender Babes has the BEST DEALS ON VITAMIX and BLENDTEC BLENDERS.
Not sure which one is best for you?
Take a peek at our Blender Guide for the most detailed info on which blenders to consider based on your budget and needs.
FYI…if you purchase your blender from us, you'll get Free Shipping + Exclusive Free Gifts** that will provide you with endless hours of blending fun.
Use any of the links on our website just before placing your oder to receive free shipping & our free gifts.**
Remember, both Vitamix and Blendtec also have several payment plan options, making it more affordable than ever!
**Note: To redeem your free gifts, forward your purchase confirmation email to freegift@blenderbabes.com and we'll take it from there.
2. Vitamix Accessories (Vitamix Owners)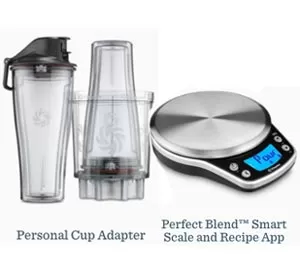 If a Vitamix is on your shopping list this holiday or you have a Vitamix owning loved one who blends daily, treat them (or yourself) to one or more of the fabulous accessories Vitamix has available.
Whether it's a new container, a cookbook or a personal cup adaptor, any one of these accessories will make the blending experience more convenient and, of course, enjoyable.
As with any Vitamix blender or accessory purchase you make with Blender Babes, free shipping is included!
Be sure to use links from our website just before placing your purchase and it will be en route to you free of cost!
3. Philosophie Superfoods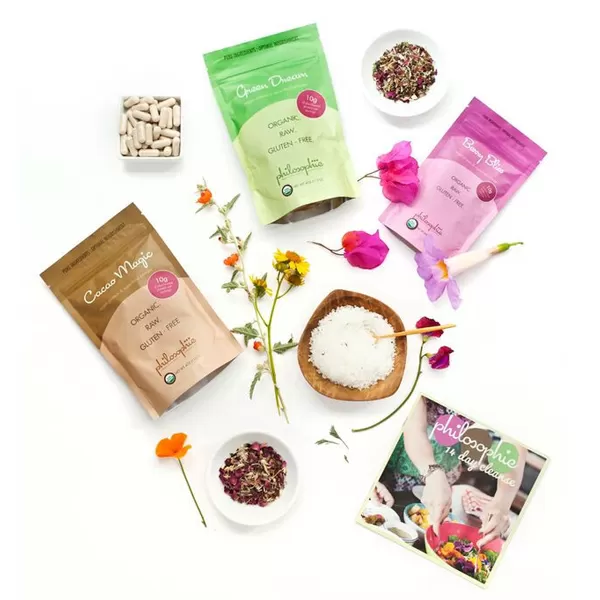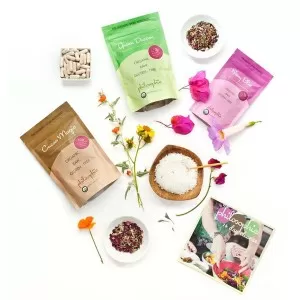 Philosophie Superfoods + Protein Blends are vegan, raw, gluten-free, and have absolutely no filler ingredients. (20% Off Promo Code: BLENDERBABES).
They're also a huge FAVORITE of mine!
The detoxifying Green Dream blend, beautifying Berry Bliss blend, and energizing Cacao Magic are perfect for so many types of recipes.
They combine high amounts of plant-based protein with tons of amazing superfoods and… THEY TASTE GREAT!!!
Philosophie's blends contain nothing but the purest, most healing ingredients that have been deemed "superfoods" due to their exceptional nutrient density!
Because Philosophie blends can be added to absolutely any food, it's easy to enrich your meals with the amazing health benefits of the world's most potent superfoods.
When the body receives optimal nourishment from these wholesome, plant-based sources of protein, vitamins, and minerals, it more readily releases unneeded material and toxins which will leave you feeling renewed and vibrantly healthy.
Philosophie makes our healthy gift guide any time of year, because you will use these products all year long. (20% Off Promo Code: BLENDERBABES).
4. Emani Vegan Makeup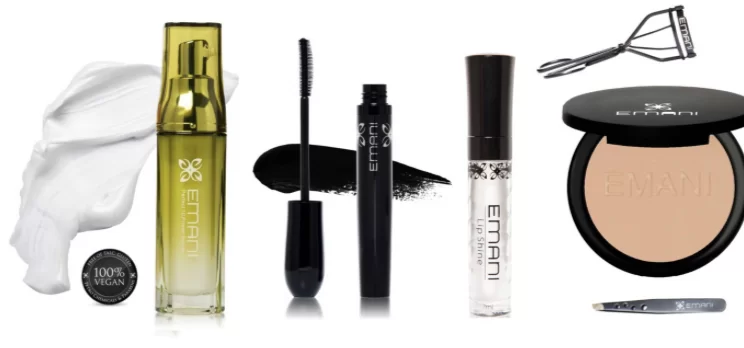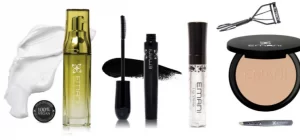 Emani Cosmetics are what I use and recommend for eco-conscious, animal lovers and those with sensitive skin like me! (15% Off Promo Code: BB15)
With cystic acne and problematic skin that worsened with the use of conventional makeup, Emani Vegan Makeup's founder Michelle Done had had enough.
Recognizing the need for a clean, glamorous makeup line suitable for the most sensitive skin types, she set out to create her own.
The result is a luxurious line of makeup products with no petrochemicals, nano-particles, artificial dyes, parabens, or fillers that goes on evenly for a fresh, gorgeous complexion.
I've used Emani Vegan Makeup in Blender Babes' videos and had great results!
Not only did it last during my long shoots (something other make-up lines weren't able to do), my skin felt like it had been treated to a healthy dose of goodness that helped me radiate beauty from the inside out. (15% Off Promo Code: BB15)
5. Saje Wellness Products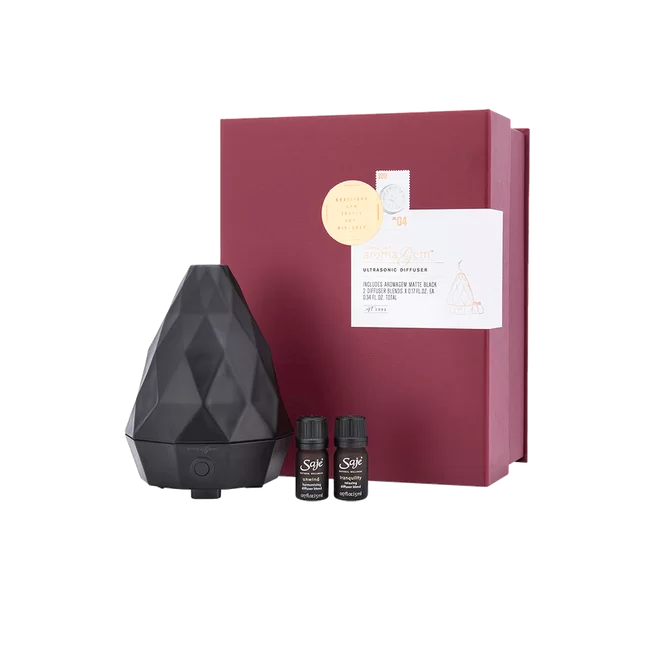 Since I'm a HUGE fan of using essential oils to heal ailments of all kinds, I was very excited to recently discover Saje Wellness products.
For your gift-buying consideration, Saje has plenty of essential oils, diffusers, and 100% natural body/skin care options that use the power of plants and aromatherapy to facilitate healing and wellness.
If you or a loved one are having a hard time getting a good night's rest, Saje Wellness's Lights Out Ultrasonic Diffuser Gift Set is definitely a good buy.
You'll relax and rest easily as any of Saje's modern diffusers fill the atmosphere with essential oil blends designed to bring balance and tranquility into your body and bedroom.
A harmonious environment will be created as you drift peacefully off to sleep with Sage's aromatic scents tickling your senses.
Psst… the Ultrasonic Diffuser Set is also a part of our Healthy Gift Guide Holiday giveaway!
I truly love this company's products! They're safe and natural and perfect for the person on your gift list who is probably a budding naturopath.
6. Spiralizer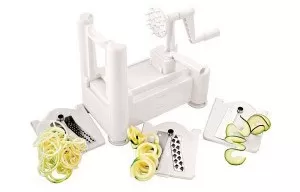 For the foodie who has nearly everything, my healthy gift guide MUST include a good spiralizer… the secret to amazing spiral salads, those infamous 'zoodles', curly fries and so much more.
The Veggie Bullet faired quite well in our recent "spiralizer off" and even out shined its competition with its ability to slice, shred, and blend!
Whether you purchase the multi-faceted Veggie Bullet, a KitchenAid Spiralizer attachment (its closest rival) or choose a simple and cost-efficient Paderno, spiralizing is a great way to spruce up your fruits and veggies.
Instead of chopping your apples, onions, carrots, zucchinis, cucumbers (and more!), let a spiralizer do the work for you.
And, if you're looking for some great recipes to make where you can use your spiralizer, Blender Babes has got you covered!
The recipes for this marinara and this pesto are quite yummy and will compliment those zoodles you make with your brand new spiralizer.
7. Bulletproof Coffee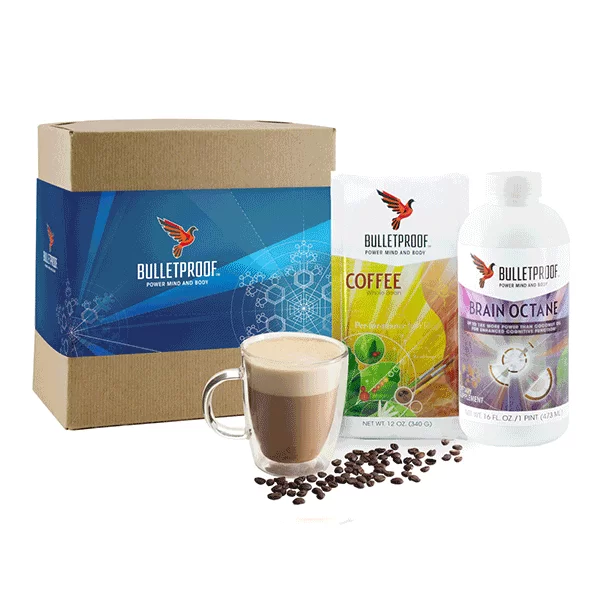 Are you Paleo fan who loves coffee? Need to buy a gift for someone who is?
New to my healthy gift guide are these Bulletproof coffee items which will certainly do the trick.
Bulletproof coffee functions as a high performance drink that increases your energy levels and also improves your cognitive function.
As it contains a lot of fat (don't let that scare you away), it'll supply your body and brain with healthy fat fuel that you'll burn quickly.
I can definitely see why bulletproof coffee has the reputation of being the drink of choice for professional athletes and high-earning CEOs.
One cup in the morning helps me power through my enormous task list. Woo hoo!
Plus, bulletproof coffee is a healthier version of many coffee shop coffee drinks because it doesn't contain fake sugar, chemical laden creamers, and all the other stuff that's bad for you.
If you're in need of a gift for that busy professional in your life who loves a cup of Joe, I highly recommend buying some Bulletproof products.
If they're not a fan now of this creamy coffee option, they will be!
8. Blender Babes Clothing and Accessories

I'm so excited to add our new Blender Babes Tanks, T-shirts and Accessories to my Healthy Gift Guide! (Free Shipping Promo Code: bbfreeship)
Love smoothies…blending…or simply being a part of the Blender Babes tribe?
Then say it with your chest! 😉 Turn your love for healthy living and blending into a fashion statement whydon'tcha?
Blender Babes has new gear that is the perfect stocking stuffer. Grab one of our fabulous new tees or tanks. (Free Shipping Promo Code: bbfreeship)
 9. Gratitude Journal
Life is a blessing but sometimes we forget to appreciate all that we have and have been given.
If you need a daily reminder to appreciate your blessings, a gratitude journal makes a wonderful gift or a stocking stuffer.
I personally use the 5-minute journal but if you're looking for inexpensive options, any one of these will do!
10. Back to the Roots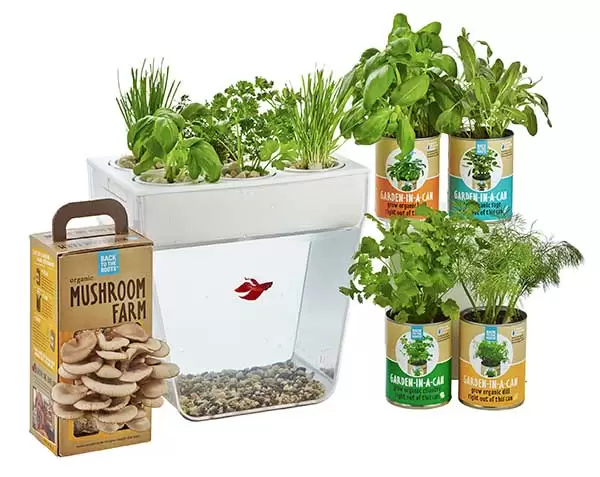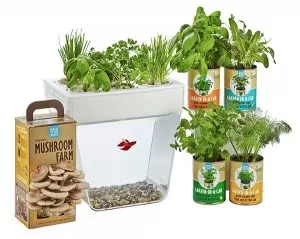 Back to the Roots has perfectly unique Ready-t0-Grow products that the eco-conscious person in your life will love.
With selections like a mushroom farm, water garden, and a garden in a can set, your green-thumbed loved one will appreciate you sowing into their eco-living passion.
I found their Water Garden to be the most intriguing product because it's Self-Cleaning Closed-Loop Ecosystem—wherein fish feed the plants, and plants clean the water!
I just love that this brilliant company created a self-cleaning fish tank where you can also grow food right in the comfort of your own home. All you need to add is sunlight and water!
You can't go wrong with any of the ingenious products Back to the Roots has available.

I hope you and your loved ones enjoy my Healthy Gift Guide! HAPPY BLENDING!
Congratulations to our 2017 Holiday Giveaway Winners Seth R, Elin R and Courney S!