ORANGE JULIUS "SURPRISE" RECIPE
Smooth and creamy, this delicious drink is very similar to the one served at the mall (minus the egg!), only our Orange Julius, made with a Blendtec or Vitamix high powered commercial blender, has a healthy Blender Babe SURPRISE!!
Sneak a carrot in your blender and turn this crunchy, mildly sweet vegetable into a drink your kids can enjoy, not even knowing it's there!   This tasty drink just goes to show that healthy juices don't have to taste bad!
Be sure to join our community for more healthy blender recipes. And share your rating with us if you try this one.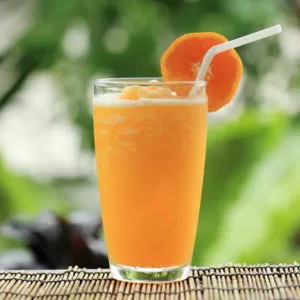 Orange Julius SURPRISE
Ingredients
1/2

cup

milk substitute

1/2

cup

orange juice

1/2

cup

non dairy yogurt

1

orange peeled and halved + 1 teaspoon zest

1/4

cup

carrot (1 small carrot)

1

tsp

vanilla extract

1

cup

ice
Instructions
Place all ingredients in the jar in order listed

Vitamix:

Select VARIABLE, speed #1. Turn on machine and quickly increase speed to #10; then to HIGH. Run for 1 minute or until smooth.

All done! Enjoy!! Now take a photo, rate it, and share your accomplishments! 🙂 Tag @BlenderBabes & #BlenderBabes

HEALTH BENEFITS & FUN FACTS: The original and tasty Orange Julius was created in 1926 when a man named Bill Hamlin brought his recipe of oranges blended with a few choice ingredients to (make it less acidic), to friend and orange juice stand owner, Julius Freed.
Once Julius put this tasty treat on the menu, sales skyrocketed!  The rest, as they say, is history! Carrots are an excellent source of antioxidants, including lycopene, lutein, and especially the carotenoids, featuring beta-carotene.  These antioxidants fight inflammation, which can reduce symptoms of arthritis,  fibromyalgia, and other inflammatory conditions.
They are also a great boost to the immune system, helping fights bacterial and viral infections such as the common cold, ear infections, and urinary tract infections.