GLUTEN-FREE CAULIFLOWER WRAPS RECIPE
Are you gluten-free and feeling "left-out" when others are enjoying pita wraps layered with hummus or guacamole and loads of veggies? I used to feel this way, but no more! These delicate, savory cauliflower wraps are the perfect vehicle to enjoy your favorite spreads sans the wheat. The egg gives them an extra pack of protein and lutein. Fill with avocado spread and your favorite veggies for a complete, and nutritious meal.  They're so good, even the most committed gluten-eaters will gobble them down and ask for seconds!
Avoid the mess by whipping them up in a Blendtec or Vitamix blender and join our community for more gluten-free recipes and tips from Blender Babes! Also, tell us how you  liked these cauliflower wraps by rating the recipe in the comments below!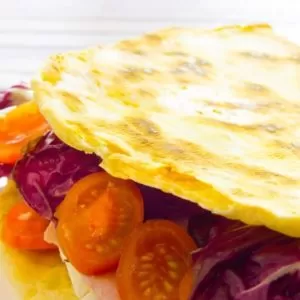 Gluten-free Cauliflower Wraps Recipe
Ingredients
Gluten-Free Curry Wraps:
1/2

head

1 cup cauliflower, cut into florets

2

eggs

1/2

teaspoon

curry powder

1/4

teaspoon

celtic salt

2

teaspoons

xanthan gum
Gluten-Free Garlic Herb Wraps:
Substitute 1 minced garlic clove and 3/4 teaspoon dried herbs

basil, oregano, thyme or a combo for the curry powder
Instructions
Preheat the oven to 375°F (190°C) and line two baking sheets with parchment paper.

Break up the cauliflower into large florets. Place one cup of florets into your blender container.

For

Blendtec

: Use the PULSE button 3 to 6 times until they form a crumb-like texture (cauliflower rice).

For

Vitamix

: Use Variable Speed 3 until they form a crumb-like texture (cauliflower rice), about 20 seconds.

Place the crumbles and 1/4 cup water in a saucepan with a tight fitting lid. Cook on medium high heat for 8 minutes, or until tender. (Alternately, you can place the crumbles and water in a microwave-proof dish, cover, and microwave on high for seven minutes.)

Drain the cauliflower in a sieve, and then set aside to cool. It's worth the wait to avoid burning your fingers.

Transfer the cauliflower crumbles to a cheese cloth, jelly bag or fine mesh strainer. Firmly squeeze any excess water from the cauliflower.

Remove the cauliflower from the bag/strainer and place in a bowl with remaining ingredients.

Stir until thoroughly combined. Spread the mixture on the parchment-lined baking sheets to make two thin circles. With a spatula, press the "dough" down so it forms a thin layer. Keep the wraps compact. There should be no parchment paper showing through the mixture.

Bake for about 17 minutes, until dry and pliable. Gently remove from oven and transfer to wire rack for cooling. This is important so that the wrap does not become soggy.

Fill with veggies and your favorite spread within a few hours of baking.

All done! Enjoy!! Now take a photo, rate it, and share your accomplishments! 🙂 Tag @BlenderBabes & #BlenderBabes
Nutrition
Serving:
1
g
Calories:
117.6
kcal
Carbohydrates:
3.9
g
Protein:
9.1
g
Fat:
6.2
g
Saturated Fat:
2
g
Polyunsaturated Fat:
3.4
g
Cholesterol:
270
mg
Sodium:
300.3
mg
Fiber:
1.4
g
Sugar:
0.5
g
FUN FACTS & HEALTH BENEFITS OF CAULIFLOWER
Cauliflower is a member of the cruciferous family of vegetables, often overshadowed by its green cousin broccoli. This is one vegetable that deserves a regular rotation in your diet, however, as it contains an impressive array of nutrients, including vitamins, minerals, antioxidants, and other phytochemicals.
Eating cauliflower regularly is a simple way to get these much-needed nutrients into your body. For instance, one serving of cauliflower contains 77 percent of the recommended daily value of vitamin C. It's also a good source of vitamin K, protein, thiamin, riboflavin, niacin, magnesium, phosphorus, fiber, vitamin B6, folate, pantothenic acid, potassium, and manganese. Cauliflower contains sulforaphane, a sulfur compound that has also been shown to kill cancer stem cells, thereby slowing tumor growth. 
Sulforaphane in cauliflower and other cruciferous vegetables has also been found to significantly improve blood pressure and kidney function. Scientists believe sulforaphane's benefits are related to improved DNA methylation, which is crucial for normal cellular function and proper gene expression, especially in the easily damaged inner lining of the arteries known as the endothelium.
Eating cauliflower is also like winning the antioxidant and phytonutrient lottery. It's packed with vitamin C, beta-carotene, kaempferol, quercetin, rutin, cinnamic acid, and much more. Antioxidants are nature's way of providing your cells with adequate defense against attack by cancer causing free radicals.
link