Get FREE GIFTS for Your Health! CLICK HERE 🙂
EASY FALAFEL RECIPE
If you're unfamiliar with this Middle Eastern street food, you're in luck!
This relatively easy vegan falafel recipe is a great introduction to this flavorful fried chickpea dish and is lower in calories than your regular meat filled lunch.
Typically served in a pita wrap with pickled veggies and tahini sauce or with french fries, falafel can also be enjoyed atop a salad with some Greek olives and a cucumber tahini sauce or dressing.
One of our recipe testers spent quite a bit of time in the Middle East and gave this recipe high scores (and the kids loved it!), so we know you will love it too!
Plus a community member made this and baked it for an even healthier version. Pair with your homemade hummus and enjoy this yummy easy falafel recipe!
Subscribe to our newsletter for more vegetarian recipes and let us know if you try it in the comments and share your rating!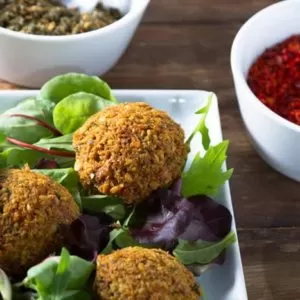 Falafel
Ingredients
1 3/4

cups

of dried chickpeas*

3

garlic cloves

lightly crushed

1

small onion

quartered

1 1/2

teaspoons

ground coriander

1 1/2

tablespoons

ground cumin

1

teaspoon

of cayenne

or to taste

1

cup

chopped parsley

or cilantro

1 1/2

teaspoon

kosher salt

1

teaspoon

freshly ground black pepper

1/2

teaspoon

baking soda

1 1/2

tablespoons

lemon juice

Grapeseed oil

for frying
Instructions
Put the chickpeas in a large bowl and cover with water by 4 inches. Soak overnight. Expect the beans to triple in volume. Drain beans and reserve the soaking water. (Do not worry about this if you are using canned chickpeas.)

Add the remaining ingredients except the oil to your blender jar.

For

Blendtec

: Pulse until minced but not pureed.

For

Vitamix

: Set to Variable 10 and then turn off and on until minced but not pureed.

Add small amounts (no more than a tablespoon at a time) of the soaking water (or water) if needed to allow your blender to work. Adding too much water will make blending easier but will insure that your falafel falls apart during cooking. Taste. Then add more salt, pepper, cayenne or lemon juice to taste.

Add oil to a deep sauce pan. Set heat to medium high and heat to 350 F (if you have thermometer, use it).

Scoop heaping tablespoons of the batter and shape into balls or small patties. Fry in batches, without crowding, until golden brown, turning as needed. Total cooking time will be less than 5 minutes.

Serve into pita pockets with hummus and veggies or with french fries!
Notes
*If you cannot find dried chickpeas (or don't want to wait overnight), you could also use ~5 cups of canned chickpeas, drained and rinsed = 3 cans.
CHICKPEA HEALTH BENEFITS & FUN FACTS
Falafel, being made primarily from chickpeas, is high protein with complex carbohydrates and fiber that will keep you going throughout the day and lower blood cholesterol.
Chickpeas themselves are also low in fat and salt and contain no cholesterol.  They're also nutrient-packed, containing calcium, iron, magnesium, phosphorus, potassium, zinc, copper, manganese, vitamin C, thiamine, pantothenic acid, vitamin B, and folate.