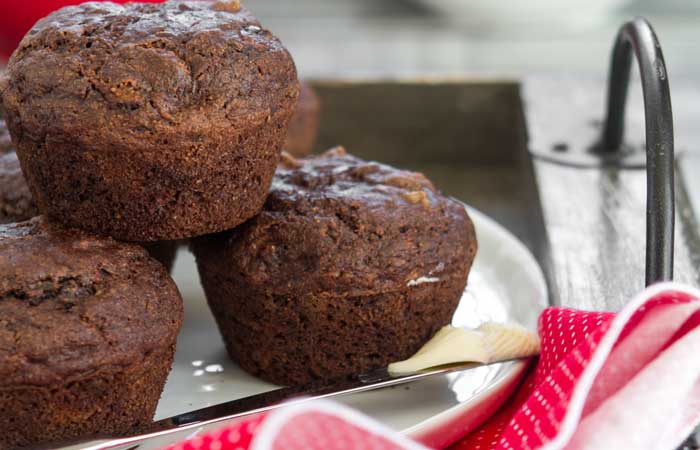 VEGAN OIL-FREE CHOCOLATE ZUCCHINI WALNUT MUFFINS

Lightly sweet and oil-free, these chocolate muffins are hiding a healthy green vegetable! Don't worry, you can't taste the zucchini, but it does a fantastic job of adding moisture so we can do without any added oil. What's that? A
vegan
, refined sugar–free, and oil-free chocolate zucchini
muffin recipe
that tastes great? Yes, it's true. Miracles do happen! You'll see for yourself when you discover 100 amazing vegan recipes from the new
Oh She Glows cookbook
!
We adapted using a high speed blender like a Blendtec or Vitamix, however you can also hand mix these amazingly nutritious muffins! Make sure to join our community for more healthy blender recipes from Blender Babes! 🙂 If you try this one, share your rating with us in comments below!
BLENDER BABE RECIPE NOTES
Grind your flax seeds in your Blendtec or Vitamix blender first if they are whole. If you are using whole walnuts you can pulse your blender to chop them into pieces. One tester replaced the whole wheat flour with sorghum flour to make it gluten free and they still turned out amazing! She also replaced the sugar with equal amounts of honey (non vegan), and the recipe just needed about 10 minutes more baking time.
HEALTH BENEFITS ZUCCHINI
Zucchini, is a staple at many farmers markets during the warmer months and can range in color from yellow to deep green. With its tender texture and slightly sweet flavor, it only has 21 calories per cup making a welcome addition to a calorie-controlled diet. Zucchini boasts a rich nutritional profile and it offers many health benefits such as a good source of vitamin C. A water-soluble antioxidant, vitamin C dissolves in your body fluids and protects your cells from free radicals, highly reactive compounds that oxidize your DNA, lipids and proteins, causing cellular damage.
Recipe & Image Reprinted by arrangement with Avery, a member of Penguin Group (USA) LLC, A Penguin Random House Company. Copyright © Glo Bakery Corporation, 2014.