BABY BEEF STEW RECIPE
Next time beef stew is on your menu, set some aside some ingredients (before adding spices!) for baby to blend up in your Blendtec or Vitamix blender.
Use hearty ingredients like carrots, peas, celery, potatoes, onions, and lean beef for a healthy homemade meal that the whole family can enjoy!
If the stew is too thick, just add more water while you blend.  This baby beef stew recipe is a simple and easy way to give your baby the protein and nutrients s/he needs, and by letting your high powered blender do the work, you'll save time – and we can all use a little more of that!
Baby food can get expensive, so this is a great way to save both time and money while providing a healthy and nutritious meal for the whole family. Blender Babes recommends using organic produce when possible.
Be sure to join our community for more homemade baby food recipes! We'd love to know what you think! Remember to rating this recipe below!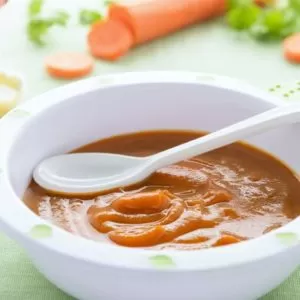 Baby Beef Stew
Ingredients
1/4

cup

filtered water

1/4

cup

carrots

1/4

cup

celery

1/4

cup

onions

1/4

cup

peas

1/2

cup

potatoes

1/4

cup

lean beef
Instructions
Steam or saute in vegetable broth all the vegetables & beef.

Place all ingredients into the blender and secure lid.

For

Blendtec

: Use your manuel keys and go to speed 8, run for 20 to 30 seconds.

For

Vitamix

: Select VARIABLE, speed #1. Turn machine on and slowly increase speed to VARIABLE, speed #8, leave it on low. Blend for 20 seconds.

Add more water to thin if puree is too thick.

All done! Enjoy!! Now take a photo, rate it, and share your accomplishments! 🙂 Tag @BlenderBabes & #BlenderBabes
Nutrition
Serving:
2
g
Calories:
267.8
kcal
Carbohydrates:
40.7
g
Protein:
17.7
g
Fat:
4.6
g
Saturated Fat:
1.6
g
Polyunsaturated Fat:
0.4
g
Cholesterol:
32.5
mg
Sodium:
214.4
mg
Fiber:
9.1
g
Sugar:
15.4
g

HEALTH BENEFITS OF BEEF STEW
The first written record of stew being made is in The Old Testament.
Hundreds of stews beef stews have appeared since then, and all over the world. American stews include a variety of ingredients such as chili, both Texas style and with beans, Brunswick Stew, and Burgoo. While they may be considered American now, all of these stews have their culinary roots abroad.
Making stew is definitely a practice in patience because it is common knowledge that if you give a stew more time, it will just keep getting better. Stews were born out of the working class kitchen, but these days you'll find them on the menus of very expensive restaurants.
Beef has many health benefits that are often overshadowed by its high amount of cholesterol and fat. However, if eaten in moderation (and preferably grass fed organic), beef can be a great part of your healthy diet!
If you are iron deficient, beef should definitely be a part of your diet, and it is also very is rich in high-quality protein, necessary for building muscle. Surprisingly, lean beef contains only one more gram of saturated fat than a skinless chicken breast.
Lean beef is also an excellent source of zinc and vitamin B12. Most beef cuts that are used for stewing are relatively lean. There are no hard and fast rules about what cut of beef to use for a stew, but for a healthy lifestyle and diet, it is recommended to use a lean cut.