VEGETARIAN/VEGAN CAESAR SALAD DRESSING
This creamy low fat caesar dressing recipe is full of flavor and is also the perfect fit for your vegetarian diet. Use as a delicious salad dressing or tangy dip for wings or a fresh vegetable platter. This low cholesterol recipe can easily be made Vegan without sacrificing one bit of flavor! Simply substitute the egg yolk with 1/4 of a medium avocado and the parmesan with nutritional yeast. If you miss the anchovie flavor from your old recipe, try adding 1/4 tsp kelp powder. Any way you mix it, your high powered Vitamix or Blendtec blender will have your taste buds asking for more!
Don't forget to  join our community for more great dressing recipes. Share your rating with us in comments below if you try this one at home!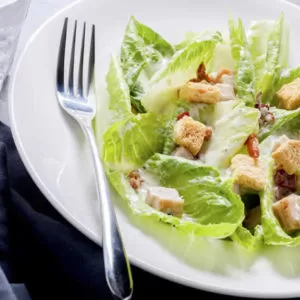 Vegetarian/Vegan Caesar Dressing
Ingredients
1

cup

grapeseed oil

1/4

cup

water

2

tablespoons

fresh lemon juice

11/2

tablespoons

white wine vinegar

1

teaspoon

kosher salt

1

teaspoon

vegetarian Worcestershire sauce

1

teaspoon

Dijon mustard

1/4

teaspoon

ground black pepper

1

large egg yolk OR 1/4 medium avocado

2

cloves

garlic

1/4

cup

grated Parmesan Cheese OR Nutritional Yeast
Instructions
This is a fairly simple recipe, just add the liquid ingredients first, followed by the pepper, garlic, salt and parmesan cheese.

For

Vitamix:

Using the variable speed setting, start at 1 and move up to 4 over the span of 20 seconds.

For

Blendtec:

Use the DRESSING/BATTER setting.

Place in a glass container and refrigerate up to four days.

All done! Enjoy!! Now take a photo, rate it, and share your accomplishments! 🙂 Tag @BlenderBabes & #BlenderBabes
HEALTH BENEFITS AND FUN FACTS
Grape seed oil is a great source of omega-6 fatty acids, specifically linoleic acid.Omega-6 is an essential nutrient which your body doesnt produce, meaning any abundant food source is vital. Studies have shown Omega-6 may be a key component in reducing menopause and PMS symptoms, so eat up, sister! Grape seed oil is also rich in antioxidants which protect the body from signs of aging, such as vitamins E, C and beta carotene.