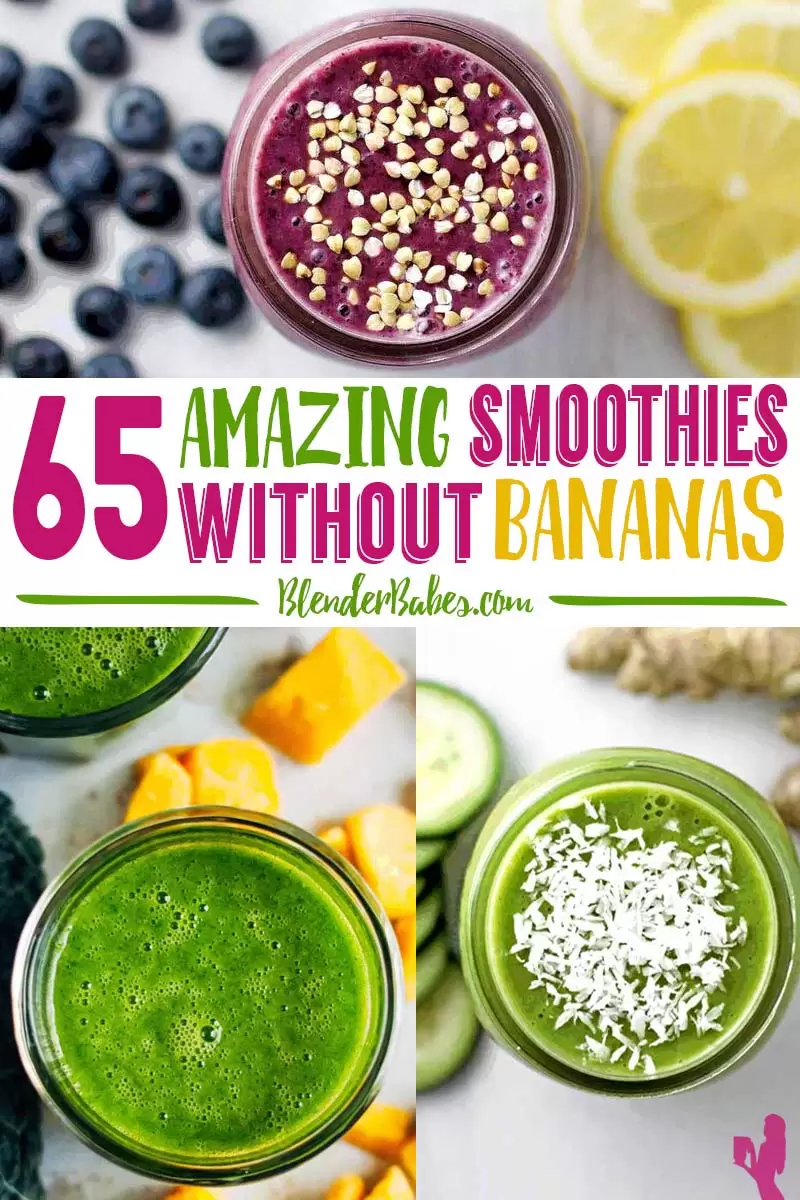 65 AMAZING SMOOTHIES WITHOUT BANANAS
Smoothies without bananas is unchartered territory for many blending aficionados.
That's because for most, bananas and smoothies go together like a blender and a babe (wink…wink).
While bananas are a wonderfully delicious fruit that add sweetness and creaminess to our favorite blended drinks, some people just don't like them or are even allergic.
If you're NOT one of those people who think a smoothie just isn't a smoothie without the addition of their beloved potassium-rich fruit, we've compiled 65 amazing recipes for smoothies without bananas.
These recipes are so yummy you'll wonder why it has taken you so long to discover how apPEELing smoothies without bananas actually are. 🙂
Sweet and tropical with a hint of spice, the key to making this mango chili smoothie is using a chili powder made exclusively from red chilies. You may be tempted to use a red chili blend that is mixed with other spices (like oregano and garlic), but it will offer too much of a savory flavor for the purpose of this smoothie recipe. We love spice-rich smoothies and this one has the perfect flavor twist of red chili, mango and lime. Delish!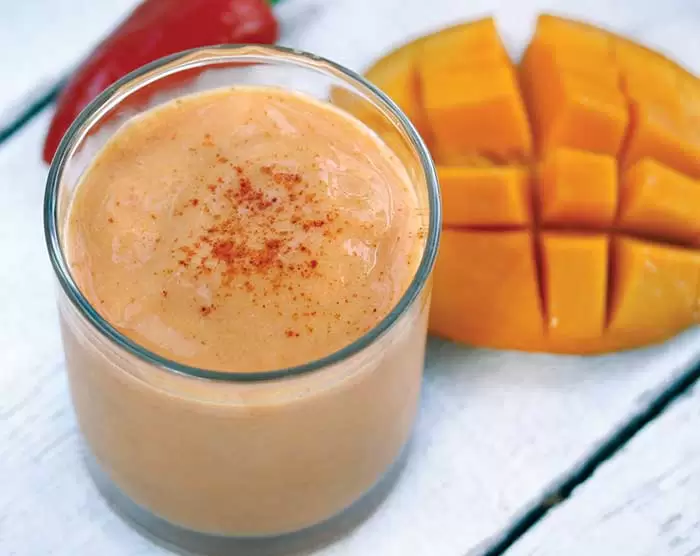 A cup of orange juice is fairly traditional at breakfast. This smoothie will let you spice your morning cup of OJ cup. It can be made from scratch or by using store-bought juice. We prefer fresh-squeezed. Then just stir in some almond milk and you've got a morning meal worth waking up for!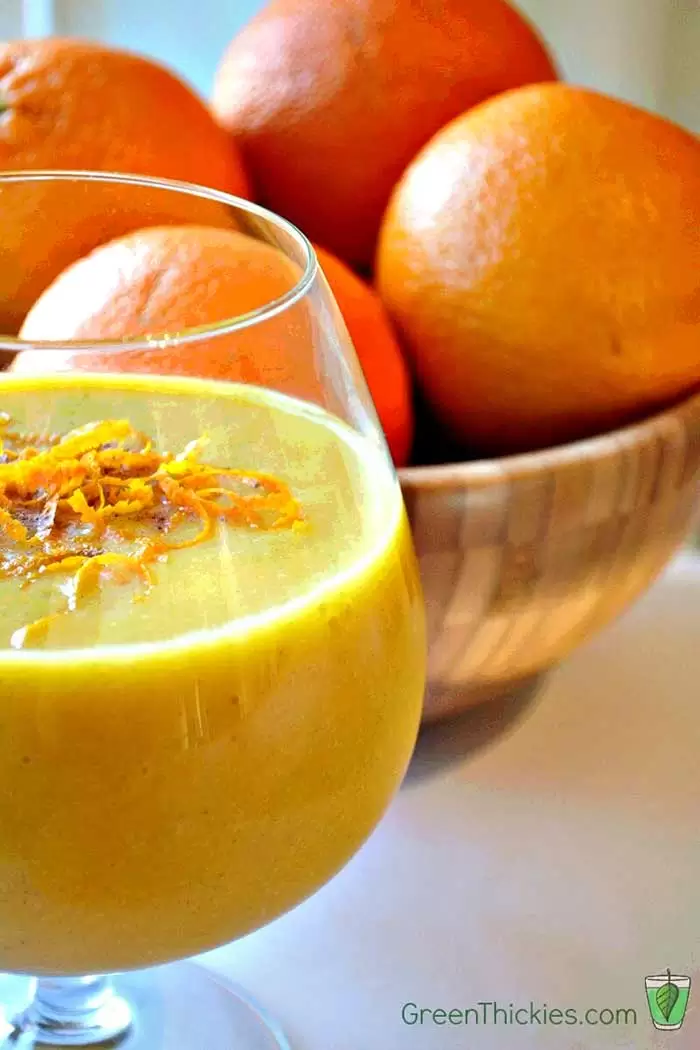 Although there are a few minor extra steps involved in making this toasted coconut and macadamia smoothie, it is one of our favorite smoothies without bananas! Toasting the coconut enhances the flavor, and the coconut ice gives the smoothie a gentle sweetness without adding any refined sugars. In addition to its transcendent flavor, this smoothie also happens to be very beneficial for post-workout due to the electrolyte-rich coconut water and the restorative and energizing maca root.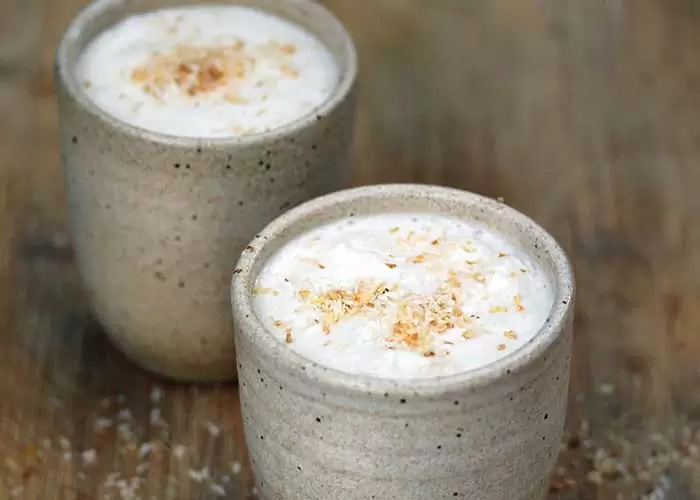 Perfect for the sweet tooth in your life and the kids will love it too! This strawberry shortcake smoothie is a nice spoonful of dessert minus the guilt! Packed with a few fruit servings and cashews for protein, what's not to love?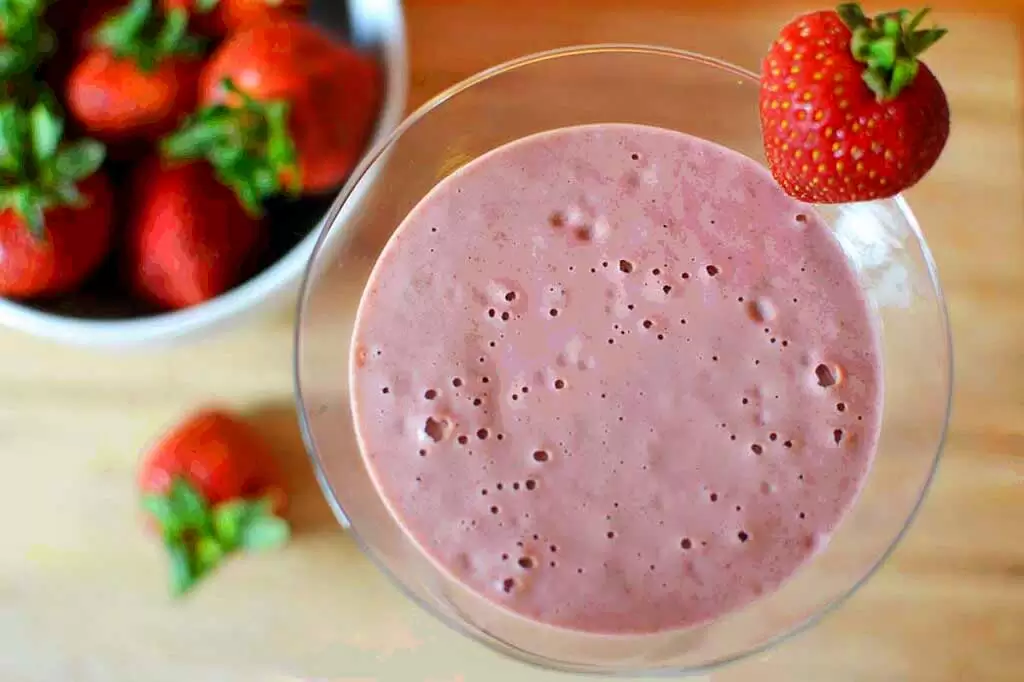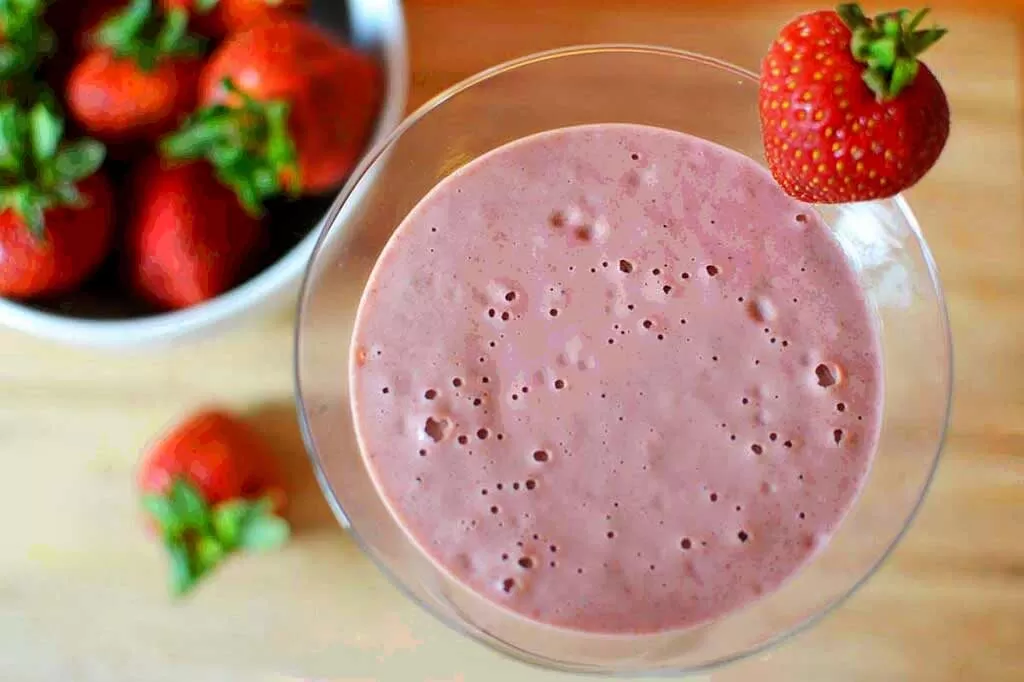 This simple cherry vanilla crumble smoothie recipe is from Metabolism Boosting Smoothies & Recipes by Tina Haupert and is the perfect later afternoon snack. It's light and refreshing and a wonderful cherry smoothie recipe that the whole family is sure to enjoy! We even tried the optional addition of gluten-free oats to create a more high fiber, satiating breakfast on-the-go smoothie, and really enjoyed the sweet as cherry pie without the guilt feeling and you will too!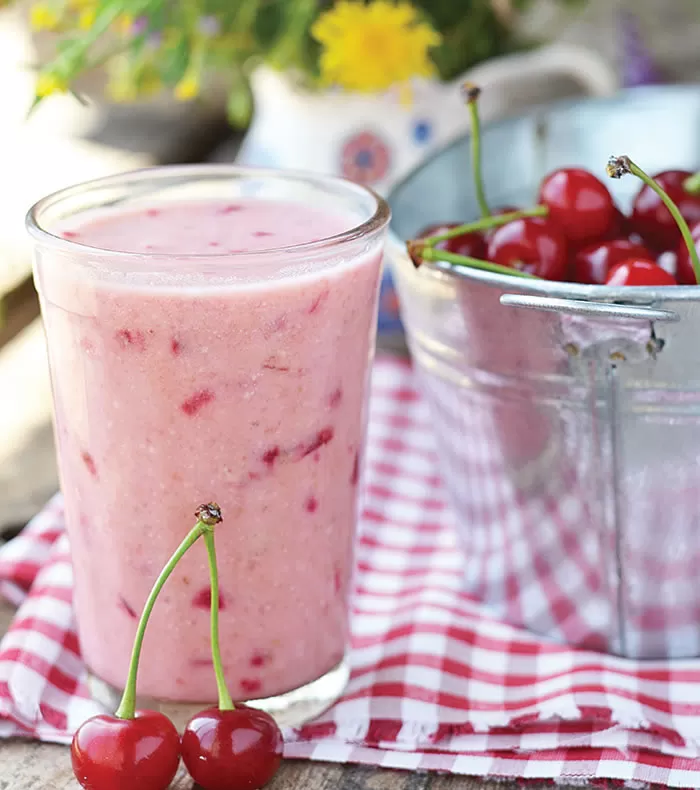 Coming in under 400 calories, this smoothie is a coffee pick me up but with some yummy nutrients added in and sans the artificial sugar found in your usual latte. This smoothie is a creamy delight. We love the addition of medjool dates to boost our daily fruit intake!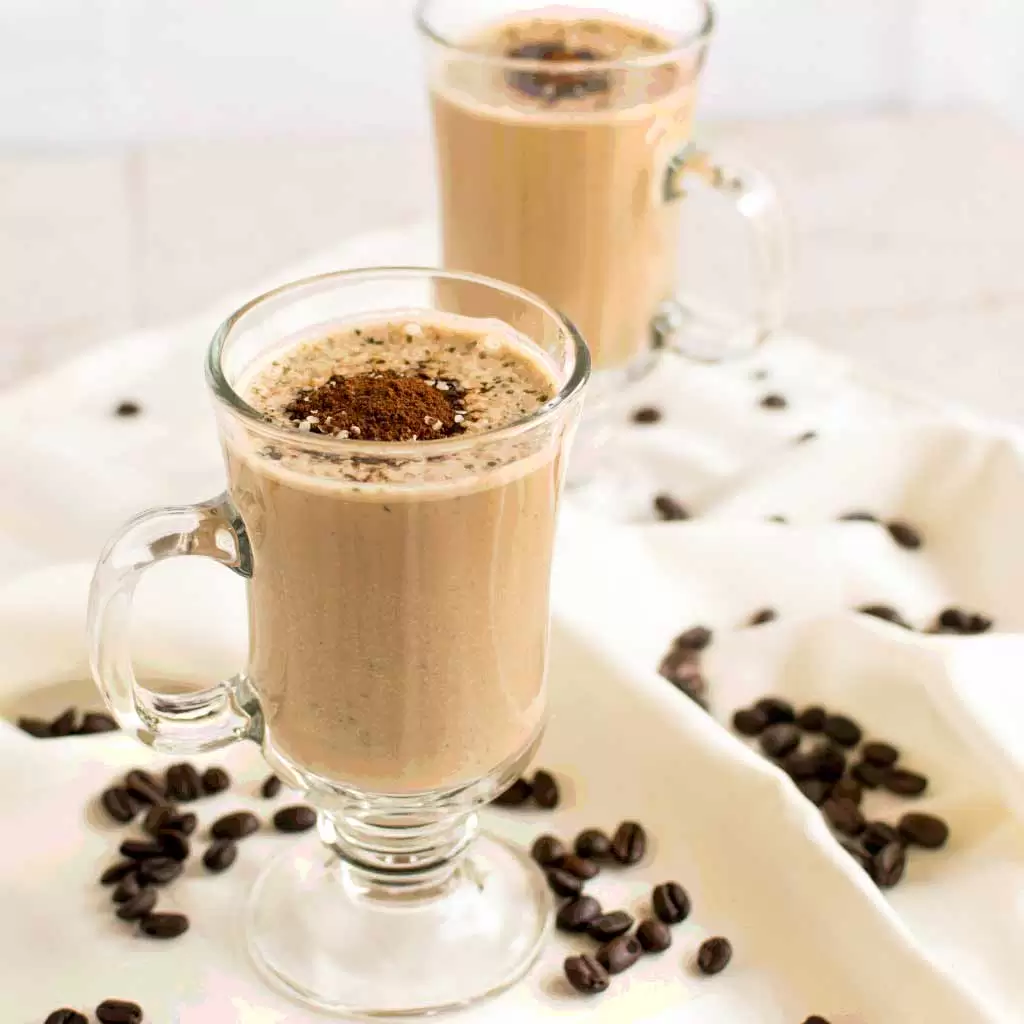 Ideal for strength athletes in pursuit of building lean mass, this cookies and cream recovery smoothie from Thrive Energy Cookbook is a delicious way to feed your fatigued muscles while reducing inflammation and oxidative damage to your cells. This is one of those smoothie without bananas that is guaranteed to fill you up and keep you going through hard and light workouts.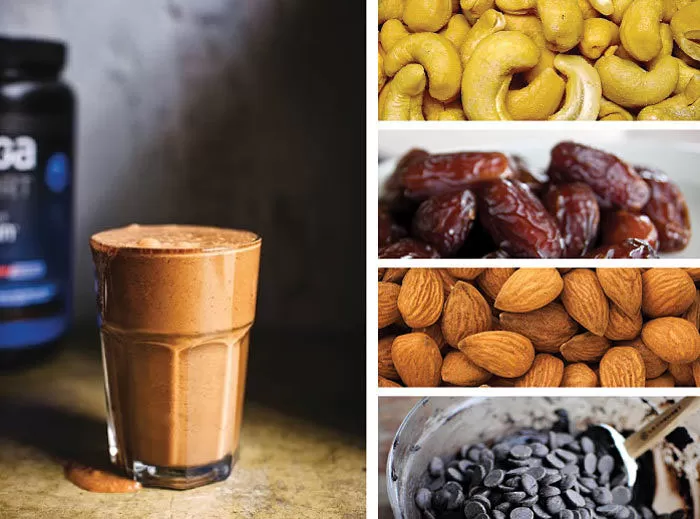 This smoothie addresses the concern that eating more whole foods will result in a protein deficiency as there's several different protein sources in this recipe — try soy milk, cashews, and oats on for size! Packed with filling ingredients and perfect for a snack, we love the chocolate flavor that comes from raw cacao which is both healthy and delicious!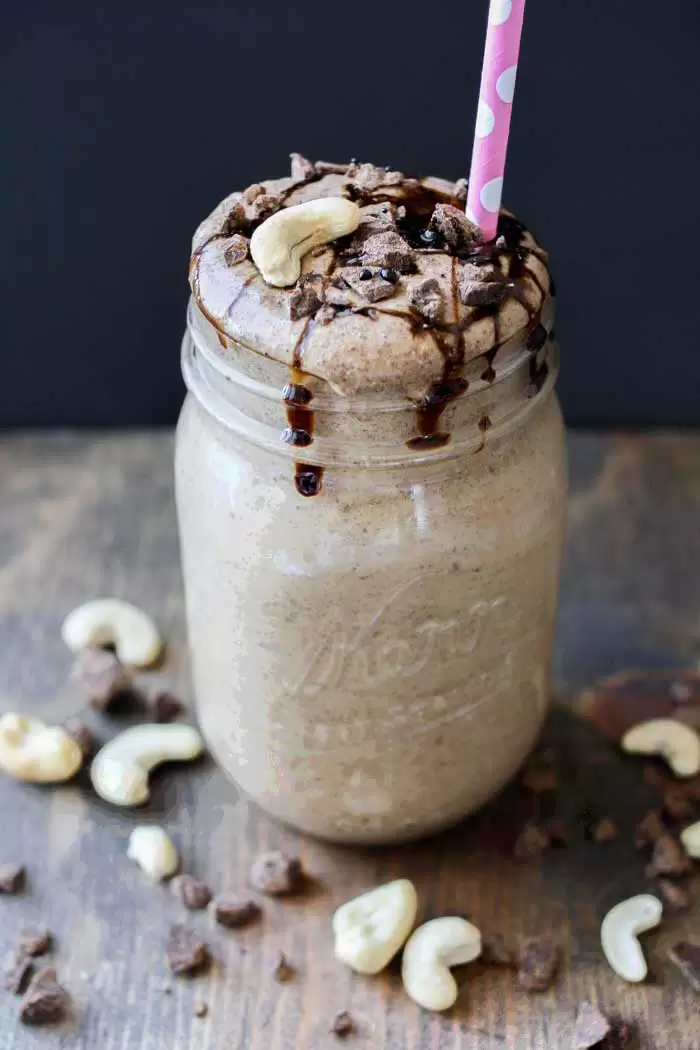 Creamy tropical flavor with a bright sunshine-y vibe, this DIY copycat Jamba Juice Mango-a-Go-Go smoothie is the ideal afternoon pick me up! This healthier non-dairy smoothie recipe wonderfully combines the sweetness from mango with a touch of tart from the pineapple and yogurt. You can also use this recipe to make healthy popsicles. Add a touch of lime zest + lime juice for a little zing!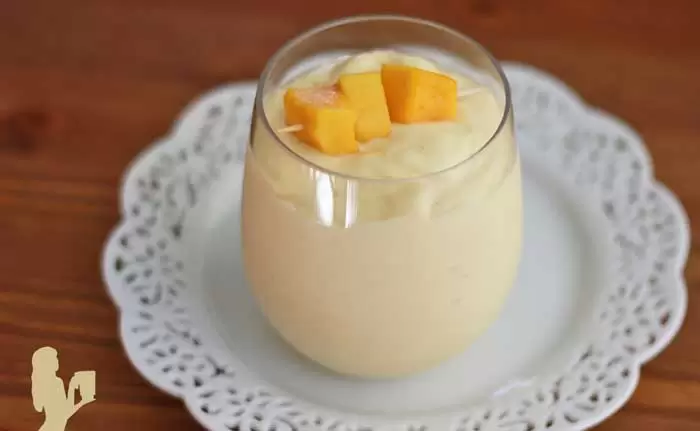 If you want simple and sweet, we present to you this 4 ingredient chocolatey mountain of goodness! Vanilla beans, soy and espresso powder make up this dessert smoothie; which beats baking a cake or running to Starbucks!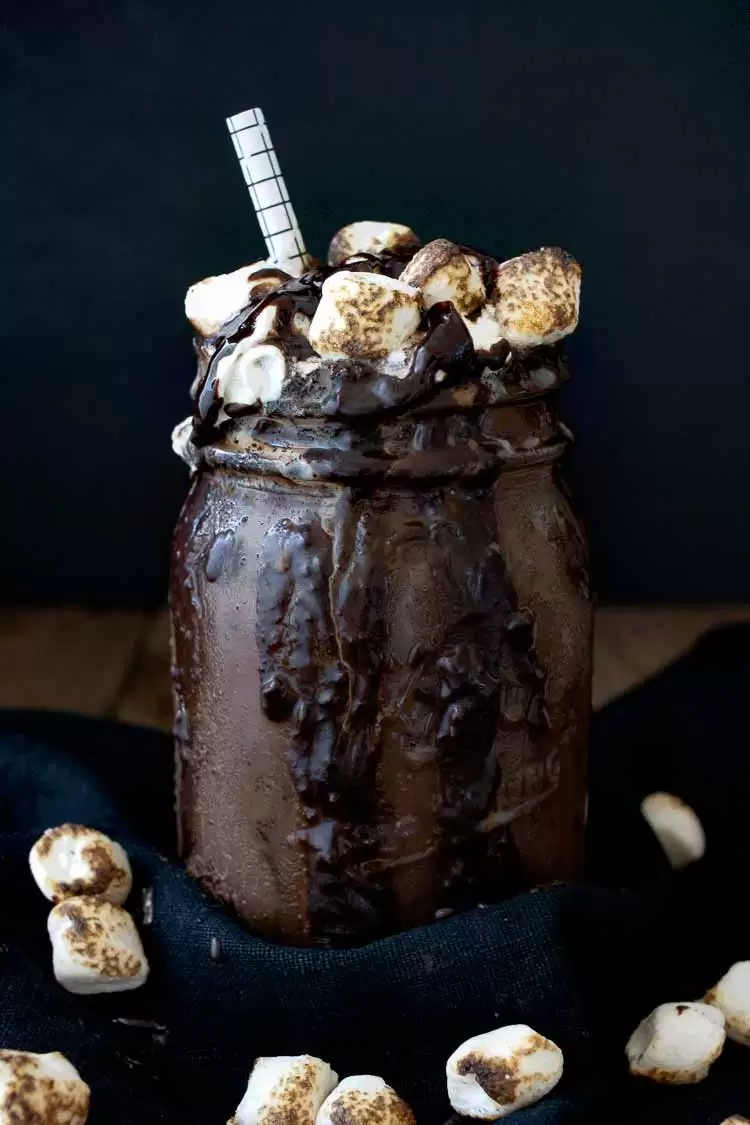 This cantaloupe grape green smoothie is a great low calorie snack or pre-workout smoothie. If you love cantaloupe, you'll love the unique flavor combination of adding cinnamon to this smoothie as much as our recipe testers did! Cinnamon is a superfood that's tasty, affordable, and full of health benefits, including helping to regulate blood sugar — which is why we love adding this spice to smoothies. Just remember, a little bit goes a long way!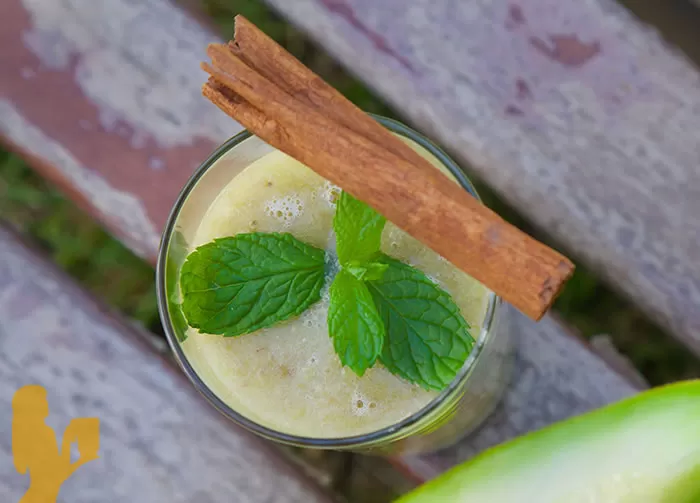 Don't be dumb, grab dark chocolate: it's healthier than milk and also has a fantastic flavor. It's fabulous in smoothies too! The secret to the creaminess of this smoothie is the avocado which acts as an awesome substitute for bananas.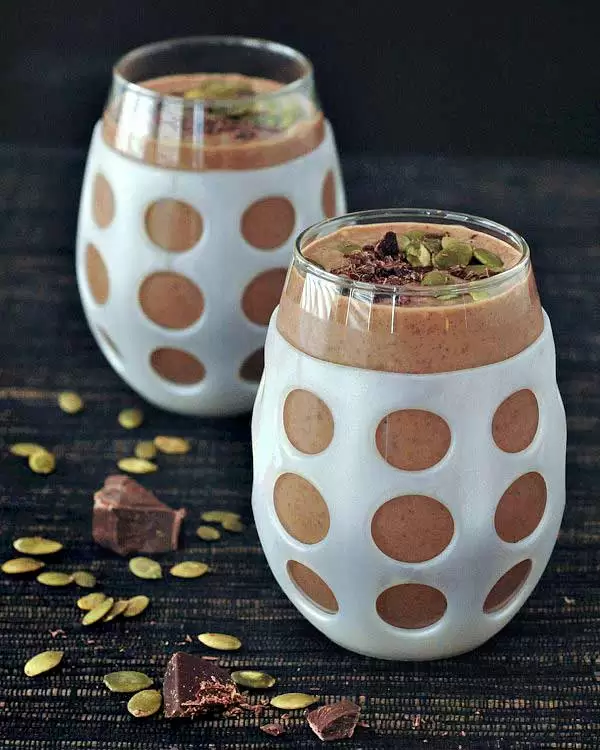 When it's hot out and you need a refreshing pre-workout smoothie, this creamy pineapple watermelon and mint smoothie is sure to hit the spot. Aside from being incredible hydrating, pineapple contains bromelain (which is a natural anti-inflammatory) and Vitamin C to help repair muscle tissue. This is also a high potassium recipe that includes calcium, key minerals which help with muscle recovery.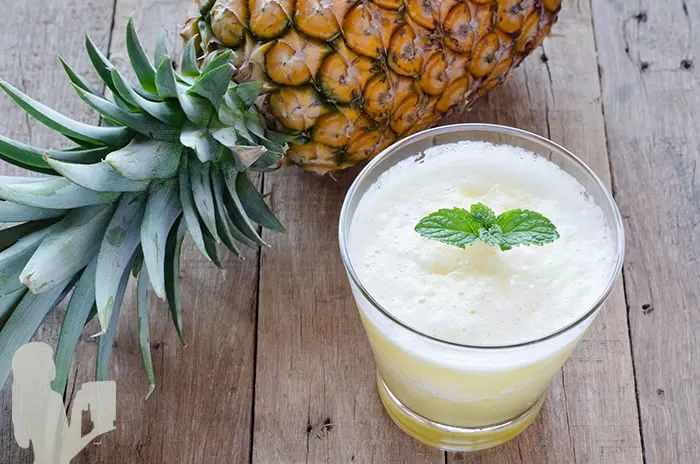 If your mornings are as hectic as ours, we get that making a full breakfast is basically impossible. Why not make a smoothie with breakfast oats, berries, and of course no bananas! Filled with yummy spinach, we love this smoothie as an option for picky eaters who may not like to eat their greens. Once hidden inside a blue drink, your picky ones won't just eat their greens, they'll devour them!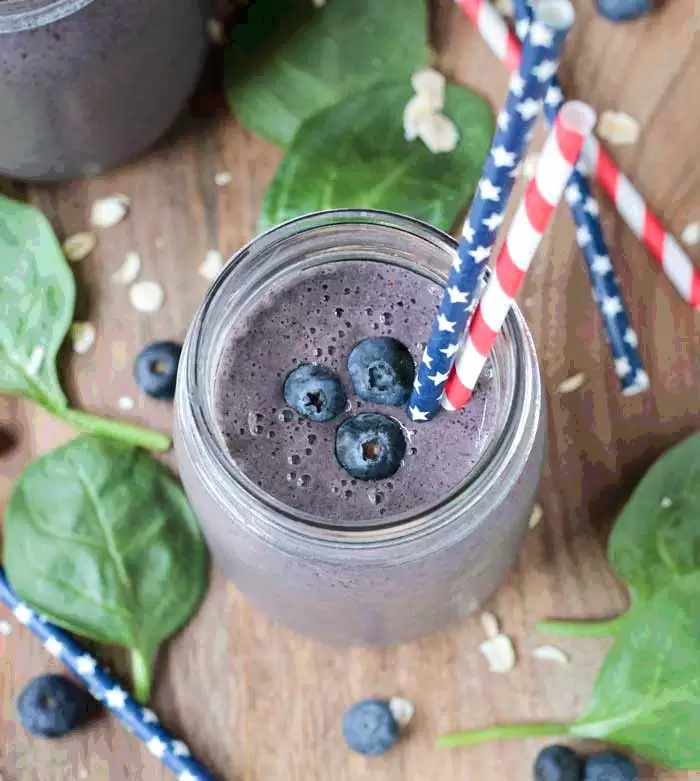 This smoothie is not only yummy but it's also high in fiber which prevents constipation. It also contains natural digestive enzymes that help to break down hard to digest foods that often cause your tummy bloating. Who knew smoothies without bananas could be so good for the digestive system?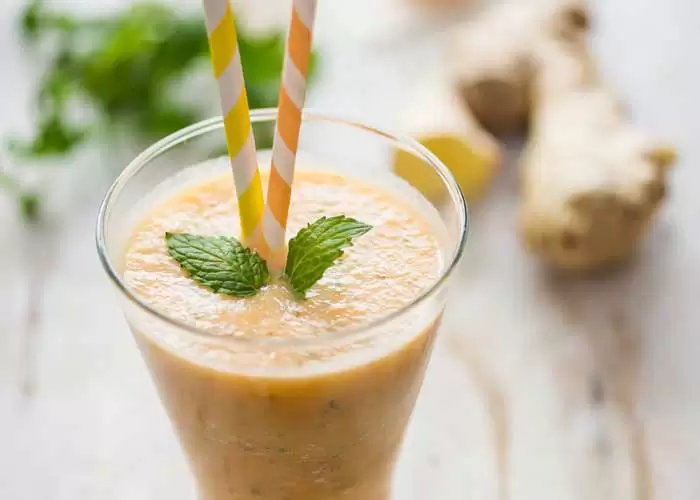 Cheesecake is basically the dessert of the gods, but it unfortunately leaves its mark on your waistline. Not this smoothie! Mango is used as a substitute for bananas which creates the perfect consistency! Plus, we love that this smoothie also contains chickpeas for that added protein boost!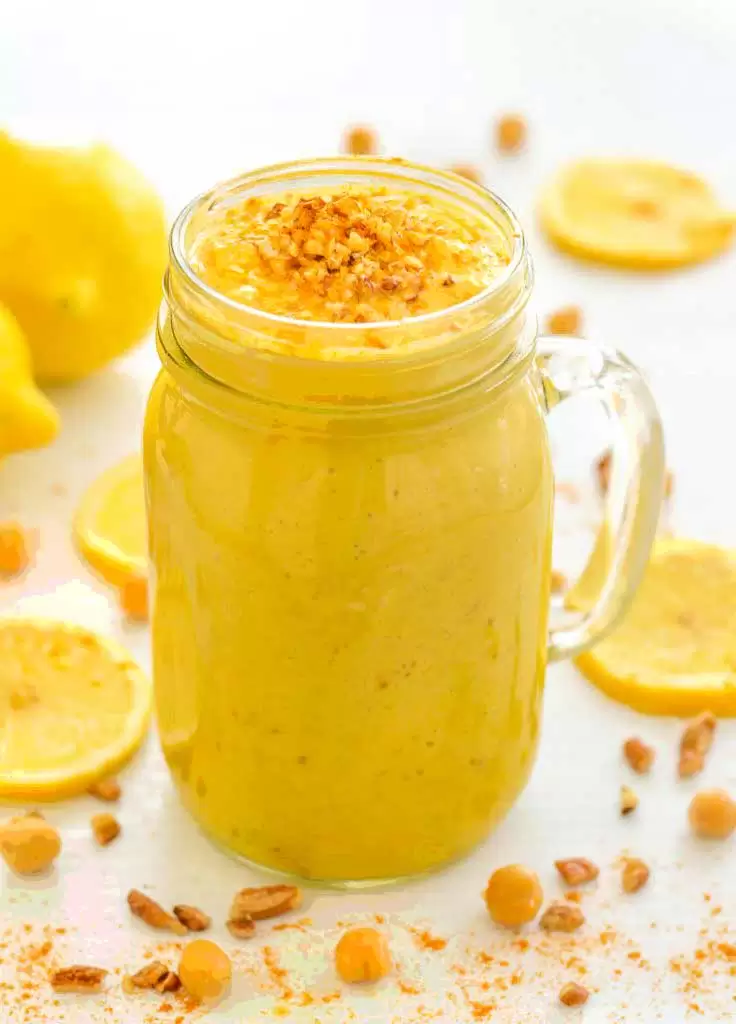 This is one of our FAVORITE smoothies with almond butter! This nut butter and jelly smoothie tastes great and is FULL of nutrition between the healthy fats, carbs and protein. It will leave you satiated without feeling overly full. Try it as a breakfast smoothie, quick lunch or snack!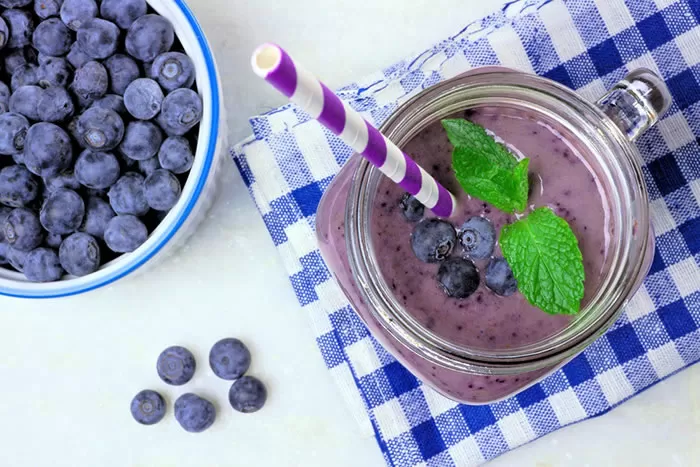 With warm and full flavors, we love this rich fall smoothie. Complete with apples and a sweet tinge of syrup, cinnamon adds the spice that makes this smoothie oh so sassy. And who doesn't need a little bit of that every now and then? We also love the nutty flavor of this smoothie from theot to mention the nutty flavor from crushed walnuts.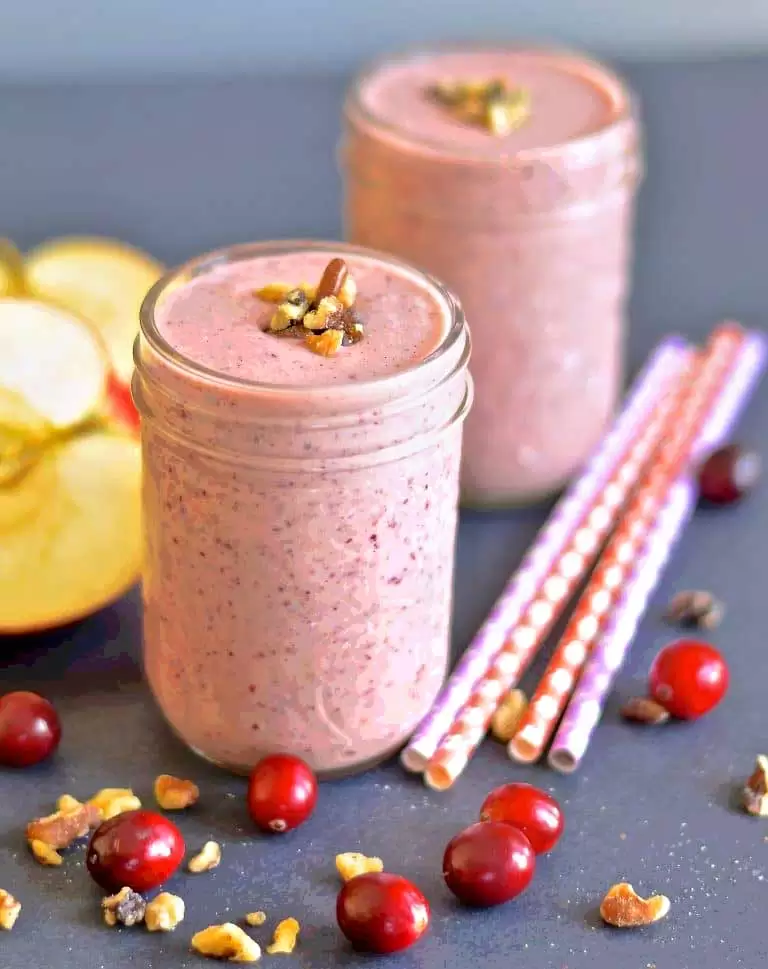 We LOVE peach season and so of course we had to test this peach apple cobbler smoothie recipe by Dr. Oz to see if it was good enough to share with you! We think you will really enjoy this delicious low calorie and high fiber vegan smoothie. It's quite refreshing and also very filling, making it a great breakfast smoothie (or snack!). This is a delicious smoothie which is why the recipe is part of Dr. Oz's Clean Detox Plan.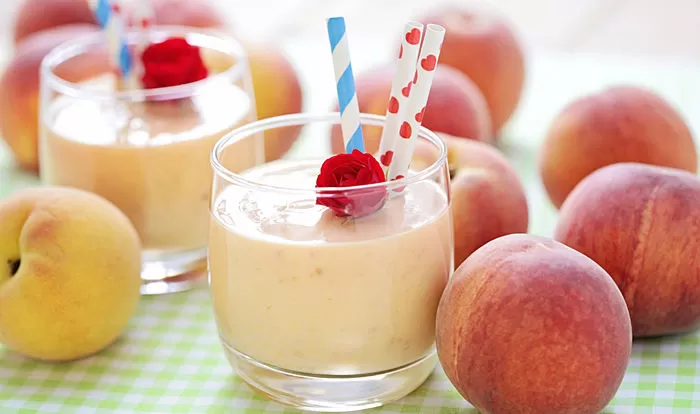 Fresh or frozen the fruits in this smoothie are absolutely drool-worthy! The berries add a tangy tart flavor, and the whey protein make it amazing for the active girl who needs more of a meal replacement. Mix this one up before you hit the gym and have it ready in your fridge when you get home!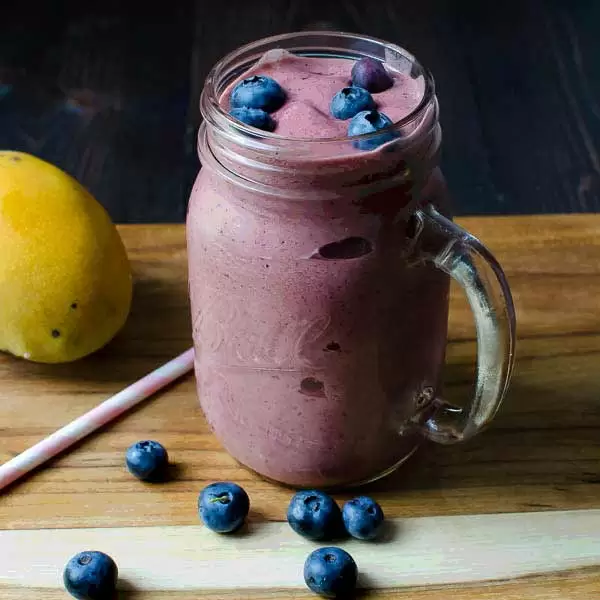 This smoothie is perfectly balanced between sweet and tart and is bursting with an intriguing list of mouth watering and aphrodisiac ingredients you're sure to enjoy. The slight tartness from the raspberries and cacao blend well with the luscious creaminess and nutty flavor from the pistachios (or cashews!) and coconut milk. You'll go bananas over how good this banana-free smoothie is.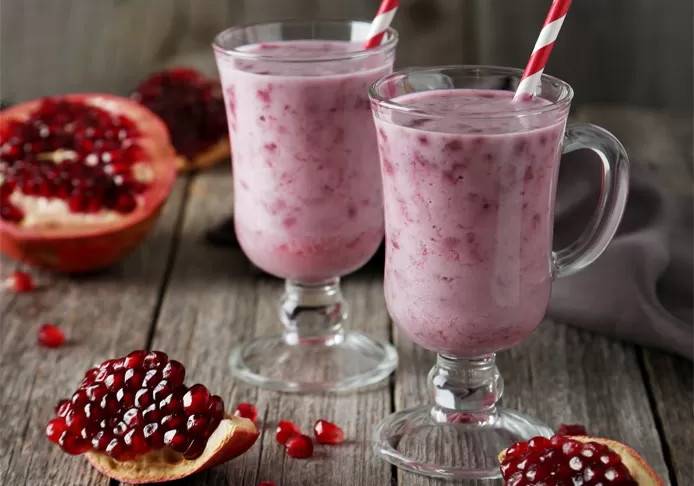 This smoothie screams summer is here with its beauteous yellow and orange colors! We love the tang from the pineapples in this blend, because they are so good for your tummy health! The one health secret that this smoothie hides well is grapefruit juice. The tarty grapefruit flavor is masked by it's other citrus friends who combine to make this a delicious drink.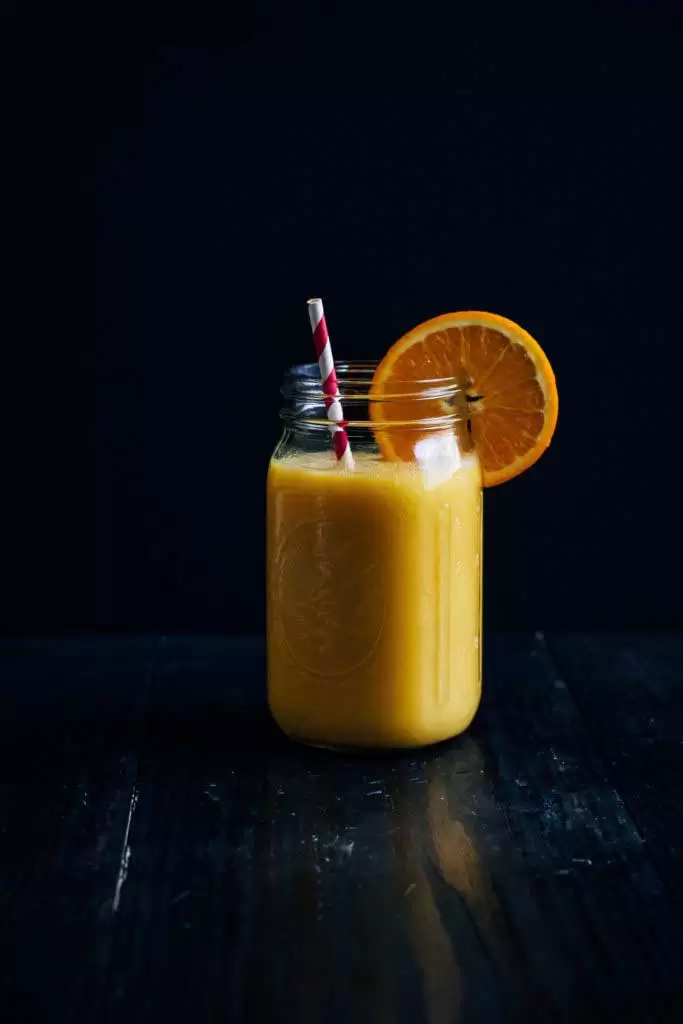 When it's hot outside, the last thing I want is a cup of hot tea, but this smoothie offers it cold and with a tropical mango twist! This smoothie not only has the awesome antioxidants from the green tea, but also some ACTUAL greens from kale which gives it it's healthy hue.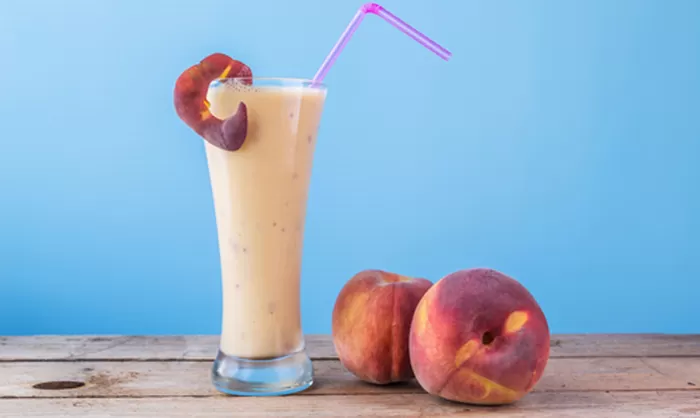 For a quick smoothie that will satisfy any sweet tooth, this cinnamon toast smoothie recipe will work well as a breakfast, light lunch or dessert drink. True to its name, it does remind you of cinnamon toast crunch – the (favorite unhealthy!) cereal kids and adults love! This version however, is GUILT-FREE and from the Vibrant Life Cleanse Program & Cookbook. For those of you that have a hard time downing green drinks, you can amp up the nutrients by adding 2 cups of spinach or a kale leaf or two.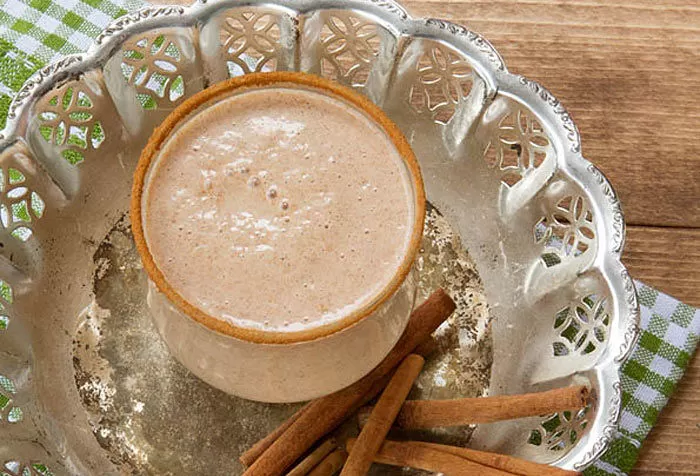 This smoothie is bright and refreshing with its color coming from the bright red beets and pomegranate seeds. Beets are tricky vegetables because of their strong flavor, but this blend does an excellent job of masking it with citrusy overtones and a kick of ginger.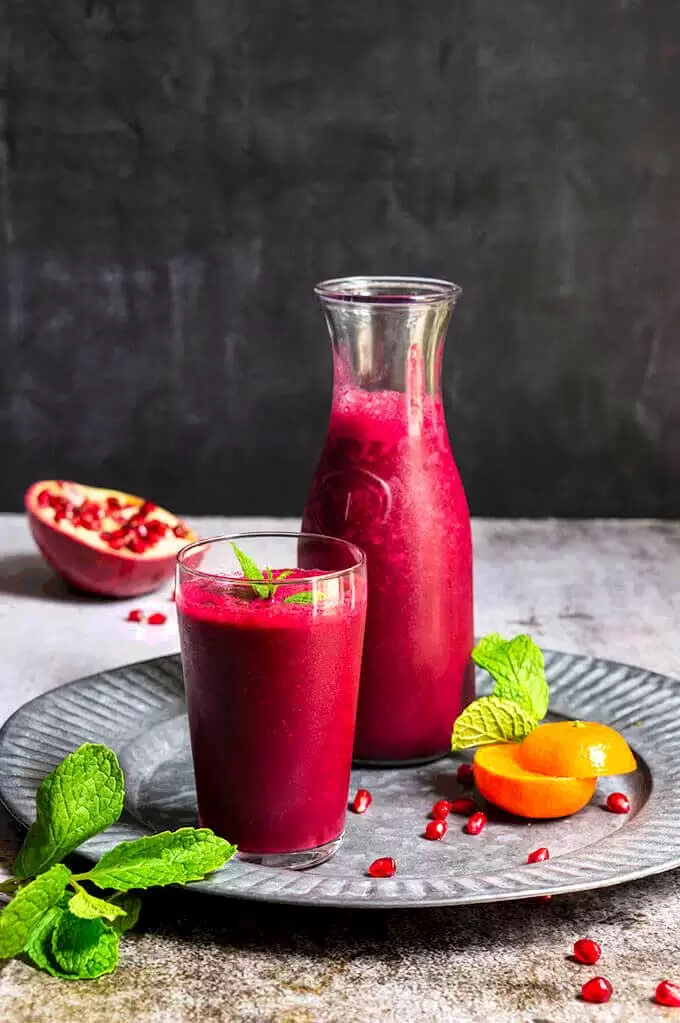 Fuel your fitness with this hydrating breakfast or pre-workout smoothie recipe. Our recipe testers tried this many different ways and it ALWAYS turned out delicious! You can try a tasty vegan version by substituting the yogurt listed in the recipe with a non-dairy yogurt or tofu. No matter how you make it, it is still a smoothie without bananas that's simply delicious.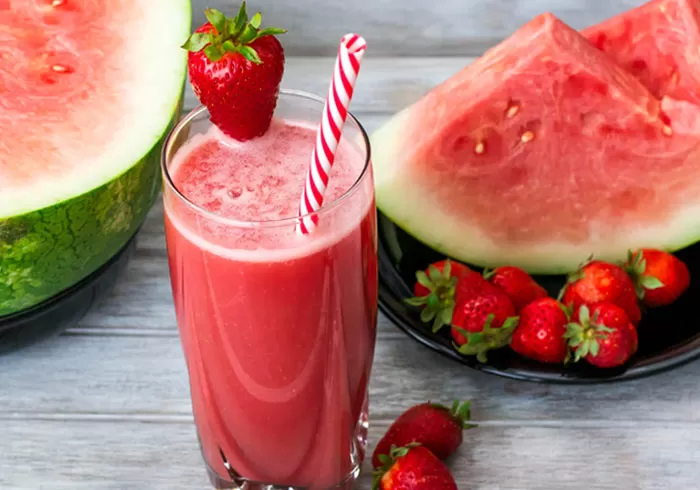 Spinach is nearly tasteless and definitely the perfect fit for this refreshing green smoothie! Complete with cucumber and lemon, it's a quick pick me up with a subtle sweetness from a tinge of mango.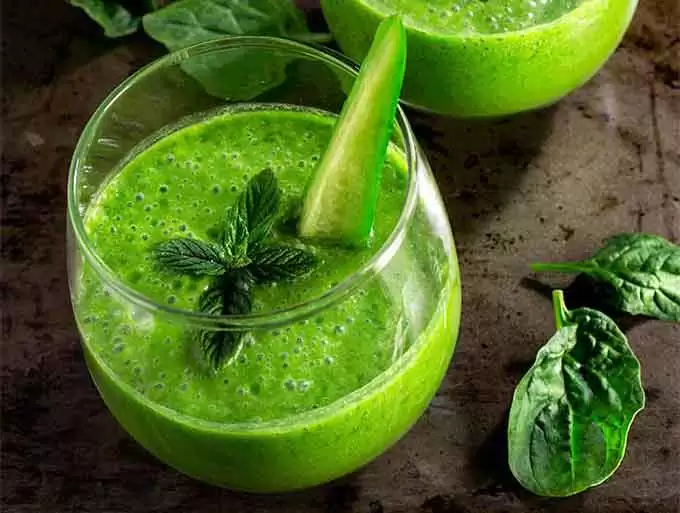 This full-flavored weight loss smoothie recipe has a lovely bright green color that will make you feel healthier just looking at it! It is also full of fiber from the kiwi, pear, pineapple and celery, which will help your body naturally eliminate harder-to-digest foods. We drank all 3 cups as a meal replacement smoothie, however 1 serving of this green smoothie would also be a great addition to a high protein breakfast.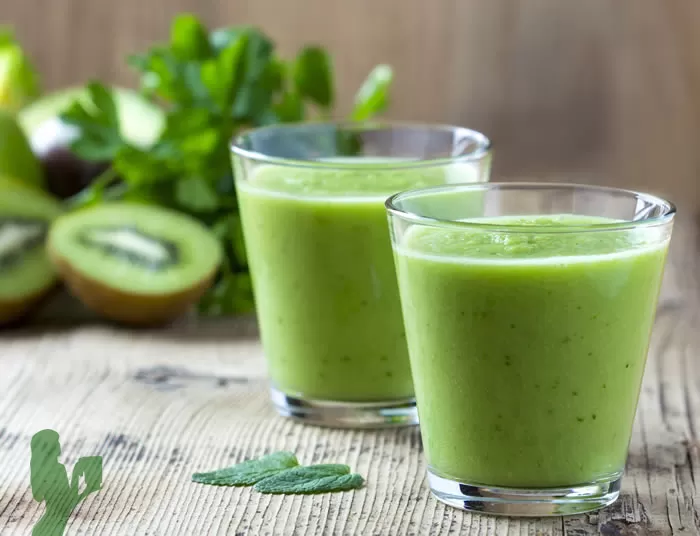 Summer is here and so are the piles of watermelon in bins at your grocery store. Why not stock up and make plenty of smoothies? Similar to a mojito, this blended drink has a tinge of mint which makes it the best flavor twist for this refreshing smoothie without bananas.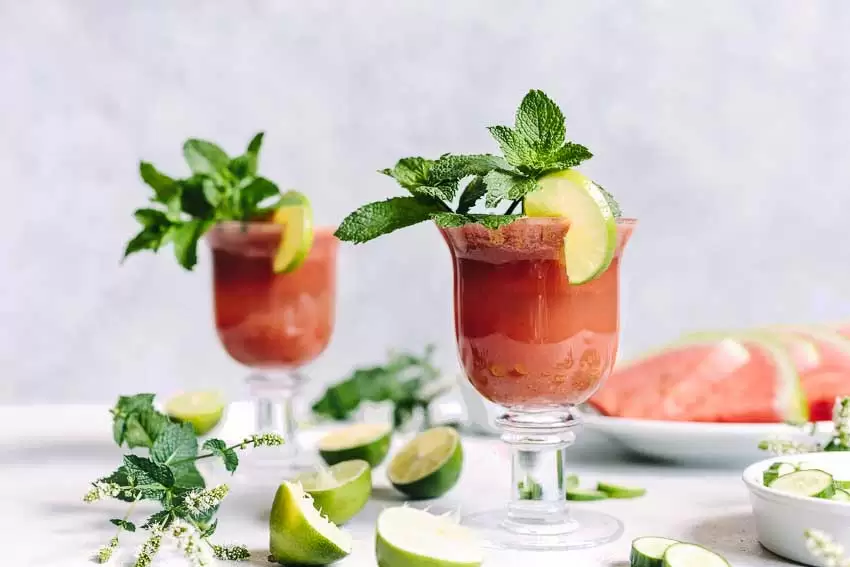 If you're looking for a light and refreshing green smoothie to try, this pineapple ginger kale smoothie will bring you right by the pool and ready to dip your toes in the water! This delectable smoothie recipe is tangy with a subtle taste of ginger, which pairs well with pineapple. The combination of coconut, pineapple, and ginger will remind you of the flavors of Hawaii, so don't be surprised if you begin day dreaming about your next tropical adventure!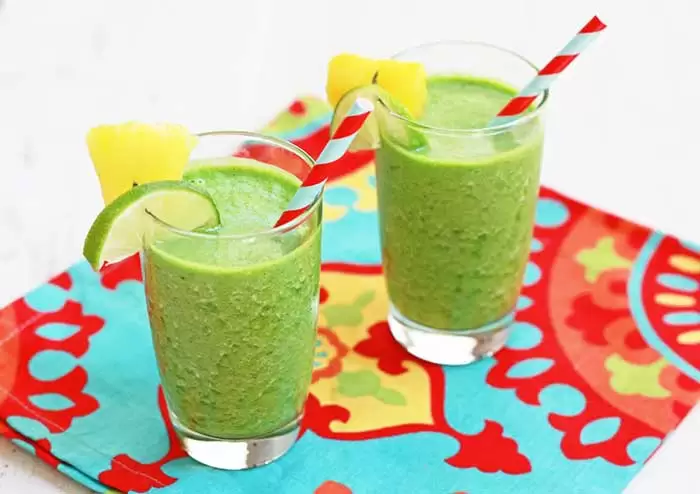 If you've never tried pepitas(pumpkin seeds) before, this smoothie bowl is the perfect way to start! The flavor combination of ripened cantaloupe, lime, and red ruby grapefruit is perfect for a warm August morning! Add a tiny spoonful of maple syrup and you are good to go!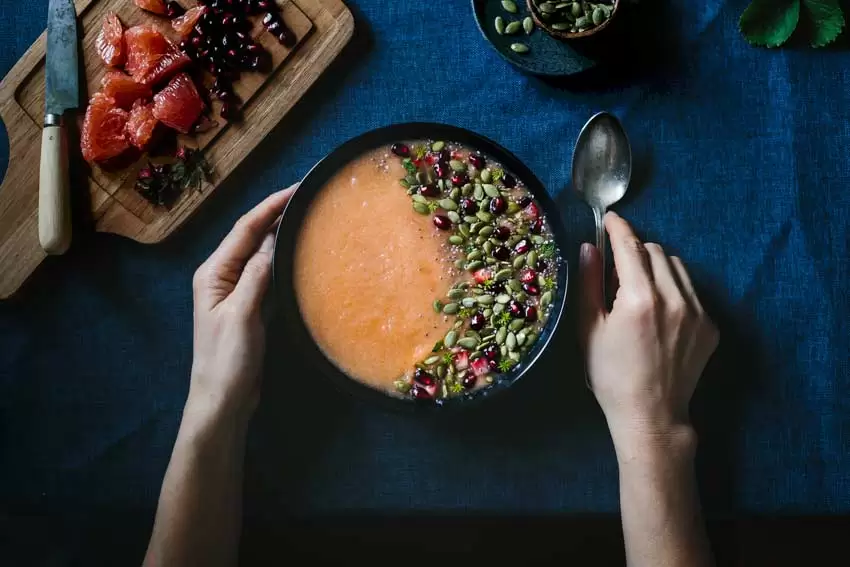 This cherry pomegranate green smoothie recipe is the perfect contrast of sweet cherries and tart lime in a glass. It's no wonder it's a classic combination for desserts. This is one green smoothie that doesn't taste or look "green", so if you or a loved one is put off by the idea of drinking green smoothies, this is the drink for you! It's also the perfect smoothie for kids to help them get into the green smoothie habit!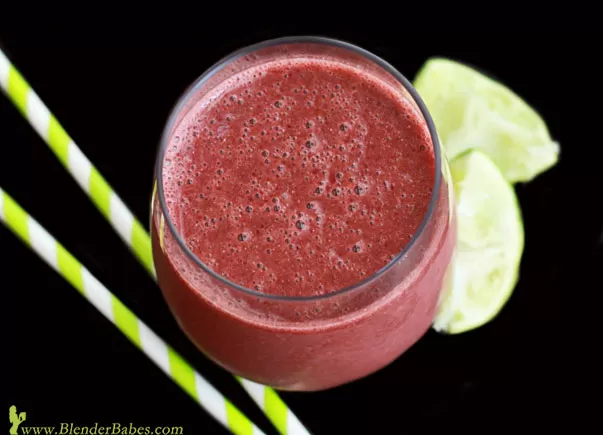 If you have two minutes, you have time to make this scrumptious smoothie. It's vegan, gluten-free, and makes a simple breakfast! The clementines balance out the tartness of the cranberries without the need for any artificial sweeteners!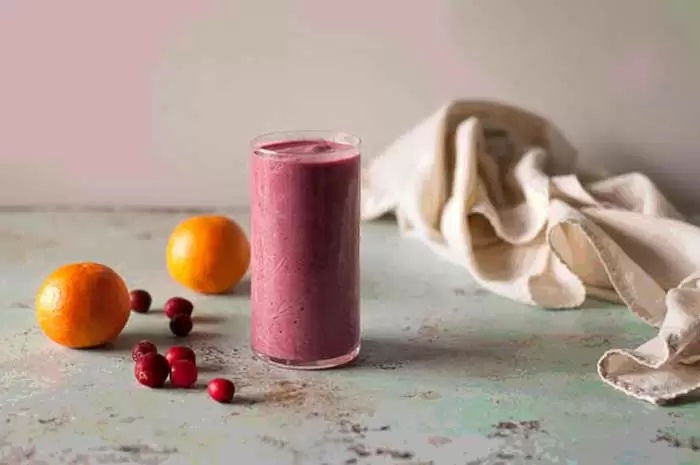 This apple motini green juice smoothie recipe is light and refreshing. The cucumber is extra hydrating so it's a perfect afternoon pick-me-up or as a pre-workout snack. This easy, low calorie green juice may just become one of your favorite "go-to" green smoothies for its simplicity and great taste. It's high fiber and low sugar, making this green juice a great option for diabetics as well.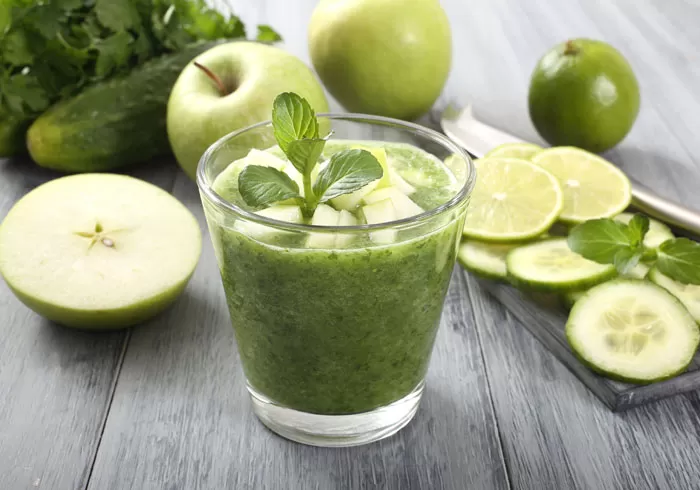 Nothing cleans the tummy like celery does, and this smoothie has lots of it! We love the sour snap of the green apple, which not only tastes good, but is good for your body! Plus, we love how it mixes up with blood oranges.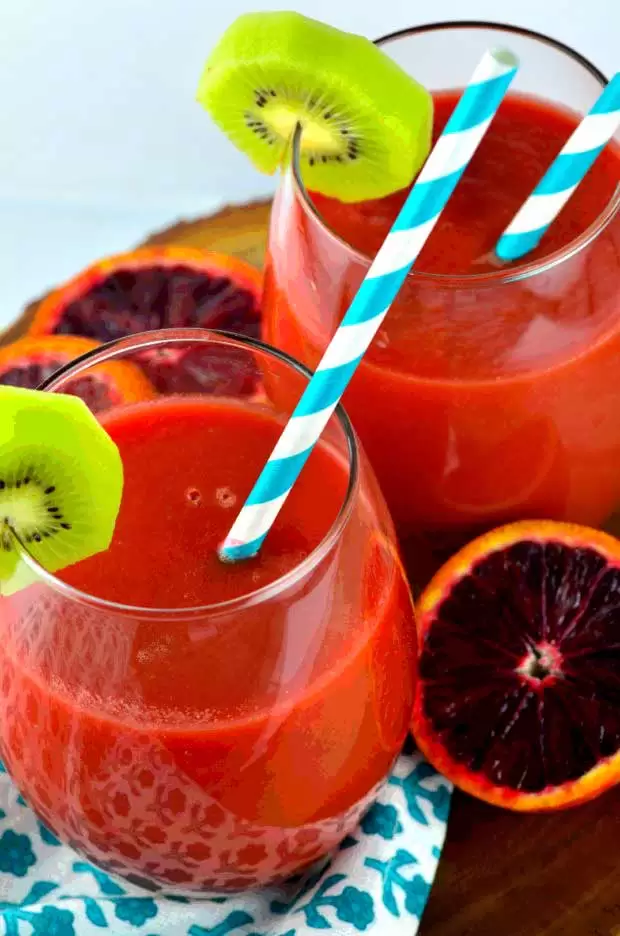 Be refreshed and get a flat belly with this delicious anti-bloat smoothie recipe that's made with kiwi, cucumber, and super ingredient kombucha. Start your day off right with a punch of gut healthy probiotics from kombucha, a fermented tea, while getting your greens in at the same time! The cilantro in this recipe contains oils that will help relax your digestive muscles.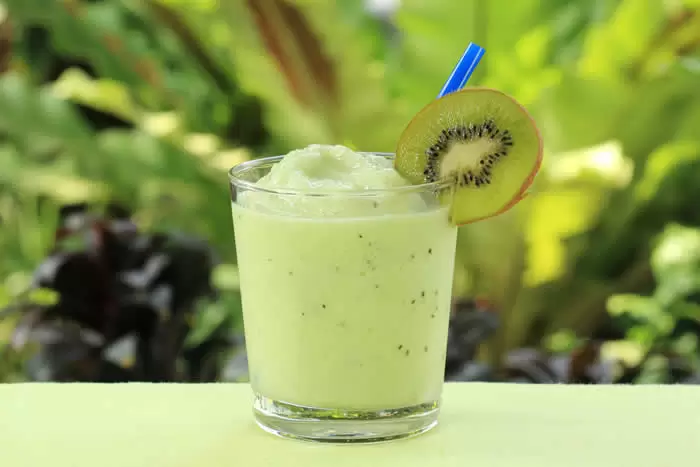 Pumpkin spice and everything nice and smoothie-licious! Nothing says cozy and fall like pumpkin does, but we love this refreshing bowl any time of the year. It's a perfect smoothies without bananas, because the pumpkin makes for a sturdy base. The addition of oats make it a satiating drink and almond butter ensures you get those much-needed healthy fats!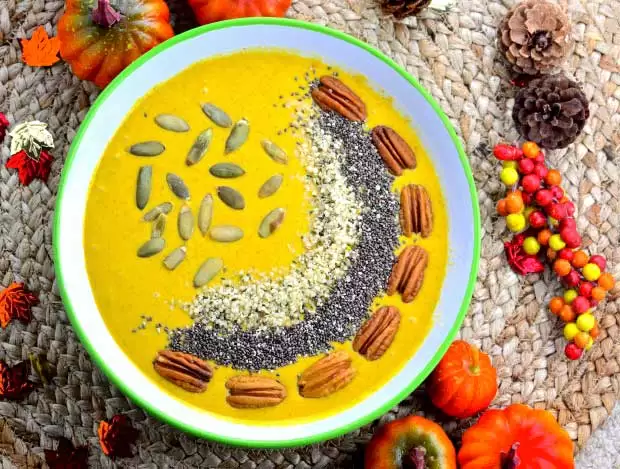 This blackberry vanilla green smoothie by our friend LeAnne of Healthful Pursuit is a sweet and delicious treat that you will LOVE and is easy to make in a Blendtec or Vitamix high powered blender. Blackberries are often overlooked when people think of their favorite berry since most people immediately choose strawberries. We think smoothies without bananas are better when they are smoothies WITH berries!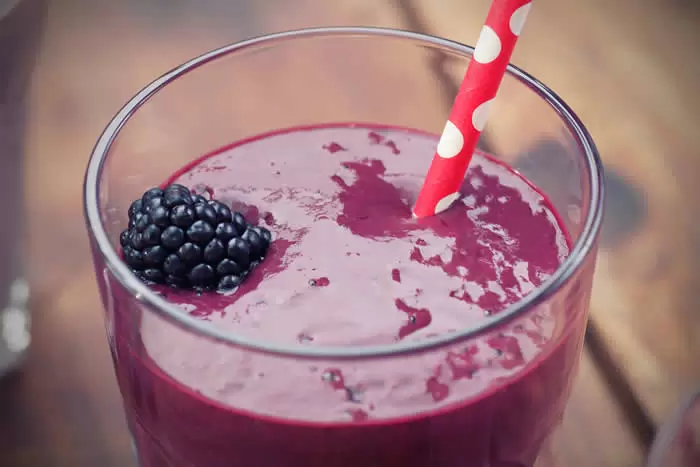 Does your diet need something a little more exotic than your usual strawberries? The Persian cantaloupe smoothie is super simple to make with only four ingredients. With more beta-carotene than a carrot, cantaloupes are one fruit you need in your life!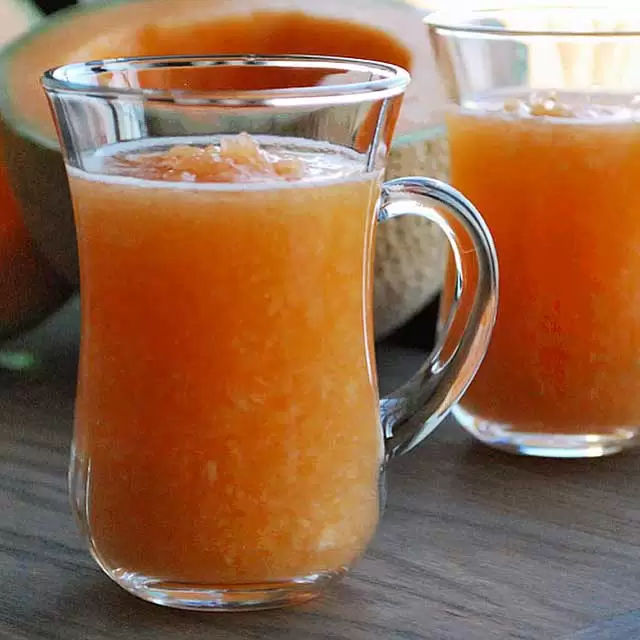 This smoothie is simple to make, but has one of our favorite easy to add superfoods: chia seeds. These tiny little crunchy seeds have omega 3 fatty acids, which are good for your gut health. Can you say easy-breezy stomach health?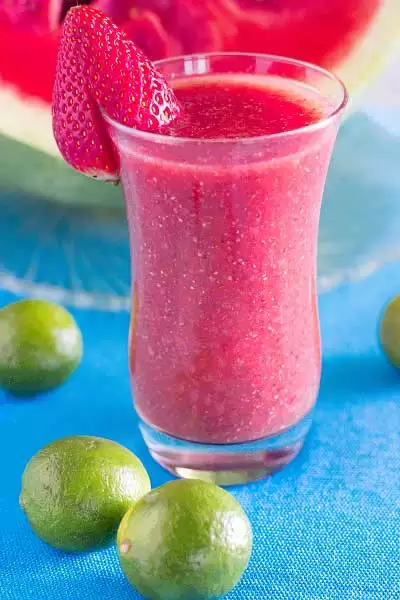 An apple a day is better in a smoothie! Especially if it's with this delicious apple pie flavored smoothie recipe. Apples are an excellent boost for your immune system. Not only is this drink vegan, but it's also a favorite for families because it tastes just like apple pie!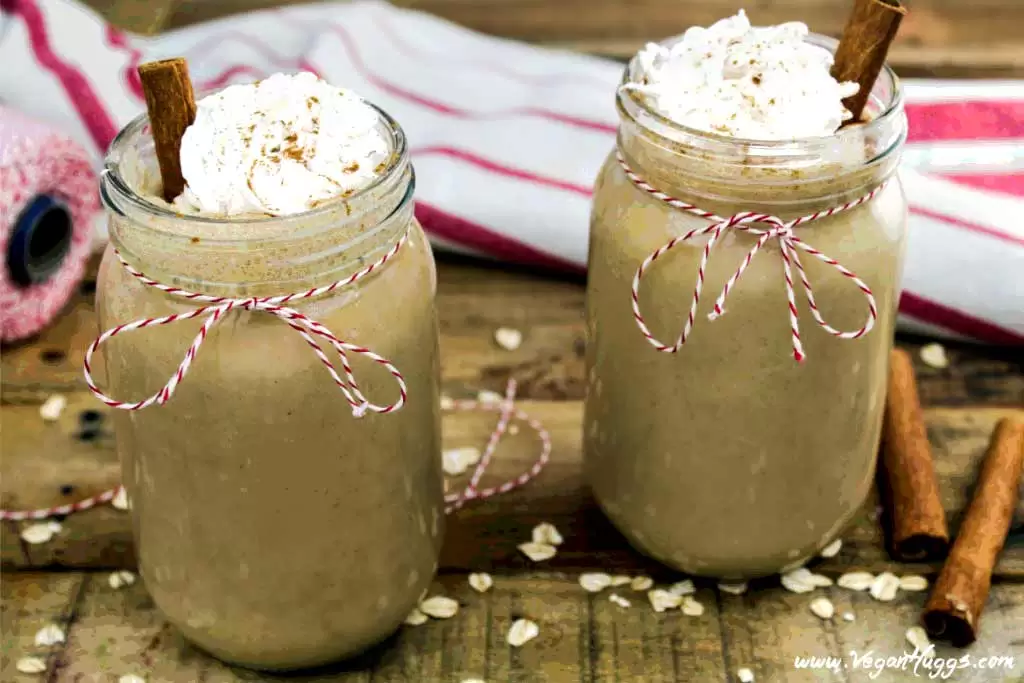 It's time to toss those sugary candy bars in favor of a blended up version that's just as tasty…and healthier. Instead of processed chocolate, this smoothie is made with the superfood in it's original state: raw cacao powder! We love the addition of coconut meat and medjool dates. You really will think you are drinking the blended candy bar!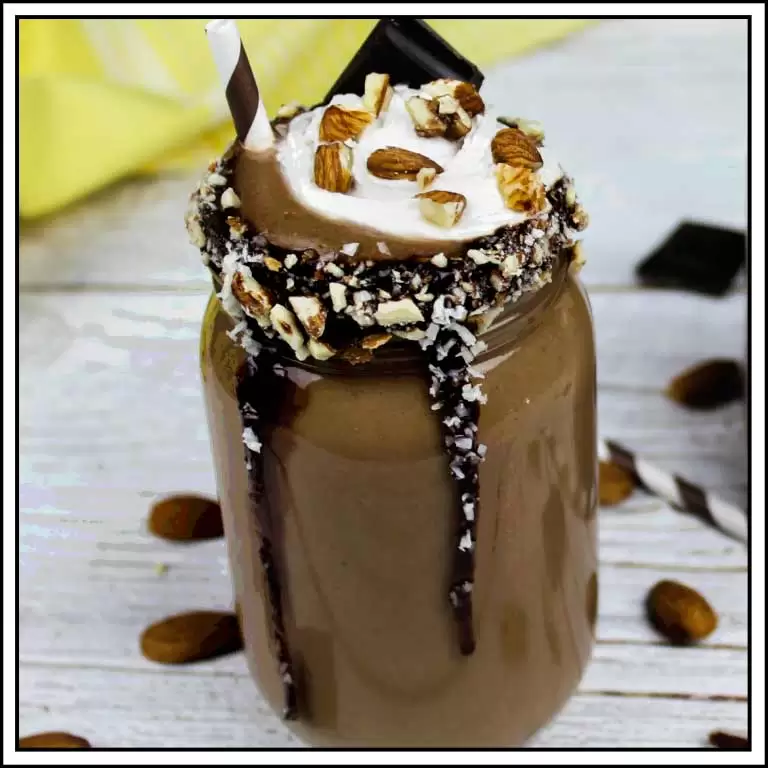 Spice up your usual chocolate smoothie with this Mexican mocha, complete with just a tiny bit of cayenne pepper and avocados which give this smoothie it's creamy texture.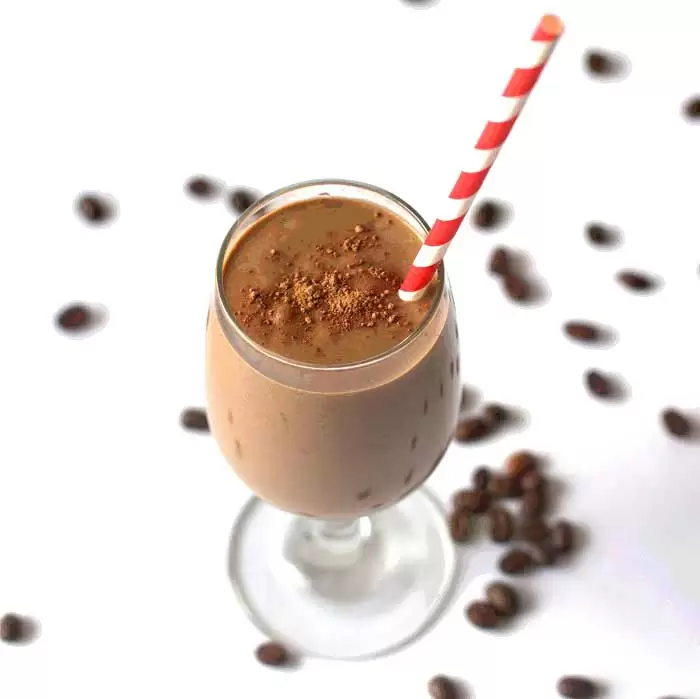 Peach pie might be a little high in the carbohydrate department, but this smoothie is just what the doctor ordered! If you like smoothies without bananas, the avocado is going to become your best friend, because it adds creaminess with a very neutral flavor that is filling. Add a dash of cinnamon and this insta-worthy smoothie is ready to be devoured!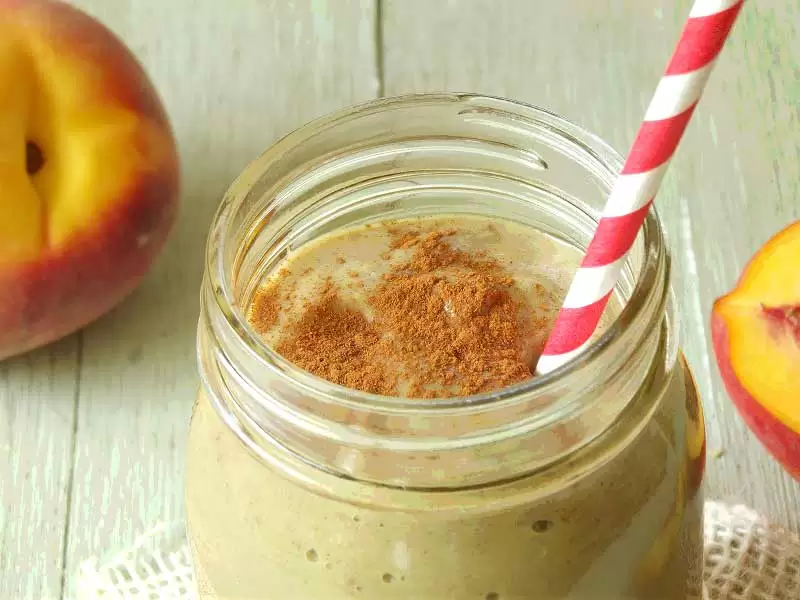 Hot pink and super healthy, this smoothie gets it's vibrant color from pomegranates and cranberries! Almonds help make this smoothie extra filling to get you through the morning , since they contain loads of healthy fats.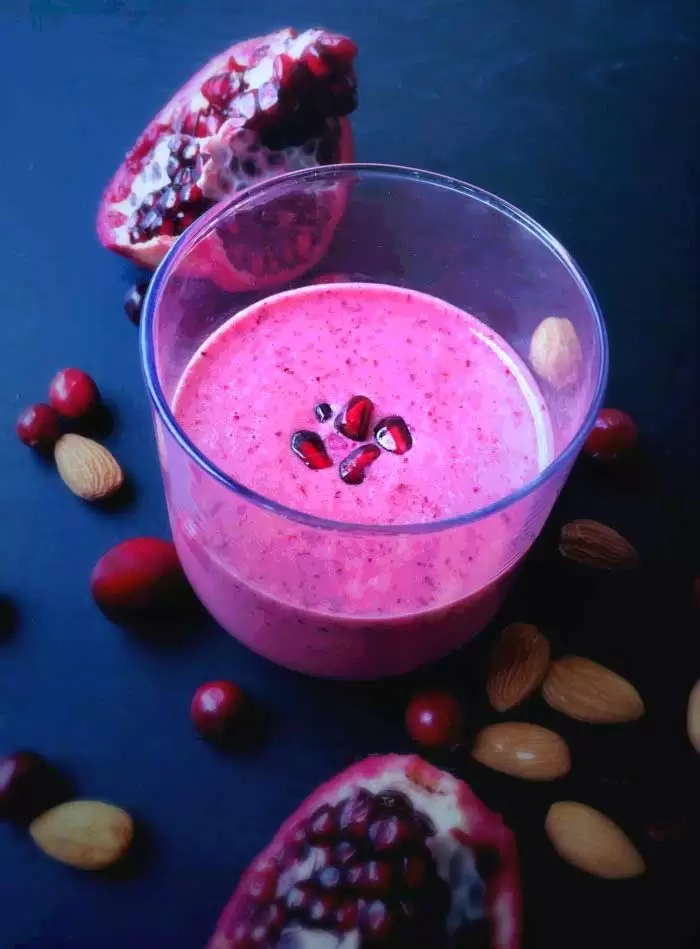 Not a fan of vanilla whey protein flavor? Try chocolate instead! This very berry smoothie has the best of both worlds, with yummy chocolate flavor that is full of protein AND berries full of antioxidants.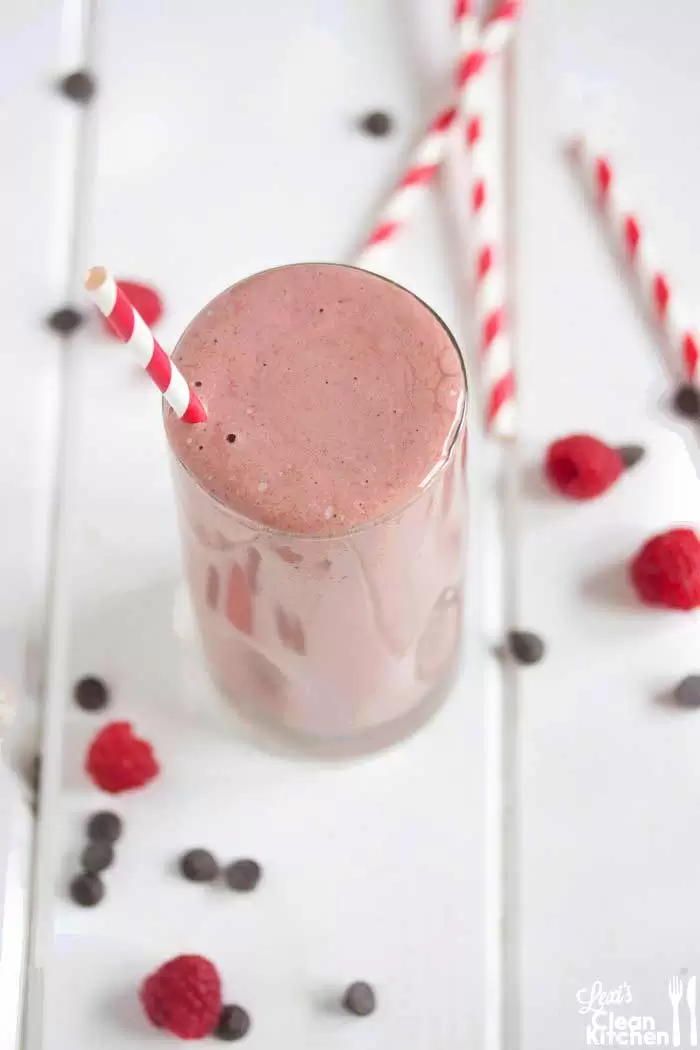 It's a bird, it's a plane, NO it's the superfruit smoothie! Both blueberries and raspberries are filled with antioxidants that recharge your body. Mix in a little kiwi which is full of Vitamin C and potassium and you have a tropical yummy smoothie that will do wonders for your health.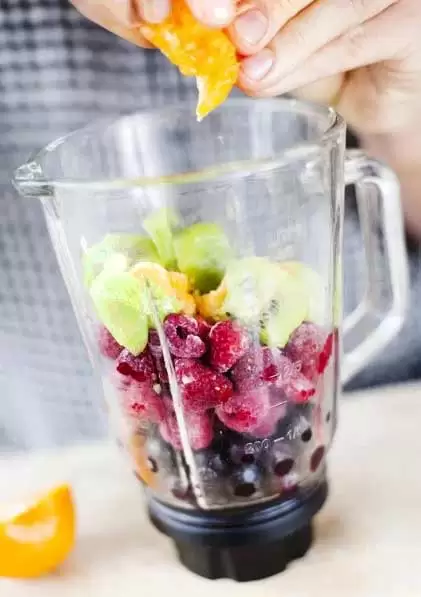 Vibrant and purple, this smoothie's color isn't the only thing it has going in it's favor. It's got a bold blend of berries: strawberries, blueberries, and raspberries that combined with a subtle coconut flavor, will make you feel like you're cozied up on a beach with the wind in blowing through your hair!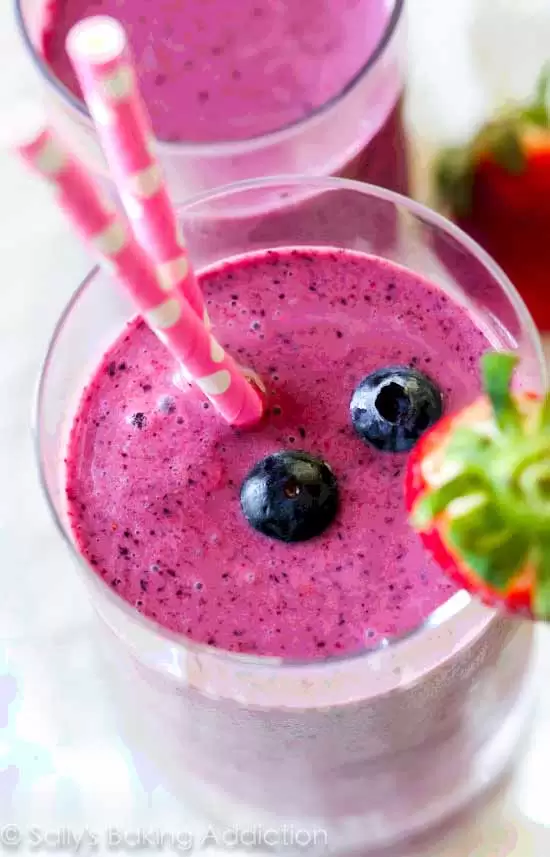 Go raw and paleo with this chocolate smoothie, by ditching processed sugary chocolate and replacing it with raw cacao powder. Keep the taste train rolling with your nut butter of choice, which is a good way to get in your daily dose of protein! Add some dates and your smoothie is complete and totally yum.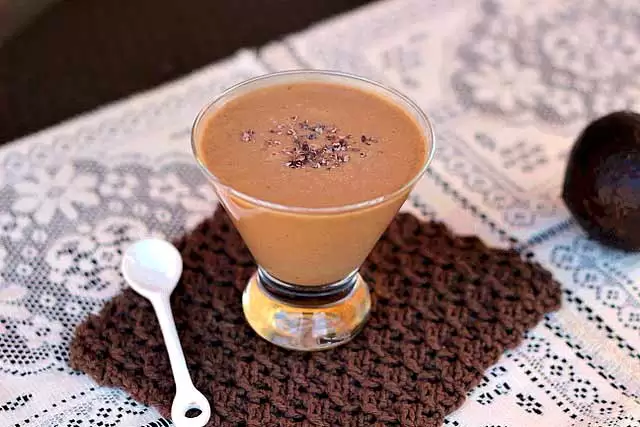 Want creamy smoothies without bananas? Meet our friend Greek yogurt! Not only does it add the extra thickness that you want in your smoothies, but it also helps with digestion by adding powerful probiotics to axe that stubborn belly fat!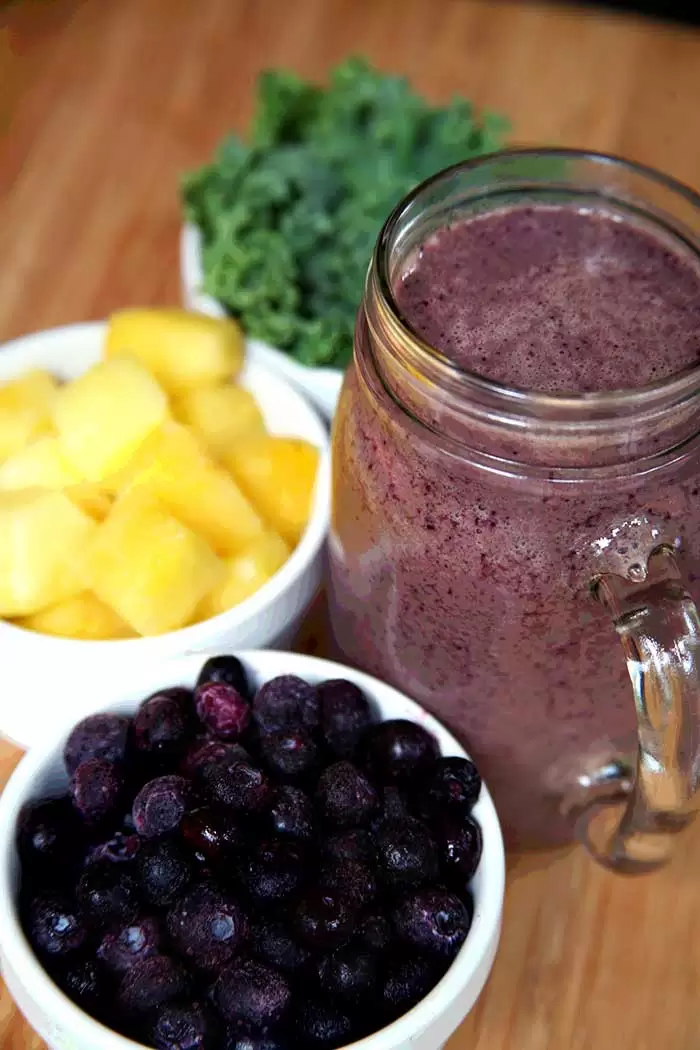 Mango means tropical, of course, but it also means a thick smoothie that isn't watery or too thin. This mango orange smoothie lives up to it's name AND color, proving to be a sunny refreshment for a hot summer day!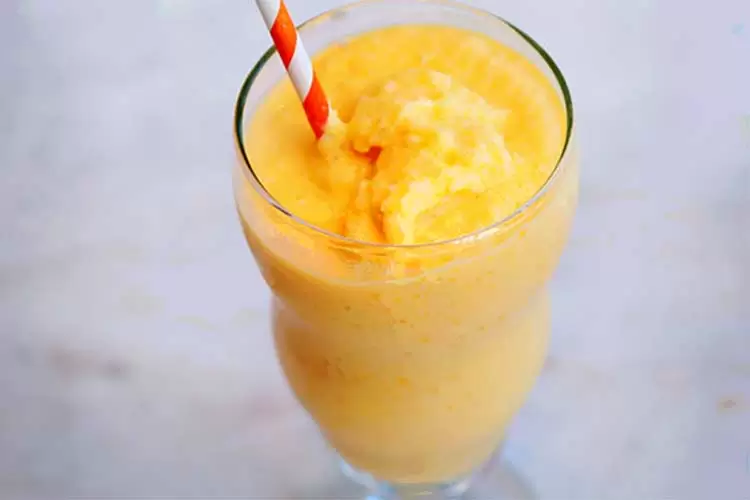 Shoo the sneezes away with this easy and crisp cold-busting smoothie that's perfect for when you feel congestion coming on, or when your friends seem to be ready to spread their colds to you! We love the yummy peaches and pineapples in this mix!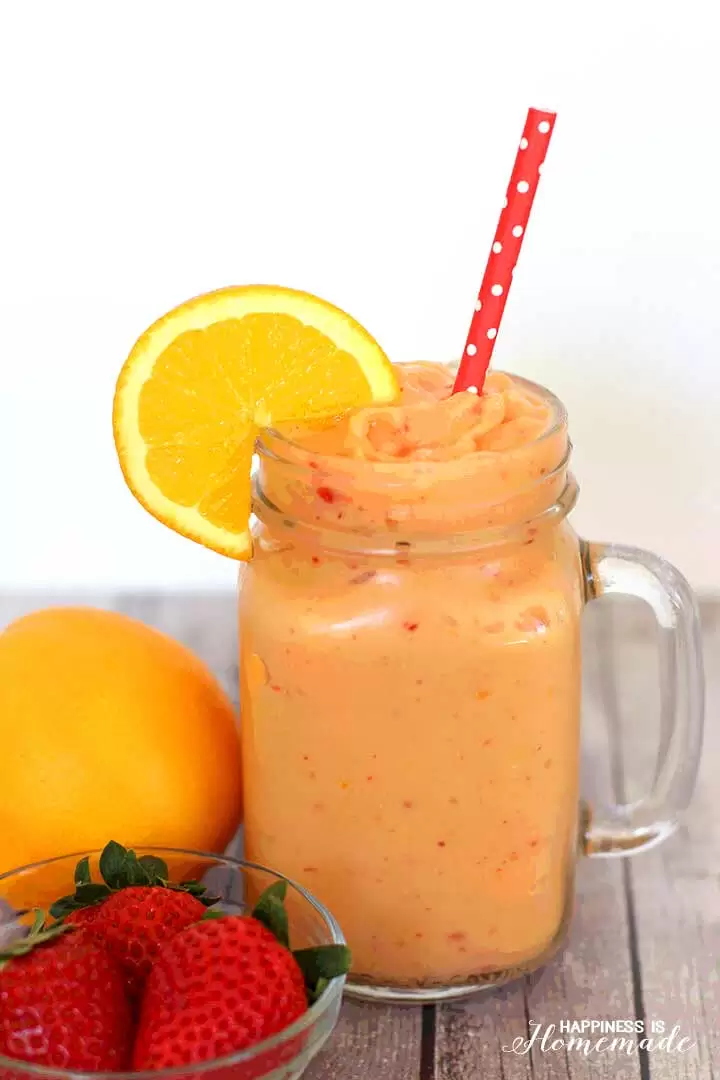 You may have had almond milk before, but how about rice milk? If you're totally into trying something new, this smoothie also uses a unique source of protein–white beans.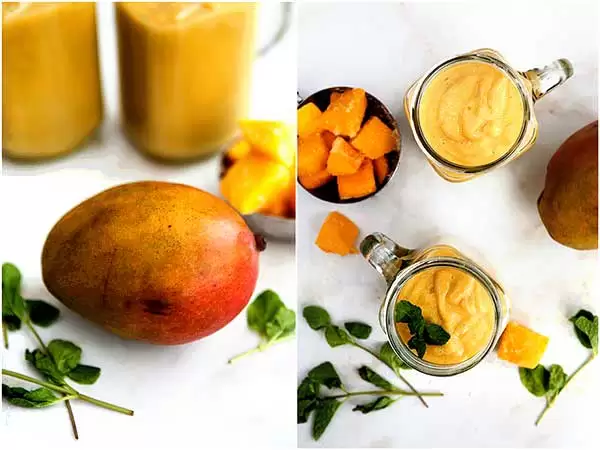 Whip up this detoxing smoothie after a weekend indulging on unhealthy foods. You'll be impressed by the taste and will be hard pressed to discover where the beets are since they're masked wonderfully by more of those creamy avocados.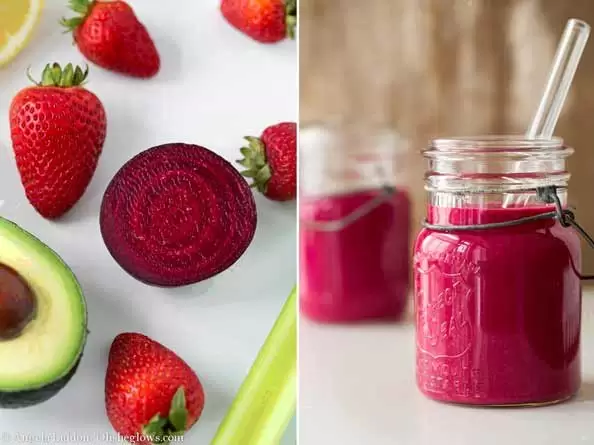 Think refreshing tangy and lightly sweet! We love the subtle scents and flavors of this green smoothie, which is perfect for getting in your greens on the go! It's super effective with all of it's ingredients, especially anti-inflammatory turmeric, detoxifying cilantro, and avocados for good fat and creamy texture.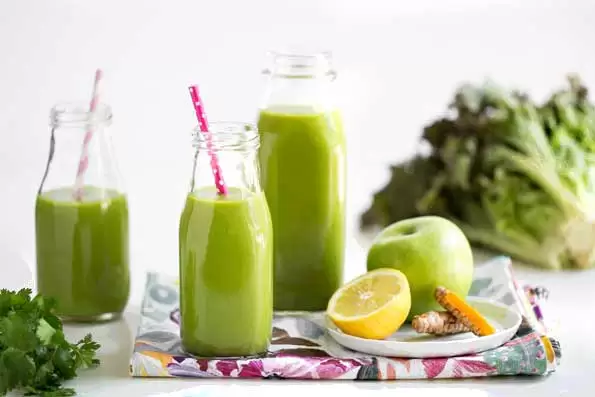 Wake up and be ready to berry! With antioxidant filled blueberries and freshly grated ginger, this smoothie will give your tummy a fabulous jump start on the day! Need to make sure you get your daily serving of greens? Add spinach or chia seeds for more healthful benefits.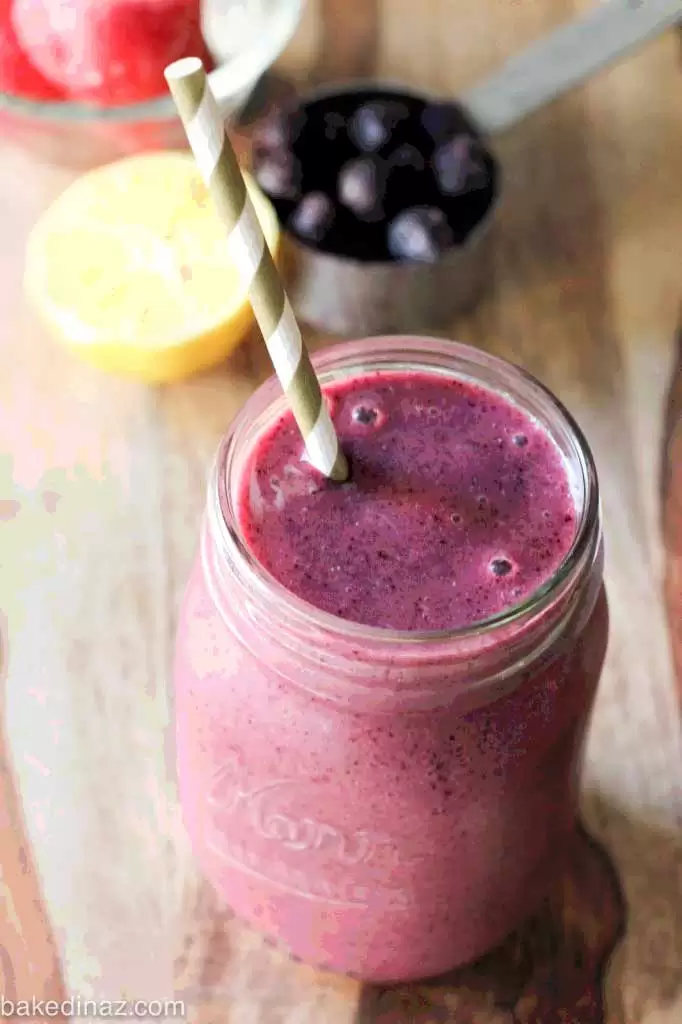 Tired of coffee crash and being addicted to caffeine? Break the cycle and try this healthy, creamy coffee smoothie! It uses cold coffee, but instead of running out the door with no breakfast, it has the added benefits of protein powder and almond milk to keep you satisfied all morning long especially if your morning includes a workout.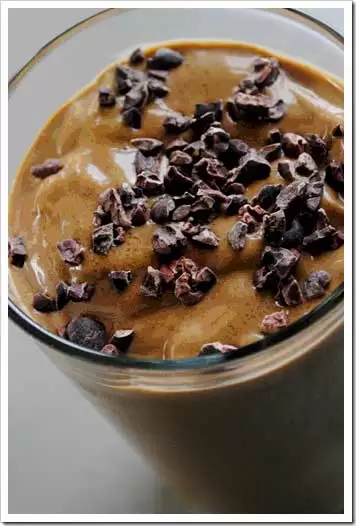 We love that this smoothie has a healthy dose of veggies, but with the added yum factor of raw cacao powder for that chocolate taste! It's the best of both worlds — a green smoothie and chocolate (plus avocados for your daily serving of a healthy fat)!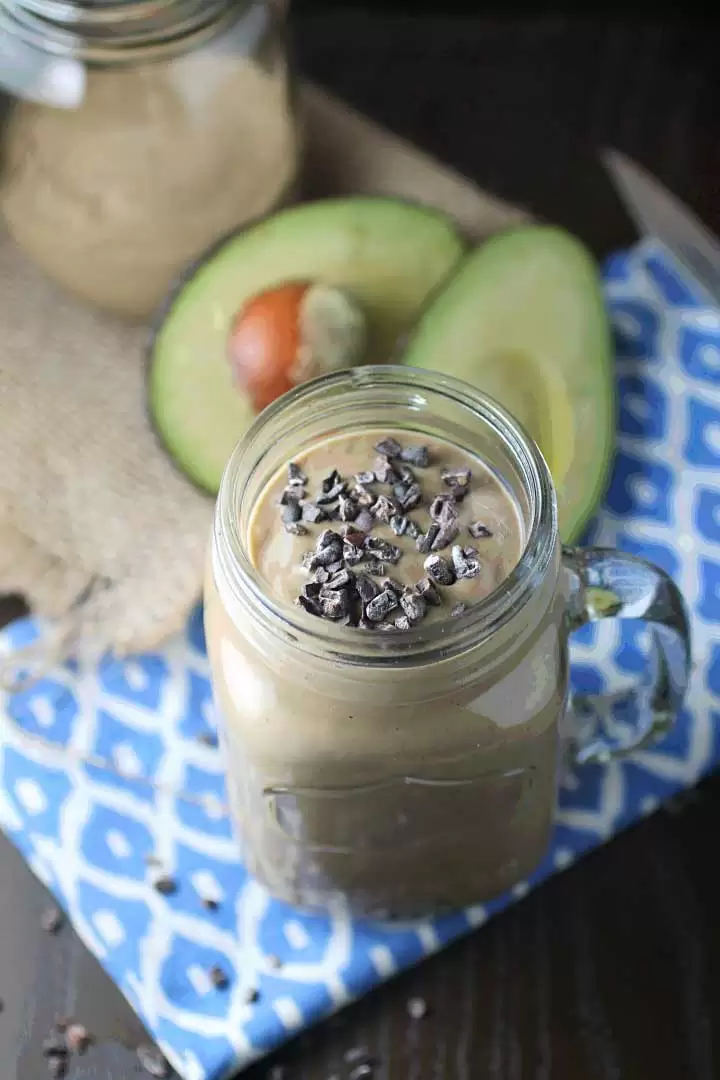 If you need something to hold you over until lunch, try this tropikale smoothie. It's plant-based protein and the mangoes, pineapples, and ginger will boost your immune system an detoxify your body.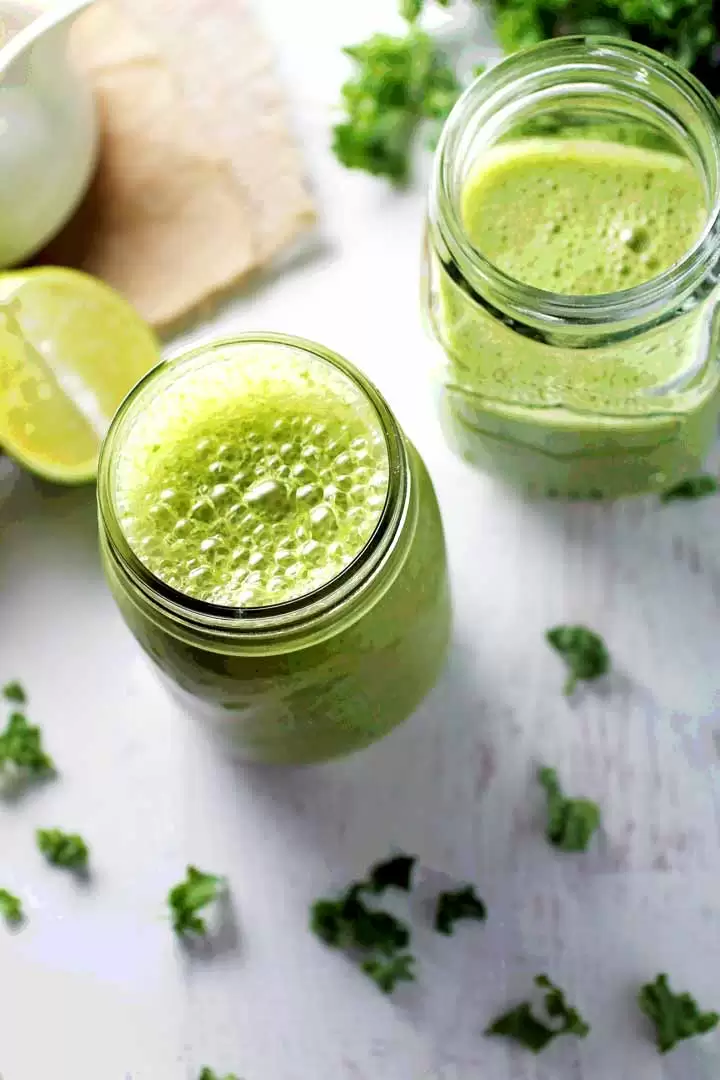 Instead of drinking sugary sports drinks like gatorade, coconut water, which is the main ingredient in this smoothie, and serves as a natural recovery drink due to its high electrolyte content! Better than your average green smoothie, this one not only has kale, but also some kiwis to sweeten the deal!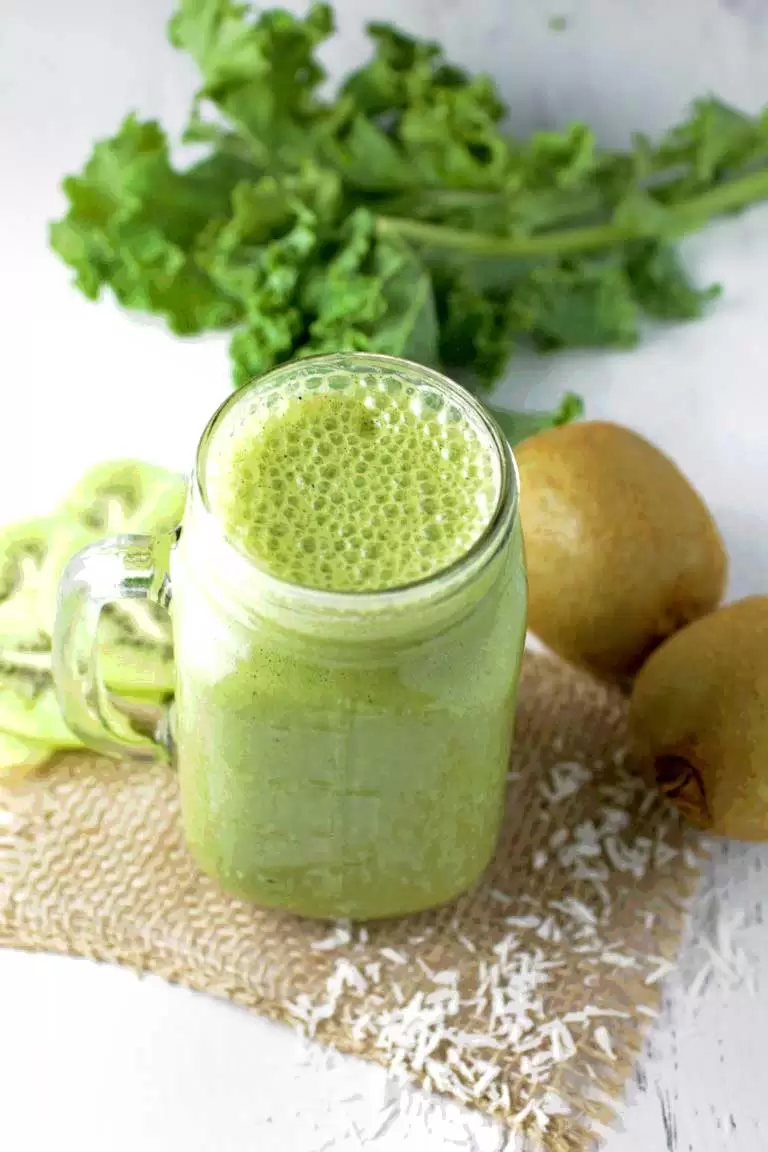 Throw in some protein powder and this smoothie is the perfect wake up call for a healthy day! Lemon acts as an awesome detoxifier for your tummy, and adds a nice citrusy flavor as well.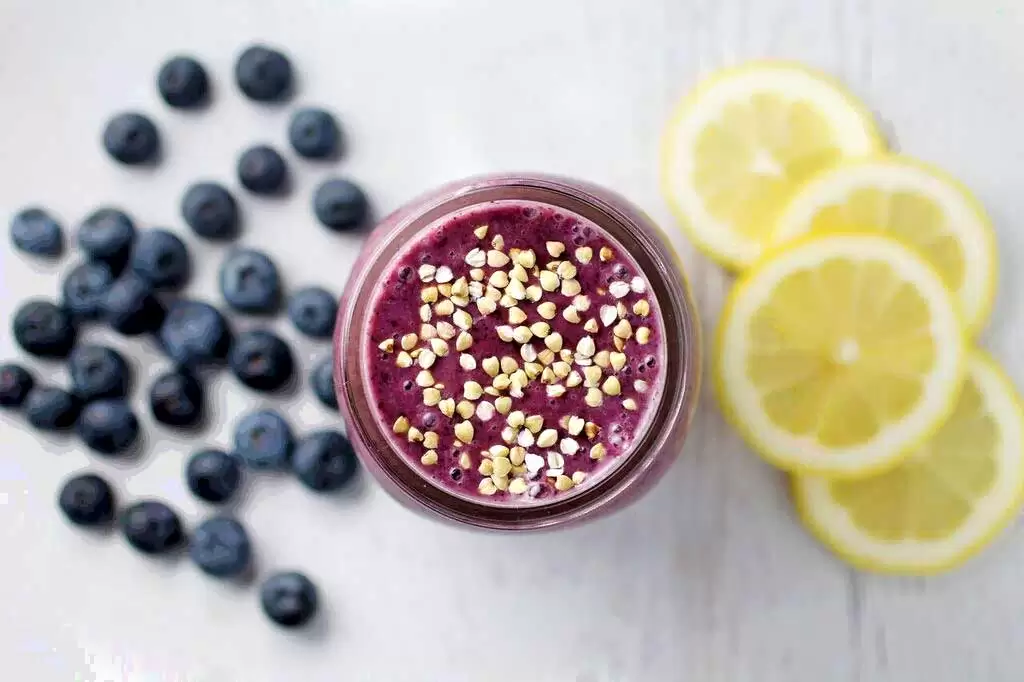 Feeling bloated? Regretting the third pizza slice? Looks like it's time for the green detox smoothie which has our favorite detoxifying root: turmeric. The green color comes from handfuls of spinach which can be a great way to reset your body and get in a healthy dose of calcium and folate.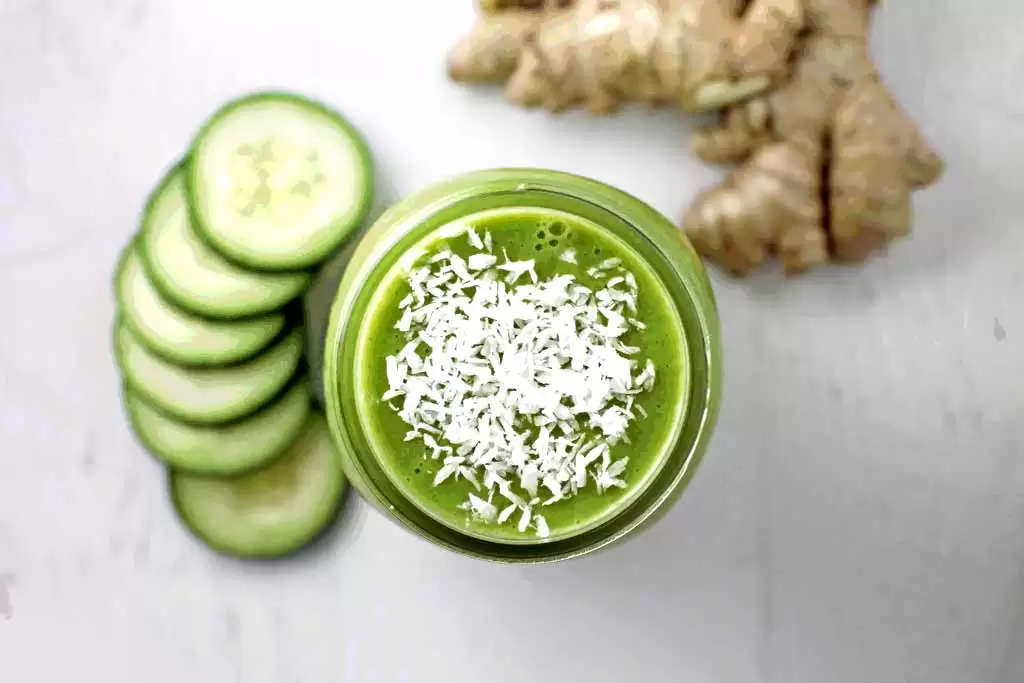 This smoothie bowl is this blogger's favorite smoothie without bananas, or rather, bowl, and we think it's the tops too! Whether it's the berries, or the hemp seeds, these ingredients are a great way to start your morning full of energy. Unlike a traditional smoothie, the bowl might even help you break your sugary cereal addiction.
One of the fun things about this smoothie, is that you can throw in a handful of greens to supplement the apple, pear and avocados in this recipe so you can get your liquid salad in easier. It's one of the reasons why we love smoothies so much. Like this recipe, smoothies are easy to make, delicious and healthy.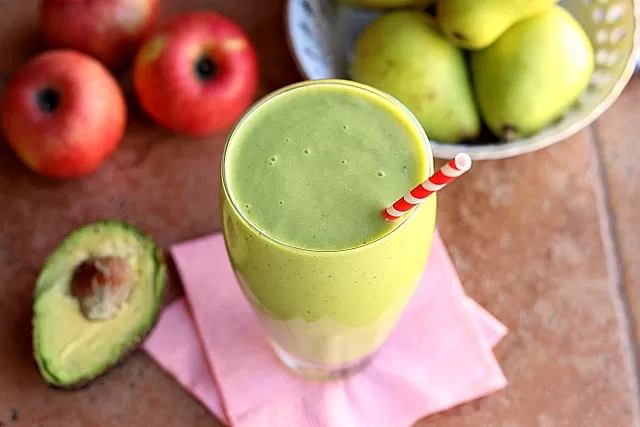 For a smoothie that screams summer, try this refreshing banana-free smoothie, which uses coconut water as it's base! Chia seeds enhance the flavor and provide extra protein too! Blend them up on fourth of July for a red, white, and blue health food!