MY NUTTY VALENTINE SMOOTHIE RECIPE
This valentine's day smoothie recipe is a beautiful rich color somewhat reminiscent of natural red velvet cake.
It is perfectly balanced between sweet and tart and is bursting with an intriguing list of mouth watering and aphrodisiac ingredients you're sure to enjoy.
The slight tartness from the raspberries and cacao blend well with the luscious creaminess and nutty flavor from the pistachios (or cashews!) and coconut milk.
The variety of ingredients provides an interesting depth of flavor that you and your honey will agree reminds you of one of those fancy raspberry chocolates – without the guilt!
Of course, it's topped with pomegranate seeds, which are known as a powerful aphrodisiac.
We wouldn't be surprised if you (or the love you make it for!) groans at first sip of this special Valentine's Day smoothie. You might want to blindfold them first!
Use a high speed power blender to really pulverize those raspberry seeds!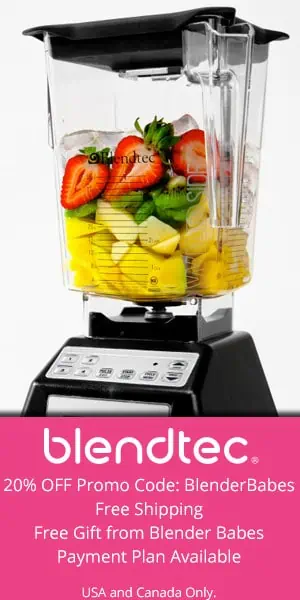 Be sure to join our blending-loving tribe for more healthy smoothie recipes from Blender Babes! Share your rating with us below if you try this Valentine's Day smoothie recipe!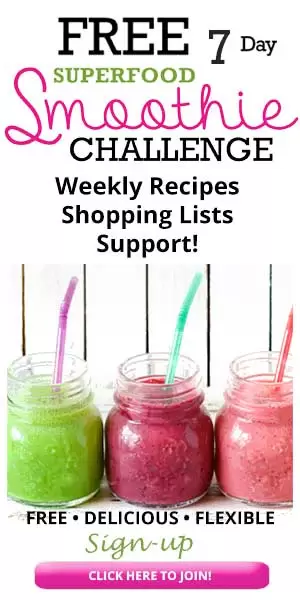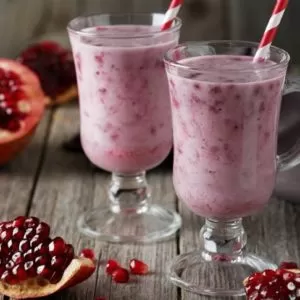 My Nutty Valentine's Day Smoothie Recipe
Ingredients
6

ounces

unsweetened coconut milk

1

tablespoon

pomegranate seeds **

1

teaspoon

chia seeds

1

tablespoon

raw cacao

½

cup

fresh raspberries

⅛

cup

pistachios

shelled or cashews, unsalted

2

scoops strawberry sorbet or "nice" cream*

1

tablespoon

sugar substitute

,optional-- if the sorbet or nice cream is sweet, you may not need this

1

tablespoon

vanilla protein or collagen

, optional boost

1/2

cup

ice
Instructions
Place milk, chia seeds, raspberries, nuts and 1/2 cup of ice into your blender and blend on high to pulverize the berry seeds.

For

Blendtec

: Use the SOUP button or blend on Manual Speed HIGH for 1.5 minute

For

Vitamix

: Start on Variable Speed 1, slowly increase Variable Speed 10/High and blend about 1 minute, or until smooth.

Add the remaining ingredients and blend on medium speed until smooth but still thick, about 20-30 seconds.

Enjoy!

All done! Enjoy!! Now take a photo, rate it, and share your accomplishments! 🙂 Tag @BlenderBabes & #BlenderBabes
Notes
* If you find it hard to find strawberry sorbet you can substitute with 1 scoop vanilla gelato or ice cream + 1/2 cup frozen strawberries
** Try topping this with whipped cream as well
Nutrition
Serving:
1
g
Calories:
259
kcal
Carbohydrates:
35.5
g
Protein:
12.9
g
Fat:
10.7
g
Saturated Fat:
1.4
g
Polyunsaturated Fat:
0.1
g
Sodium:
177.4
mg
Fiber:
6.7
g
Sugar:
4.7
g
COCONUT MILK HEALTH BENEFITS
The coconut fruit's meat juice, milk and oil have traditionally been used in island populations around the world in everything from cooking to disease prevention. Here are three health benefits of the unique fatty acids found in coconut milk:
Weight Loss
New research has revealed that not eating enough fat can actually make you fat. It is believed that people who include more healthy fats in their diet, such as the medium-chain triglycerides found in coconut milk, eat less than those who don't get enough fat. While all fats help the body feel full and satiate and control appetite, the fat in coconut milk may increase metabolism and perhaps increase weight loss on a reduced-calorie diet.
Immune System Health
Coconut milk contains lauric acid, antimicrobial lipids and capric acid, which have antibacterial, antifungal and antiviral properties. The body converts lauric acid into monolaurin, which may fight the viruses and bacteria that cause influenza, herpes, and even HIV!
Healthy Skin and Hair
Coconut milk is highly nutritious when ingested, and these nutrients may help fortify and condition skin and hair as well. The fatty acids in coconut milk are a natural antiseptic and may help treat dandruff, skin infections, wounds and dry, itchy skin. Furthermore, the high fatty acid content in coconut milk serves as a natural moisturizer for healthy skin and may help repair wrinkles and sagging in aging skin.