Get FREE eBooks/Downloads for Your Health! Click Here
KIWI GINGER WEIGHT LOSS GREEN MACHINE SMOOTHIE RECIPE
This full-flavored weight loss green smoothie recipe has a lovely bright green color that will make you feel healthier just looking at it!
It is also full of fiber from the kiwi, pear, pineapple and celery, which will help your body naturally eliminate harder-to-digest foods.
We drink all 3 cups as a meal replacement smoothie, however 1 serving of this green smoothie would also be a great addition to a high protein breakfast.
With 224% of RDA for Vitamin C, this weight loss smoothie will also help to boost your immune system.
We are always looking for high potassium recipes, and this recipe doesn't disappoint with 528 mg per serving.
Quickly whip this up in a high powered blender, such as a Blendtec or Vitamix.
Otherwise use these tips if making this weight loss green smoothie in a regular blender.
Be sure to join our community for more green smoothie recipes and tips from Blender Babes! If you try this smoothie let us know by rating it in the comments. HAPPY BLENDING! 🙂
WATCH A QUICK VIDEO OF THIS KIWI GINGER WEIGHT LOSS GREEN SMOOTHIE RECIPE:
And subscribe to my YouTube Channel for more blender videos!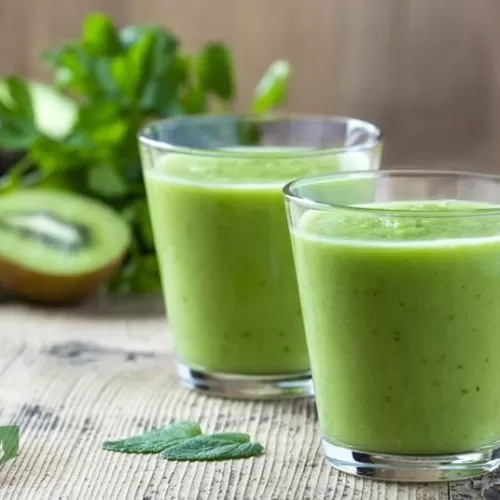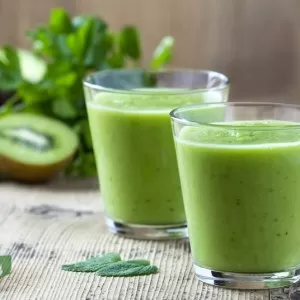 Kiwi Ginger Weight Loss Green Smoothie Recipe
Ingredients
1

cup

water

3

kiwis

peeled and cut OR 1.5 cups strawberries + 1 tablespoon lime juice

1

pear

1

celery stalk

1

teaspoon

ginger root

1 1/2

cups

spinach

1

cup

pineapple

2

drops liquid stevia

optional

1

cup

ice
Nutrition
Serving:
1
g
Calories:
149.7
kcal
Carbohydrates:
37.5
g
Protein:
3
g
Fat:
0.1
g
Sodium:
38.4
mg
Fiber:
7.3
g
Sugar:
23.1
g
KIWI HEALTH BENEFITS
The kiwi fruit, native to northern China, was first known as the Chinese Gooseberry.
When the time came to export the fruit, the name was changed to kiwifruit to avoid the high duties charged on berries.
Kiwifruit was later shortened to kiwi because of the fruit's shared characteristics with New Zealand's national symbol, the kiwi bird, also small, brown and fuzzy.
Health benefits of kiwi include: it promotes beautiful skin from its high quantities of Vitamin C that work in our bodies as an antioxidant to help prevent damage caused by the sun, pollution and smoke.
The potassium in kiwis support hearth health as high potassium intakes are associated with reduced risk of stroke.
Regular consumption of high-fiber kiwi is proven to promote bulkier, softer and more frequent stool production.
Anyone suffering from constipation can definitely benefit form adding fruits such as kiwi to their diet!