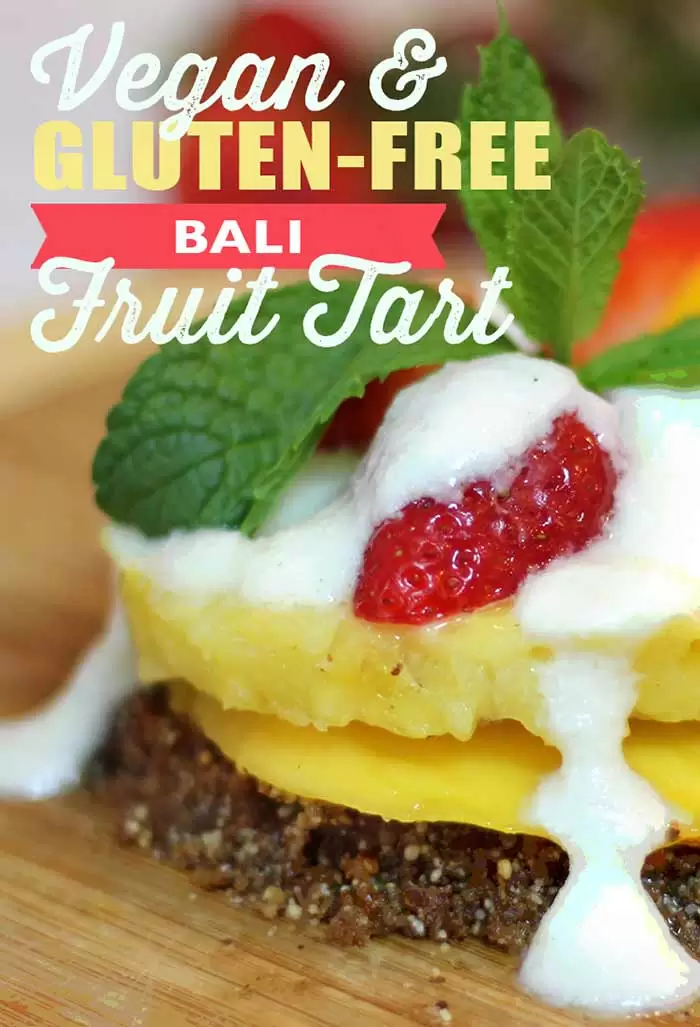 VEGAN AND GLUTEN-FREE FRUIT TART RECIPE BY ALLY RAMSER

I learned how to make this vegan and gluten-free fruit tart in Bali, Indonesia.
There is no need to measure anything in this recipe, just mix, taste, and move on to the next step.
I included measurements, but it will be much more delicious if you adjust the ingredients as necessary!
You can also make this a completely RAW recipe by using raw ingredients.
You'll most likely have plenty of ingredients left over, especially if you're starting from a whole pineapple!
If you'd like, you can throw leftover ingredients in your Blendtec or Vitamix with some ice and turn it into a delicious breakfast smoothie or snack to enjoy with your fruit tart. 
A high powered blender makes both the crust and sauce for this delicious vegan fruit tart recipe.
Be sure to join our community for more healthy dessert recipes and if you try this, please let everyone know by rating it in the comments! 🙂
HEALTH BENEFITS OF ALMONDS
What's a high-fat food that's good for your health?
That's not an oxymoron, its almonds!!
Almonds are high in monounsaturated fats, the same type of health-promoting fats that are found in olive oil, which have been associated with reduced risk of heart disease and help you lose weight.
Almonds are a fantastic source of Vitamin D.
If you don't live in a sunny climate and go outdoors often, adding almonds to your diet is a great way to help your body get the Vitamin D it needs.
Some other health benefits include lowering 'bad' cholesterol, protecting artery walls from damage, and helping to build strong bones and teeth.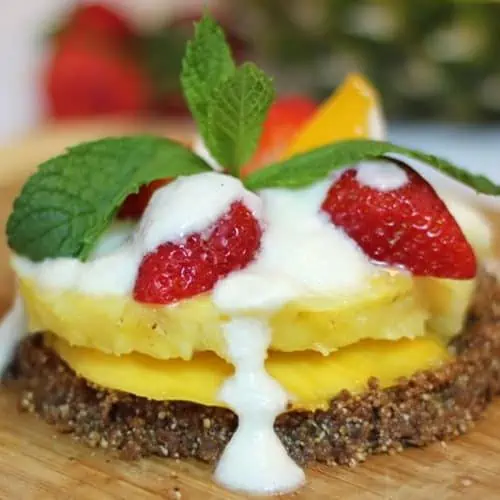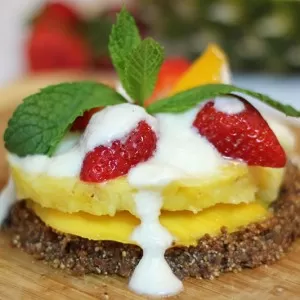 Vegan & Gluten-Free Fruit Tart
Ingredients
Crust:
1

⁄4 cup organic almonds

6

medium organic pitted dates
Fruit Layer:
1

small organic pineapple

you will only use part of the pineapple

1

small organic mango

you will only use part of the mango

3

large organic strawberries
Coconut Mint Sauce:
3/4

cup

organic coconut water

ideally raw

1

cup

organic unsweetened coconut flakes soaked in 1/4 cup warm water OR fresh coconut meat

1/2

medium organic lime

juice only

1

Tbsp

pure organic maple syrup

4

medium mint leaves
Instructions
Crust Layer

Chop almonds and pitted dates in a food processor* or high power blender until well combined and mixture sticks together relatively easily.

For Blendtec: (Works best in the

Twister Jar

). Using the Twister Jar, blend on Speed MEDIUM, turning the lid counterclockwise as it blends. Using Fourside Jar, press the PULSE key 10-12 times, stopping to scrape the ingredients down into the blade

For Vitamix: Blend on LOW Variable Speed for 1 minute.

Transfer mixture to your serving plate (I use a bamboo cutting board as mine!) Using your fingers, press the mixture onto the plate into a circle to form the crust. Use the bottom of a measuring cup to help make the mixture compact well. Alternatively, you could also use a mini-pie mold or a ramekin and press the mixture into the bottom to form the crust.



Fruit Layer

Twist the top part off of the pineapple. Using a large knife, cut the pineapple in half lengthwise. Cut one of the halves widthwise forming two slices, each one approximately 1/2 an inch thick. Cut off the rinds and tough centers from these two slices. Save the rest of the pineapple for a snack, another recipe, or a smoothie!

Cut the tops off all the strawberries, and slice them in half.

Cut the skin off the mango, and cut into 4 small slices (about 2-3 inches in length).

Add a layer of the coconut mint sauce on top of the crust. (Recipe Tester Suggestion)

Arrange the mango layer, then the pineapple layer, and then the strawberries on top of the crust.



Coconut Mint Sauce

In your Blendtec or Vitamix, blend the coconut water, coconut, mint leaves, maple syrup, and lime juice on a high speed until blended (about 90 seconds). Be patient, you will need to pause and continuously scrape down the sides of your jar. You want the texture to be similar to that of chocolate syrup, but it will have more coconut pulp in it. You may need to add more/less coconut water and coconut to achieve this consistency. Once you get the desired consistency, you can add more maple syrup, mint, or lime as desired for taste.

Drizzle some of the sauce over top of the tart. Save the extra for smoothies or other desserts!

All done! Enjoy!! Now take a photo, rate it, and share your accomplishments to enter our

weekly photo contest

! 🙂 Tag @BlenderBabes & #BlenderBabes
Notes
*A traditional food processor works better to create the crust than a high power blender. You CAN use your blender, it will just take a little more time and you will need to scrape the ingredients down the sides of the blender. Doubling the crust recipe helps!
Nutrition
Calories:
327
kcal
Carbohydrates:
63.3
g
Protein:
14.4
g
Fat:
9.7
g
Saturated Fat:
0.7
g
Polyunsaturated Fat:
2.3
g
Trans Fat:
5.6
g
Sodium:
13.1
mg
Fiber:
8.2
g
Sugar:
37.8
g
BLENDER BABES RECIPE TESTER NOTES
"Mint, lime and coconut reminded me of a coconut mojito, over the top of some fruit.
I'm crazy about fresh ripe fruit, so it was great." and "Also put the coconut sauce on the crust and THEN the fruit, it holds together better that way." and " My family and I all loved it- especially the sauce.
The crust is nutty and sweet, which balances nicely with the fruit topping.
The only negative is that the tart falls apart easily, so it's a little difficult to eat." and "I think I would double the crust recipe in the future because the size was small."