HEALTHY CARROT & APPLE SOUP RECIPE
This sweet and easy carrot apple soup recipe is perfect for any time of the year, it's warming and comforting and everything we love in a soup.
This soup will make your kitchen smell AMAZING and it's vegan and vegetarian-friendly! Everyone you share it with will guarantee to love it! If you're looking for low-calorie soups, this easy carrot soup recipe only uses minimal healthy ingredients and makes four hearty servings.
The way it is prepared really brings out the flavors without the need for much oil or seasonings. You'll love that this is a thick and creamy soup that's also dairy-free. With this soup recipe, you'll find yourself enjoying the sweet taste of the vegetables blended nicely with a slightly spicy kick from the red pepper flakes!
Blending up a soup is a great way to get a few servings of vegetables and fruit requiring minimal ingredients. The end product will leave you feeling healthy and satisfied!
Use a high-speed blender, like a Blendtec or Vitamix for the best consistency, and join our community for more healthy blender recipes! Did you try this easy carrot soup recipe? Tell us what you think by rating recipe in the comments below!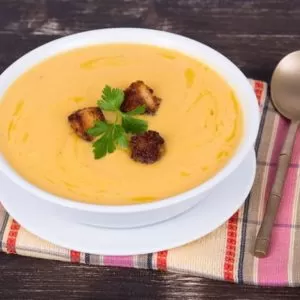 Carrot & Apple Soup
Ingredients
1

large russet baking potato

5

medium carrots

1

small - medium gala apple

1/4

of a medium sweet onion

1 1/2

Tbsp

olive oil

1/4

tsp

crushed red pepper

1

Tbsp

fresh thyme leaves

Salt & pepper to taste

2

cups

filtered water

Paprika & thyme sprigs for garnish

optional
Instructions
Slice all veggies and apple into equal size pieces.

Heat oil in medium sauce pan over medium-high heat, add onion, potato, carrots and apple. Add in crushed red pepper and salt/pepper to taste.

Cook, stirring occasionally until everything is slightly tender, yet still has a bite to it. Once you've reached this point, add in 1/2 the thyme and let cook for another minute or so.

Add the water, cover and allow to boil over med-high heat until everything is very soft. It's important to cook until very soft versus fork tender to ensure a smooth consistency.

Turn off the heat and allow to cool slightly in pan. Place everything in blender jar and secure the lid. Blend until smooth.

For

Blendtec

, press the SMOOTHIE button.

For

Vitamix

, Select VARIABLE Speed 1, turn the machine on and slowly increase to Speed 10/HIGH and blend for 60 seconds.

Stir in the rest of the thyme and add more salt/pepper if needed.

Pour into 4 individual bowls and garnish with paprika and thyme sprigs.

All done! Enjoy!! Now take a photo, rate it, and share your accomplishments! 🙂 Tag @BlenderBabes & #BlenderBabes
Nutrition
Serving:
1
g
Calories:
170
kcal
Carbohydrates:
29.3
g
Protein:
2.8
g
Fat:
5.4
g
Saturated Fat:
0.8
g
Polyunsaturated Fat:
0.7
g
Trans Fat:
3.7
g
Sodium:
109.1
mg
Fiber:
6
g
Sugar:
9.3
g

BLENDER BABES RECIPE TESTER NOTES 
A great variation to this recipe is if you have already cooked the veggies in a slow cooker, and plan on serving them cooked. Make a large batch and use part to make this soup.

HEALTH BENEFITS AND FUN FACTS OF CARROTS
The carrot is a crunchy, mildly sweet vegetable that belongs to the same family as cumin, dill, fennel, and parsnips.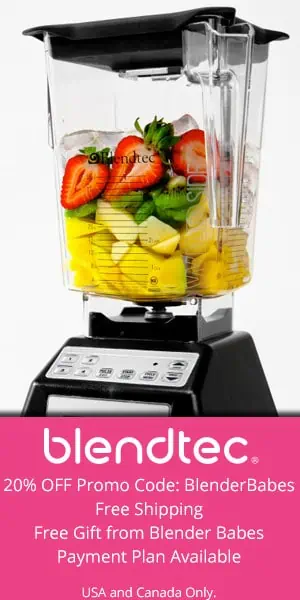 Carrots were originally lavender to deep purple and were cultivated in the Middle East and central Asia thousands of years ago! Around the seventeenth century, the orange carrot we now know today was cultivated in Europe by agriculturists who wanted a carrot that had a better texture than the purple variety.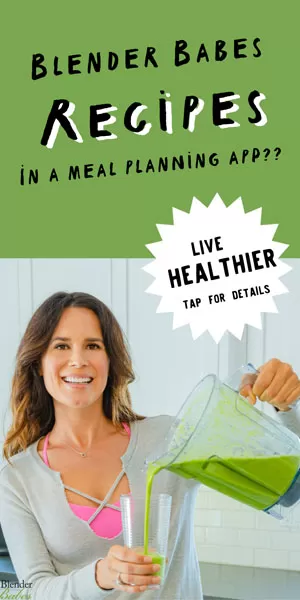 You can't say enough about the health benefits of carrots. Carrots contain an abundant amount of vitamins and minerals and are a tasty way to add extra nutrition to the diet.
A study on cancer prevention showed that the beta-carotene in carrots helps reduce cancer. While it lowered the rate of lung cancer and breast cancer, it's most impressive results came from the reduction of the risk of colon cancer by an impressive 24 percent.
Regular consumption of carrots could also improve your heart and reduce the risk of a coronary event.
It's not just a wives tale that carrots are good for the vision. Not only is a combination of carrots and olive oil simmered slowly helpful for dry eyes and night blindness, but adding carrots to the diet also reduces the risk of age-related muscular degeneration by as much as 40 percent.