VEGAN MINI CHOCOLATE CUPCAKES WITH PUMPKIN SPICE FROSTING RECIPE

These mini chocolate cupcakes with pumpkin spice frosting are the perfect Halloween treat!
You and your kids will love this vegan gluten-free cupcake recipe. The pumpkin spice frosting is a delicious topper for these chocolatey cupcakes.
This Halloween trick your kids into eating a healthy treat with this yummy chocolate cupcake recipe! Use a high-speed blender, like a Blendtec or Vitamix to quickly help you make your own brown rice flour, as well as help, make both the cupcakes and the frosting!
Did you try this recipe? Please rate it in the comments! For more nutritious baked treats and recipes from Blender, Babes join our community! If you try this one, share your rating with us in the comments section below! 🙂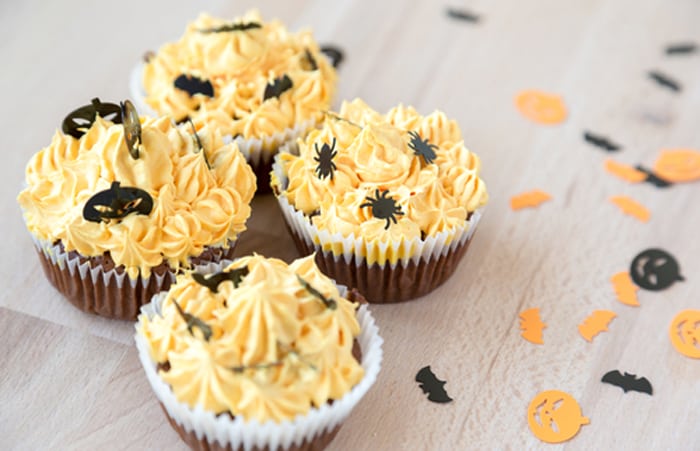 HEALTH BENEFITS & FUN FACTS
Chia seeds are championed as a superfood and provide an abundance of healthy omega-3 fatty acids (even more than flax seeds.) Chia seeds are loaded with antioxidants.
Many health experts believe that chia seeds can help with weigh loss due to the high fiber and protein content. Check out Blender Babes' article here to learn more! ~~>> "Top 5 Ways Chia Seeds Benefits YOU"