BLUEBERRY CREAM CHEESE FROSTING RECIPE
Blueberry cream cheese frosting is a perfect match for our Lemon Poppy Seed Muffins but goes well paired with fresh fruit for dipping or other baked goods.
If you don't have powdered sugar at home, don't worry – you can make powdered sugar in your power blender (such as a Vitamix or Blendtec) as well!
We've included the baking instructions for dehydrated blueberries, do not use fresh. This recipe was a huge hit with our testers and their families!
Be sure to join our community for more delicious dessert recipes! Please share your rating with us in the comments section below if you try this recipe.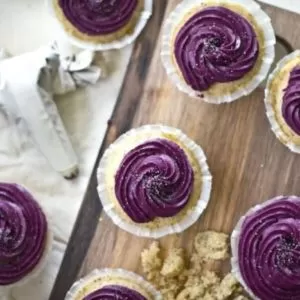 Blueberry Cream Cheese Frosting
Ingredients
9

ounces

dehydrated blueberries

do not use fresh

1

cup

powdered sugar

1/2

cup

cold cream cheese

1/2

cup

cold unsweetened butter
Instructions
Place the blueberries and the powdered sugar in a Vitamix or Blendtec jar. If you have access to a Vitamix grains container, that will help keep the powdered sugar from clumping. If using a Blendtec, you can use a Twister jar for the whole operation. If using the standard Blendtec jars, you will need to stop the machine and scrape ingredients towards the blade.

Blend the dried blueberries and the powdered sugar together for 30 seconds on Variable Speed 10 (Vitamix) or Speed 7/Medium-High (Blendtec), until it looks like violet powdered sugar. Remove the sugar mixture from the blender container and set aside.

Cut up the butter and the cream cheese into one inch cubes, and place into either a 3-inch Wet Vitamix container or a Blendtec Twister jar.

If using a Vitamix, start the speed on Variable 1, and slowly increase to 10/High. Blend for a total of one minute. Be prepared to use the tamper to push the material into the blades, and also be prepared to scrape with a spatula. Hint - There will be less scraping if you double the recipe.

If using a Blendtec, bring the speed up to 7 or 8, rotating the Twister jar top to push the material into the blades below. Process for one minute. The cream cheese and the butter should be barely creamed together. If there are still a few small bits that aren't mixed in yet, don't worry.

Add the sugar mixture, and process for 30 seconds more on Variable Speed 10 (Vitamix) or Speed 7 (Blendtec), again using the tamper or rotating the Twister top.

DO NOT OVERBLEND! Blending for significantly longer periods of time will not make this fluffier, but it will melt the butter, so it's more of a glaze.

The finished frosting is very spreadable, although (depending on heat/humidity), you might want to refrigerate it a bit if piping it onto your muffins.

All done! Enjoy!! Now take a photo, rate it, and share your accomplishments! 🙂 Tag @BlenderBabes & #BlenderBabes
Notes
You may need to add more powdered sugar to thicken to an icing consistency.
Nutrition info calculated using unsalted butter.
Nutrition
Serving:
1
g
Calories:
171.1
kcal
Carbohydrates:
18.3
g
Protein:
0.9
g
Fat:
11
g
Saturated Fat:
6.6
g
Polyunsaturated Fat:
3.4
g
Cholesterol:
31.2
mg
Sodium:
31
mg
Fiber:
0.5
g
Sugar:
17.1
g

HEALTH BENEFITS & FUN FACTS
The cream cheese and butter in this won't do much for anything except your mental health, but you can never get enough blueberries when it comes to vitamin K, vitamin C, manganese, and fiber.
Blueberries also have 15 different antioxidant and anti-inflammatory compounds that are even retained through freezing!
Virtually every system in the body benefits from more blueberries in the diet. They have even been proven to prevent sore muscles and regulate blood sugar.