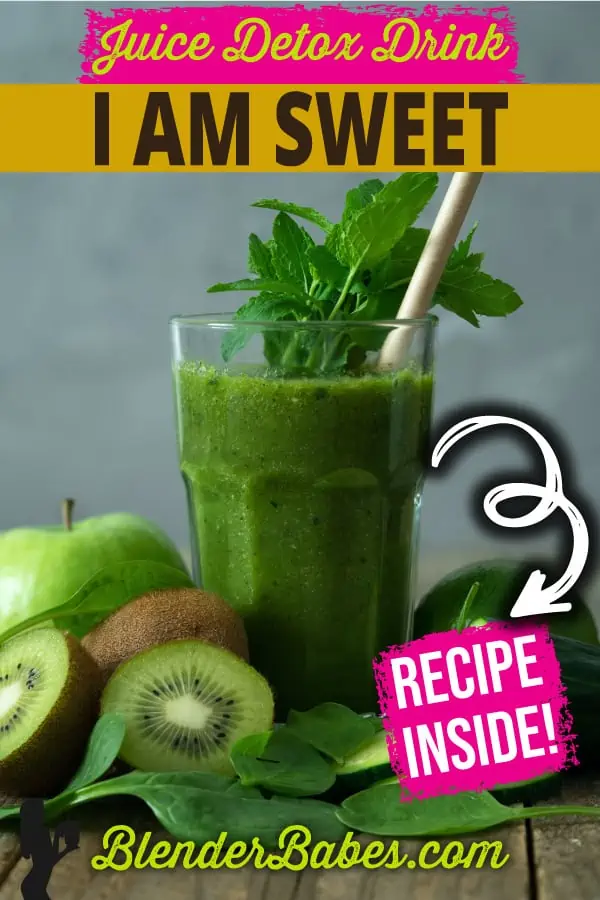 JUICE DETOX DRINK 3 ~ I AM SWEET

I AM SWEET is juice detox drink 3 or Lunch drink recipe in our FREE JUICE DETOX. This is a lightly flavored green juice recipe that even the little ones will enjoy. If kiwi is not in season or hard to come by, just substitute for one small green apple (about 1/2 cup) plus the juice of half a lemon. You can use 2 cups of spinach or kale OR you can use 1 cup spinach and 1 cup kale.

This anti-inflammatory whole green juice recipe is easily made with your Blendtec or Vitamix high powered blender – but we have tested this in a regular blender as well. 🙂

Learn more about WHY and HOW our FREE Juice Detox is different from other ones!
KIWI HEALTH BENEFITS
Kiwi fruits are rich in many Vitamins, flavonoids and minerals. In particular, they contain a high amount of Vitamin C (more than oranges), as much potassium as bananas and a good amount of beta-carotene.
CUCUMBER HEALTH BENEFITS
Cucumbers have amazing anti-inflammatory qualities that can reduce swelling, as well as soothe and soften skin tissue. They are also an excellent source of silica, a trace mineral that strengthens the skin's connective tissue.
Cucumbers will alkalize, cleanse the skin, and release toxins from the body, all while providing the body with hydration, as cucumbers are mostly water! Silica in cucumbers will keep your hair and nails strong, refresh and heal the gums and mouth, and lower uric acid levels in the body, which will keep your kidneys in shape.
Cucumbers are also packed with vitamins A, B, and C, which will make you feel radiant and energetic while protecting your immune system. Magnesium, potassium, and silicone all combine to heal and refresh the skin, your largest organ, as well as your body!
BANANA HEALTH BENEFITS
Bananas give us an instant surge of energy, while keeping blood pressure under control. Bananas are rich in potassium, calcium, and magnesium, as well as soluble fibers, which help to lower cholesterol.
Bananas are also rich in fructooligosaccharide, a probiotic that helps your body absorb nutrients and assisting with digestion. Bananas will relieve diarrhea, as they regulate fluid balance, alleviate constipation, and improve bowel function.
Bananas also have high levels of iron, amino acids, and antacids, all of which help your body prevent allergies, alleviate heartburn, recover from hangovers, and help you to lose or gain weight, depending on how you combine your foods. They are very easy to digest and will promote healthy skin, scalp, and hair.
PINEAPPLE HEALTH BENEFITS
Pineapple contains an enzyme called bromelain that aids in digestion and cleans the blood while also helping in the breakdown of protein. Pineapple is also anti-inflammatory, so this juice is particularly great for those with arthritis or joint pain. Pineapple also contains manganese, which serves toregulate blood glucose and boost your immune system alongside the plentiful amounts of Vitamin C.
KALE HEALTH BENEFITS
Plant-based nutrition expert Dr. Joel Fuhrman lists kale as the most nutritious food in existence, and recommends regular consumption of kale, especially in juice form, to achieve optimal nutrition.
Kale is an excellent source of vitamins A and C and manganese. It is also a very good source of dietary fiber, copper, calcium, vitamin B6, and potassium. Kale is known as a superfood because it contains ALL nine amino acids required to make protein in the body, alongside nine non-essential aminos.
It also has more omega-3 than omega-6, a rarity in nature that is optimal to supplement the average modern diet that is deficient in omega-3s as well as other micronutrients that kale provides.
---
Some people have argued that raw spinach is not healthy, since there's a compound in spinach called oxalic acid, which blocks the absorption of calcium and iron and can be easily cooked out of spinach.
An easy way to solve this problem is to pair spinach with a food high in vitamin C, like pineapple.
This juice detox drink is specially combined to ensure maximum vitamin absorption for your health, so there's no need to worry about raw spinach!  Spinach is packed with Vitamin K, which protects bone health and prevents osteoporosis. Spinach also improves digestion and the health of your skin.
PLEASE NOTE: Spinach grows unprotected by a rind or peel, so it is particularly vulnerable to pesticides and other agricultural chemicals, landing it on the 'Dirty Dozen' list. If you can find and afford organic spinach, it is highly recommended!
Be sure to join our community for more great whole food blended juice recipes!
If you try this one, share your rating below!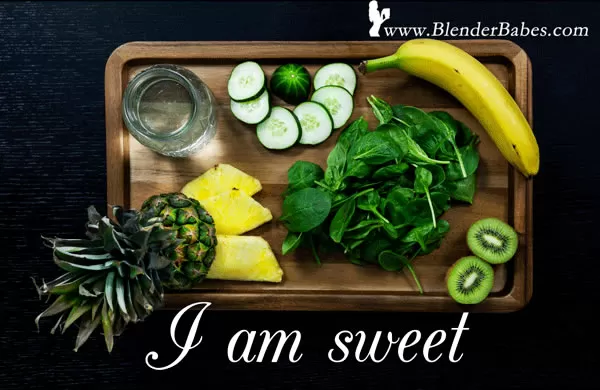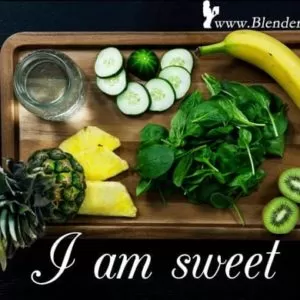 Juice 3/Lunch Juice – I AM SWEET
Ingredients
12

ounces

1 12 cups coconut water

1

kiwi

can substitute 1 green apple + 1/2 lemon

1

banana

fresh or frozen

1/2

cup

pineapple

fresh or frozen

2

cups

spinach or kale

1/2

cup

cucumber

2

cups

ice

less if using frozen fruit
Instructions
Place all ingredients into the blender and secure lid.

For

Blendtec

: Press the SOUP button (you want to run for 1.5 minutes to full liquefy ingredients into a smooth juice).

For

Vitamix

: Select VARIABLE, speed #1. Turn machine on and slowly increase speed to VARIABLE, speed #10, then flip it to high. Blend for 1.5 minutes

All done! Enjoy!! Now take a photo, rate it, and share your accomplishments! 🙂 Tag @BlenderBabes & #BlenderBabes
Notes
Makes about 5 cups. For only one serving, cut ingredients in half, but only reduce water to 8 ounces. If not using a high powered blender, may need to increase liquid amount.
Nutrition
Serving:
547
g
Calories:
234
kcal
Carbohydrates:
56
g
Protein:
6
g
Fat:
1
g
Saturated Fat:
1
g
Sodium:
282
mg
Fiber:
9
g
Sugar:
32
g
HEALTH BENEFITS & FUN FACTS
The I AM SWEET juice is low in Saturated Fat, and very low in Cholesterol.
It is also a good source of Dietary Fiber, Vitamin B6, Magnesium and Potassium, and a very good source of Vitamin A, Vitamin C, Vitamin K and Manganese. It is moderately anti-inflammatory.
This juice fulfills 459% of your recommended daily allowance of Vitamin K, 93% of your recommended daily allowance of Manganese, and 36% of Vitamin B6.