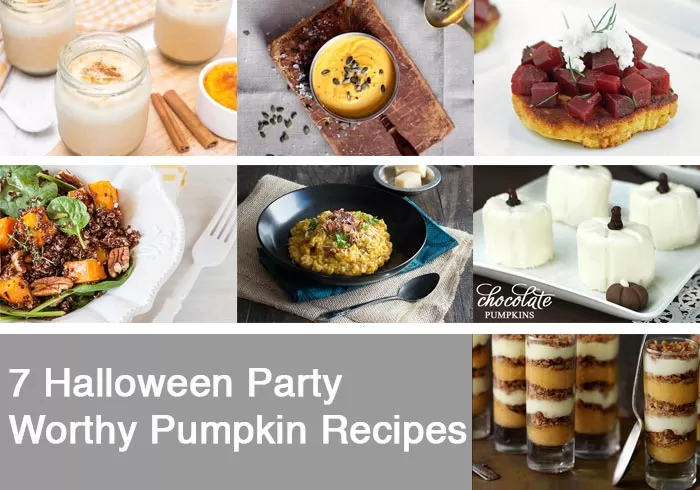 Halloween Party Food Recipes for Adults!
I hope you enjoy this little collection of 7 healthy Halloween Party food recipes for adults (featuring pumpkin!) to help you pull off the perfect event!
Blender Babes LOVE pumpkin not only because they're DELICIOUS but they're chock FULL of amazing health benefits! Pumpkins contain iron, Vitamin A and Vitamin E – which are nutrients that serve to boost and protect the immune system and keep your eyes, bones, and teeth healthy!
Pumpkin also protects against cellular damage and cancer. The bright orange flesh of a pumpkin is loaded with fiber and potassium, necessary components of a healthy digestive system. In other words… we approve! Party on with these healthy pumpkin recipes!
1. Pumpkin Rum Milkshake
Booze, ice cream, and healthy vitamins all in one drink? We'll take it! This Pumpkin Rum Milkshake will warm everyone up at your Halloween party. Make it first without alcohol for the kiddos, then add later for the adults!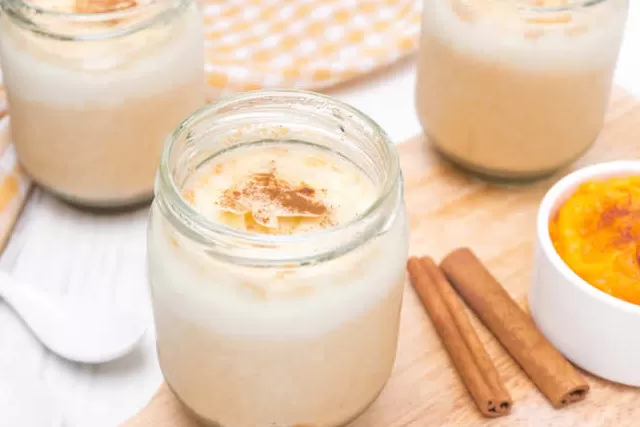 2. Pumpkin Blinis
This Pumpkin Blinis recipe from one of my favorite Paleo bloggers, Against All Grain, is great for entertaining. You can add just about anything on top of the blinis. They are both pretty and tasty!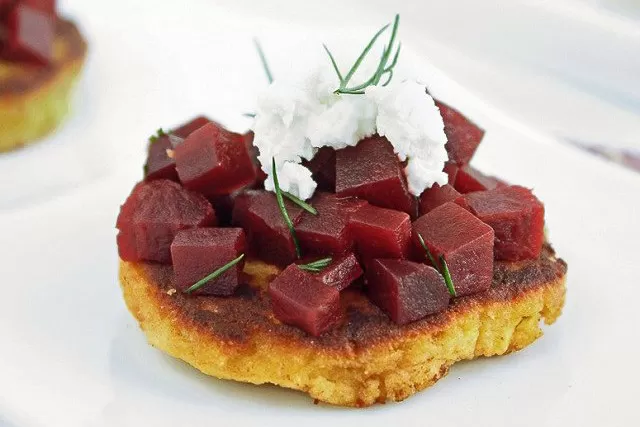 3. Southwest Roasted Pumpkin Soup
One of my favorite fall flavors is that of pumpkin, yet so many of us limit ourselves to an indulgent pumpkin pie. Why not branch out to your savory side with this Southwest Roasted Pumpkin Soup, which stars the caramelized goodness of roasted pumpkin and spicy Southwestern spices that will warm you up!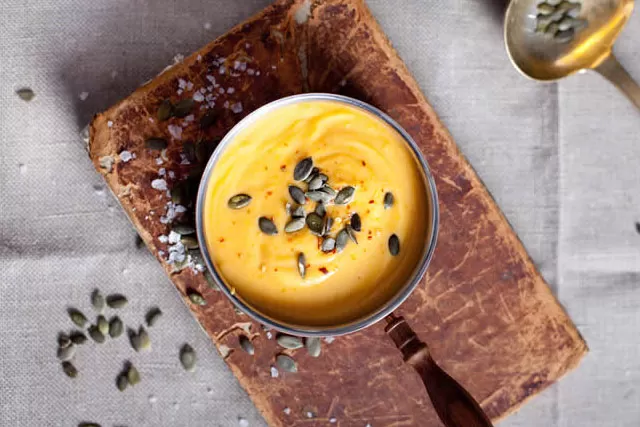 4. Roasted Butternut Pumpkin and Red Quinoa Salad
Give quinoa a try with this season's favorite vegetable. Jennifer from Delicious Everyday introduces a vegetarian gluten-free recipe for a Roasted Butternut Pumpkin and Red Quinoa Salad that will surely become a regular recipe in your arsenal … We warn you, it is a bit addictive!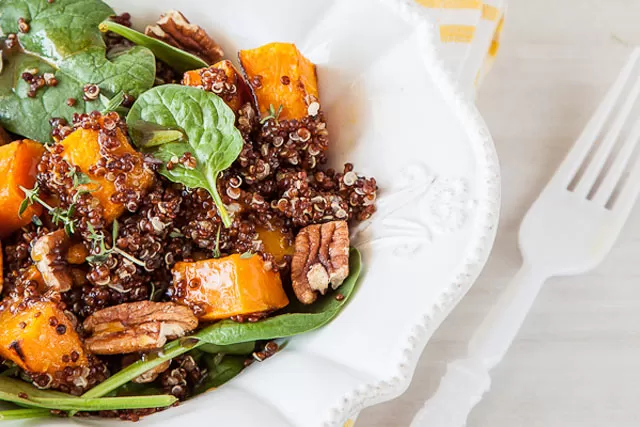 5. Creamy Maple Bacon Pumpkin Risotto
Pumpkin puree is so versatile, this Creamy Maple Bacon Pumpkin Risotto recipe from Pineapple and Coconut uses it as a delicious creamy sauce! Your guests will stuff their face in this bowl of creamy risotto goodness.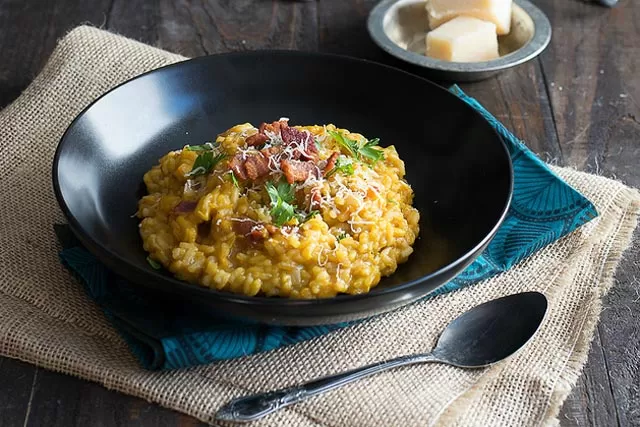 6. White Pumpkin Marshmallows
These White Pumpkin Marshmallows from Pizzazzerie are the perfect tasty little treats for your Halloween parties. Kids and adults alike will enjoy these beautiful desserts!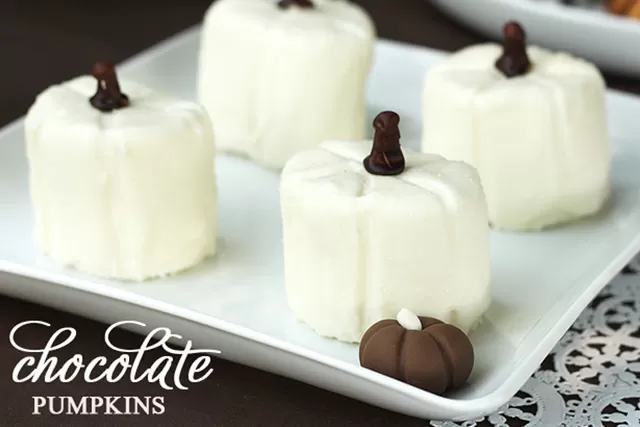 7. Pumpkin Praline Trifle
Bakers Royale has a delicious Pumpkin Praline Trifle, a simple trifle with layers of pumpkin and vanilla pudding with a praline crumble. Blender Babes serves you the perfect Halloween Party dessert recipe on a platter!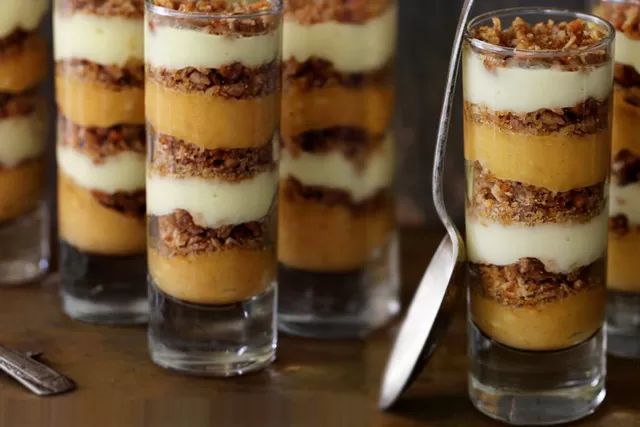 Here it is … the perfect menu for your Halloween party! These healthy recipes are worthy of a fun time with great friends and family. If they LIKE pumpkin now, they will LOVE it after you introduce them to these pumpk-ylicious menu.
Which one of these Halloween party food recipes will you make for your party? Let me know in the comments!